Parenting is not for the faint of heart. And most parents are more than happy to welcome a helping hand, whether it's entertaining kids, helping them with homework, or just simplifying household tasks.
Smart home technology can offer much-needed support to parents.
This is especially true with smart speakers like a Google Home or an Amazon Echo, which can help with many aspects of parenting, making life easier and more convenient for you and your kids.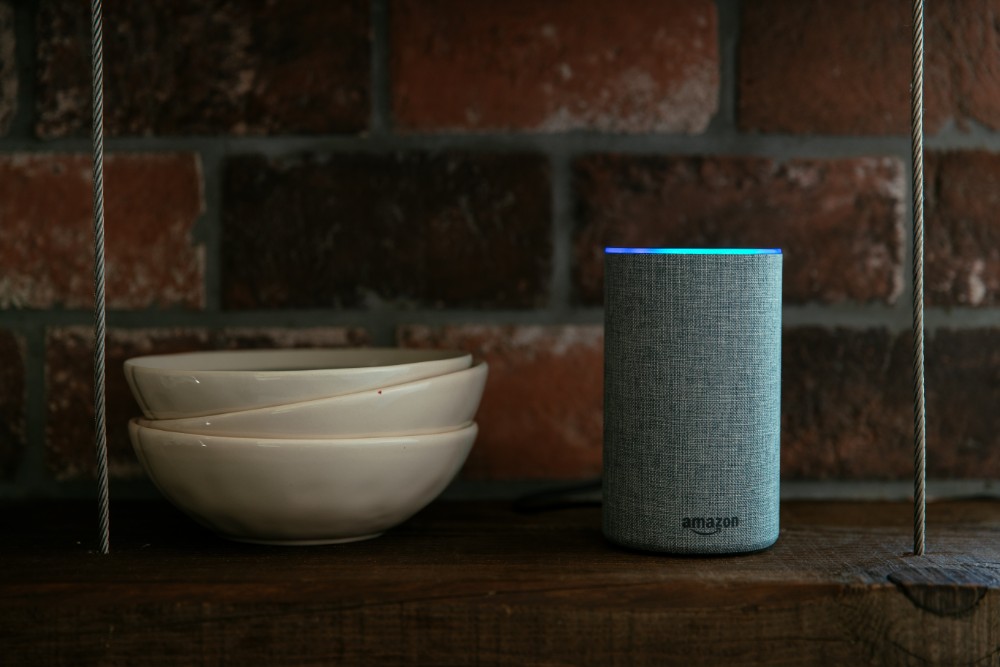 Why parents should consider a Google Home or Amazon Echo device
Most of us know how great voice assistants are for things like finding out the weather forecast or for hearing the latest news.

But for parents, a Google Home or Amazon Echo device goes even a step further, providing both entertainment and a helping hand with kids.
Take a look at some of the ways Google Home or Amazon Echo can help you as a parent:
Help your baby sleep. When it's nap time, ask your speaker to turn on soothing music or white noise.
Entertain toddlers and kids with stories. Both kids and parents can say, "Alexa (or "Hey Google!"), tell me a story." Alexa can also read your Audible library of kids books, and Google Home users can access books purchased from Google Play.
Play music. Music makes everything fun, and smart speakers have a vast library of music to help you as a parent, whether you want to put on the Clean-Up Song to help your kids tidy up or keep them entertained with songs from your own playlists.
Tell jokes. Want to keep your kids laughing for hours? Show them how to ask Alexa or Google to tell them a joke.
Help with homework. Parents can't be expected to remember everything from their school days. When your kids are in a bind and need homework help, your smart speaker can help by answering questions.
Settle a dispute. If you ever feel more like a referee than a parent, let your smart speaker help. Alexa's Kids Court skill is a fun way for kids to settle squabbles. Kids tell Alexa their side of an argument, and then receive a ruling. Google Home also has actions that let you roll a digital die or choose a number between one and 10.
Teach new things. Your smart speaker can also help your toddlers and kids as they learn the alphabet, numbers, times tables, or other skills.
These are just a few of many ways a Google Home or Amazon Echo can be beneficial to both kids and parents.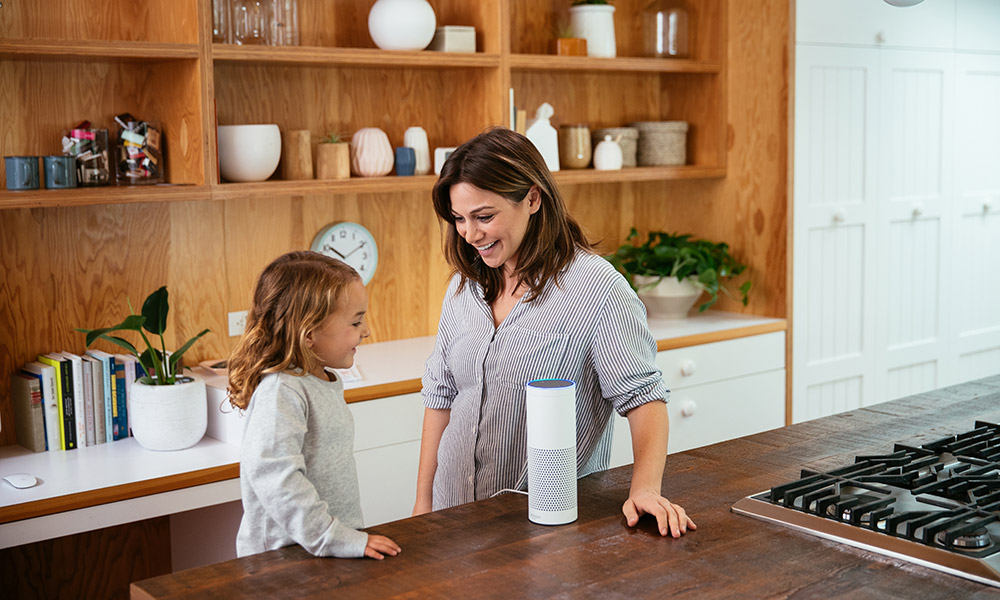 Google Home vs. Amazon Echo?
When it comes to smart speakers, Google Home and Amazon Echo are perhaps the best-known in the the industry. Both offer similar functionality and can perform the same tasks—such as answering questions, controlling devices, and playing music—with voice prompts.
Here's a quick rundown of the two:
Google Home has the Google Assistant built in. This works like your own personal assistant. Through Google Commands, you can search for web information, get weather updates, traffic routes, and other local information, and control your smart home devices. Google uses third-party actions, which function like apps, to provide more capabilities.
The Amazon Echo was introduced in 2014 and was the first smart speaker on the market. The Echo relies on its smart assistant, Alexa, to provide info, music, and smart home integration. Like Google's Actions, Alexa uses third-party skills, which are also like apps, to give it increased functionality.
So which is right for you? When trying to decide which is right for you and your family, you'll want to keep a few key things in mind:
Compatibility. While both devices will work with your smart devices and phones, Android users who use other Google products may find they prefer to stay with the Google ecosystem and opt for a Google Home. As an Amazon product, Echo allows you to order off Amazon and works with Amazon services, such as Audible and Amazon Music (great for parents who want to play kids' books or songs over their speaker).
Smart capabilities. Google Home's Google Assistant leverages the power of Google Search and Maps and provides detailed responses to a wide range of questions. If you want a capable digital assistant, you can add events to calendars, make lists, and shop through Amazon Alexa.
Voice recognition. Google Home boasts industry-leading natural language processing, so you can ask questions and give commands in a more conversational tone. Both Google and Amazon speakers have far-field voice recognition that picks up voices even across the room.
Streaming for music. Amazon Alexa works as a bluetooth speaker for any mobile device, while Google works well with Google products like Chromecast. Both will stream Apple Music or Spotify playlists as well.
Languages. Google Home can understand two languages at once, making it ideal for multilingual households.
At the end of the day, both speakers offer excellent smart home support and similar features, so the one you choose comes down to personal preference.
How to set parental controls on Amazon Echo or Google Home
Raising kids in a digital world presents many benefits, but it also introduces new challenges.
Many parents worry their kids will come across inappropriate content or rack up a huge bill ordering pizzas or toys online. And experts have recommended limiting screen and tech time for both younger and older kids throughout the day.
The American Academy of Pediatrics provides a helpful list for parents to help them manage the digital landscape within their families and encourage healthy digital use among kids.
These suggestions include setting limits on digital use and monitoring activity, including the use of your smart speaker.

Luckily, both Amazon Echo and Google Home have extensive parental control features that put you as parents in control of what your child can access and do with your smart speaker. With these parental controls, you can set rules that allow you to:
Filter and block explicit songs or music services
Disable features like calling and messaging
Restrict access to third-party apps
Set up a pin or disable voice ordering
Pause the device after a certain amount of time
Schedule "downtime" with customized times or preset days/times like "School Nights" or "Weekdays"
The step-by-step details of setting up parental controls will depend on your speaker.
Google Home uses their Digital Wellbeing feature to enable filters and set up downtime.
Amazon Echo uses Free Time to help parents limit access or disable certain features.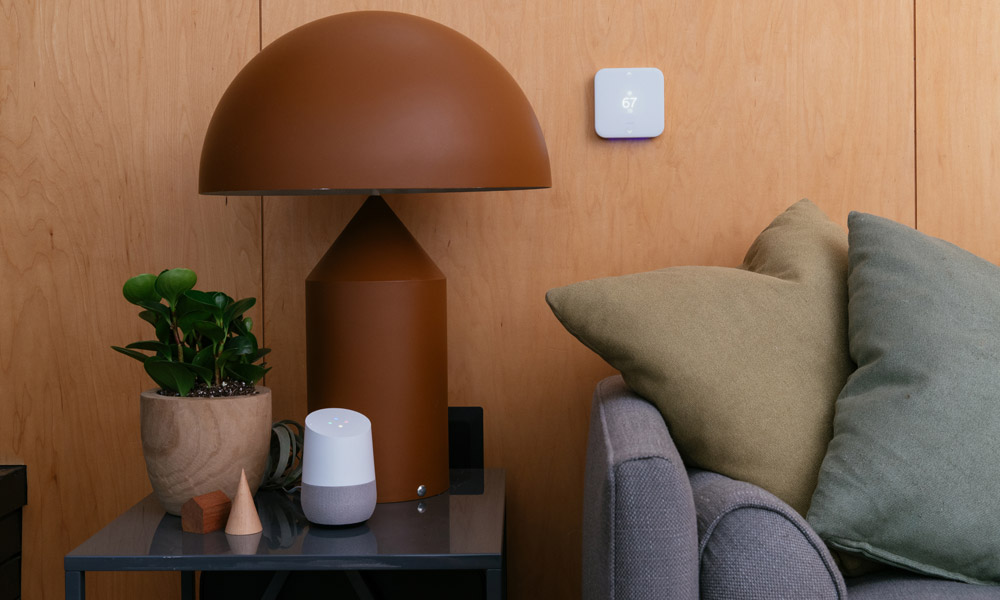 How parents can make the most of their Amazon Echo or Google Home
As parents, we're always on the go, juggling multiple things at any given time. So in addition to the many ways you can use your smart assistant to keep your kids entertained, parents will find a Google Home or Amazon Echo can make life simpler as well.
Here are some of the most useful ways parents can use voice assistants.
Set timers and alarms
There are plenty of situations a timer is indispensable for parents, especially when multitasking or chasing after more than one kid. Ask Google or Alexa to set a timer to remind you to pick up your kids from school, when to leave for soccer practice, or to let you know when your preschooler's 3-minute time out is up.
Timers can also be useful for kids. For example, you can set an alarm to go off every morning 10 minutes before the bus arrives, so your kids will know to hurry. Or, you can set a timer to alert your kids that their screen time is over.
Make lists
It's happened to everyone—after a trip to the grocery store, you unpack your groceries only to find you've forgotten one of the very things you went out for.
With your smart assistant, you can make a running list throughout the week, and then access it when you get to the supermarket. This is particularly helpful when you're in the middle of a task and either run out of an ingredient or you think of something to add to your to-do list.
Simply say, "Alexa, add eggs to the shopping list," or "Hey Google, put 'pick up dry cleaning' on my to-do list."
Manage appointments
As a busy parent, staying on top of you and your kids' schedules can seem like a full-time job. Perhaps this is one of the reasons 70% of parents use their smart assistant to help them manage their calendar and appointments.
Sync your smart speaker to your online calendar to add appointments and activities to your schedule. If you have a Google Home, it also integrates with Google Calendar and Google Keep.
Control your smart home devices
If you have a complete smart home system, you can control your various devices with your voice. This makes managing your entire household simple for everyone.
Too warm in the house? Simply say, "Alexa, lower the temperature to 70 degrees" to control your smart thermostat. Or if you're coming inside with an armful, say, "Hey Google, lock the door," to automatically secure your smart lock.
Smart technology solutions for parenting challenges
Smart technology can also help you with a number of challenges you face as a parent, whether it's day-to-day issues with the kids or trying to stay on top of a growing list of things to do and places to be.
In addition to Google Home or Amazon Alexa, which can help you with everything from keeping kids entertained to settling arguments to providing helpful reminders, a Vivint Smart Home offers smart home devices that can address common parenting challenges as well.
Keep an eye on your kids with the Ping Camera
You can't be everywhere at once, but the Vivint Ping Camera, a powerful indoor camera, can help.
Keep an eye on your kids whether you're home or away. Checking in with them is as simple as logging into your Vivint Smart Home app. You can also use the camera's two-way talk feature to chat with your kids, and one-touch callout makes it easy for them to get ahold of you, even if they don't have a phone.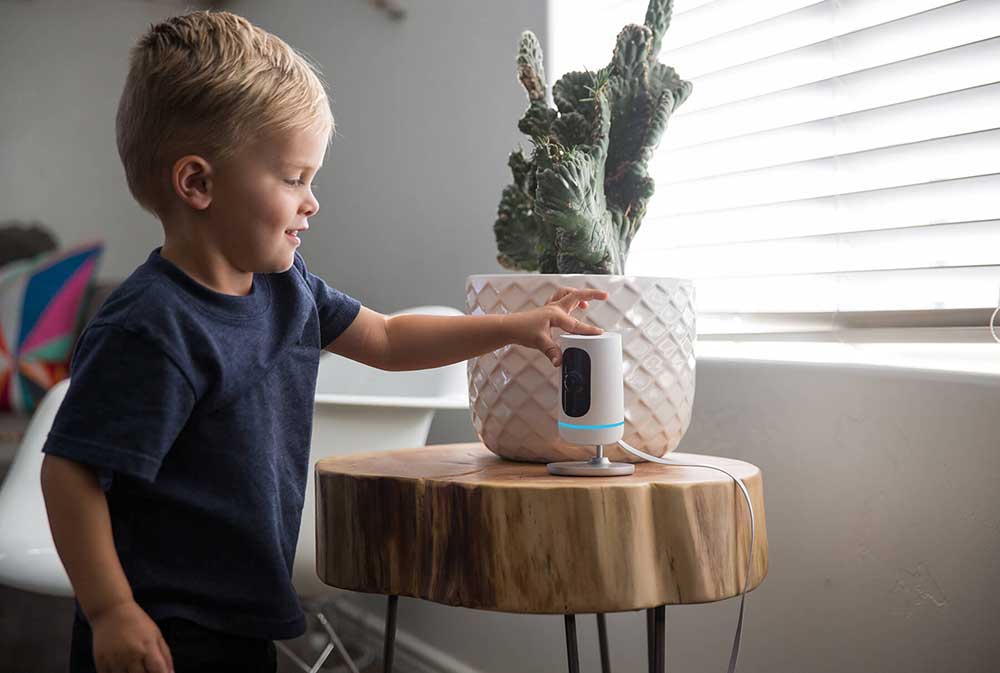 See who's at the door
You've probably already taught your children not to answer the door when you're not home, especially to a stranger. With a Vivint Doorbell Camera, you can do it yourself.
Open the Vivint app and see who's ringing the doorbell right from your phone. And with its two-way talk feature, you can also tell them to come back later.
Know who's coming and going
Keeping tabs on the kids can be a challenge for any parent, especially when they're teenagers and have more freedom.
With smart locks from Vivint, you'll always know who's coming. Assign unique codes to each member of the family, and then receive notifications whenever they're used. You'll be able to tell that your kids got home safely from school or whether your teen made it back before curfew.
You can also lock and unlock your front door from your phone or from your smart speaker when you're home, so even if your kids forget their code, they'll never be locked out.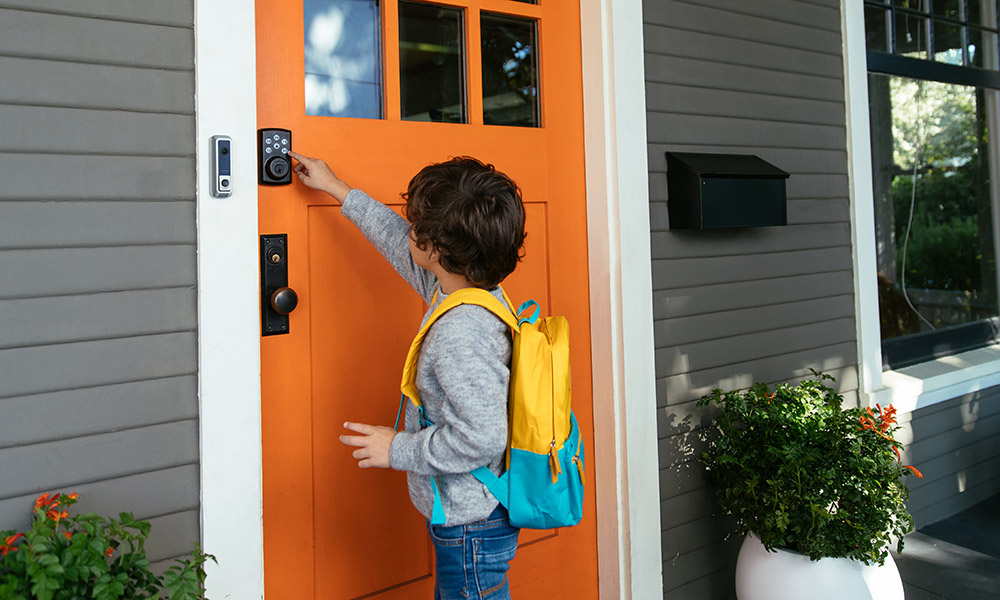 Protect your children with 24/7 monitoring
No parent wants to be away when there's an emergency at home. But with Vivint's 24/7 monitoring, you can rest assured that even in an emergency, our Smart Home Specialists will respond.
So if your smoke alarm goes off while you're not home or someone inside presses the panic button, our monitoring center will contact first responders to provide aid right away.
Your smart home starts with Vivint
A smart speaker with voice assistant, whether it's Google Home or Amazon Echo, can be a great way for parents to keep their kids entertained, stay organized, and even help them with homework.
And when it's integrated into a complete Vivint Smart Home, it becomes part of a smart home ecosystem that makes life as a parent easier and more convenient than ever—and what parent doesn't want that?
To see what a Vivint Smart Home can do for your family, contact our Smart Home Pros today at 800.646.1469 for a free consultation.