Store a full month of video footage
Vivint Smart Drive
Playback service comes with a Vivint Smart Drive, a 1TB, low-cost video storage solution.
Continuous recording
Save a month of footage from up to four cameras and browse minute-by-minute using event markers.
Event Markers
Simplifies video search by placing markers in your timeline whenever cameras detect motion or other activity.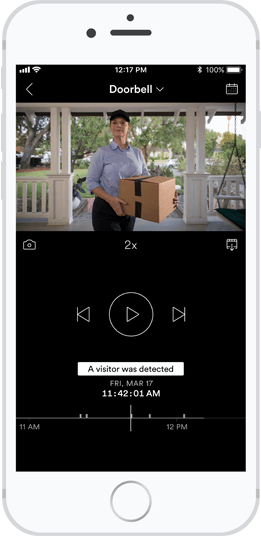 Low Cost Subscription
Continuous video recording and storage for a fraction of what other video storage solutions cost.
Multi-Camera Recording
Select up to four cameras, including indoor, outdoor, and doorbell cameras to get a more complete picture.
Vivint Smart Home Integration
Playback fully integrates with Vivint Smart Home so you can view saved video recordings on your mobile device or SkyControl panel.
Massive video storage without the massive bill
Store more video, save more money with Vivint Playback™. For a fraction of the cost of most other video storage solutions, Playback gives you continuous recording on your choice of four Vivint cameras, then saves 30 days of video footage.
Catch all the action from up to four cameras
Dedicate up to four Vivint cameras to Playback—including indoor, outdoor, and doorbell cameras—to curate continuous recordings from all around your home. Playback helps you compile the complete picture of doorstep visitors, flagged events, and significant moments from the past month.
Storage capacity for an entire month of footage
The hardware component of the Playback DVR service, Vivint Smart Drive™ is a WiFi-enabled storage device where all your Playback recordings get saved. With 1TB of available storage, Smart Drive also lets you store photos and backup files from your mobile device.
Jump to the right moment with event markers
Playback simplifies video search by creating an event marker whenever motion is detected, a door is unlocked, a window is opened, or any other activity occurs. You can easily find specific moments without watching your entire reel, leaving you more time to enjoy your memories.
WiFi uploads for automatic backup and storage
Keep your video data moving super-fast while conserving internet bandwidth. Playback uploads camera recordings over your home WiFi network straight to your Vivint Smart Drive. Your incoming internet service never gets impacted, so you're free to share photos and videos with family and friends.
Quickly search camera footage with All Clips
Use All Clips to filter recordings from multiple cameras by event type, like motion detection, and avoid the hassle of searching individual video timelines. All Clips compiles filtered recordings into one list that you can view through the Vivint Smart Home app or SkyControl panel.
Clip sharing so no one misses your important moments
Share important milestones with loved ones—or nefarious activity with the authorities—by creating custom 30-second, 90-second, or 5-minute clips from your Playback footage. Download and share clips straight from the Vivint Smart Home app, knowing they're safely stored both locally and in the cloud.
Professional installation from Smart Home Pros
Smart Home Pros will integrate Vivint Playback into your smart home system to ensure hassle-free performance.