Elegant user interface
Makes operating your smart home easy and intuitive.
7" HD touch display
Makes controlling your home and seeing it's status easy.
Instant two-way talk
Speak to family, visitors, or monitoring agents through your panel.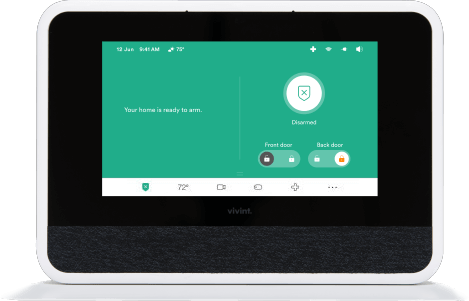 Central control hub
One control dashboard for your entire smart home.
Backup battery
Keeps your systems running when power goes out.
Cellular connected and encrypted WiFi
Creates a secure network with a dedicated signal.
Click here to learn about our secondary display, Glance.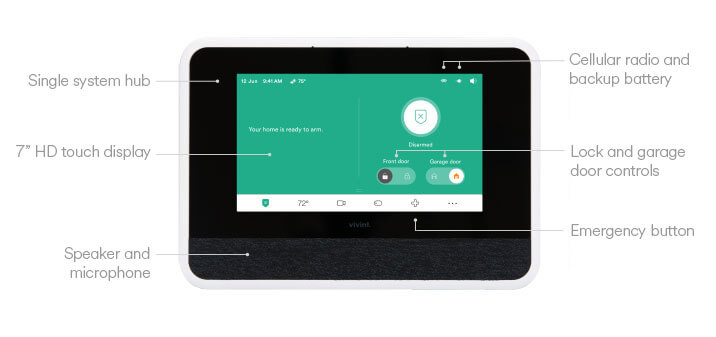 Size
5.7" h x 8.1" w x 0.9" d
Power Usage
12 VDC / 1.5A; backup battery powersdevice for at least 24 hours
Touch Screen
7" with 1024 x 600 resolution andcapacitive multi-touch
Audio
Built-in speaker and microphone,supporting 2-way voice
Connectivity Radios
WiFi, Z-Wave, 345 MHz
Connectivity
Dual band 802.11 b/g/n WiFiLTE cellular module
Product Protection Plan
Free replacement for defective hardware if subscribing to a Vivint service plan (may require a separate site visit fee)
Click here to learn about our secondary display, Glance.
Connect and control from one place
No more wandering the house flipping switches and punching keypads before bed. Vivint Smart Hub bundles all your smart home controls in one place, giving you control of lights, locks, garage doors, thermostats, and security systems from one spot.
Enjoy easy,
intuitive navigation
With Smart Hub, you manage your entire smart home from one place—a key part of what makes a Vivint Smart Home so great. Not only does it seamlessly connect all your smart home components, its 7" HD touchscreen makes controlling everything super easy.
A safer home starts here
Smart Hub allows you to view security camera footage so you can monitor activity around your home from a safe, secure location. In case of emergency, Smart Hub comes with a panic button to sound the alarm and open instant communication with Vivint's 24/7 security monitoring.
A secure signal equals a secure home.
It takes a secure wireless network to create complete home security. And that's why Smart Hub encrypts smart home signals—to protect your smart home devices and archived video recordings. Rest easy knowing your system, your home, and the people in it are safe.
Stay connected—and protected—when the power goes out.
Should your system lose power, not to worry. Smart Hub's backup battery keeps your smart home controls, security system, and notifications up and running long enough to keep you connected to your home till power issues are resolved.
Leave the wires for the birds
Smart Hub moderates all wireless communications between you and the Vivint Smart Home Cloud. And with no solid lines that could potentially be compromised, a dedicated cellular connection means more reliable communication and greater control and protection.
Vivint Glance Display™
If you have SkyControl, you can get Glance as a secondary display with more flexible placement
Control where you want it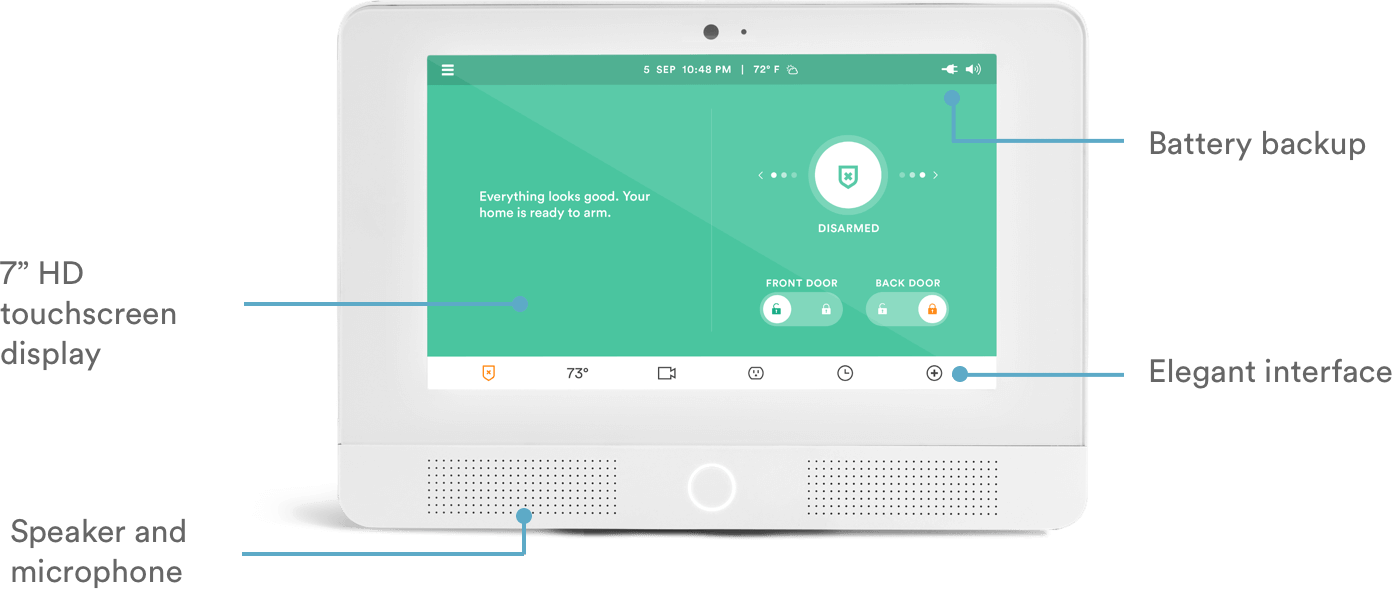 Size
5.2" h x 8.1" w x 4.3" d
Power usage
12 VDC / 1.5A
Audio
Built-in speaker and microphone, supporting 2-way voice with doorbell and indoor cameras
Product Protection Plan
Free replacement for defective 
hardware if subscribing to a Vivint service plan
Connectivity Requirements
WiFi connection: 802.11 b/g/n @ 2.4GHz
Another home control option for more convenience
Control your entire smart home from bed, the kitchen, or the garage with a convenient, secondary smart home hub. Vivint Glance Display mounts to a wall or rests on a coffee table and gives you access to cameras, thermostats, lights, smoke detectors and more.
High resolution display makes viewing and reading easy
Glance gives you the same seven-inch HD touchscreen with the same user interface as SkyControl. When you add Glance to your 
smart home system, you can watch high-resolution 
video clips from your surveillance cameras 
without leaving your chair.
Controls that instantly feel familiar
Glance makes you feel right at home because 
home is something familiar. Glance gives you the same elegant dashboard as SkyControl to make navigating between all your smart home components an act of intuition.
See, hear, and speak to guests from
A built-in speaker and microphone provide two-way communication between Vivint Doorbell Camera, and Ping Camera. If you're in another room, and a guest arrives, Glance lets you quickly greet them, unlock the door, and lock up behind them.
Free professional installation from Smart Home Pros
Sign up with Vivint and Smart Home Pros will install your system and link your account in the Vivint Smart Home mobile app.