A Vivint Smart Home Pro will contact you within 24 hours. Or skip the form and call now.
Connects you to what really matters
The highly acclaimed Vivint Smart Home app makes home automation controls mobile. Its intuitive navigation makes it easy to manage lighting and climate controls, operate garage doors or door locks, monitor security cameras, interact with visitors at your doorstep, or arm security systems from anywhere.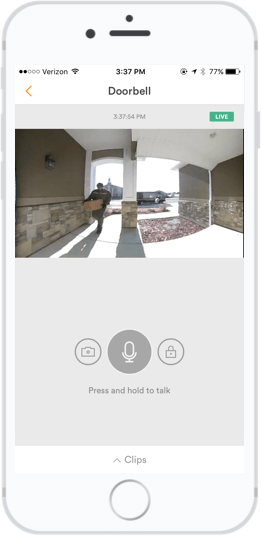 Top-Rated Smart Home App
Rated 4.6-stars on the App Store and Google Play.
Custom Alerts and Notifications
Alerts and notifications delivered straight to your mobile device so you always know your home is safe.
Convenient Home Security Controls
Arm your smart home from anywhere with the tap of a finger.
Be At Home Even When You're Out
Check the live video feed from cameras around your home while you're on the go.
Mobile Climate Controls
Lets you adjust climate control settings from anywhere.
Intelligent Home Automation
Your Vivint smart home uses sensor input to automate and manage your smart home.
Swipe to see more
Set up rules and have notifications sent straight to your smartphone to stay informed and in control with the Vivint Smart Home app. Automatically lock the doors at a certain time every night, or get notified if someone opens a window while the air conditioner is running.
Keep full smart home controls with you wherever you go. Be home, even if you're on the other side of the world—use the app to see and talk to visitors through the doorbell camera, unlock the door for delivery people, then lock the door behind them.
Add Vivint Playback to the Vivint Smart Home App for easy access to 30 days of continuous video coverage from your Vivint cameras. Monitor your home's live feed, or review footage from the past month—all from the same app you use to manage lighting, thermostats, and alarms. Playback includes the Smart Clips feature, which helps you quickly filter through footage and narrow in on specific moments.
Vivint uses built-in machine learning feature to automate your home's temperature settings by tracking geolocation and your in-home sensors. Your system learns when you're home, asleep for the night, or out of town, and conserves energy while optimizing your family's comfort.
Family Plan
Smart Clips
Activity Feed
Vivint Playback
Stay informed with the Vivint Smart Home activity feed. Check in to see what's going on, day or night. Keep track of day-to-day action around the house—know who comes and goes, or double-check to make sure you haven't missed a delivery. You can even apply filters to get only info you want, or search date ranges to find a specific notification.
Smart Home Pros will install your smart home system and link it to your account in the Vivint Smart Home mobile app.
What is the Vivint Smart Home App and how do I use it?
The Vivint Smart Home app is allows you to manage your Vivint system from anywhere. Just download the app onto your mobile device and follow the setup instructions. Once everything is connected, you're carrying complete control of your smart home in the palm of your hand.
Log into the app anytime to view live and recorded footage from your indoor and outdoor security cameras.

System alerts and notifications, like a security breach or a door left unlocked, are sent straight to your phone through the app.

With the two-way talk feature in the app you can speak with Vivint's 24/7 monitoring team or talk to people through your devices like the Vivint Ping Camera and Doorbell Camera.

Use the app to automate your system the way you want. You can set your doors to lock or automatically adjust the temperature at specific times, for example.

Everyone in the family can have access to the app with individual user accounts. And you have the ability to create permissions and set limits for specific users.
Does Amazon Echo work with Vivint?
Yes. Amazon smart speakers including the Echo, Echo Dot, and Echo Show integrate with a Vivint system. Experience greater ease, convenience, and control when you use Amazon Echo and hands-free voice control to manage various components of your smart home.
With the Echo, security is made simple. Arm your system, open or close your garage door, or lock up the house at night—all with the sound of your voice.

Automating your life is easier than ever with the Echo. No need to stop what you're doing—tell Alexa to adjust the lights or temperature with a voice command.

Bundle your tasks with the Echo. Program your speaker so that with a voice command like "Alexa, Lock up. I'm going to bed," the Echo will automatically lock the doors, turn the lights off, and adjust the temperature.
Does Philips Hue work with Vivint?
Yes. Philips Hue integrates with a Vivint system—including the Vivint Smart Home app. Take a look at how Philips Hue lighting enhances your smart home experience:
Enjoy the long life, instant full brightness, energy efficiency, and cost savings of LED bulbs.

Control your lighting from anywhere using your smartphone and the Vivint app.

Set your lights to switch on and off automatically when you want them to.

Organize groups to coordinate lighting in specific rooms, floors, or an entire home.

Easily set the tone at home with dimming and color ambiance.

If your Vivint system includes a smart speaker like Google Home or Amazon Alexa, control lighting with simple voice commands.
Is there an app to control all smart home devices?
If you have standalone devices, you'll need a separate app to control each of them. But with Vivint, you can manage your entire security system and all of the devices in your smart home with one central app.
The Vivint Smart Home app simplifies life and the task of managing home by connecting all of your smart devices.
The app allows you to create custom actions so that doors lock, lights turn on and off, or the temperature adjusts so you don't have to.

No matter where you are you can monitor home by viewing real-time or recorded video from your security cameras, arm your system, and speak to whoever's at your door.

You can also check in with whoever's at home through the app and your indoor camera and use it to communicate with Vivint's 24/7 customer support team.
A Vivint Smart Home Pro will contact you within 24 hours. Or skip the form and call now.

Doorbell Camera Pro

Kwikset Smart Lock

Element Thermostat

Outdoor Camera Pro

Ping Camera

Smart Drive

Garage Door Control

24x7 Monitoring
Doorbell Camera Pro
Our doorbell camera automatically detects packages and uses light and sound to actively deter package thieves. With two-way talk, it also lets you answer the door from anywhere. And the app gives you quick access to your locks and garage door so you can let in the good and keep out the bad.
Kwikset Smart Lock
No more keys. With unique access codes everyone in the family—or even visitors—can come and go while your home stays secure. Control your locks when you're away using the Vivint Smart Home app. And with one-touch lockup, you can control your security system, lights, and locks with the touch of a button.
Element Thermostat
With the Element you get smart temperature control that perfectly blends comfort and energy savings. It automatically adjusts temperature based on home occupancy, and you can change settings manually from anywhere with your smartphone—potentially saving you up to 12% on your energy bill.
Outdoor Camera Pro
The Vivint Outdoor Camera Pro is the only surveillance camera that intelligently identifies and automatically deters true threats. It doesn't just record activity—it helps prevents crime. It's like having your own personal security guard patrolling your home around the clock.
Ping Camera
Ping, the world's first indoor camera with true two-way communication, keeps you connected to your family. View live and recorded video when you're away using your smartphone. And if you're home, call out to speak to family members with the press of a button.
Smart Drive
Nothing gets by you with Vivint Smart Drive. Save 24/7 video footage from up to four security cameras including indoor, outdoor, and doorbell to get a complete picture of your home's interior and exterior. Save footage for 30 days and easily browse minute by minute using event markers.
Garage Door Control
With all of the coming and going at a busy home, it's nice to know you don't have worry if the garage is open. Using the garage door controller, manage your garage using the Vivint Smart Home app and receive notifications if your garage door is open or if it failed to close. Left open? No problem. Close it from anywhere with your smartphone.
24x7 Monitoring
We take protecting what matters most a step further with our award-winning, 24/7 customer monitoring and support. Our smart home specialists are just seconds away, ready to respond to a potential emergency and send first responders when you can't be reached. If you're home, contact us through the convenient two-way talk feature on your Smart Hub.