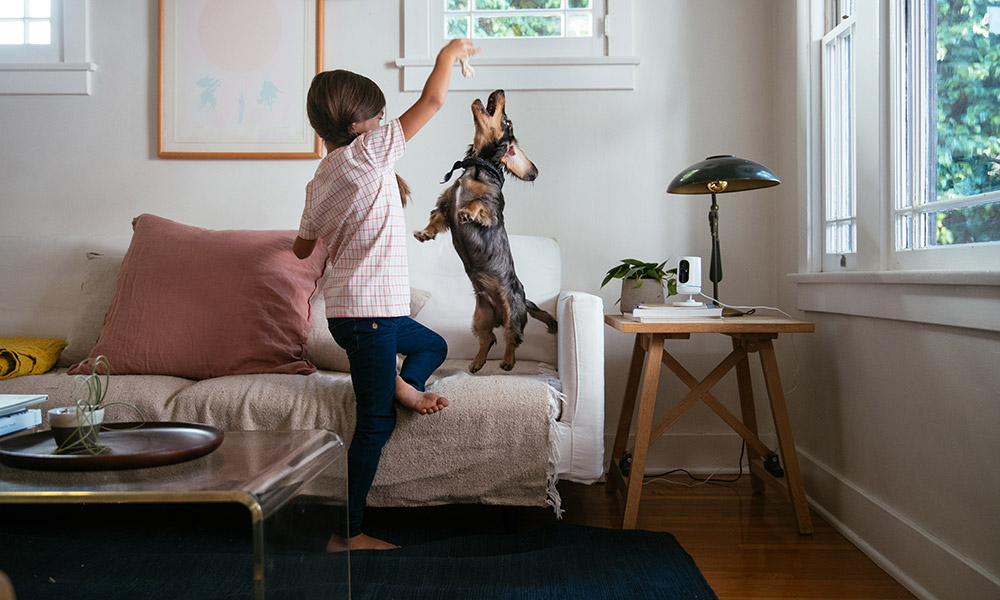 Let's face it—you can't be everywhere at once. But as a parent, you don't want to miss anything. Chronicling the major milestones in your kids' lives—whether it's their first word, first steps, or first day of school—is why, on average, parents post more than 1000 photos and videos of their kids online before they turn 5.
But with things happening so quickly, there's always the chance that you'll miss something. Or, maybe you'd rather experience the moment as it happens instead of recording it. Either way, fear of missing out is a real thing when you're a parent.
Luckily, you don't have to choose between staying in the moment and recording it—not when you have cameras in the house.
Indoor cameras capture things in the moment
If you thought indoor cameras were only for capturing potential burglars, think again. The Vivint Indoor Camera is an indoor camera that acts as a second set of eyes for busy parents. With HD resolution and wide-angle lens, the Indoor Camera camera doesn't miss a thing. It's like a nanny cam, but far more advanced.
Let's say you get home from work and the babysitter tells you your toddler took her first steps. Or maybe your child is doing something adorably hilarious, you don't have your phone, and you don't want to miss the moment to look for it. No need to fear. With a indoor camera camera in the room, it records those precious moments so you can go back and rewatch them.
It's not just the can't-miss sentimental moments your indoor camera camera records. Whether it's a mess no one is fessing up to, or you want to know who really started the fight you walked in on, your indoor camera camera has the answers.