Guide to Smart Keys and Smart Locks for Your Doors in 2023
There are several reasons to add smart locks to your home. You might be looking to add an extra layer of security to your household, or you might simply be tired of carrying traditional keys around all the time.
Smart locks help homeowners manage their locking system from wherever they happen to be. Smart locks let you relax knowing your door locks are secure, whether you're at work, at the gym, or on vacation.
This guide discusses what smart locks (also known as smart keys) are, how they can benefit you, and what you should look for in a smart lock system for your home.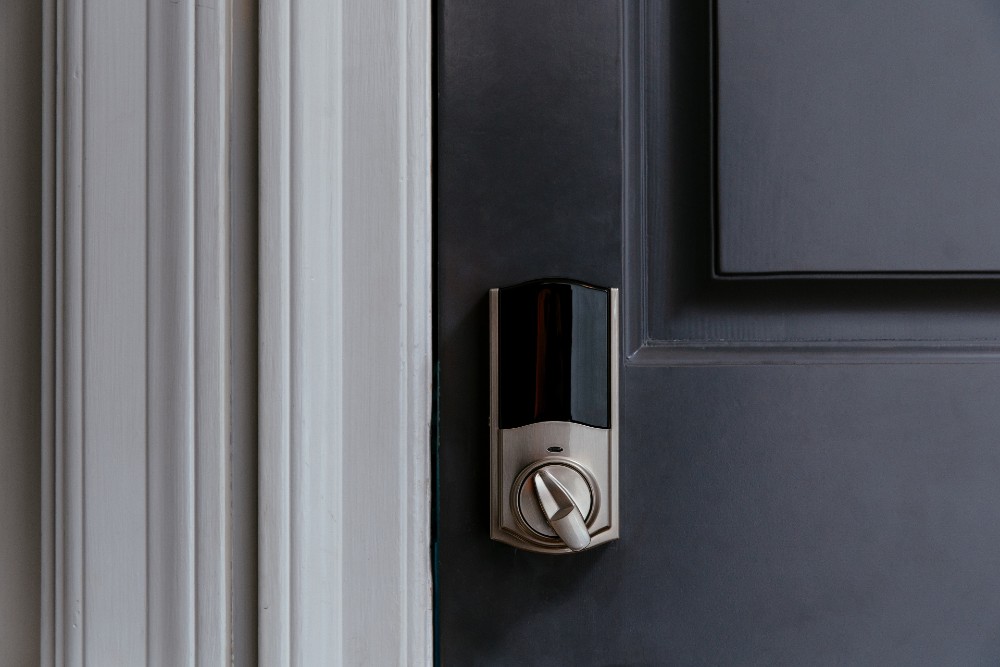 What is a smart door lock?
Smart locks are devices that are added to or replace the traditional locking system on a door, which is usually a deadbolt. With a smart lock in place, you can lock and unlock your door without a traditional key. Smart locks use Internet of Things (IoT) technology to provide multiple ways for you to open or close a door.
What are smart keys?
Another name for a smart lock is a smart key. A smart key allows you to lock and unlock your doors using voice commands, access codes, fingerprints, a smart hub, or your smartphone. Smart keys also use Wi-Fi, Bluetooth, or Z-Wave technology to allow you to access your locks remotely.
Some smart lock systems even allow you to further customize your lock settings. For example, Kwikset Smart Locks through Vivint let you schedule specific times for your doors to lock automatically.
Benefits of smart door locks
Smart door locks can benefit your household in several ways. Some of the biggest advantages to having smart locks installed in your home include:
Smart locks are convenient. With smart locks, you don't have to get up to lock your doors in the middle of the night. You can make sure they're locked with a simple tap on your smartphone.

Smart locks improve your home security. Most smart lock systems are resistant to the bump keys that criminals use to enter homes. You can also program them to lock automatically at certain times, like when you go to bed.

Smart locks let you see who's entering your home. Kwikset Smart Locks from Vivint let you program unique access codes for the people who enter your home, like cleaners, babysitters, and guests. You can track how often each code is used on the mobile app to see when someone enters your house.

Smart locks give you peace of mind. Let's say your kids are walking home from school. Smart locks can send an alert when they've reached your home.

They work well with other smart security devices. For example, if you're having an important package delivered and you don't want it to be left outside, you could let the delivery driver into your garage remotely and keep an eye on them using your home's security camera.

You can access smart locks remotely. With smart locks in place, you don't have to spend your vacation worrying whether you remembered to lock your doors. All you have to do is check your phone.

Smart locks work with multiple platforms. For instance, Kwikset Smart Locks work with voice assistants like Amazon Alexa and Google Assistant when part of a Vivint home security system.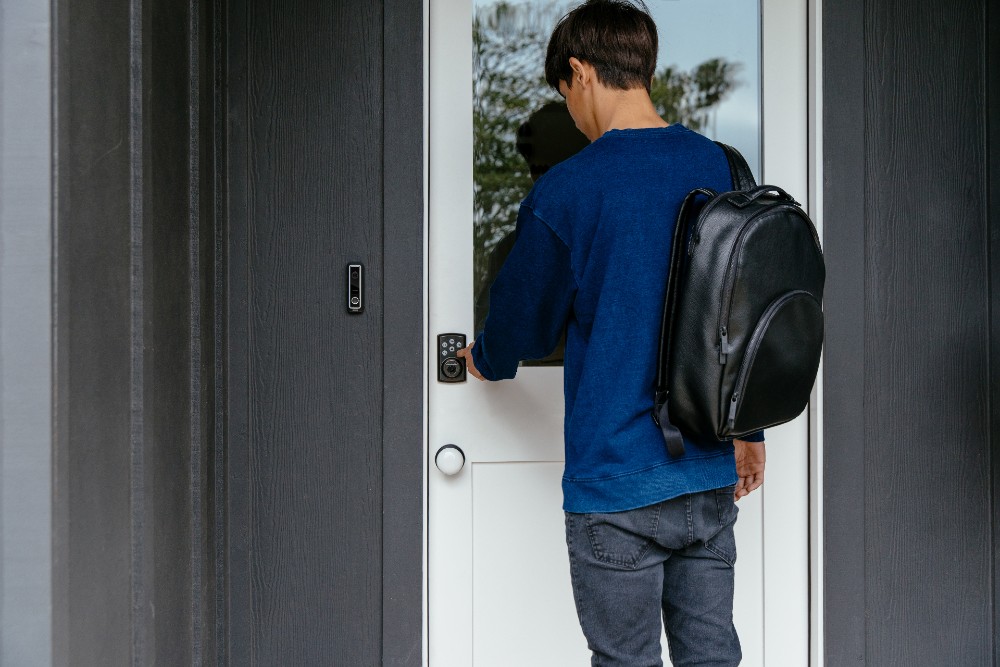 How do smart door locks work?
Smart locks are installed on top of or in place of an existing deadbolt lock. They allow you to lock and unlock the entry doors to your home without using a key. Smart lock configurations give you multiple ways to access your entryways, including voice commands, security codes, mobile devices, and fingerprint scans.
Smart locking systems make your life easier by letting you lock and unlock your front doors and any other exterior doors or interior doors in your home using only your smartphone or voice.
Let's say you're running late to work but still need to make sure all your locks are secure. If you connect your smart key system to a platform like Google Home, you can simply say, "Hey Google, lock my doors," without checking every door individually.
Smart locks use a wireless protocol to function. Vivint smart locks connect to your Wi-Fi internet, while some use Bluetooth or Z-Wave technology to function.
Smart locks can be integrated with your home's security system and controlled using your smart home hub or central control panel. This allows different smart home functions to work together. For example, you can program your smart lights to turn off whenever your doors lock at night.
Smart locks have several security functions to keep your home safe. For instance, Vivint smart locks let you create temporary codes for visitors so you don't have to hide spare keys on your doorstep where the wrong people might find them.
How to choose the best smart door lock for your home
Smart locks are compatible with a number of door types and door styles, like fiberglass doors, wood doors, French doors, and double doors. There are even smart locks that work with screen doors with glass panels, sliding barn doors, and bifold doors.
Several factors affect which smart locks are best for your home. The next few sections review some things you should take into account when looking for the best smart locks for your home.
Consider smart lock features you need
The first step toward choosing the best smart locks for your home is deciding which features are important to you.
Do you want to be able to schedule specific times for your locks to close? Do you want to keep tabs on who's entering and leaving your home? Maybe you just want the ability to control your door locks while you're out enjoying the fresh air.
There may also be certain features you don't want. For example, some smart locks that use fingerprint technology can have a high false rejection rate (FRR). This means that the locks don't always recognize fingerprints.
Consider security system integration
All the devices in a home security system or wider smart home setup should work together to provide you with a seamless automation experience. When all your smart appliances work together, you can control them from a single source, like a touch-screen panel or your smartphone.
That's why you need to find smart products that have compatibility with each other.
Vivint can create an interconnected system of smart devices that meets all your needs and preferences. When the devices in your home are in sync, they can provide you with optimal comfort. Imagine the scenario below.
Your smart home automatically locks all your doors at 10 p.m. (your bedtime). Meanwhile, your system activates all your security sensors to keep your home safe, and your smart thermostat brings the temperature in your home to 68 degrees (your preferred sleeping temperature).
In the morning, you wake up to the smell of a fresh cup of your favorite coffee poured by your smart coffee maker, and your smart speakers play "Riders on the Storm" by The Doors (your favorite song). You listen to Jim Morrison's smooth vocals and Ray Manzarek's melodic keyboard grooves while your smart shades rise, bathing you in natural light.
Think about installation options
As mentioned earlier, you can add some smart locks to your door's deadbolt, while other smart lock models are designed to totally replace the door's locking mechanism. While it's possible to DIY your smart lock installation, it's not always a good idea.
You run the risk of damaging your equipment when installing it yourself. Depending on your smart lock provider, trying to DIY your installation might even void your warranty. Certain conditions can also make your installation more difficult.
Let's say you're adding smart locks to your patio doors. The doors are made of solid wood, which is susceptible to warping. Warping happens when moisture gets inside a wooden door slab, causing it to change shape. If your doors have significant warping, you may need to restore or replace several of their components, like strikes and latches, before you can add smart locks to them.
Having your smart locks professionally installed helps you avoid the hassle and risk of doing your own installation. That's why Vivint offers professional installation for smart locks and a variety of other security devices.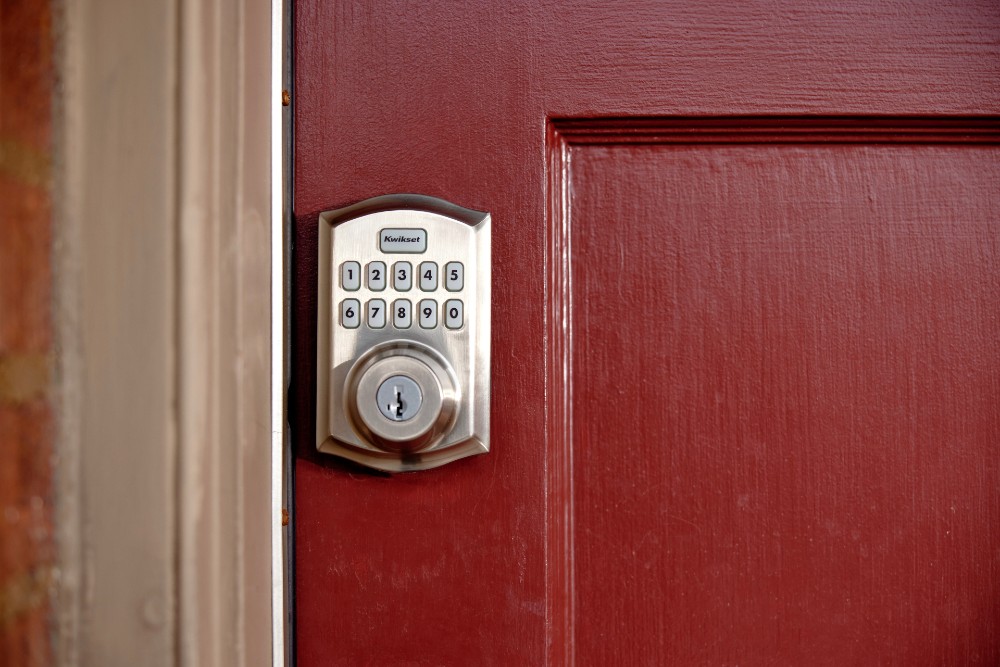 Smart door lock FAQs
If you're new to smart lock technology, you might have some questions before deciding whether they're right for your home. Below, we've provided a few answers to some of the most commonly asked questions about smart locks.
Can smart door locks be hacked?
Like other Wi-Fi-connected devices, smart locks can be hacked. That's why it's important to take steps to protect your wireless internet connection. For instance, one way to improve the security of your Wi-Fi connection is to use a strong password.
Strong passwords should be long (around 12 characters or more) and have a combination of letters, numbers, and symbols. Don't include personal information in your passwords, like your birthday, pet's name, or parents' names. Strong Wi-Fi passwords are also essential for protecting other devices on your network, like smartphones, tablets, or laptops.
Still, smart locks are more secure than traditional locks. Most smart lock systems are impervious to bump keys used by home intruders, and many smart lock models keep your door's original deadbolt for added security.
What happens to smart locks when the power goes out?
Smart locks generally run on batteries. That means you'll still be able to lock and unlock your door if the power goes out. However, you won't be able to use some of your lock's smart functions that rely on an internet connection if your router loses power.
Some smart locks have rechargeable batteries, while others use non-rechargeable ones. The life of your lock's battery will depend on how often you use it. Most smart locks will give you a low-battery warning a few weeks before your battery goes out.
Many smart lock models (like the ones offered by Vivint) leave your door's original deadbolt intact. Even if the lock's battery dies, you'll still be able to get into your home using a standard key.
Are smart door locks worth it?
Smart locks can provide a great deal of value to your home. They make it easy to ensure that your doors are secure at any time of day or night. They help you let in visitors without giving them a spare key or leaving one out in the open. And they allow you to unlock your doors using your voice, which can come in handy when your hands are full.
Smart locks are especially valuable if you have children or family members who often forget to lock the door.
Picture this: Your kids have just arrived home from school, but you're working late. You know your 12-year-old tends to forget to lock the door, so you check your smart lock mobile app to see if your home doors are locked. Luckily, you can lock your doors remotely to make sure your children are safe.
Discover the best smart door lock systems from Vivint
Smart locks can go a long way toward making your home more manageable and safer. As a bonus, smart locks ensure you never have to worry about losing your keys again. If you're ready to make the switch, explore the top-rated, quality smart locks offered by Vivint.
Our knowledgeable staff will guide you through the process of picking the right security tech for your home and creating a smart home setup that improves your home's security and comfort — and impresses your friends.
Find out how Vivint can make your home more comfortable and convenient. Call us at 855.822.1220 for a free consultation today.
A Vivint Smart Home Pro will contact you within 24 hours. Or skip the form and call now: 844.481.8630.
Everything works together
Combine products
for a safer home