There are a lot of great smart devices out there that would be cool to have. And then there are devices that will make you wonder how you ever lived without them.
Smart locks are at the top of that list. With a smart lock, you can ditch your keys and enjoy the safety and convenience of managing your lock wherever you are.
Take a look at how a smart lock works and some of the benefits they provide over a traditional door lock.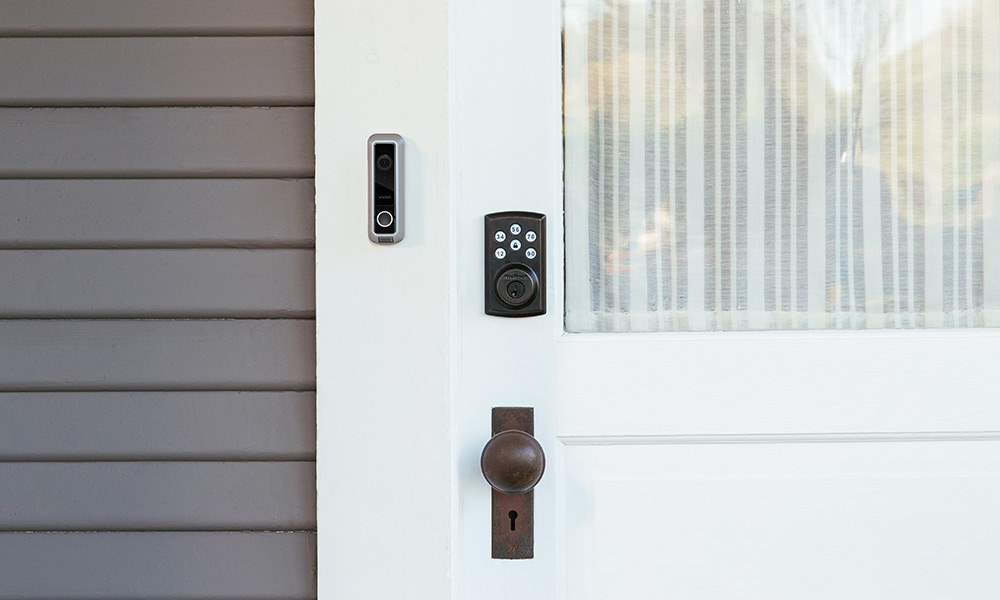 What are smart locks and how do they work?
Smart locks are keyless door locks that allow you to open your door without a physical key. They can be controlled remotely using a smartphone app. Many models feature a numeric keypad on the lock for entering a unique access code.
A smart lock connects to your home's WiFi network, which allows it to receive the code or smartphone command to lock or unlock.
While some smart locks require you to completely replace your entire lock system, others fit right over your existing lock system or only require a few modifications.
When smart locks are integrated into a complete smart home, they can also integrate with other devices, like a smart speaker or your security system. However, they need to be connected to a smart home hub that enables all the devices to work together.
Do you really need a smart lock?
Your house key locks and unlocks your front door. That's it. But if you're looking for something more than bare bones basic functionality, then a smart lock is the way to go. Some of the ways smart locks make life easier (and your home safer) include:
Control your front door no matter where you are. With a smart lock, your smartphone doubles as your key. There's no need to rush home to beat your guests or a delivery driver to the door; simply log onto your app and unlock your front door from wherever you are.
Codes over keys. If you've ever stood at your front door while digging through your bag to find your keys, you'll appreciate the keyless functionality that lets you unlock your door with a simple code—no key required.
No more hide-a-keys. Smart locks eliminate the need for making copies of your key for everyone. This is also much safer than having multiple copies of your house key floating around, protecting your home from potential burglaries.
Notifications help you remember to lock up. If you've ever left your house in a rush to make it to work or drop off your kids on time, you know the worried feeling that comes with wondering whether or not you remembered to lock your door on the way out. Many smart locks will send you notifications on your phone if you forgot to lock your door, so you can quickly lock it with the tap of a button.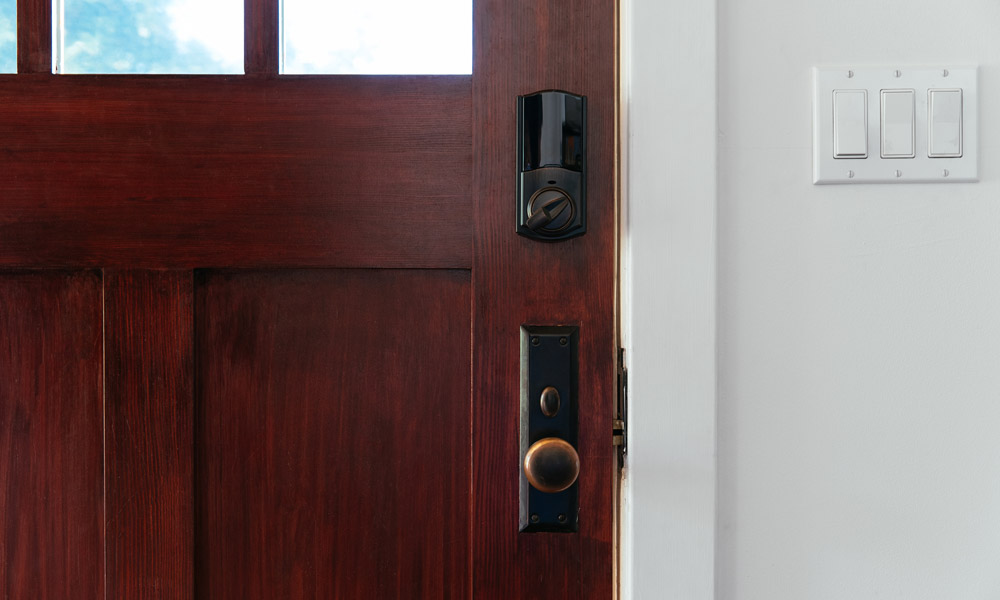 Smart locks as part of an integrated smart home
Like most technology purchases, finding the perfect smart lock for your home requires a little research. If you want the best experience, then a smart lock from Vivint Smart Home is the way to go.
Vivint offers an integrated smart home system where a smart lock can intelligently connect and interact with other smart devices to simplify your life and increase the security of your home.
In addition to the smart lock benefits listed above, a smart lock integrated into a Vivint system makes life easier in a number of ways:
Know who's coming or going. You can make up to 30 unique access codes for everyone who needs to get into your house, from the babysitter to dogsitter to your own kids. Your system keeps a log of which code was used and when, so you know exactly who is coming and going. You can also receive notifications on your smartphone when a code is used.
Keep your packages safe. If you do online shopping, you know the threat of packages being stolen off your porch is real. With a Vivint Doorbell Camera, you can see when your delivery driver arrives, then unlock the smart lock on your front door and use the camera's two-way talk feature to ask him or her to put your package inside—all from your phone.
Create guest codes for visitors. Preparing for out-of-town visitors can be stressful enough without having to run and get a copy of your key made or coordinate your schedules so you're home when they arrive. Just make a temporary access code for your guests so they can come and go as they please. Then, when they leave, you can delete the code.
Create custom rules. You can also create custom rules for your smart lock, such as locking doors automatically after a certain amount of time, or arming your security system and turning off your lights when you lock your front door.
Lock your door with the sound of your voice. Want to make sure your door is locked, but your smartphone is charging in another room? No problem, when your smart lock is integrated with a system that includes a Google Home or Amazon Echo. Just say, "Hey Google, lock the front door." It's that simple.
Leave with one touch
If your morning rush includes juggling kids, book bags, keys, your wallet, and more, you'd probably welcome anything that makes getting out the door easier. With a Vivint Smart Home system, one-touch leaving locks your door, arms your security system, turns off the lights, and adjusts the thermostat to save energy—all with the simple touch of the lock button.
The same goes for when you arm your security system at night. You don't need to make the rounds to get your house nighttime ready by checking locks or going from room to room to turn the lights off. You can rest easy knowing that once you arm your system, your doors lock, your lights turn off, and your temperature adjusts automatically—all thanks to the custom actions of your integrated system. It's as simple as the touch of a button or a voice command.
Professionally install a smart lock
Some smart locks are simple to install, but others can turn into a complicated project, depending on your comfort level with hardware and technology.
With a Vivint Smart Home system, you can skip the frustrating DIY route with reliable professional installation.
Vivint's Smart Home Pros take care of the installation for you and ensure everything works together seamlessly. They'll also show you how to use your system and how to take advantage of its many features. And it sure beats spending your weekend figuring out how to install a smart lock (or any smart home device) by yourself.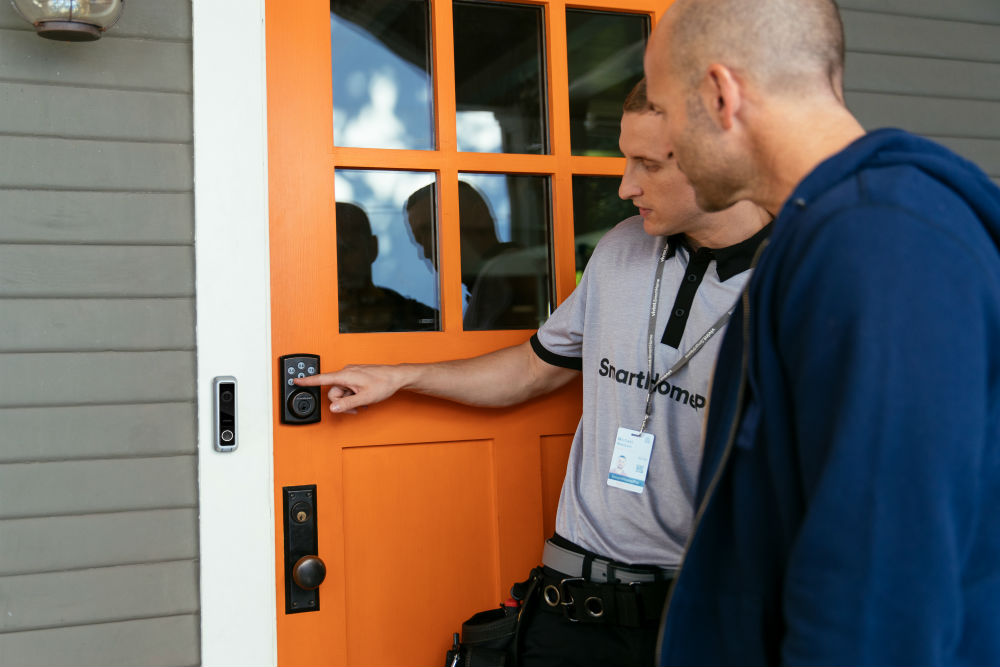 Peace of mind with a Vivint Smart Home system
Upgrading your lock and key to a smart lock from Vivint can make your life easier and more convenient.
And when you make it part of a complete smart home system, you're in control of every aspect of your home, from your locks to your lights to your security system, no matter where you are.
Want to see for yourself? Contact a Vivint Smart Home specialist at 800.646.1469 for a free customized quote today.