Key takeaways
54% of people said their smart locks have prevented a home invasion or break-in.
Americans without security systems or cameras are 80% more likely to feel "not at all safe" at home.
37% of people believe that home invasions are rare.
The top 3 home security features most recommended for first-time homebuyers are security cameras (68%), a video doorbell (54%), and an alarm system (41%).
73% of homeowners believe homebuyers should install a home security system before moving into a new home.
Separating truth from fiction
A home security system is an important line of defense between your home and an intruder. However, misunderstandings exist regarding their efficacy and the ways criminals break in. To help you make informed decisions about protecting your home and property, we conducted a detailed survey of 1,000 people about their home security beliefs and experiences and debunked these myths. Here's what we found.
Mythbusting: Using data to disprove home security rumors
Misconceptions about how break-ins occur and the best ways to prevent them seem to have spread, but likely by people who have never experienced one. Below are the top myths about home security and the facts that prove them wrong.

Nearly 50% of respondents said they believe that burglars always enter through a window or door. Those might seem like obvious points of entry, but intruders enter homes in many ways, including through garages and basements. This illustrates the vulnerability of home dwellings and how a security system can act as a sentry against home invasions.
Almost 40% also said they think home invasions only rarely occur. However, a U.S. home invasion can happen as frequently as every 26 seconds, indicating an ever-present threat to your safety and security.
We also asked participants, "What's the top piece of home security advice you'd give to others?"
Here's what they said:
"Always lock all your doors and windows. If you're traveling, limit the information you share on social media and only tell the people you trust." 32-year-old man who lives in an apartment
"Do the research and pick the security company that suits your needs and price range. Note that some have installation options, and others do not. If you are not tech-savvy, this will be important." 39-year-old woman who lives in a house
"Change the batteries in your battery-powered security devices on a regularly scheduled basis. Don't wait for them to fail." 66-year-old man who lives in a house
Securing your home for a strong defense
With stats showing home burglary is a significant issue, finding the best ways to protect your home is vital. In this section of our survey, we asked respondents about their preferred methods of home security and any dangerous situations they've averted.
When you don't know who or what's outside, cameras and alarms can help. Our survey participants' top preferred security measures were security cameras (37%), alarm systems (18%), and video doorbells (18%). Smart technology also proved helpful, with 54% saying their smart locks have prevented a home invasion or break-in.
Stopping intruders is central to any home security system, and our respondents' methods have done just that: 42% of security tactics have prevented a break-in. And with the popularity of online shopping, stopping porch pirates in their tracks is another essential task. Nearly one-third of participants reported successfully doing so. These scenarios pose a serious threat to your home, family, and valuables, highlighting the importance of keeping your home safe.
Our respondents also reported that these were the top security measures that prevented each of the following situations:
Break-in/home invasion: smart locks
Porch piracy: video doorbell
Solicitation: motion-activated lights
Mail theft: security bars
Vandalism: security bars
Stalking: security bars
We also found that Americans without security systems or cameras were 80% more likely to feel "not at all safe" at home. Next, we look at measures you can take to help you feel safer, especially if this is your first time owning a home.
Security system recommendations for first-time homebuyers
For people buying their first homes, there's a lot to learn from those who've been there before. So, we asked participants what security advice they'd give new homebuyers for creating a safe, secure dwelling.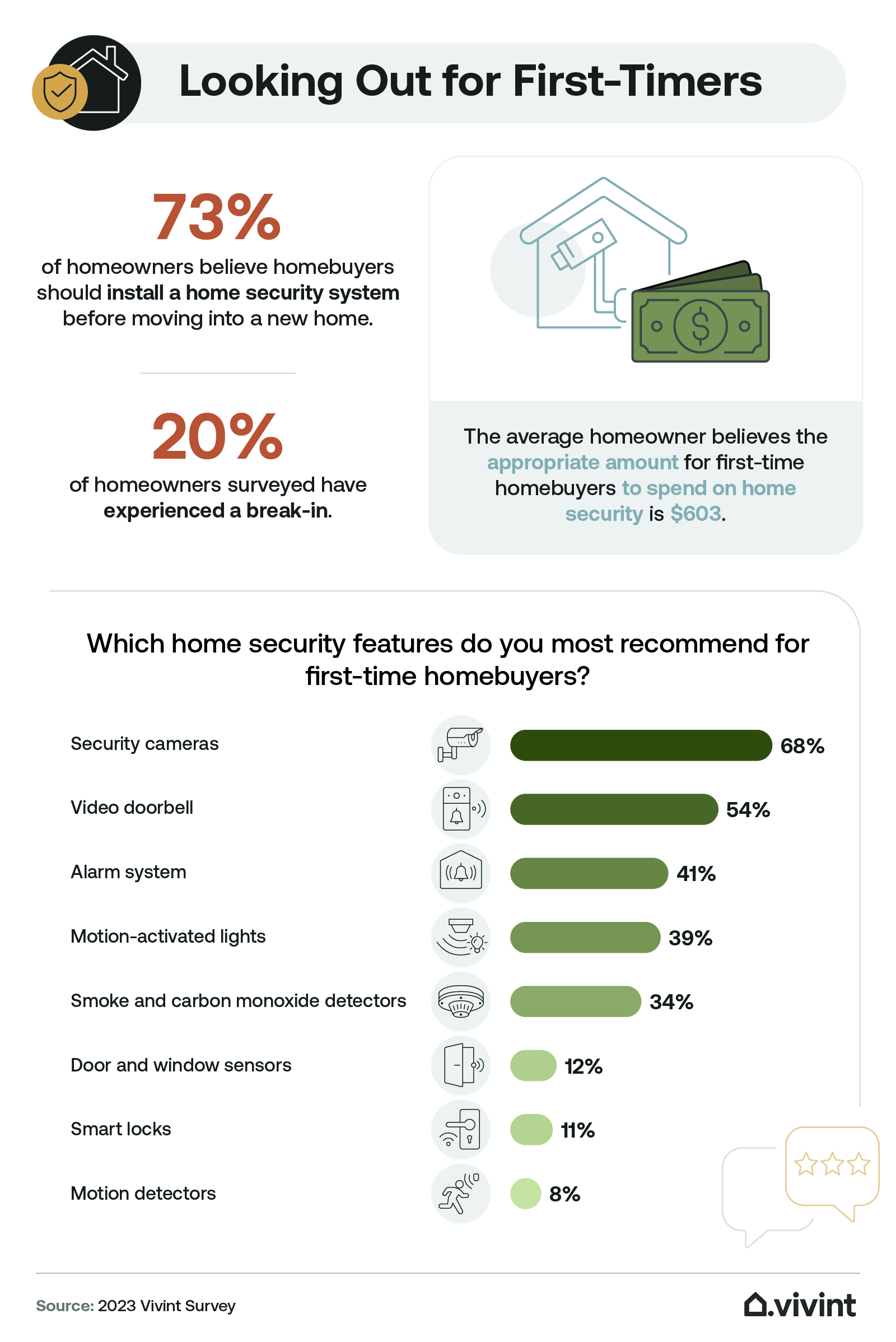 We found that 73% of our survey participants recommended that first-time buyers have a home security system in place before moving in. Overall, they also advised spending an average of $603 to ensure a solid set of measures is in place. Some responses came from real-world experience, too: 20% of the group had experienced a break-in.
Security cameras were the top feature recommended for new homeowners, with 68% of participants urging their use. That makes sense, since spotting intruders before they strike can give you the best chance of avoiding an incident. And besides, having a clear view of multiple areas of your home can alert you to all sorts of things, whether useful or just funny. The next most recommended security features were video doorbells (54%) and alarm systems (41%).
We also asked our survey participants, "What's your top home security advice for new homeowners?" Here's what they said: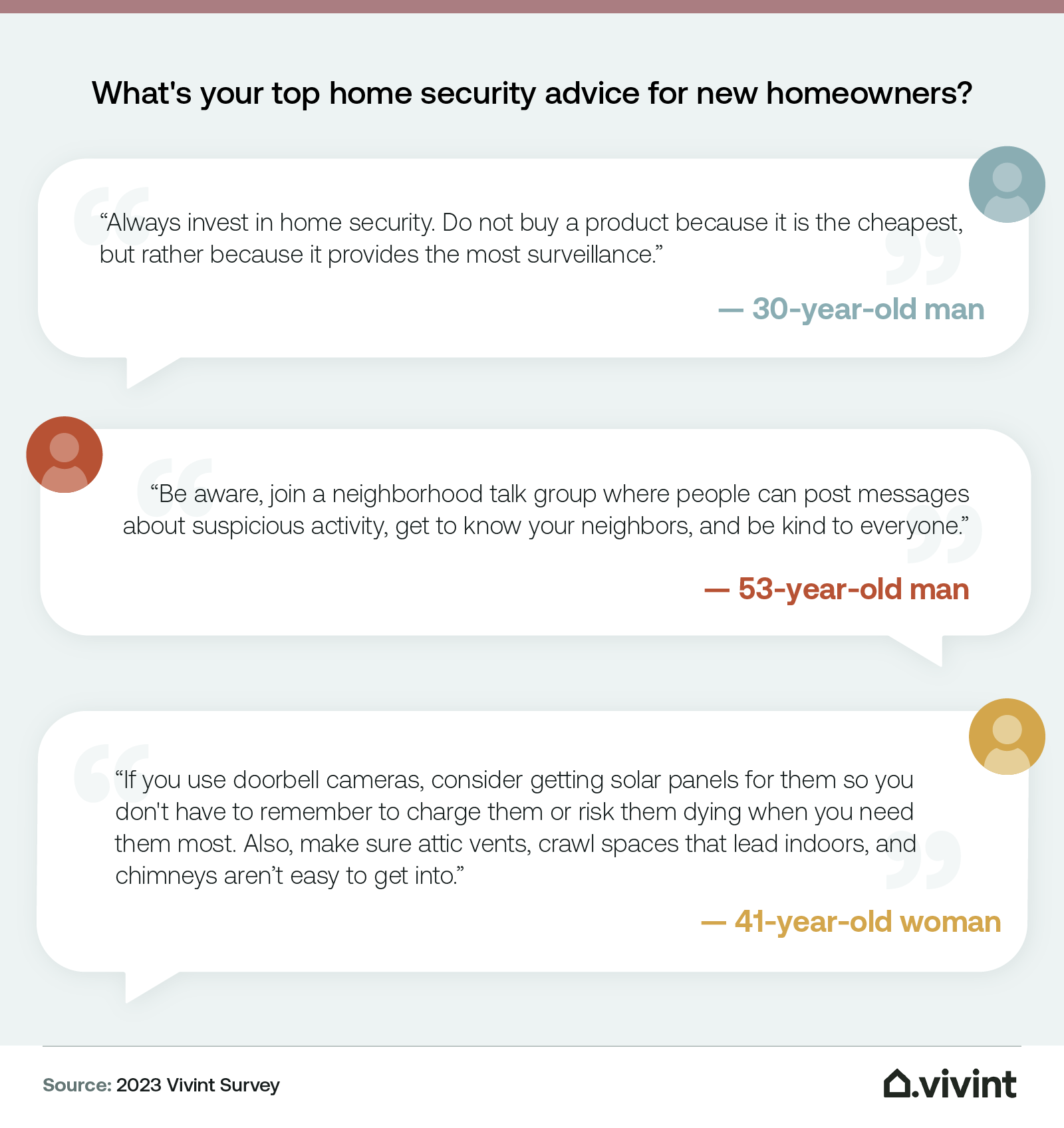 Investing thoughtfully in the right home security system for your unique situation is great advice. Likewise, online neighborhood communities are also helpful since neighbors can quickly alert one another to suspicious activity. But if you're worried about your doorbell camera's battery dying, consider a wired option that doesn't need recharging.
Essential tools for a safe home
While many myths downplay the importance of home security systems, they're the best way to protect you and yours. Break-ins can occur at various and unexpected times and places, but security cameras, alarm systems, and video doorbells provide a strong defense. By researching your best options, you can implement measures that suit your needs and budget.