Knowing that you can see what's happening in and around your home, set smart home automation alerts, and talk to your kids in real time can provide much-needed peace of mind, no matter where you are.
Outdoor security cameras can record real-time footage of your property, alert you about suspicious activity in the area, and even deter lurkers who linger for too long outside your property.
But with so many choices available, choosing the right outdoor camera can be overwhelming, especially if it's your first time investing in a home security device.
In this guide, we look at different use cases to help you choose the best home security camera for your needs.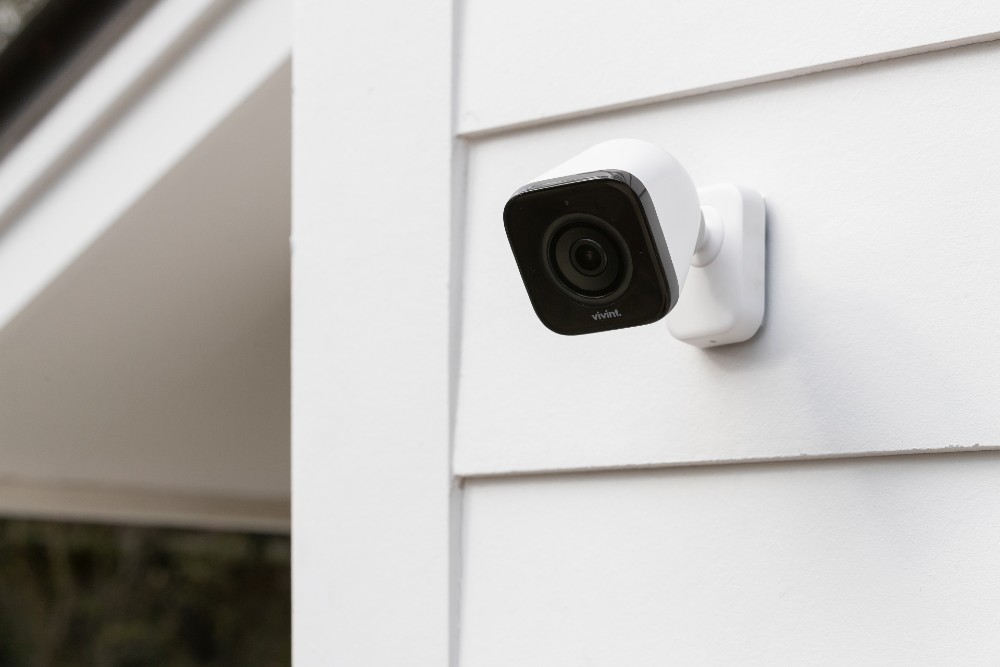 Vivint Outdoor Camera Pro (Gen 2)
The Vivint Outdoor Camera Pro is one of the smartest outdoor security cameras available on the market. Designed for outdoor use and equipped with Smart Deter technology, the Vivint Outdoor Camera Pro can help protect your home in a number of ways.
Benefits
Monitor your property remotely. A Wi-Fi network is all you need to see what's happening around your home. With Vivint, you can record and view live footage of your property remotely, no matter where you are.
Stream live and recorded HD camera footage. The Vivint Outdoor Camera Pro delivers 1080p 4K Ultra-HD video quality straight to your smartphone or the Vivint Smart Hub, allowing you to clearly see what's happening at home.
Deter burglars automatically. Featuring a Smart Deter system, the Vivint Outdoor Camera Pro automatically detects lurkers around your property and scares them off with a loud sound and LED illumination.
See what's happening around the clock. Featuring an IP65 rating and color night vision, this weather-resistant device delivers a crisp image from dusk to dawn.
Enjoy a fully-automated home experience. The Vivint Outdoor Camera Pro connects to your home's Wi-Fi, bringing you closer to a fully automated experience. It integrates seamlessly with many smart home platforms, including Amazon Alexa, Apple's Home Kit, and Google Assistant.
Specs
4k Ultra-HD with high dynamic range image sensor
140-degree field of view
IP65 weatherproof rating
3x HD zoom, 10x digital
55-feet night vision range
Power over Ethernet (PoE), PLC, and Wi-Fi bridge connectivity
108-pixels HD video resolution
Motion detection
Playback DVR
What people say about the Vivint Outdoor Camera Pro (Gen 2)
Take a look at some Vivint Outdoor Camera Pro reviews:
Our home was broken into prior to getting Vivint. We got the system and caught on the back door camera at 2:15 am someone trying to get in again. I am so satisfied with the quality of the camera and the comfort it gives us when we are home asleep and away working! Excellent choice!
After installing Vivint Securiy cameras in our home, we feel more secure. We added two additional outside cameras that I didn't have with my previous provider with less the cost. We later plan to add more options to our home. At this time, we are completely satisfied with Vivint.
They installed the system this past summer, 3-4 days before my car was broke into with no video from my previous system. The salesman and installers was here maybe 2 hours installed and ready to go. I now have 2 cameras, and the videos are great. Two weeks later the thief, intruder come back again now I have a video for the police department and my neighbor help me getting the video to the patrolman on duty and the police department . Now they have the profile of said intruder..... I am very Thankful for my system and my videos on my porch and in front of my house are great.... talking to people when they step up on my porch startles them..... I can't complain it's done everything that I need. I am still figuring out the details of my alarm system with help from family and friends. Taking the time to learn about my system!