Americans love their pets.
Of the 85 million people in the US who own a pet, the vast majority of pet owners (95%) consider their pets members of the family.
Whether it's buying birthday presents to making homemade meals to splurging for in-home pet nannies, pet owners today are more willing than ever to spend serious money to make sure their fur babies are well taken care of.
Pet sitters are on the rise
The days of boarding pets in cold, sterile facilities when you go on vacation or out of town are dwindling. Instead, many people would rather their pets experience the comforts of home by hiring a pet sitter to come to their home and even spend the night with them.
Pet owners are also concerned with leaving their pets alone at home all day while they're at work. Dog walkers and pet nannies who stop by during the day to walk and feed pets are big business—in 2016, Americans spent more than $5 billion on pet sitting and dog walking services.
But even with a pet sitter taking care of your pets while you're away, you may still be worried about your pet—especially if it's a new pet sitter or if your pet is spending the majority of the day at home alone.
Luckily, a smart home can help put your worries at ease.
Indoor cameras show you what your pets are up to
All pet owners wonder what their pets are up to while they're away. Are they pining away for you? Tearing up the house? With pet cameras, you can see exactly what you're doing no matter where you are.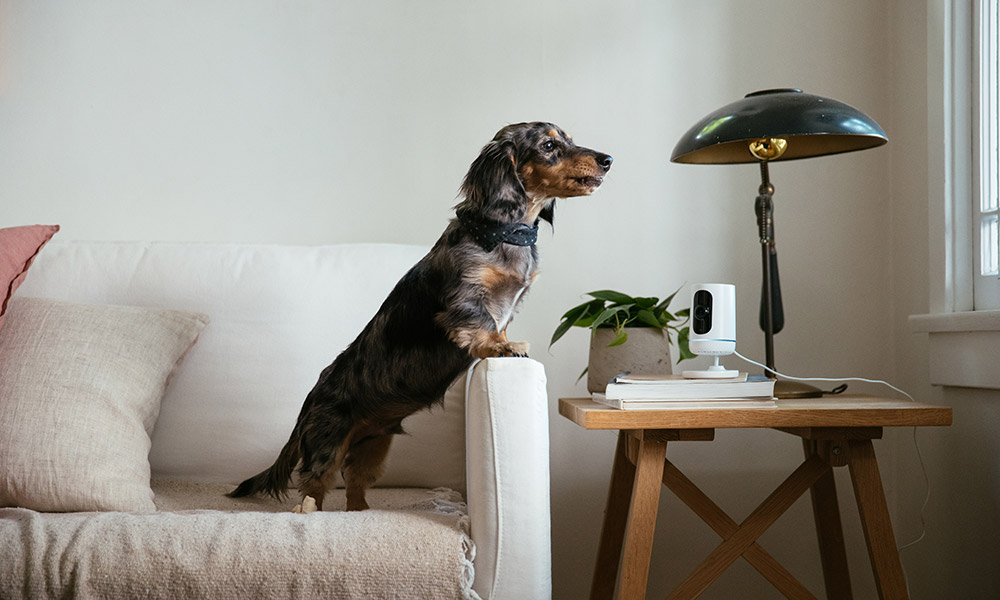 Vivint Ping Camera, for instance, is an indoor camera that functions well as a pet camera. With a wide-angle lens, HD resolution, and infrared night vision, Ping allows you to see what your pet is up to day or night.
With remote access, you can view live camera feed via the Vivint Smart Home app to check in on your pet while you're away, or you can view recorded coverage later to see the adorable adventures your pet went on throughout the day.
Ping records up to 30 days of continuous indoor footage, so you can access playback at any time. This is especially useful if you think your pet may have gotten into something, or you want to verify that your pet sitter was in the house taking care of your pets at a certain time.
Outdoor cameras keep an eye on pets outside
Not all pets spend their days lounging inside on the couch. If your pets have access to your yard, or if they're outside pets, you can still check on them throughout the day or night with an outdoor camera.
Rain or shine, day or night, these HD resolution surveillance cameras have infrared LED night vision to help you get a clear view of your pets. These cameras also feature Vivint Smart Clips, a smart feature that automatically records 20-second clips when motion is detected. Now you can share that amazing jump your pet performed in the backyard.
Smart locks are a must for pet sitters
If you plan to have a pet sitter coming and going, smart locks are a must. With a smart lock, you gain security and convenience by giving your pet sitter access to your home with a unique code, rather than making copies of your key. You can also change or deactivate the code as needed.
Want to make sure your pet sitter came when they were supposed to? You can receive notifications on your app of when your door has been locked or unlocked. On their way out, the pet sitter can press the lock button on the smart lock to trigger a custom rule that will lock your door, arm your security system, and turn off the lights.
Continuous monitoring keeps your pets safe while you're away
Nothing quite brings you peace of mind that your pets are safe while you're out of town like a security system with round-the-clock monitoring.
Not only does a comprehensive home security system feature burglary detection features like glass break sensors and motion detectors, but it also monitors for dangers to humans and pets like fire and carbon monoxide. In an emergency, professional monitoring specialists will notify you, and send needed assistance to your home.
Pets are family, and you love them like family—and that includes worrying about their safety and well-being while you're away.
With a Vivint Smart Home system, you can check in on your pets whenever you want from wherever you are, giving you priceless peace of mind.
Ready to see how a smart home can help you care for your pets? Give us a call at 800.646.1469 for a free consultation and quote.
Learn more about protecting your home and its occupants