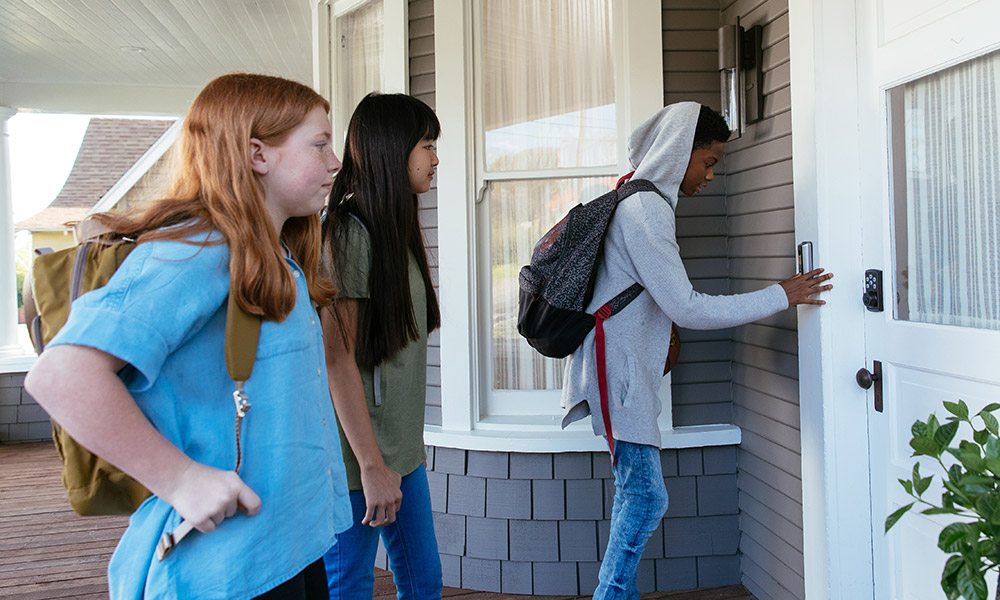 I have the best job in the world: stay-at-home mom.
Don't let my job title fool you. Keeping an eye on my two boys is a full-time job with no holidays or vacations. I love being a mom, but I love anything that makes being a mom easier even more.
My hubby and I bought a smart home system last year and it has made a world of difference. The security, temperature control, and nanny cam are all great, but my personal favorite part of our smart home is the doorbell camera.
Honestly, I think every mom should have one. Here are 7 unexpected reasons I think every mom needs a doorbell camera.
1. Kids love answering the door
While I was pregnant with my first son, my hubby and I had several long conversations about exactly how we were going to raise him. Looking back, it's kind of funny to think that we were so worried.
After several late-night talks, we decided the most important thing we wanted to teach our future child was to be friendly. My husband loved the thought of passing on his Southern manners to our kids. I loved the thought of our son easily making friends.
Well, long story short we've been successful so far. Unfortunately, now both our sons love to answer the door.
It doesn't matter who's at the door or what time of day, as soon as they hear knocking they run to welcome the visitor into our home. Their excitement isn't a problem when it's relatives or family friends, but I get worried when there's a stranger on the other side of the door.
Our doorbell camera not only lets me quickly see who's on our doorstep from anywhere in the house, it also changed the way my kids answer the door.
Now, instead of bolting to the front door whenever they hear a knock, they run to the security panel in our home. When the doorbell camera detects a visitor, the video is played on the panel.
The kids think it's cool because they get to watch our guests. I think it's cool because my kiddos aren't opening the door for strangers.
2. Direct delivery drivers where to put your packages
I love shopping online.
I order everything I possibly can through the internet. Surfing the web is just a lot less stressful than trying to pack up the kids for a trip to the nearest over-crowded superstore.
All those online purchases mean delivery drivers are coming by our house on a daily basis.
I read somewhere a few years ago that if you aren't going to be home throughout the day, you should leave special instructions for the delivery driver to hide your packages in a secret spot. That way thieves walking by can't see you have an unprotected package.
I used to leave detailed delivery instructions, but now we have a better solution.
My doorbell camera notifies me through my smartphone when the delivery driver walks up to my door. The two-way talk feature lets me thank them, and tell each driver where our secret package hiding spot is.
As a bonus, I know my order is waiting for me when I get home by simply glancing at my phone.
3. Stop porch pirates
Speaking of package thieves…
Luckily, I've never had a package stolen from my doorstep, but it seems like porch pirates are becoming a real problem throughout the country. I know if my home is ever the target of a package thief, I'm well prepared.
Since the doorbell camera starts recording when it senses movement, I know I'll have video evidence of the thief catching them in the act. I could even use the talk feature to tell him I see him and he's being recorded. I'm just happy my doorbell is keeping an eye on my porch all the times I can't.
Learn more about how to protect your deliveries from porch pirates
4. Catch doorbell ditchers
Not every stranger is a bad guy.
My kids have always been intrigued by doorbell ditchers. It doesn't happen at our house very often, but every time they hear a knock and see there is no one at the door they jump into detective mode and try to figure out who it could be.
The most recent investigation started with a thorough questioning of my hubby and me. Once we were cleared as suspects, my little detectives asked me to pull up the recent video from our doorbell camera.
With the help of video evidence, they cracked the case wide open and found it was one of the teenagers from a few doors down.
5. Solve mysteries with your little ones
The case of the doorbell ditcher wasn't the first time my kiddos used our doorbell camera to solve a mystery. Their biggest centered on missing birdseed.
During summer vacation, I was struggling to find ways to occupy my boys throughout the day. As an avid crafter, I thought making bird feeders together would be a great way to keep them busy and spend the afternoon making cute yard decorations.
After we finished our masterpieces, I hung mine in the big tree out front. My oldest wanted to put his bird feeder next to the front door so he could see it through the window. My younger boy, naturally, wanted to do exactly what his older brother did.
After about 15 minutes of watching out the window, waiting for birds to arrive, my boys gave up and went back to playing.
We noticed the next day that a significant amount of birdseed was missing from my 6-year-old's bird feeder. He was excited that the birds had come and wanted to watch them eating. I pulled up any doorbell footage I had from the day before to see if we happened to catch one on camera.
We didn't see a bird, but we did see a squirrel stuffing its cheeks.
I thought my little one would be upset that the squirrel was stealing the birds' food. Instead, he was excited because he 'likes squirrels better than birds.'
6. Tell salesmen you're not interested
I have to admit, I have a hard time telling door-to-door salesmen I'm not interested.
Once I open the door and we're face-to-face, I feel it's impolite to tell them 'no.' I usually end up listening to their entire sales pitch. I think it's my inner introvert coming to the surface.
Now that our home is equipped with a doorbell camera, my inner introvert can thrive in sales situations.
I hear a knock at the door and get an alert on my phone. I check the video and see it's a salesman. The clipboard is a dead giveaway.
I can either stay shy and ignore the knock or politely let them know I'm not interested through the two-way talk feature.
Both choices get me out of a lengthy sales pitch without even opening the door.
7. See who's at your door from any room
Solving mysteries with my boys and protecting my online orders are great, but my favorite part of having a doorbell camera is simply being able to answer my door from anywhere through my phone.
I can invite relatives in, give neighbors the code to open my garage door, or let visitors know what I'll be back home.
The convenience and fun of having a doorbell camera are why I believe every mom needs one.
Turn your entire home into a smart home today. Visit the experts at Vivint.com to find out how.