The holidays are festive and fun, but for most people, the holidays center around one thing: home.
In song, film, and literature, there's a deep connection between the holidays and home. And that makes sense. After all, home is where we connect with what matters. It's our place of safety, security, and belonging.
We get that. Home is at the core of what we do at Vivint Smart Home. With a smart home, we seek to help families feel protected in their home, and to simplify the home experience, allowing people to live more and manage less.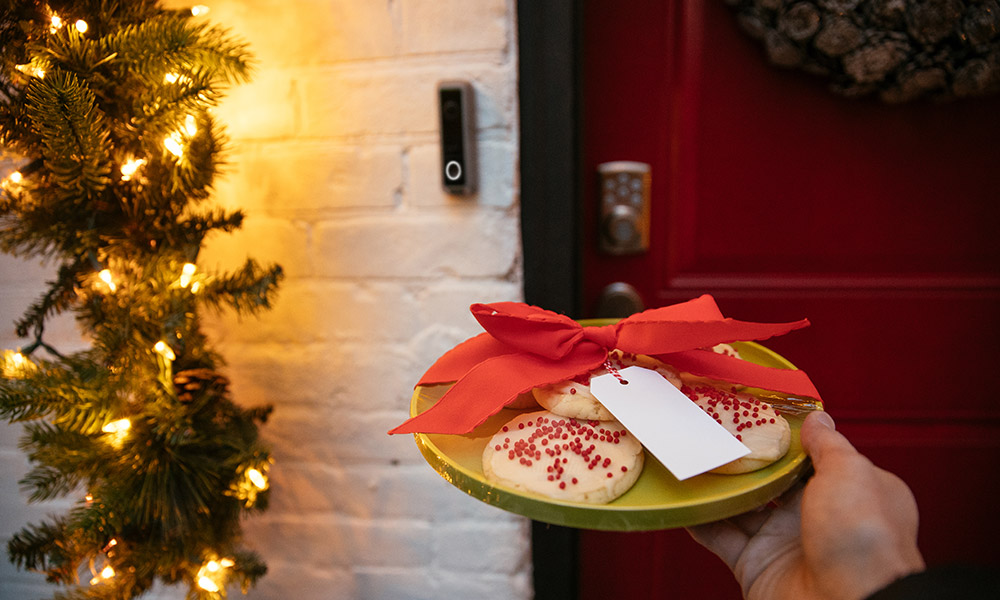 How a smart home connects you to what matters
A smart home uses artificial intelligence to connect, regulate, and control your home. That means various parts of your home are interconnected and work together to protect your home and make life easier.
When it comes to the holidays, protection and simplicity mean more time spent with those you love without having to worry about your home.
See how a smart home helps you make the holidays merry and bright:
Front porch control for the holidays
The introduction to your home is typically your front door. You likely enter and exit it multiple times a week, if not each day. It's also where your guests are greeted. It's an important part of your home, and smart home technology enhances your front door experience.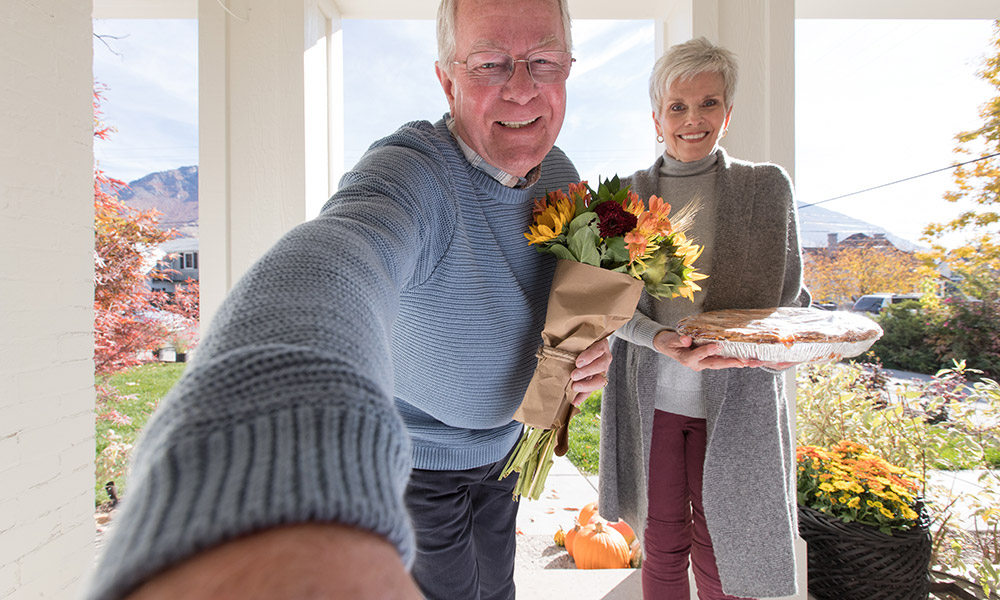 Doorbell cameras connect you to your holiday visitors
One of the most popular smart home features is a doorbell camera. While it looks like a traditional doorbell, a doorbell camera is anything but ordinary. A doorbell camera notifies you when someone is on your doorstep, even before they ring the doorbell.
On your smart home app or SkyControl Panel (your central control hub), you can see carolers at the door, or the delivery person dropping off the perfect gift you ordered online. Not only can you see who's on the doorstep, but you can also speak to them with two-way talk functionality. The ability to see and speak to whoever is at your door is valuable when you're away from home or can't make it to the door.
Doorbell camera + garage control = package security
Doorbell cameras are especially valuable for package deliveries. Now you know when packages arrive and can keep an eye on your package if you're not home for the delivery. If you want the delivery person to leave the package inside your garage, you can speak to him through the doorbell camera and easily open your garage from the same app in which you see the doorbell camera feed. Securing your packages in your garage is an easy way to protect you from porch pirates.
Smart locks are perfect for holiday guests
Visitors are common during the holidays, as family and friends come to stay. A smart lock helps make the arrival and stay of guests more comfortable. When you see your guests arriving via your doorbell camera feed, you can welcome them in and unlock the door from the app or panel. Of course, a personal greeting is best, but when you're on the go your guests can still get in your home and make themselves comfortable.
For guests staying with you for a few days, you can provide them with a unique access code to your smart lock, so they can easily come and go while keeping your home secure. Talk about hospitality!
Make your home merry and bright with smart lighting
The holidays are known for lights, and smart lighting makes holiday lights easy and affordable to manage.
Connect your indoor Christmas tree lights to the Vivint Lamp Module, and you can control those lights from your panel or app. You can even set schedules to turn the lights on and off at a certain time. That means no more walking around the house unplugging the lights each night!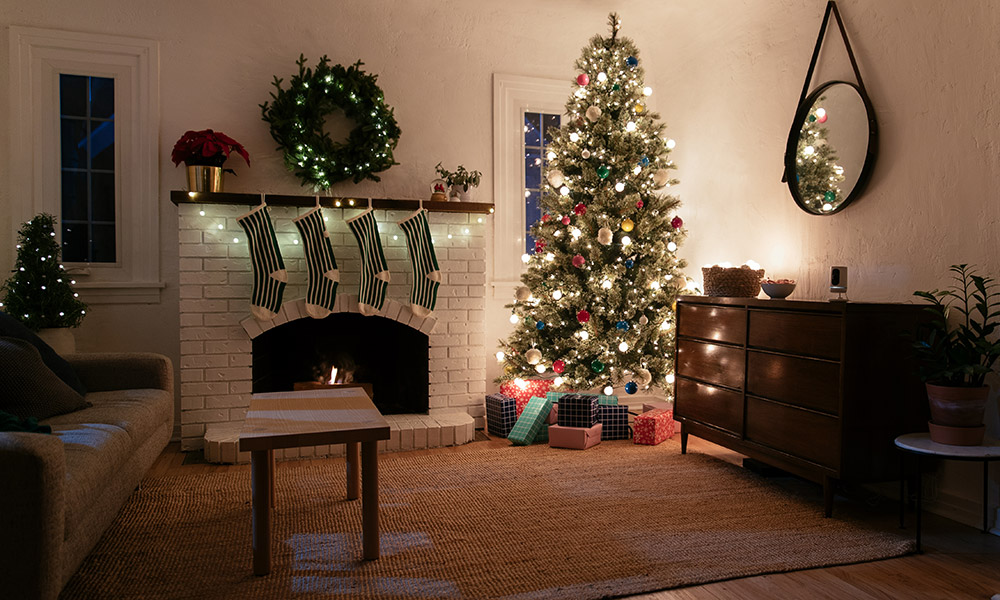 With the Philips Hue integration into your smart home, you can easily control your smart light bulbs. You can have the lights turn on when you walk in the front door or easily turn them all off as you go to bed. Looking for that perfect muted lighting to set the holiday mood? Your smart home can take care of that too with light dimming.
Keep your home cozy and warm
While the holidays may fill your heart with warmth, the December weather can leave you and your home a bit chilly. A smart thermostat keeps your home cozy and warm. You can easily adjust the temperature on the panel, app, or with your voice, but a smart thermostat goes beyond that to manage the temperature for you. A smart thermometer learns your occupancy patterns and can identify when you leave and adjust your temperature accordingly, saving you money while keeping your home just the way you like it.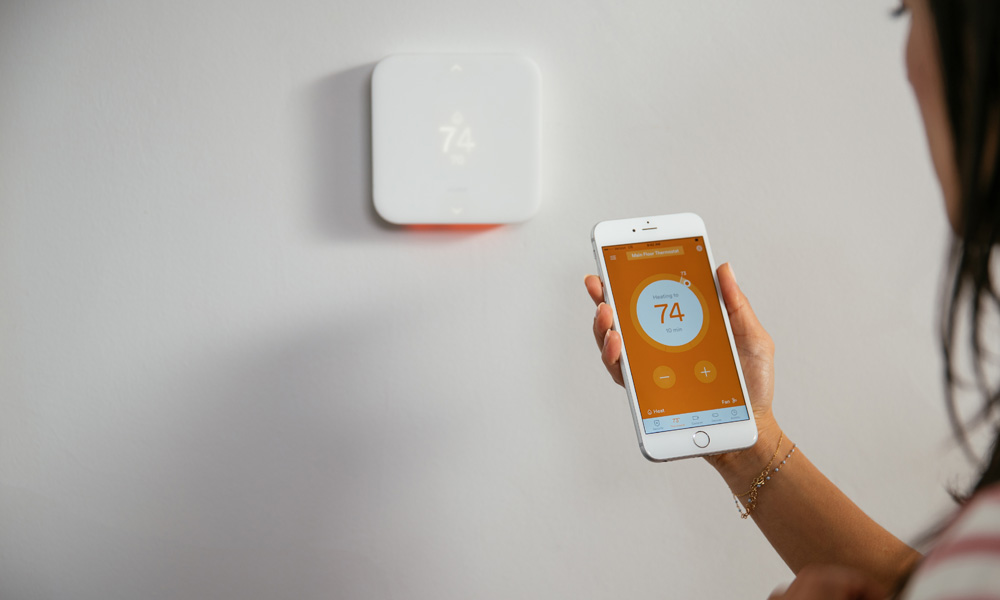 Be like Santa and see who's naughty or nice
Santa sees you when you're sleeping, and he knows when you're awake. If you're a parent, you know it can be difficult to keep tabs on your kids, let alone knowing if they're up to something naughty. The Vivint Ping™ Camera is an indoor camera that lets you keep eyes on what's happening in your home.
You can record video clips with your Ping camera and watch them later at your leisure. This is a great way to keep an eye on your kids while you're out holiday shopping. Best of all, while you're out, your kids can easily connect with you from the Ping with its one-touch callout feature. By pressing the button on top of the camera, your child can connect with you on your phone and can have a two-way conversation. You can see them and know they're OK.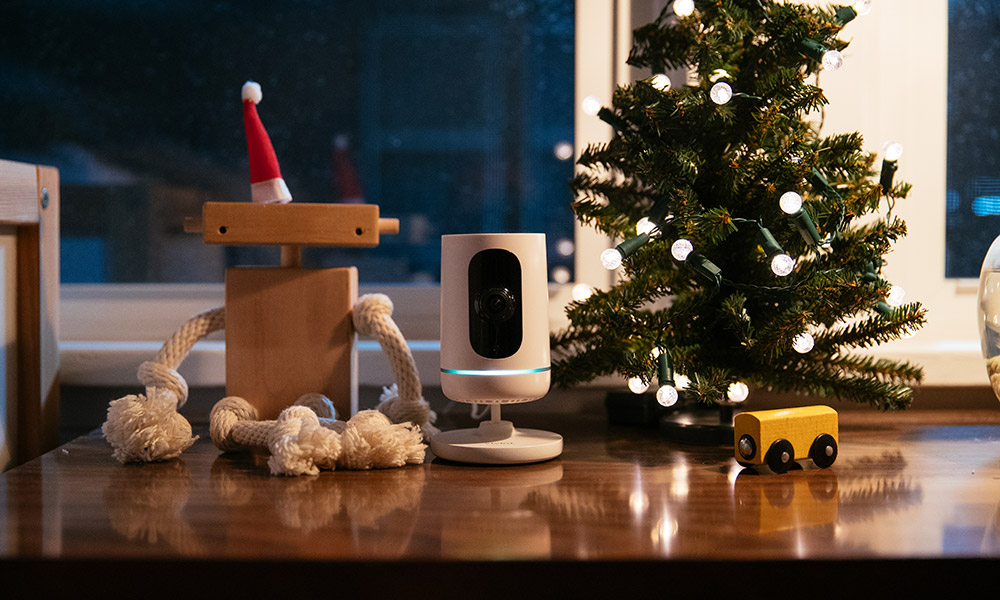 If you want to get a little clever with your indoor camera, you can set it up to see if your kids are sneaking an early peek at presents. You can also use the Ping camera to record and later relive fun holiday moments like gift exchanges and parties with playback DVR. Who knows, maybe you'll even catch Santa with your indoor camera.
Simplify the season with voice control
As fun as the holidays may be, they can sometimes be hectic and stressful. With arms full of presents or holidays treats, it can be tough to stay on top of things in your home. Voice control makes it easy. With Amazon Echo or Google Home integration, you can issue voice commands to control your smart home.
Want to change the temperature? Just ask Alexa to turn the temperature up. If you're all the way upstairs and can't remember if you locked the door, tell Google Home to lock it for you. Voice control allows you to easily control your home without having to take a break from your holiday festivities.
Be safe and secure wherever you are
With lights to see, gifts to give, parties to attend, and even vacations to enjoy, the holidays can sometimes take you away from home. The last thing you want to worry about is if your home and holiday packages are safe. With a home security system and 24x7 professional monitoring, you can enjoy your holiday activities knowing security experts are watching over your home day and night.
However you celebrate the holidays, let a smart home make this season easier to enjoy while protecting what matters most: your home and family.
Interested in a smart home for the holidays?
Contact Us