The time has come—you're ready to start enjoying the benefits of smart home technology. You've done the research, read the reviews, and know what smart devices are needed to make your home safer and more convenient.
Now what?
Getting to know your options
When it comes to smart home and security systems, you have three main options:
The DIY system, which involves you selecting the equipment, installing it, and monitoring it yourself
A professionally installed and monitored system
A hybrid of DIY and professional installation, where you might install some of your equipment but hire a professional to do the more complicated things
Let's take a closer look at some of the pros and cons of each—and we'll also discuss which option is best in the long run.
Leave it to the pros
With a professionally installed smart home, certified technicians install the equipment for you and a central monitoring team monitors your security system around the clock.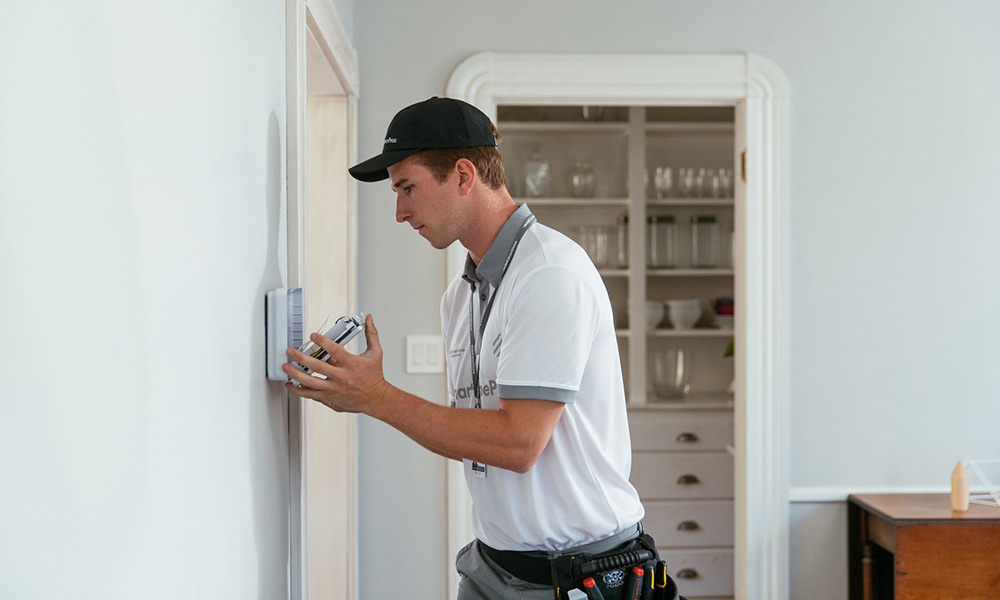 Advantages of a professionally installed and monitored smart home
It simplifies everything. Professional installation takes the headache out of getting a smart home up and running. You don't have to worry about whether or not you have the right tools or spend hours going through instruction manuals; you simply let the pros do their thing.
It ensures your system is running smoothly. With professional installation, trained technicians make sure all components of your smart home work together. This reduces headaches and enables you to take advantage of all the advantages of your system right away.
You'll know exactly how to operate your system. Following installation, your technician will train you on how to use each component of your smart home. Not only does this give you confidence in how your system operates, but you'll learn the useful benefits of each device as well.
Professional monitoring keeps your home more secure. The most effective security systems are monitored 24/7 by a professional monitoring team, which is ready to dispatch emergency personnel if needed.
What about the cons?
Perhaps the most obvious downside to professional installation is that it may take some of the fun out of it for DIYers who may feel left out of the process or find themselves thinking, "I could have done this."
What about cost? When it comes to technology, you often get what you pay for. With a professionally installed smart home, you gain time savings, a system that works together properly, and an extra set of eyes on your home even when you're not there. That convenience and peace of mind is invaluable and costs less than you might think.
To DIY or not to DIY?
When you build a smart home yourself, you select the devices you would like included and handle the installation and monitoring yourself.
Advantages of a DIY smart home
Many people who choose the DIY route do so simply because they enjoy the experience and find great satisfaction in doing things around the house. The biggest advantage of the DIY route is the ability to design a highly customized system.
The cons of DIY
On the flip side, DIY can be challenging and frustrating. Some smart devices are quick and easy to install, but others may involve drilling or electrical work. And getting multiple smart home devices to seamlessly work together can often be difficult. It's hard to enjoy the full benefits of home automation when you can't get your system to work together.
Additionally, DIY monitoring may not be as effective as professional monitoring. Rather than a monitoring center alerting authorities for you, you and your family are the ones who have to keep a careful eye on your home and call 911 or other emergency personnel. This can add another layer of stress in the event of an emergency. Another problem with DIY monitoring is what to do about an emergency when you're in an area without cell service.
DIY can also get complicated if you need to troubleshoot. Rather than having a single company you can access for support with your entire system like you would with a professionally installed system, you may end up having to call tech support for each individual brand.
DIY (with a little professional help)
There's also the option of doing some of the installation or monitoring yourself and then leaving the rest to a professional. With this route, you might opt to do some of the basic device installation, but then use professional installation and monitoring for your security system.
The pros and cons of this option are similar to the items discussed above—you have the satisfaction of knowing you did it yourself, but can get frustrated if you get in over your head.
When you have some of your system installed professionally, however, you know that portion of your smart home will run smoothly. But, if you've already invested in a handful of smart home devices and then want to expand with professional installation, there's no guarantee that everything will work together.
The final verdict
When it comes down to it, the best option will be the one that allows you to experience all the benefits of a smart home without glitches, delays, or frustrations. And the best way to experience this is through professional installation and monitoring. It's simple—going this route will help you get the greatest benefit out of your smart home system.
The advantages of a professional system are clear, which is why Vivint Smart Home provides professional installation and monitoring with every smart home package.
Mark W. Westlake, CEO and Founder of GearBrain, recently had a Vivint Smart Home system installed in his home and found the entire process—from setup to installation to testing to teaching how the system works—to be a pleasure. "If all of Vivint's installation teams are as good as these guys," he says of his Vivint installation team, "you're in for a good experience."
Getting started with a professionally installed smart home system is easy. Give us a call today at 800.646.1469 for a free quote.