One of the best things about Christmas is decorating for the holidays. Decorating the tree, driving through neighborhoods to look at lights, and setting up displays and décor outside is a tradition for thousands of families; in fact, 86 percent1 of Americans who celebrate Christmas decorate for the holidays.
As fun and beautiful as they are, many holiday decorations — especially electric ones — are also fire hazards. But that doesn't mean you have to scrimp on your decorating. Follow these home and electrical safety tips for a worry-free holiday.
Make sure your smoke detectors are working properly
One of the most important home safety tips, regardless of season, is to make sure you have working smoke detectors. In the event there is a fire, your smoke detector can be a literal lifesaver.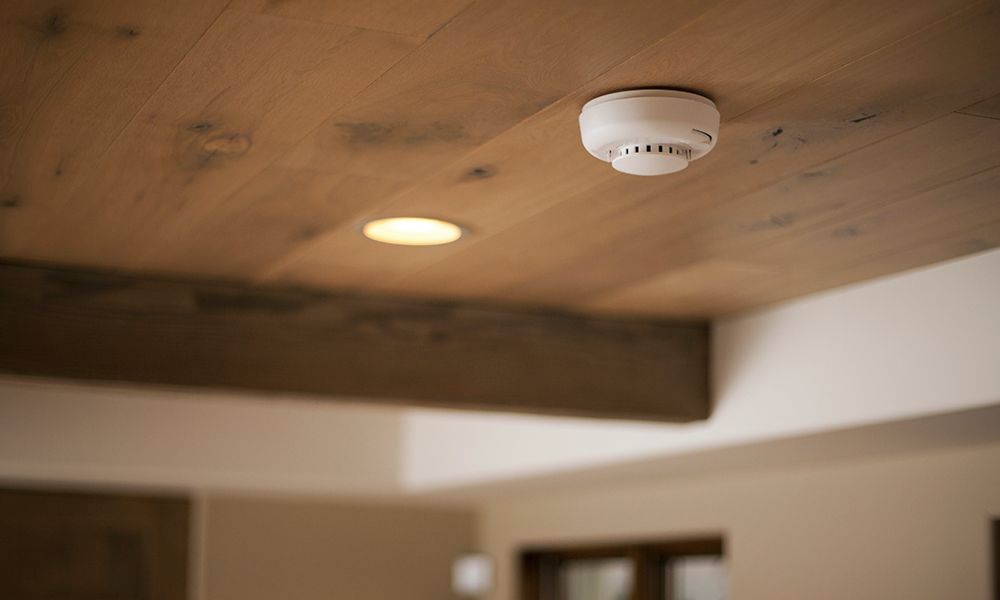 Test to make sure all smoke detectors in your home are connected and in working order. If your smoke detector is chirping, don't even think about disconnecting it. Keep a stash of 9V batteries handy, so you can swap them out as needed.
For the best type of fire prevention, connect your smoke detectors to a home security system with 24-7 monitoring. This means your home is protected and monitored round the clock, even when you're away. If you're planning on traveling during the holidays, this peace of mind is priceless.
Be smart when setting up your tree
Of the home fires that occur each year during the holiday season, approximately 200 start with Christmas trees2. This is especially true for live trees.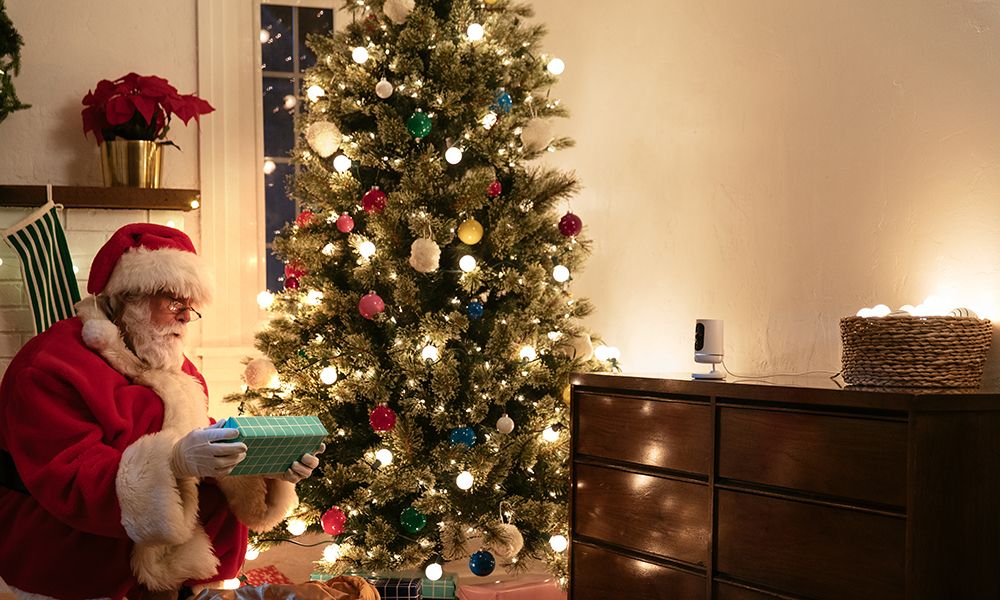 These home safety tips for your tree will help keep your home safe from fire:
Do not set up your tree next to heat sources, including fireplaces, space heaters, and radiators.
If using a live tree, make sure to water it regularly. Dry, brittle trees are more flammable.
When disposing of your tree, never put it in the fireplace. Most trash services have special instructions for tree pick up after Christmas, so check with your local waste company.
Buy pre-lit trees with caution. The Consumer Product Safety Commission has recalled a number of pre-lit trees3 in recent years due to electrical safety hazards. Stringing your own lights on holiday trees may be a pain, but it may also lessen the risk of fires.
Inspect your indoor and outdoor holiday lights for electrical safety
The Christmas season means holiday lights — and lots of them (remember National Lampoon's Christmas Vacation?). When you set up your own lights, however, don't go full Griswold — too many lights can be a fire waiting to happen.
Electrical safety tips for holiday lights
These electrical safety tips will keep your holiday lights burning safely:
Use LED lights when possible. They use less energy than incandescent lights, and they are also cooler to the touch than incandescent bulbs.
Use smart lighting to simplify your indoor holiday lights. When Christmas tree lights are plugged into the Vivint Lamp Module, you can easily control your lights from wherever you are with the Vivint Smart Home app. This is particularly handy if you're traveling as you can keep your home lit and festive, which can help deter thieves.
Always follow the manufacturer's electrical safety tips and instructions for lighting; for example, if using incandescent bulbs, never string more than three strands together at a time.
Throw away any lights that have frayed wires or bare spots.
Don't overload outlets with too many electrical devices, lights, or extension cords.
Keep a watchful eye on your tree
Some holiday decorations are too dangerous — or too tempting — to leave unwatched.
Christmas trees can be tempting to kids and pets. Rather than putting your ornaments on the top half of the tree to keep little hands (or paws) away, use indoor cameras to keep a watchful eye. You can view the live feed on your smartphone and use two-way talk to speak to your kids through the camera.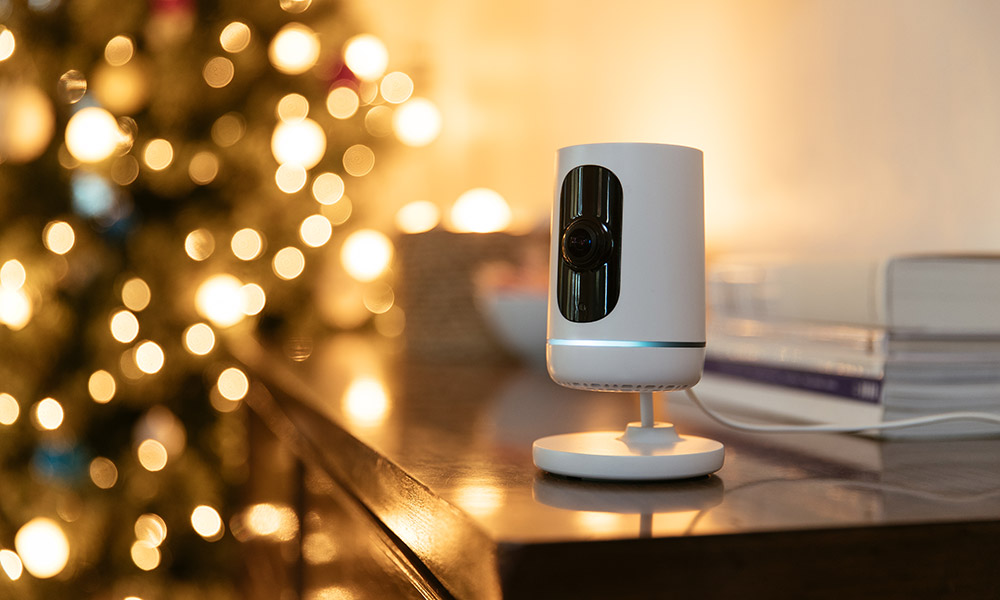 Practice fireplace safety
While electrical safety is important, fireplace safety is too.
There's always a lot of activity around the fireplace during the holidays, from stockings to mantel decorations to Santa Claus himself. Plus, there's nothing quite as comforting as a warm fire on a winter night.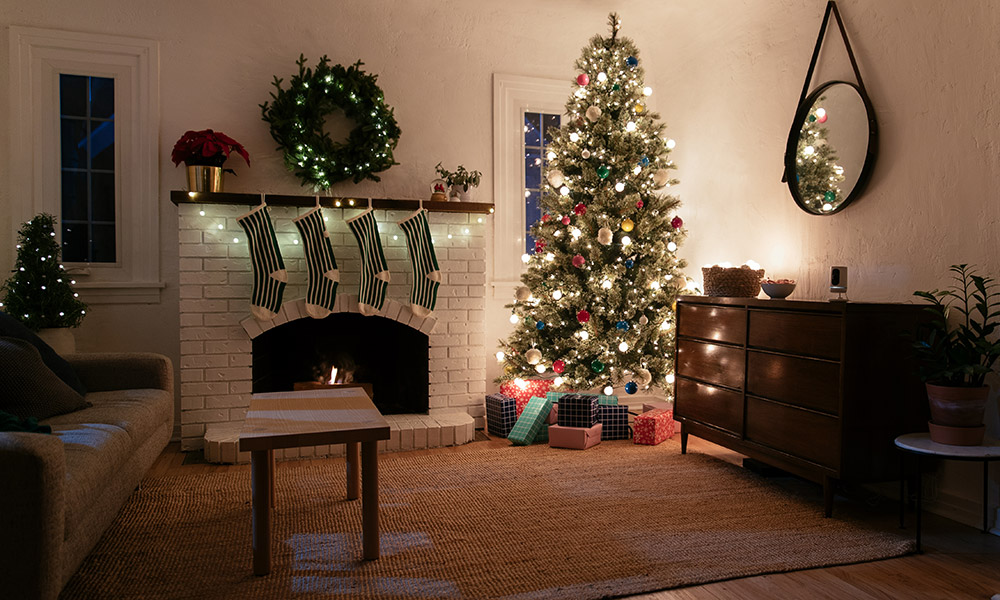 If you have a fireplace in your home, safety tips like these will help keep potential fires and accidents at bay:
Get your chimney professionally cleaned each year. This keeps creosote and soot from building up, which can cause a house fire or carbon monoxide poisoning.
Don't stack gifts near the fireplace, especially when it's lit. Additives in wrapping paper, in particular, are highly flammable and cause the fire to burn at very high temperatures.
Never hang stockings in front of a burning fireplace.
When decorating your mantle, keep combustible materials like greenery or ribbons from hanging down by the fire, where sparks or flames can cause them to catch fire.
Above all, make sure you never leave your fireplace unattended or go to bed without making sure the fire has been properly extinguished.
By taking a few precautions, you can have a festive and safe holiday season. Happy holidays!
Explore More Helpful Holiday Tips
---
Sources
1 Safety, ESFI. 2015. "ESFI Holiday Decorating Safety". Esfi.Org. Accessed December 5, 2017. http://www.esfi.org/resource/holiday-decorating-safety-342.
2 "NFPA - Winter Holiday Fires By The Numbers". 2017. Nfpa.Org. Accessed December 5, 2017. http://www.nfpa.org/Public-Education/By-topic/Seasonal-fires/Winter-holiday-safety/Holiday-fires-by-the-numbers.
3 "Nantucket Distributing Recalls Pre-Lit Christmas Trees Due To Fire Hazard (Recall Alert)". 2017. U.S. Consumer Product Safety Commission. Accessed December 5, 2017. https://www.cpsc.gov/Recalls/2017/nantucket-distributing-recalls-pre-lit-christmas-trees.