House fires can strike at any time, in any place. And they can happen quickly—in less than 30 seconds, a small flame can grow to a major fire, and in just five minutes, that fire can engulf your entire home.
When every second counts, it's vital that you have working smoke detectors in your home.
Smoke detectors do more than just alert you to fire; they save lives. According to the National Fire Protection Agency, 3 out of 5 fire-related deaths occurred in homes without working smoke detectors.
With a number of smart features, Vivint smoke detectors are the best way to keep your family safe in case of a fire.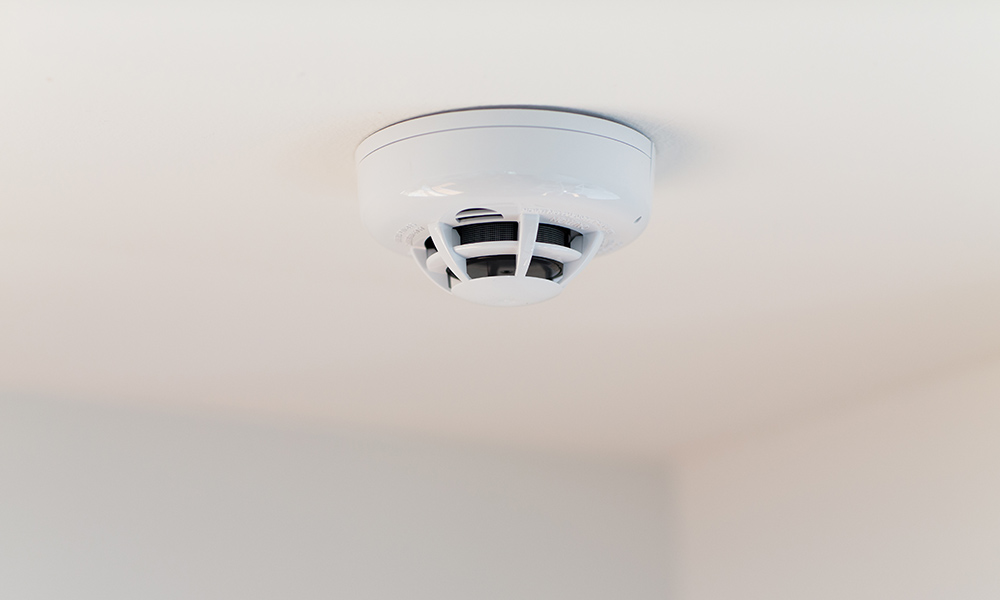 Smoke detector 101
Although smoke detectors are required by law in every home and commercial building in the United States, they are actually relatively new technology.
In 1975, only 10% of homes had smoke detectors; today, that number has risen to 97% and deaths by residential fires have been cut in half. This is why the National Institute of Standards and Technology has credited the smoke alarm as the "greatest success story in fire safety in the 20th century."
Like the name implies, smoke detectors work by detecting smoke in the air (because where there's smoke, there's fire). The smoke detector then sounds a loud alarm to alert people in the home or building.
Your home should have multiple smoke alarms. The NFPA recommends placing smoke detectors in the following areas:
Inside every bedroom
Outside each separate sleeping area
On every floor of the house (including the basement)
Keep in mind that these are the minimum recommendations. Depending on the size of your home, you may need more. Additionally, smoke alarms should be interconnected, meaning that when one alarm sounds, they all sound.
Vivint Smoke Detectors
Given the importance of smoke detectors, only the best will do. Vivint smoke detectors provide smarter fire protection by alerting you and the authorities, often before you even smell the smoke.
Take a look at some of the features that make Vivint the best:
Photoelectric sensors for faster detection
There are two types of technology used for detecting smoke—ionization and photoelectric. Basic smoke alarms use ionization technology, which can take longer to identify smoldering fires. Alarms equipped with photoelectric sensors can sense fires faster, which gives you more time to get to safety.
Vivint smoke detectors are equipped with photoelectric sensors. When increased heat or smoke are detected, the alarm will sound, so you'll know about fire danger even before you smell the smoke.
Wireless for continued use during power outage
Wired smoke detectors are susceptible to power outages, which can render them useless if a fire starts during an outage and backup batteries are not in place. (In fires where smoke detectors were present but not working, the most common reason was not having batteries).
Vivint Smoke Detectors are wireless and battery operated, so they'll continue to work even if the power in your home is down.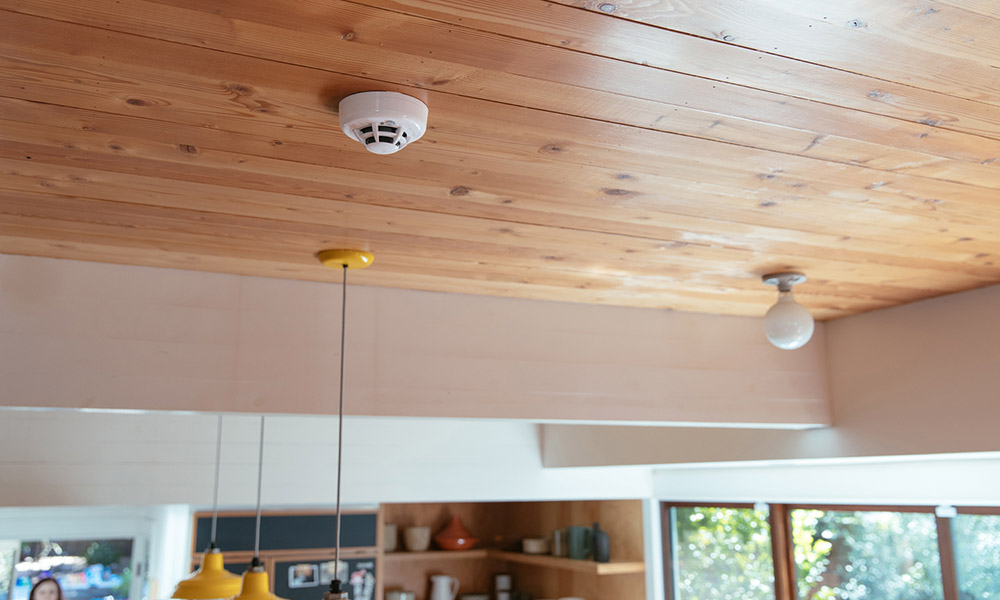 Mobile notifications
Imagine coming home from work to find the fire department battling a fire at your home. Or being on vacation and getting a call from your neighbors saying there's smoke coming from your house. Not knowing what's going on in your home when you're not there can be stressful, to say the least.
With Vivint smoke detectors integrated into a smart home system, you'll receive notifications on your Vivint Smart Home app if your smoke detector goes off. The smoke detectors will also send an alert to your Vivint Smart Hub and Vivint's central monitoring center.
Smart home integration
When Vivint smoke detectors are part of a complete smart home, your smart home devices work together to help get your family out of the house as quickly as possible.
The smoke alarm triggers your smart thermostat, which will cut off air flow to slow the spread of fire. From there, your smart locks will unlock, providing an easy out without fumbling with locks so you can focus on the most important thing—getting your family to safety.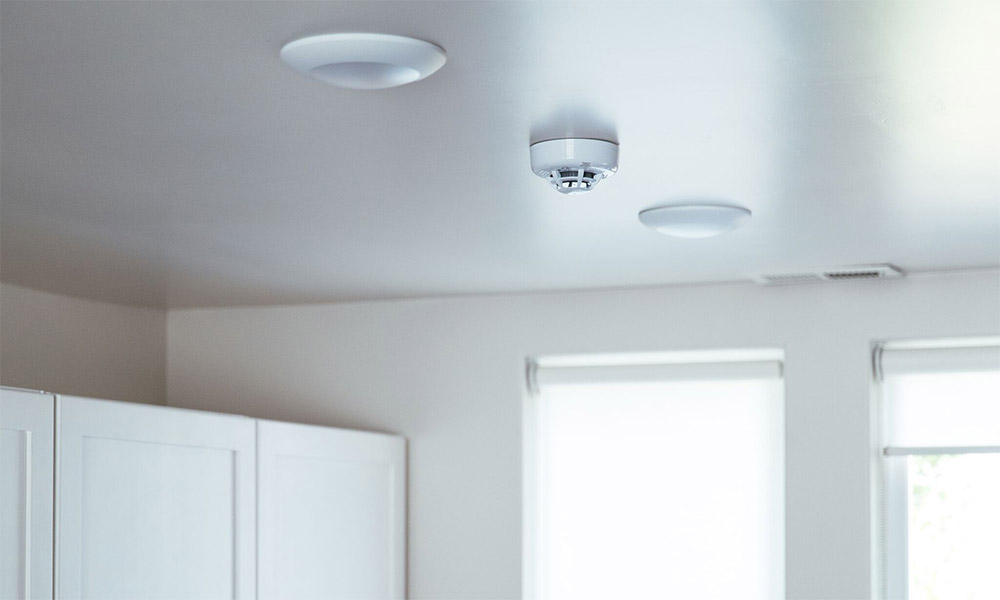 Professional installation
When it comes to smoke detectors, there's no room for error. Vivint smoke detectors are professionally installed by our Smart Home Pros. Not only will they install and test your smoke detectors to make sure they are in working order, but they'll also make recommendations on placement and show you how to use them.
24/7 monitoring
Notifying the fire department as quickly as possible can help mitigate damage, decrease the spread of the fire, and save lives. But when your main priority is getting the family to safety, who's going to call the fire department?
Vivint provides 24/7 home security monitoring 365 days a year. If your smoke detector goes off, your Smart Hub connects you with our Smart Home Monitoring Specialists so they can dispatch the fire department to your home if needed. And if it's a false alarm, you can let them know via the two-way talk feature.
If you're not home when a fire occurs, our Smart Home Monitoring Specialists will alert you and contact the fire department immediately.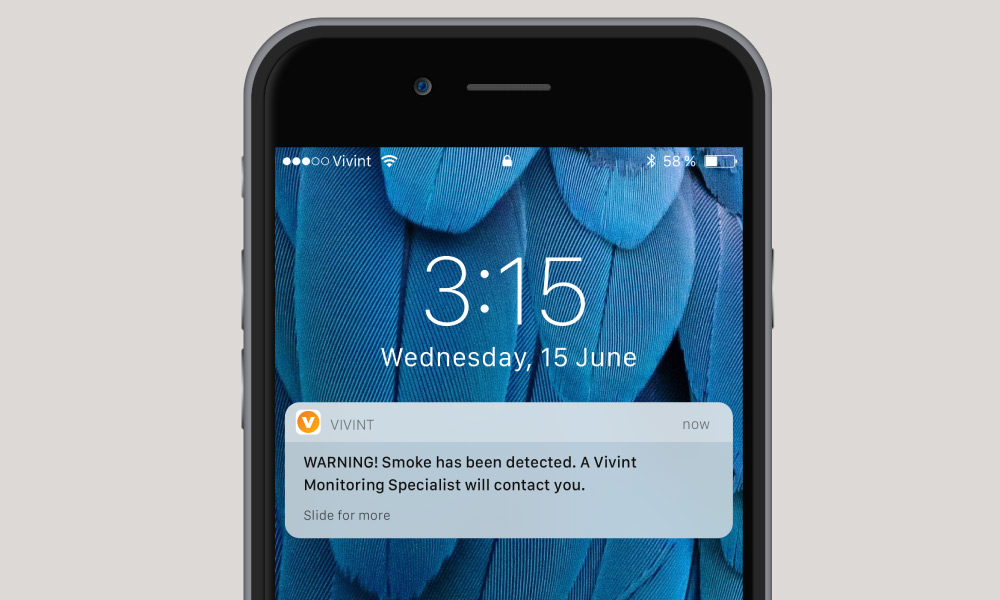 Keep your family safe with Vivint smoke detectors
When a fire breaks out, there's no time to waste. Vivint smoke detectors work nonstop to provide accurate, timely detection so you can rest easy knowing your family is safe and sound.
Find out how Vivint smoke detectors can help protect your home and family. Call us at 800.646.1469 for a free quote today.