As the holiday season approaches, the last thing people want to think about is property theft. But unfortunately, the holidays can be the most lucrative time of year for porch pirates and home burglars. That's why we surveyed 1,000 homeowners about how they plan to protect themselves from property theft and cybercrime. Read on to learn what precautions you can take to prevent theft from ruining the most wonderful time of the year.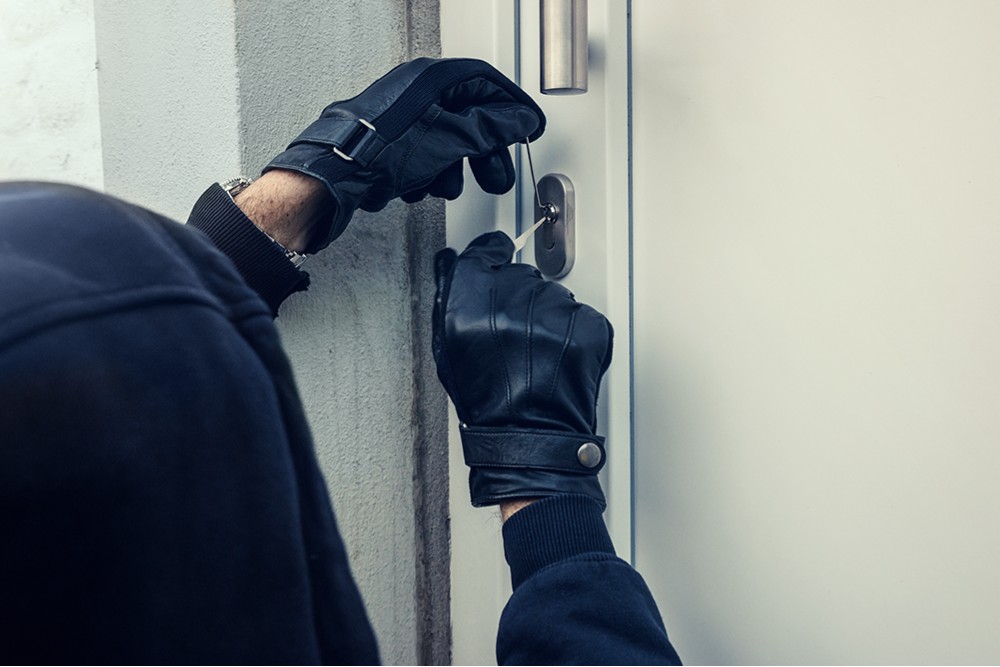 Key takeaways
72% of Americans have fallen victim to property theft during the holiday season, losing an average of $239.
55% of Americans admit to falsely reporting a stolen package in order to receive a free replacement.
69% of Americans are fearful of falling victim to cybercrime this holiday season.
Grinches inside and outside the home
In the first part of our study, we'll look at the prevalence and effects of property theft during the holidays and the security measures people have taken to prevent it. Even little changes can make a big difference in safety and security.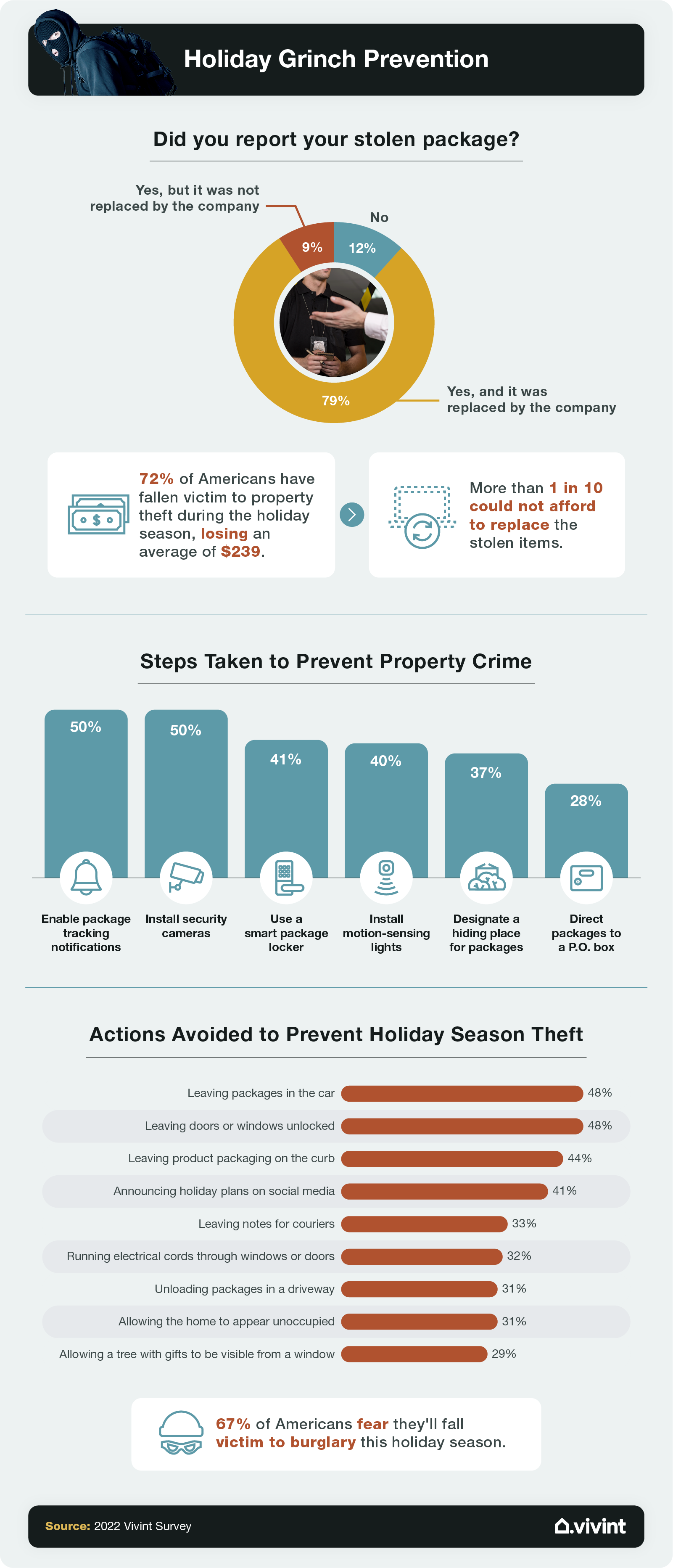 Since nearly three-quarters (72%) of those we surveyed have fallen victim to theft during the holidays, they provided us with many valuable tips for preventing it. Some home security measures can cost a pretty penny, but we have good news: Many of these tips cost nothing to implement. According to respondents, the best way to prevent theft is to avoid leaving packages in the car. Valuables in your vehicle that passersby can see are a surefire way to suffer a stolen package and a broken car window.
Always remembering to lock doors and windows was the second most common habit respondents recommended. The third was never leaving product packaging on the curb to be picked up by the garbage collector. Leaving the box from your new TV outside for all to see sends a message to burglars, letting them know exactly what's inside your home for the taking.
Many people have also leaned on technology to help protect their homes and possessions from burglars. Fifty percent have enabled notifications to let them know when their package deliveries arrive, making it less likely that deliveries will sit outside long enough to get stolen. And just as many have installed security cameras. A realistic dummy camera might also make someone think twice before trying to break in or snatch a package from your doorstep.
Protecting your gifts
Why would someone buy holiday gifts when they can go shopping for free…on their neighbors' front porch? Americans shared their experiences with porch pirates: people who steal packages from others' doorsteps. We also drew out some alarming confessions from our respondents.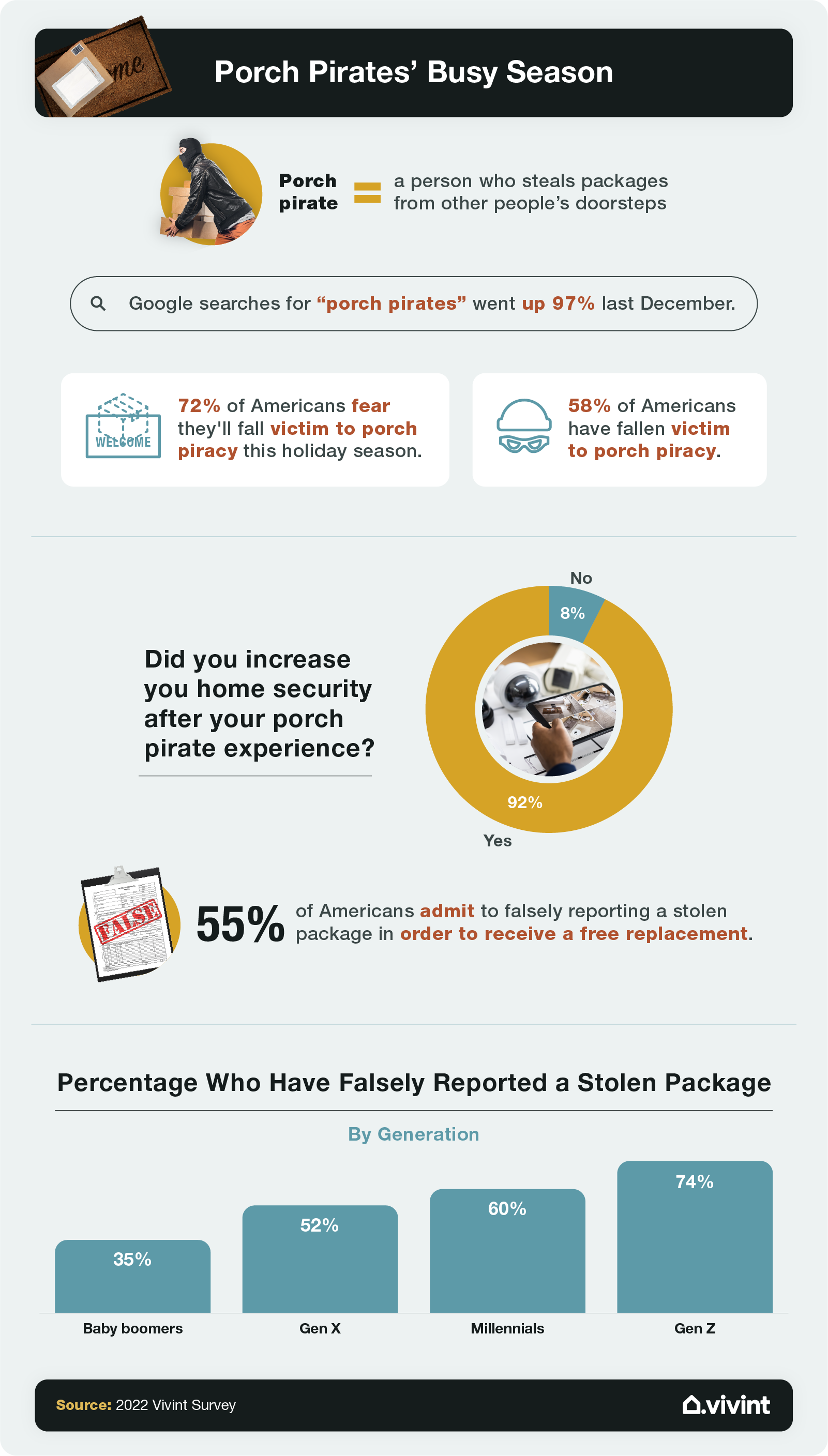 Searches for the term "porch pirate" increased 97% last year, in December of 2021. That's no surprise, considering nearly three-quarters of those we surveyed (72%) said they're afraid they'll fall victim to at least one act of porch theft this holiday season. Fortunately, nearly all of those we surveyed (92%) have taken steps to prevent it by increasing their home security. One solution might be a doorbell camera that detects and notifies you of deliveries and porch-lurkers. Since 58% have fallen victim to porch piracy in the past, hopefully they'll be able to protect their packages better this year.
Package theft is so common that it may be easy for people to lie about it these days. We found that 55% of Americans falsely reported a stolen package in order to convince the sender to send them a free replacement. Younger shoppers seem to have caught on to this trick the most: 74% of Gen Zers fessed up to having lied about package theft, as did 60% of millennials and 52% of Gen Xers. Baby boomers (35%) were the least likely to falsely report a stolen item.
Online shopping safety
Stolen packages and home burglaries aren't the only safety concerns during the holidays. With nearly everyone shopping online for the best deals on gifts, cybercrime is another common pitfall. Next, we'll look into how many respondents have experienced cybercrime and what tactics they've used to protect themselves.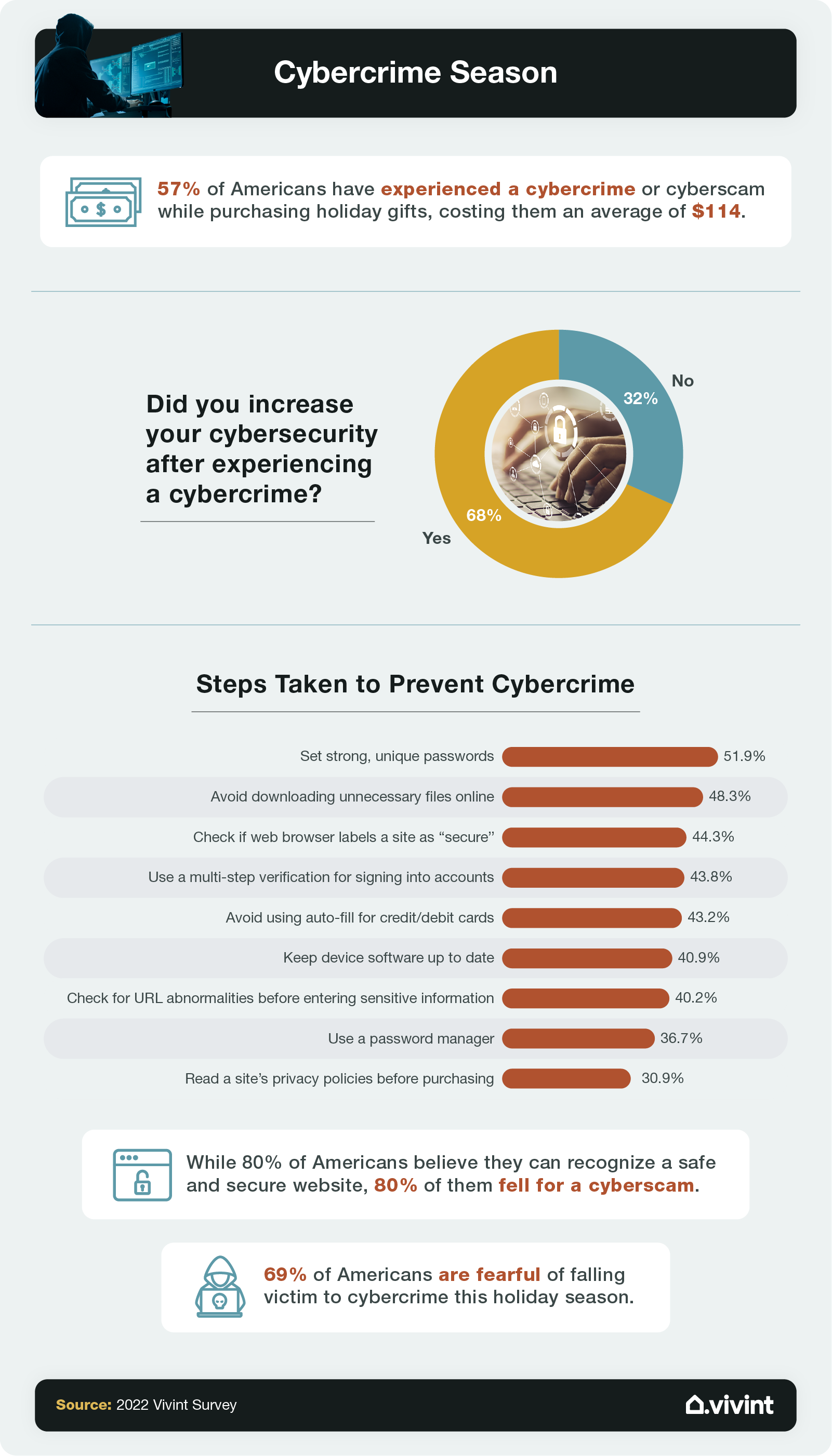 Most Americans (69%) are afraid of cybercrime interfering with their holiday shopping this year, and rightfully so. The prevalence of online shopping during the holiday season appears to create a heyday for cybercriminals: 57% of those surveyed have been cybercrime victims when purchasing holiday gifts online, causing them to lose more than $100. Most (68%) have gotten savvy and increased their cybersecurity practices as a result.
It can be hard to know if the website you're shopping on is a safe place to enter sensitive information, but there are some signs you can watch out for. Most major web browsers let you know the website is secure by displaying a lock icon in the URL field at the top – something 44% of our respondents said they always check for. Also, checking the URL can prevent you from submitting payment information to a fake website. URL spoofing is a common phishing tactic, so it's a good thing 40% said they look for errors in the web address.
Staying safe during the holidays
The holidays are supposed to be a joyful time of gift giving, but we may need to take extra steps this year to keep it that way. Don't let porch pirates steal your gifts: Track your packages, and protect them as soon as they're delivered. When surfing the web for holiday deals, keep an eye out for signs of phishing and cyberscams to avoid getting swindled. And while it may be tempting with how often packages get stolen, don't lie about it to get free replacements – you might end up with nothing but coal in your stocking.
About Vivint
Vivint makes it easy to protect your home and valuables with smart security products and systems. Rest easy this holiday with innovative technology that's customized to your unique home security needs. Give us a call at 855.822.1220 for a free consultation today.