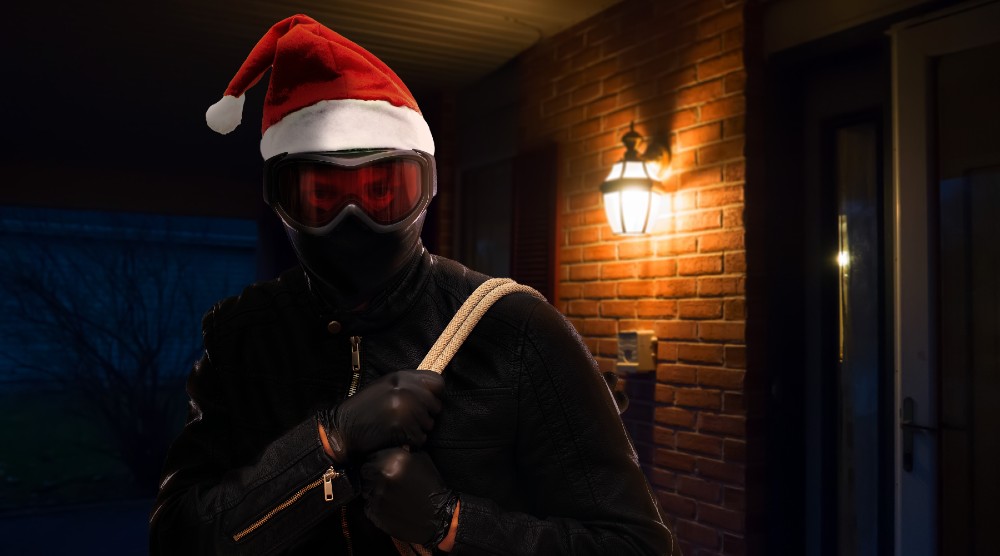 Key Takeaways
80% of Americans have fallen victim to porch piracy during the holidays.
Homes without a home security system are 10% more likely to be targeted by holiday porch pirates.
18% of Americans have lost over $1,000 to holiday porch pirates.
Americans with a home security system have a gift recovery rate of 50%, while those without one have a 0% recovery rate.
Real-life Grinches
The holidays are a time for giving, but some people make it a time for taking things that don't belong to them. Porch pirates threaten the joy and good cheer of the season, not to mention many homeowners' feelings of security.
Vivint surveyed 1,000 Americans about their experiences with holiday porch piracy. How many people fall victim to these delivery thieves? How much have people lost? Most importantly, what can homeowners do to prevent porch pirates from laying siege to their homes?
Piracy on your doorstep
As shoppers search for that perfect holiday gift, many turn to online shopping for availability and convenience. But having packages shipped to your door puts you at risk of being targeted by porch pirates. How many Americans have been plundered by these opportunistic scallywags?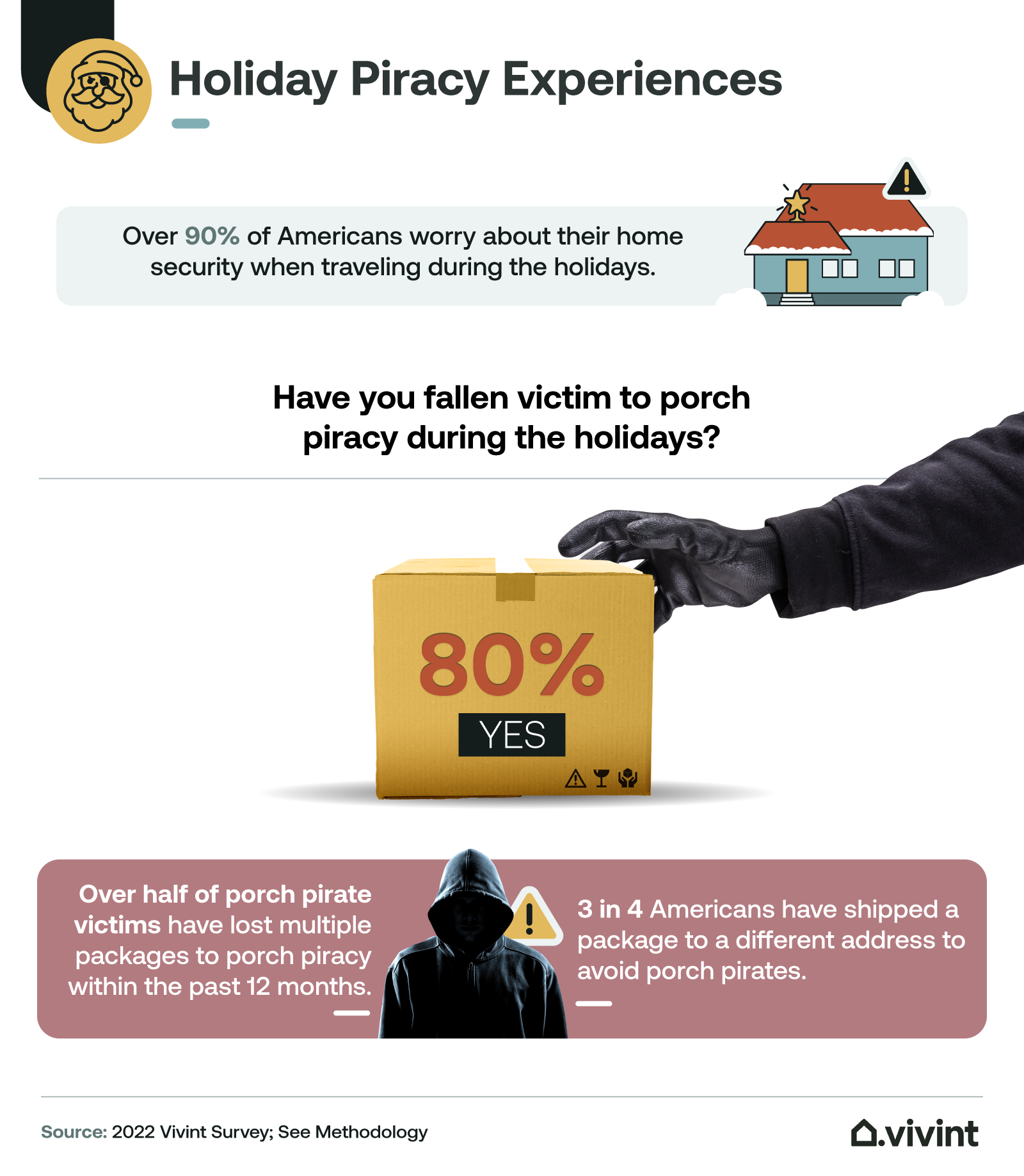 Eighty percent of those surveyed had packages stolen by porch pirates during the holidays. Those who have been targeted once have more than a 50% chance of being targeted again, as over half of porch pirate victims have lost multiple packages to porch piracy within the past 12 months.
People were most concerned about porch piracy when traveling away from home. As if spending time with extended family wasn't worrying enough, over 90% of people worried about their home while on vacation. Perhaps that's why three out of four Americans had packages shipped to a different address: no packages on your doorstep means no loot for pirates to steal.
The cost of pirate's bounty
When porch pirates strike, they rob homeowners of hard-sought-for gifts and their value. What is the average value of goods lost to porch pirates? How many packages ever get returned to their rightful owners?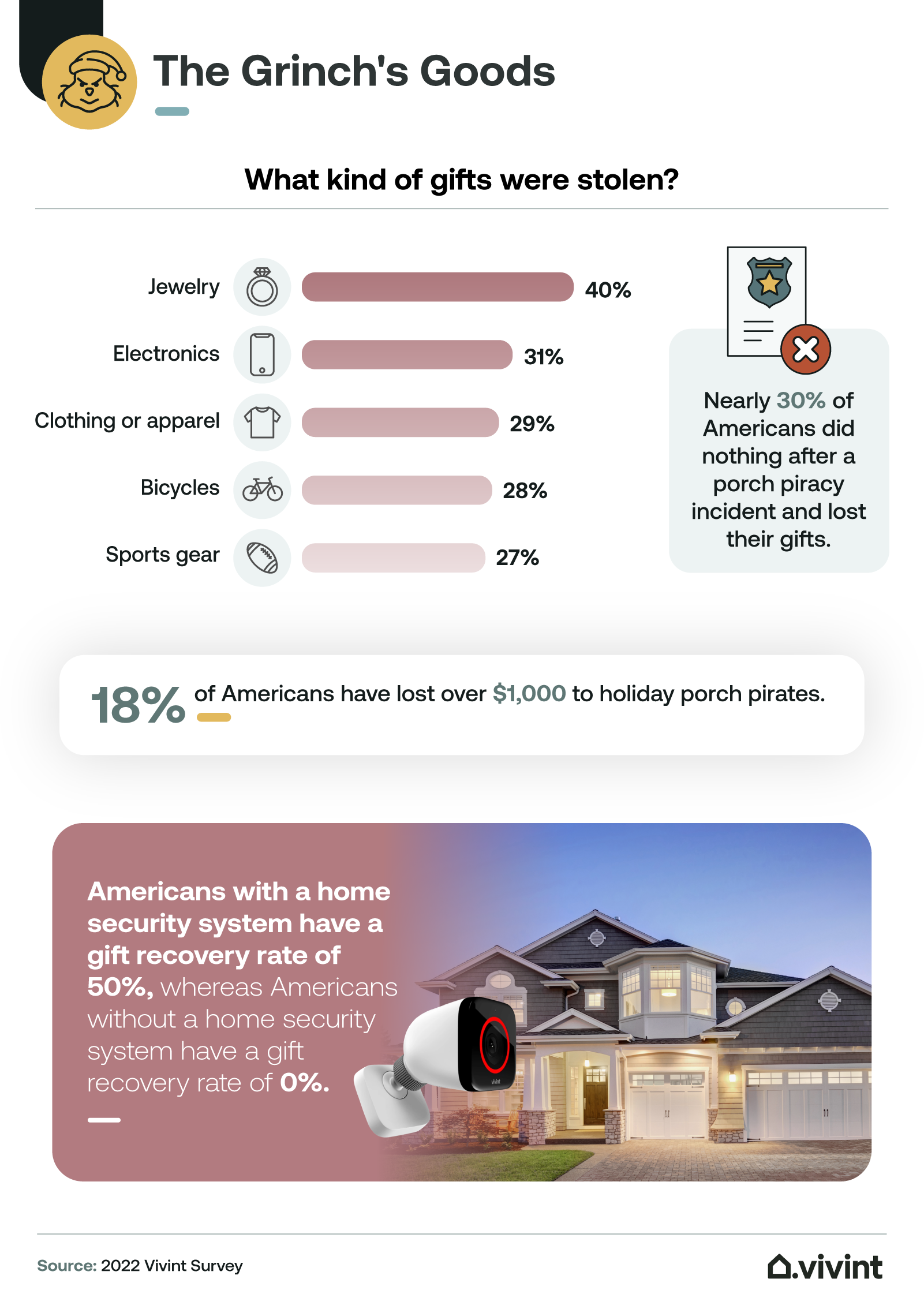 Americans lost an average of just over $500 to porch pirates during the holiday season, but 18% lost over $1,000 in gifts. Jewelry (40%) was the most stolen gift, perhaps due to the smaller size of jewelry packages. Electronics (31%) were the second most often stolen goods, followed by clothing (29%) and bikes (28%).
Once porch pirates strike, the likelihood of having goods recovered depends on homeowner security measures. Americans with a home security system had packages returned 50% of the time; Americans without a home security system never got packages back. Luckily for many, homeowners and renters insurance usually covers stolen packages, though there may be limits on high-end goods.
Battening down the holiday hatches
With the increasing popularity of online shopping, the threat of porch pirates is likely to increase. What security measures can homeowners take to keep their packages and homes safe?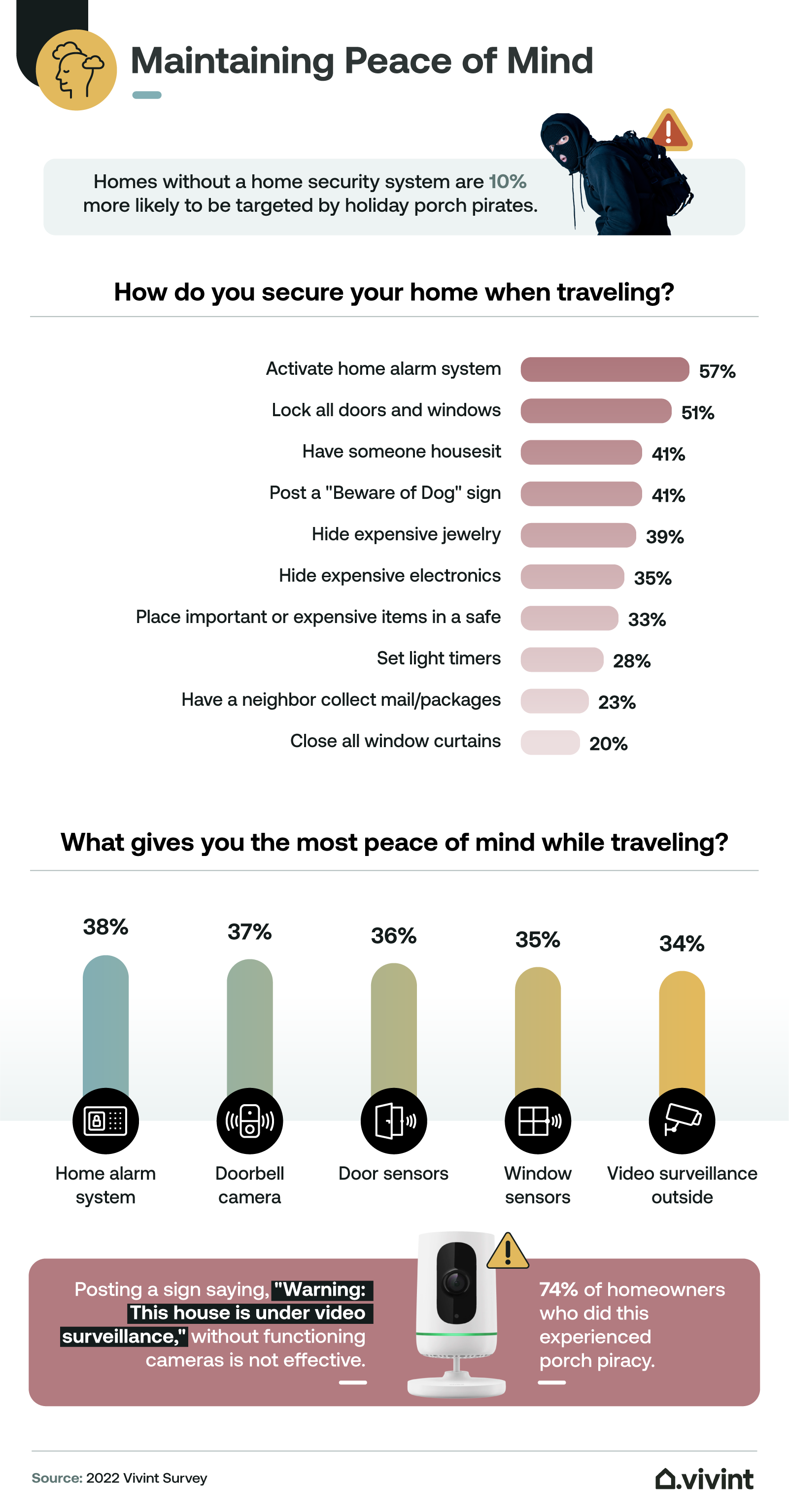 Over half of Americans rely on home security systems (57%) to keep their home safe, which is great for those who hope to recover any stolen goods. However, if owners hope to prevent theft in the first place, security companies should install outdoor security cameras in highly visible areas as a deterrence. Homeowners who posted signs warning of video surveillance without a functioning or highly visible camera still fell victim to porch pirates 74% of the time.
The second safety measure Americans took to secure their homes while traveling was to lock all doors and windows. Though a simple measure, locking doors and windows is vital to increasing the security of your home. The efficacy of locked doors and windows increases when coupled with other security measures, such as a home security system, visible outdoor and indoor cameras, and motion-activated lighting.
The third most common security measure was having someone housesit (41%). A housesitter can bring packages in as they arrive, depriving porch pirates of any opportunity to run off with your gifts. Housesitters also keep your home visibly occupied, which decreases the chances of break-ins and theft.
Peace of mind during the holiday season
There is no better feeling than finding the perfect holiday gift and watching the face of a loved one light up as they open it. There is no worse feeling than finding the perfect gift and having it stolen by a porch pirate. The holiday season comes with an increase in package deliveries and family vacations, making it the ideal time for porch pirates to strike. If pirates make away with your deliveries, security camera footage can help recover lost goods, and homeowners or renters insurance can cover at least some of the value of unrecovered gifts.
But homeowners can combat package thievery by locking doors and windows, installing home security systems and visible outdoor security cameras, and hiring a housesitter to avoid keeping the home empty during travel. With these layered security measures, homeowners can be confident in the safety of their deliveries and the security of their homes. Free from the fear of porch piracy, homeowners can deck the halls and enjoy the most wonderful time of the year.