For most people, a car is a major purchase. The average price of a new car is $31,000, while the average used car costs $19,700.
When you're spending that kind of money, it makes sense to want to protect your investment. Not only that—you also want to protect the people in your car, whether it's you, a family member, or your newly-licensed teen driver.
With Vivint Car Guard, an app-based vehicle protection service with GPS tracking, you can do just that.
Take a look at how this kind of service works and protects your car—and those who are driving it.
How does a GPS tracker and diagnostic tool work?
Cars that are equipped with GPS trackers and diagnostic tools can provide you with valuable information about where your car is at any given moment as well as the health of your car.
GPS tracker
A GPS tracker uses a satellite-based system called the Global Positioning System (GPS) to pinpoint the location of a person or thing at any given time. You're probably familiar with the use of GPS technology in your daily life already—airplanes use it to navigate to and from their destinations, your phone uses it to tell you restaurants that are nearby, and even your fitness tracker uses it to show you how many stairs you've climbed or miles you've jogged.
In your car, a GPS tracker can prove useful in a number of situations, including:
If you ever need to locate your car. In the event your car is ever stolen, authorities can use a GPS tracker to see where your vehicle is and whether it's parked or moving.
You need directions. If you're headed to an unfamiliar location, a car equipped with GPS can provide you with directions to your location.
In an emergency. If you're stranded on the side of the road, your GPS can help emergency personnel or roadside assistance reach you even if you don't know where you are.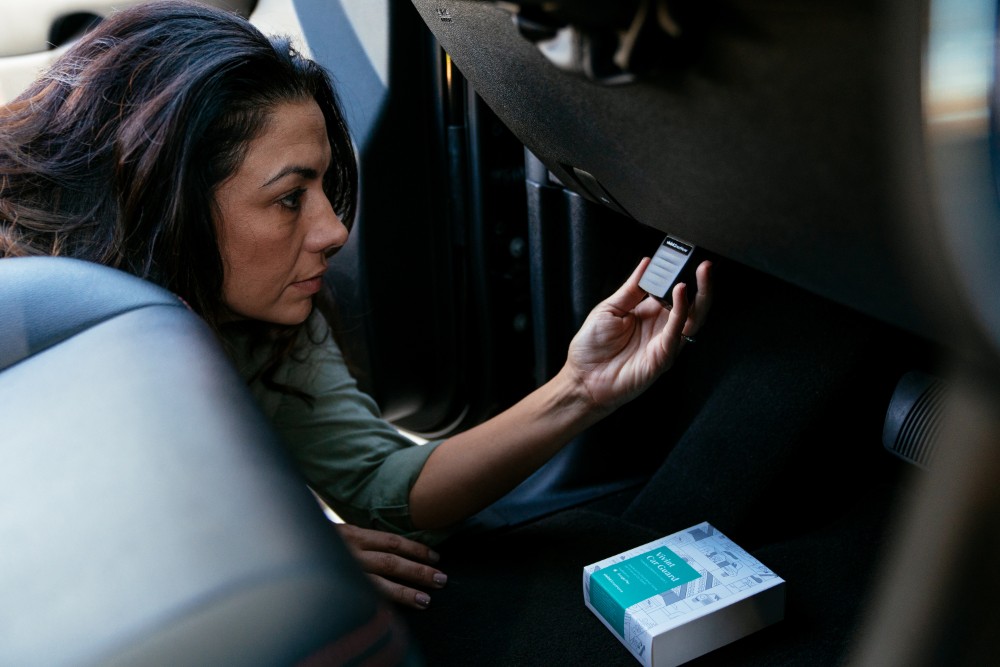 Onboard diagnostic tool
You're driving down the road and your check engine light comes on. Or, you're pulling out of your driveway and notice a mysterious liquid that wasn't there before you parked. These things happen to every driver at some point. They could be serious, or they could be nothing.
But when it comes to your car, what you don't know can hurt you—and your wallet—so it's best to get to the bottom of lights and leaks as quickly as possible. With an onboard diagnostic (OBD) tool, you can determine what's going on with your car.
An OBD tool can be easily connected to the standard onboard diagnostics port (OBD-II) that comes with most vehicles. From there, the OBD tool can help diagnose what's wrong with your car.
So if your check engine light comes on or there's a leak in your car, the tool provides a code that tells you what's wrong. From there, you can go to a mechanic to get it looked at or repaired.
Cars equipped with both GPS trackers and onboard diagnostic tools, like Vivint Car Guard, give car owners the benefit of always knowing where their car is located and when their car needs attention from a mechanic.
GPS tracking and teen drivers
For teens, a driver's license is an important—and exciting—rite of passage. For parents, however, it can be a stressful time, and with good reason. Motor vehicle crashes are the leading cause of death in teens. The inexperience of driving and handling a car, especially when with their peers, can make it more likely for teens to lose control.
Teen drivers also have a newfound sense of freedom that allows them to come and go, sometimes without their parents' knowledge. A GPS tracker helps parents know where their teens are at any given moment. Parents simply log in to an app and can find out things like when their teens left band practice or work, or where they are if they've missed curfew.
Many GPS trackers, like Vivint Car Guard, can also help parents monitor their kids' driving habits by providing trip statistics, including max and average speeds. This is especially important because speed is one of the top three causes of teen car crashes.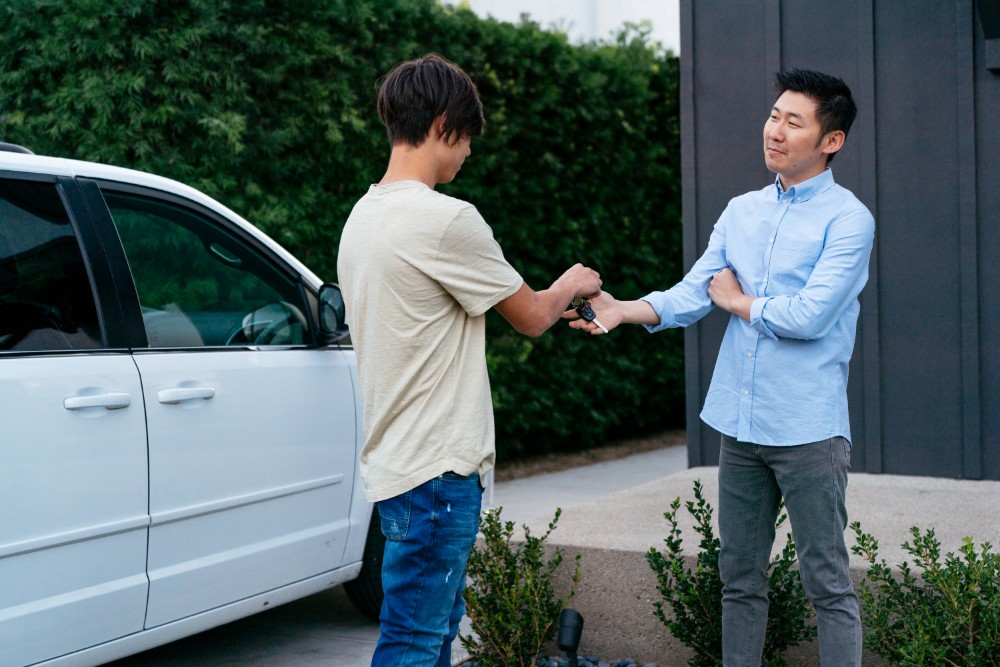 Onboard diagnostics and teen drivers
An onboard diagnostics tool can also help teenage drivers learn the importance of routine car maintenance and staying on top of their car's health. A car condition report can include things like battery life, recalls, service bulletins, and DTC (Diagnostic Trouble Codes) reports.
Teaching teens to run diagnostic reports can help them address potential issues with their car before they escalate and lead to expensive repairs or breakdowns along the side of the road.
A GPS and diagnostic tool can also help teens become more responsible drivers. If you're like most parents, you don't hesitate to take your teen's keys away for unsafe driving or staying out too late. And for a newly-licensed teenager, the potential of losing driving privileges can put a serious damper on their social lives. When teens know you are able to monitor their driving habits and location, they're more likely to be more responsible drivers overall.
Safer teens plus peace of mind for parents is a win for everyone.
Using smart diagnostics and GPS tracking to protect your car
Each year, more than 750,000 cars are stolen in the United States. Having a car stolen not only makes you feel violated, but dealing with insurance and finding alternative transportation also gets expensive—not to mention it's a pain to deal with.
That's where a GPS tracker comes in. While it's true that a GPS tracking tool won't necessarily prevent your car from being stolen, it can help authorities locate it much faster. 41 percent of stolen cars are never recovered, but GPS tracking can help you increase your chances of having your car returned.
A GPS tracker is an especially good idea if you are at higher risk of car theft. A few things that make you a target to car thieves include:
You park your car on the street. 37 percent of all car thefts occur on the street outside of the victims' home.
You live in the suburbs. It's not just big cities that deal with crime. Many people in the suburbs feel safe and aren't as diligent with locking their cars or putting them in the garage. This can make them a prime target for thieves.
You drive a car that is more likely to get stolen than others. Think car thieves are only after flashy, expensive cars? Think again. Hondas and pickup trucks are more likely to be stolen than other vehicles, making your car an attractive target if you drive one.
In addition to protecting your car, a smart diagnostics and GPS tracking tool can help you determine when you need to take your car in to the mechanic. For many people, it can be difficult to know when a noise is something serious rattling around under the hood or the check engine light is more than just a computer glitch.
With an onboard diagnostics tool, you can get enough of a general idea of what's wrong with your car before you take it in. For example, if your code starts with a "P," you know the problem lies with the powertrain—something you'll definitely want to get checked out by a mechanic.
Having this type of tool in your car can save you money, too. Many mechanics charge to run an OBD diagnostic, unless you already happen to have one installed. They can also help a mechanic narrow down the problem to a likely cause, based on the code provided. That means less time (and money) spent in the shop figuring out what's wrong.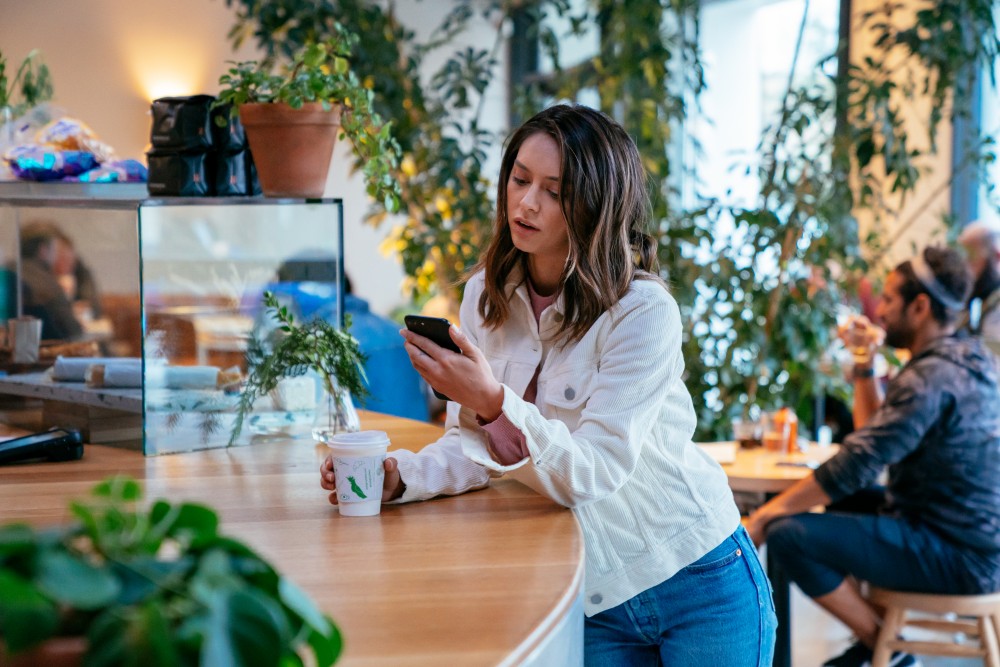 Choosing the best GPS tracker and diagnostic system
Now that you're convinced you need a GPS tracking and diagnostic system, how do you find the best one?
A few features you'll want to look for include:
Real-time GPS tracking. This is the most important feature. If your car is stolen or your teen is late coming home, real-time GPS tracking lets you see exactly where your car is and where it's headed.
App integration. You'll want a system that you can easily check from your phone or device via an app, especially if you're often on the go.
Integration with smart home or security system. Wouldn't it be great if you could extend the benefits of your smart home and security system to your car? Some diagnostic tools allow this.
Easy installation. Installing a GPS tracking system is pretty straightforward, but it's always nice when installation is simple.
Why You Should Choose Vivint Car Guard
Vivint Car Guard, an app-based vehicle protection service that lets you protect both your car and your home with just one app, checks all of these boxes off and more, giving you the best GPS tracker and diagnostic tool on that market.
Take a look at what sets Vivint Car Guard apart:
Control everything from just one app. No need to switch back and forth between apps; you can manage your Vivint Smart Home and your Car Guard through a single app.

Extend the coverage of your smart home. Car Guard integrates seamlessly with many other components of a Vivint Smart Home system. For example, if a burglar attempts to steal your car, Car Guard could trigger your outside lights to turn on, scaring the would-be thief away.
Location tracking for your car and family. With Car Guard, you never have to guess where your car or family members are. Simply log into your Vivint Smart Home app and see where your vehicle is at any given moment.
Geofencing. You can set specific boundaries with Car Guard (for example, the route from the high school to your home) and get notified if your vehicle goes outside the boundaries. The geofence capability will also integrate with your Smart Home and can automatically lock your doors and turn on your lights once you leave the area.
Know when your car is bumped or towed. Have you ever come out from a parking lot only to find a suspicious dent but no note? Car Guard also comes with tamper alerts that will notify you if your car is bumped or towed, so you can take immediate action.
Use diagnostics to monitor your car. Car Guard's diagnostic tool plugs easily into your car's existing hardware, allowing you to monitor your car's health so you know if and when to take it to a mechanic.
Receive notifications. Car Guard keeps you informed with custom notifications so you know know if your vehicle moves out of your geofencing parameters, gets towed, or if a check engine light comes on.
View statistics. Car Guard's GPS tracking also keeps track of trip details and statistics like average speed, max speed, rapid accelerations and harsh braking—perfect for parents who want to monitor their teen's driving habits.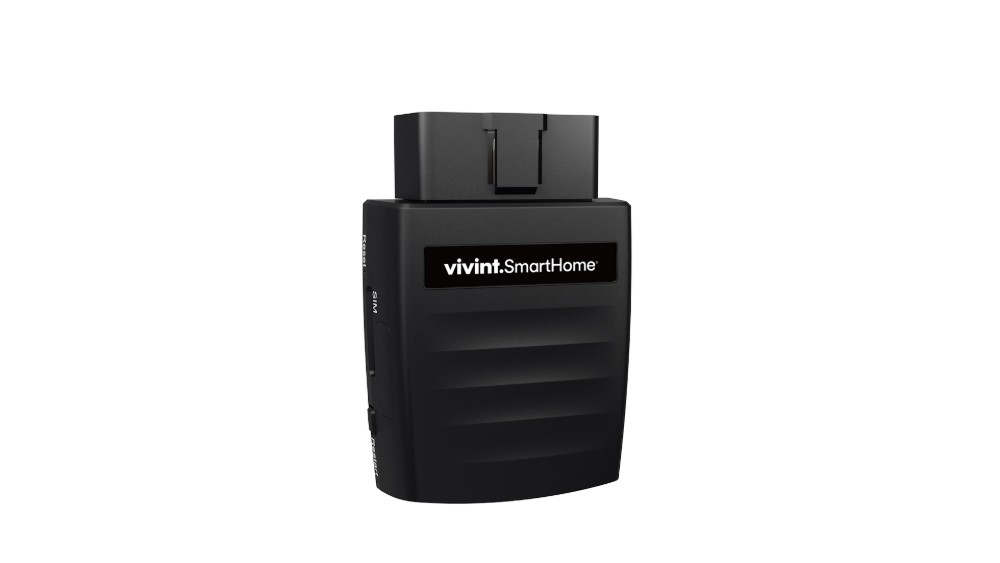 Experience peace of mind on the road with Vivint Car Guard
With Vivint Car Guard, you can extend the same peace of mind your Vivint Smart Home provides for your home to your vehicles. Whether you want to help prevent your car from getting stolen, keep an eye on your teen drivers, keep tabs on your car's health, or all of the above, Vivint Car Guard has you covered.
To find out how Vivint Car Guard can help you protect your car and its drivers, contact our Smart Home Specialists today at 800.646.1469 for a free consultation.