It's back to school time! If you have kids, your home probably went from a bustling, lively place to a veritable ghost town during the day.
While your home may be quieter and more serene, an empty home during the day also means an increased risk for burglaries. According to the U.S. Department of Justice, the most common times for burglaries occur between 10 to 11 a.m. or 1 to 3 p.m., when you're most likely to be at work and school.
Knowing the safety and security risks an empty home poses can help you take steps to keep your home safe and sound, day or night.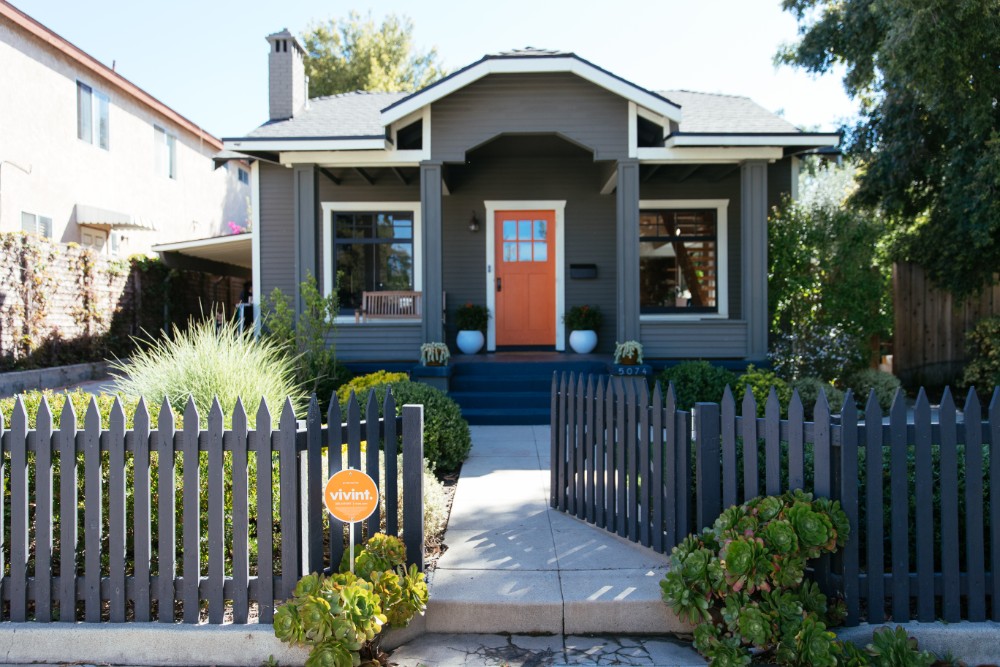 Security and safety risks of an empty house
When your home is empty for the day, there's no one around to catch or prevent potential risks to your family's security and safety.
Whether your family is away on vacation or just at work and school for the day, a vacant home poses a number of security and safety risks. Take a look.
Safety risks
These risks can take many forms, including:
Leaks and floods
Even small water leaks can cause damage in a short amount of time when undetected. And since 98% of basements in the U.S. will experience water damage at some point, it's a good idea to be proactive in your flood prevention efforts.
If your house is empty all day, for example, a toilet that started leaking right before you left for work and school can end up damaging paint to baseboards, cause surrounding cabinets to swell, or nearby carpet to become damp within hours.
Fires
Where there's smoke, there's fire, but what if no one is around to hear your smoke detector? When it comes to fires, quick action is crucial for ensuring safety and mitigating damage. If the fire department isn't notified until flames are visible from the outside and neighbors call 911, the damage will be much more extensive.
Weather damage
If you live in an area prone to thunderstorms or other extreme weather conditions, a passing storm can can cause damage to your home that puts your safety or security at risk. If a tree branch falls during a storm and breaks a window in your home, it could open your home up (literally!) to the elements or make it an easy target.
Carbon monoxide leaks
Carbon monoxide is an odorless, deadly gas that requires a working carbon monoxide detector to identify it. When carbon monoxide goes undetected in a closed house, the toxic gas builds up. Walking into a home with dangerously high carbon monoxide levels can lead to serious illness and even death in a matter of minutes.
Security risks
An empty home poses a number of security risks as well. In 72% of burglaries, no one was home when the break-in occurred. Take a look at some of the ways an empty home can attract burglars:

Sliding glass door. One of the most common entry points for burglars is a sliding glass door or patio door. They can be easily lifted off the tracks, and their location at the back of the home where no one is watching makes them even more attractive to burglars.
Front door. If you've ever left in a rush and forgotten to lock the front door on your way out (like most of us!), you may be setting yourself up for a break-in—nearly 1/3 of all burglaries occur through the front door of a home.

Garage door. Your garage poses a risk as well, since a number of break ins occur through the garage door.
Landscaping. While the shrubs, bushes, and flowers definitely look nice, they also provide a convenient hiding spot for burglars during the day.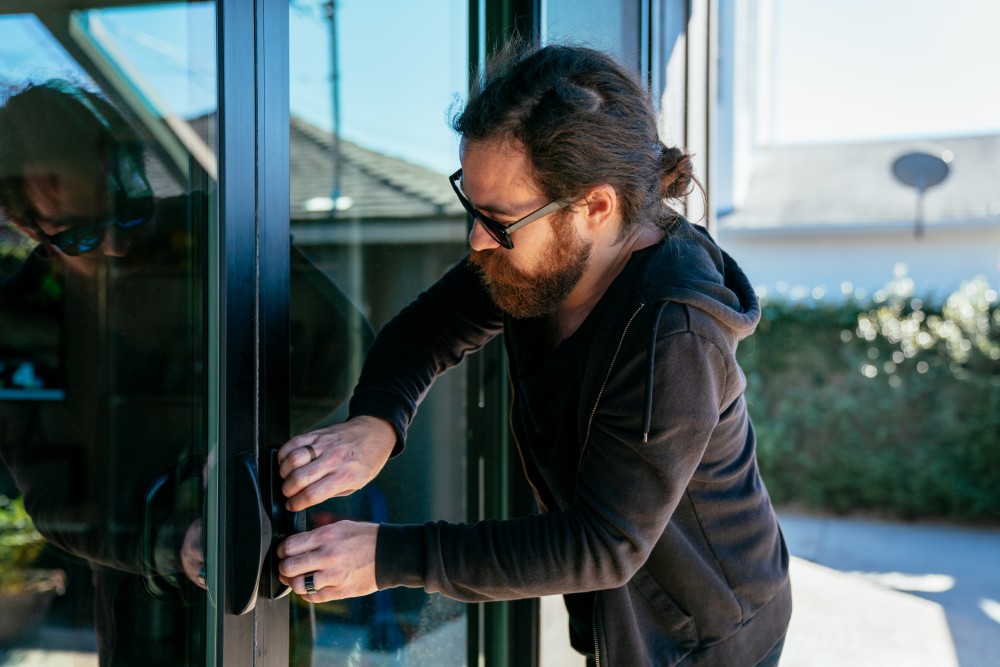 In order to keep your home safe while your family is away during the day, it's helpful to do a risk assessment and make changes as needed. A few things to look for include:
Unlocked windows and doors. This is especially important for the basement or exterior garage doors, where locking up may get overlooked.
Sliding glass doors. Are the locks easy to pick or can the doors easily be lifted off the tracks?
Outdoor lighting. Is it sufficient or are there gaps in lighting that make it easy for someone to hide?
Landscaping. Is it overgrown or untended, making your home look empty?
Fences and gates. Are there gaps in fences, or gates that remain unlocked?
Security and alarm systems. Do you have a security system? Are your smoke and carbon monoxide detectors working properly?
Once you've taken an assessment of the safety and security risks, you can implement changes to make your home safer while you're away.
Tips for keeping your house safe while it's empty
Just because your house is empty during the day doesn't mean it needs to be an easy target for burglars. There are plenty of things you can do to make sure your house is safe while you're at work and the kids are in school.
Start with the doors. If your mornings are rushed and forgetting to lock the door is a possibility, then a smart lock that locks automatically or via your smartphone is a good choice. Another smart lock perk? Say goodbye to extra keys lying around in fake rocks or the gutter. With a smart lock, you can give your kids unique access codes that they can use to get inside safely.
Consider leaving a car in the driveway. Thieves look for vacant property, so if you have more than one car, consider leaving one in the driveway during the day and carpooling. This will give the impression that someone is home.
Keep valuables hidden or in a safe deposit box. Master bedroom drawers and closets are one of the first places burglars hit, looking for jewelry and cash. Keep yours hidden somewhere less obvious.
Make sure landscaping is kept up. Keep your lawn mowed and trim bushes away from the windows, giving would-be robbers fewer places to hide.
Install a security system. A smart home security system equipped with an alarm and burglary detection sensors is an effective deterrent for burglars, who want to get in and out of a home as quickly as possible.
Check windows. As the weather gets nicer, it's easier to forget to close and lock windows. Make sure downstairs windows are locked before you leave for work or school.
Secure your back door. If you have a sliding glass door, an extra lock for the top or placing a dowel in the tracks can add an extra measure of security.
These tips are quick, easy, and effective in protecting your home while you're away.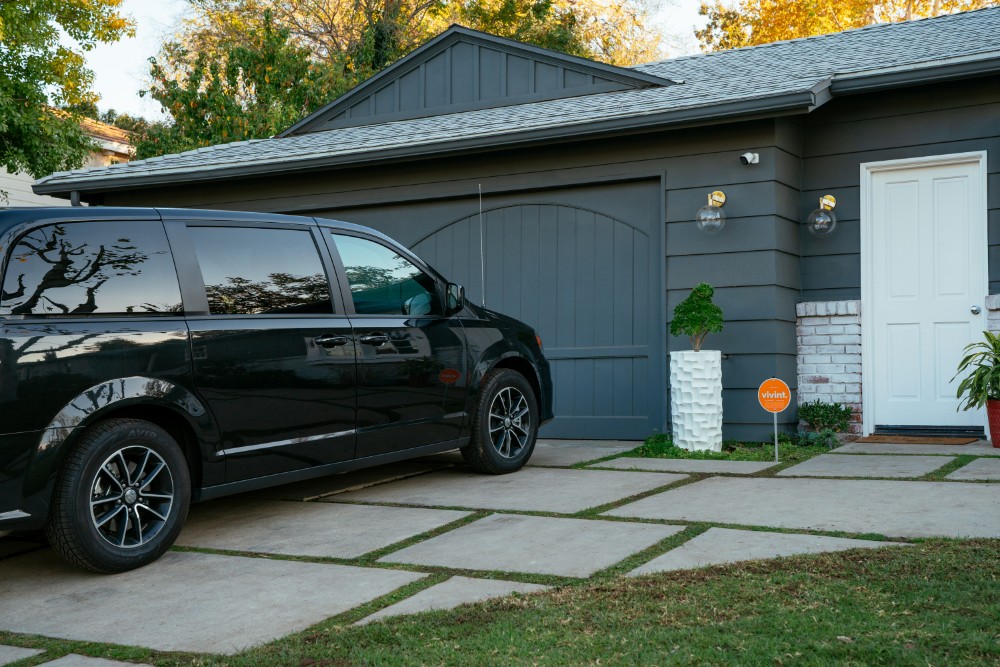 How smart technology can keep your empty home safe
When it comes to home security and staying connected to your home while you're away, nothing beats a smart home system.
With smart home technology, you can control many aspects of your home—including security, locks, lighting, and temperature—remotely via an app on your mobile device.
But what can smart home technology do specifically to keep your home safe while you're away? Plenty. Take a look.
See who's coming and going. Doorbell cameras not only let you see who's at your doorstep, but also record footage that can be useful if you need to go to authorities.
Monitor property with surveillance cameras. Smart outdoor security cameras are equipped with motion sensors that automatically record when there's movement on your property. The Vivint Outdoor Camera Pro goes a step further by identifying lurkers on your property and sounding an alert so they know they've been spotted.
Lock doors remotely. With smart locks, you can lock and unlock your doors from an app on your phone. This is useful not only for security, but if your kids forget their key and get locked out.
Detect unauthorized entry. Smart home security systems also monitor unauthorized entry in your home via door, window, and motion sensors.
Contact authorities for you. Smart homes that are connected to a monitoring service even contact emergency personnel for you if an alarm is tripped and you're not home.
Monitor smoke and carbon monoxide. Smart smoke detectors monitor heat as well as fire, so you're alerted to fire faster.
Alert you to water leaks. Smart home technology can even monitor for water leaks in specific areas for your home, then notify you so you can take action.
Perhaps the best thing about smart home technology is that it keeps you connected to your home. Notifications on your mobile device keep you aware of alarms, activity on your doorstep, or alert you if you left your door unlocked. So even if your home is empty, you can still be "home" by knowing everything that is going on at any given time.
Best smart home technology for keeping an empty home safe
If you want to use smart technology to keep your empty home safe, your best bet is to go with a company that is not only one step ahead of the latest technology, but also trusted. After all, you're trusting them with the most important things in your life.
Vivint Smart Home technology is an outstanding choice. Named the "Top Home Security System of 2019" by US News and World Report, a Vivint Smart Home system has everything you need to keep your home safe.
Check out some of the features that help keep your home safe and secure while you're away:
Smart home app. The top-rated Vivint Smart Home App is the link between you and your smart home. You can check camera feeds, adjust your lighting, lock your doors, adjust your smart thermostat, and receive notifications all from one convenient and easy-to-use app.
Home automation. With a Vivint Smart Home system, the smart devices in your home work together in perfect harmony. Many tasks can be automated for convenience and simplicity. For example, you can program your system to arm your security system when you lock your front door, or turn on the lights and adjust the temperature when you unlock it.
Security cameras. Cameras for every area of the home, including indoor, outdoor, and doorbell, mean you never miss a thing. You can view footage live or watch recordings later.
Smart locks. You can set rules for your smart lock, such as locking the door automatically after 10 seconds, so you don't have to worry if you left your door unlocked. You can also unlock the doors from your smartphone as well.
Burglary detection. Door sensors, window sensors, and motion detectors are included in a Vivint security system, so you never have to wonder if your home is safe.
Water sensor. The best smart home systems think of everything, including potential water damage. Vivint Water Sensors can be placed in areas prone to water leaks or flooding, and will immediately alert you if moisture is detected.
24/7 monitoring. Vivint systems come with professional monitoring around the clock, so you know your home is always being watched over. In the event you're not home, monitoring specialists will dispatch police, fire, or emergency personnel for you.
Professional installation. Setting up a smart home can be intimidating for even the most seasoned DIYers. With Vivint Smart Home, professional installation is included. That means you can spend your weekend enjoying your new system instead of trying to figure out how to set it up.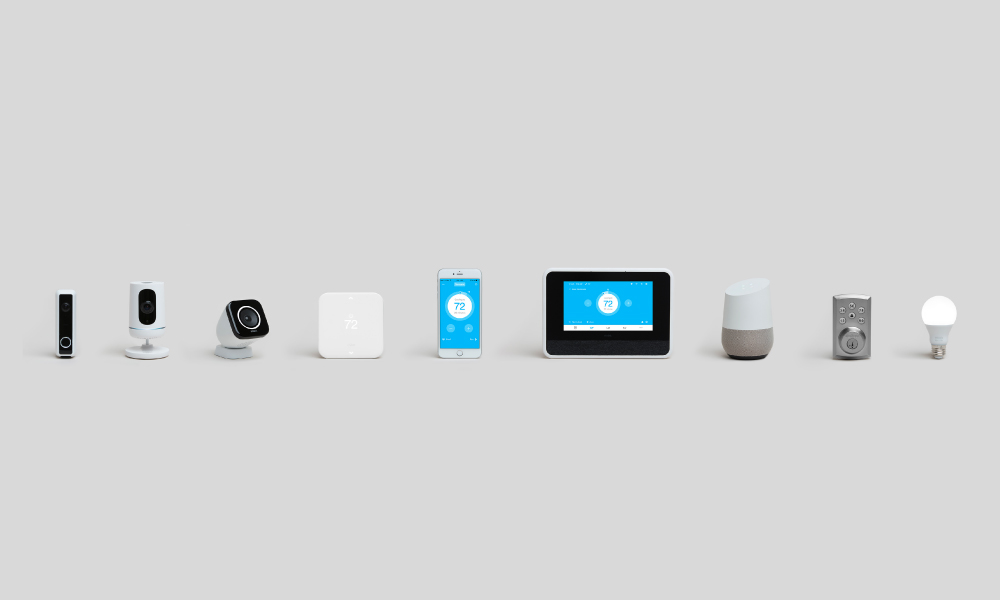 A smart home goes beyond keeping your home safer and more secure while you're away at work and school; it provides peace of mind so you don't have to worry if you remembered to close the garage door or if the kids got home safely from school.
Whether you're home or away, you'll always know your house is secure—and that's the most valuable thing of all.
To see how a Vivint Smart Home can help keep your home safe, contact our Smart Home Pros today at 800.646.1469 for a free quote.