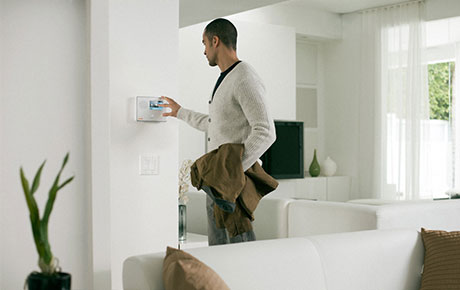 While burglaries are not completely preventable, several steps can be taken to reduce your risk of a home invasion and keep your family safe. Suspicious activity like property theft and residential burglaries can be prevented by implementing the proper security measures. Read on to find out more about ensuring that your home is safe from unwanted guests.
Ensure that your front door is secure
Nearly 1/3 of all break-ins occur at a home's front door, making it essential that you ensure that your home's main entrance is secure. Invest in a solid deadbolt, locks for your exterior doors that are pick-resistant, and consider illuminating your home at night by putting your entry light on a timer. If you don't want to have your porch light on a timer, put a motion sensor light over your entryway. A video-monitoring doorbell is an inconspicuous tool that provides you with a way to see who is at your door without putting yourself in danger. When a person opens your door, a door sensor will send you an alert. If you have a spare key that you hide near your front door, be aware of where you hide the key as well as who you tell where it is. This problem can be completely avoided by using Vivint's smart home security system.
Secure first-floor windows
Another common point of entry for potential intruders is the windows on your home's ground level. Sash locks are necessary for all windows, but windows that can easily be reached require another level of protection. A wireless alarm system can alert you whenever a window is opened or broken and may scare off potential burglars from breaking in.
Prevent basement break-ins
Homes that have basements may be especially vulnerable to a break-in. Potential intruders know that basements are often unoccupied, especially at night, making them an easy way to enter a home undetected. Consider installing floodlights or other exterior lights and a motion detector to deter burglars. Invest in solid door locks and glass break detectors to ensure that you are alerted and can take action in the event that an intruder has come into your home.
Don't forget the second floor
While many homeowners are diligent in making sure that the doors and windows of the first floor of their home are secure, they may be a little more lax when it comes to higher points of entrance. Some may even leave windows on their second floor open at night or when they are gone, assuming that an intruder would not have the resources to enter the home. However, a committed burglar will take advantage of any point of entry. For this reason, sash locks, glass break detectors, and window sensors are just as necessary on high windows as they are on windows that are more easily accessible.
Conclusion
Ensuring that your home is secure against unwanted intruders can be a daunting task. A resourceful burglar may find points of entry that have never occurred to you, or they may find a way around any measures you have taken to secure your home. At Vivint, we have a staff of home security experts who will work with you to protect your home and family as well as ensure that your home is as safe and secure as possible. We offer a range of home security packages and equipment, ensuring that we can create for you a solution that will meet your needs and budget.