What comes to mind when you think about smart home security systems? You likely gravitate toward motion sensors, security cameras, remote thermostats and more, but have you ever wondered about the components in these devices?
For instance, tilt sensors ensure your garage and gates stay locked, whether you're at home or away. But how do they work? What do you need to know about these mechanisms, and why should you invest in them in the first place? Find out more about the technology here.
What is a tilt sensor?
As the name implies, tilt sensors enable users to detect orientation or inclination. Compared to other sensors, they're small, affordable, easy to use and, when used properly, don't wear out. Additionally, some people refer to them as mercury switches, tilt switches, or rolling ball sensors.
Typically, the components include a cylindrical cavity and a conductor inside to pass along electricity. When an item lines up straight, the conductor sits in the cavity and allows electricity to pass throughout the sensor. When a tilt occurs, the conductor moves out of the cavity, cutting off the electrical signal.
More than a detector
Garage door controllers use tilt sensors to monitor whether a garage door is open or closed. When connected to your smart home network, you can control your doors from a smartphone or mobile device and receive home security alerts when someone leaves the door open.
Tilt sensors also provide a variety of other notable benefits. For instance, with smart home convenience at your fingertips, you won't need to leave your running vehicle to close or open the door. Connected tilt sensors offer full control with smartphone apps and smart control panels.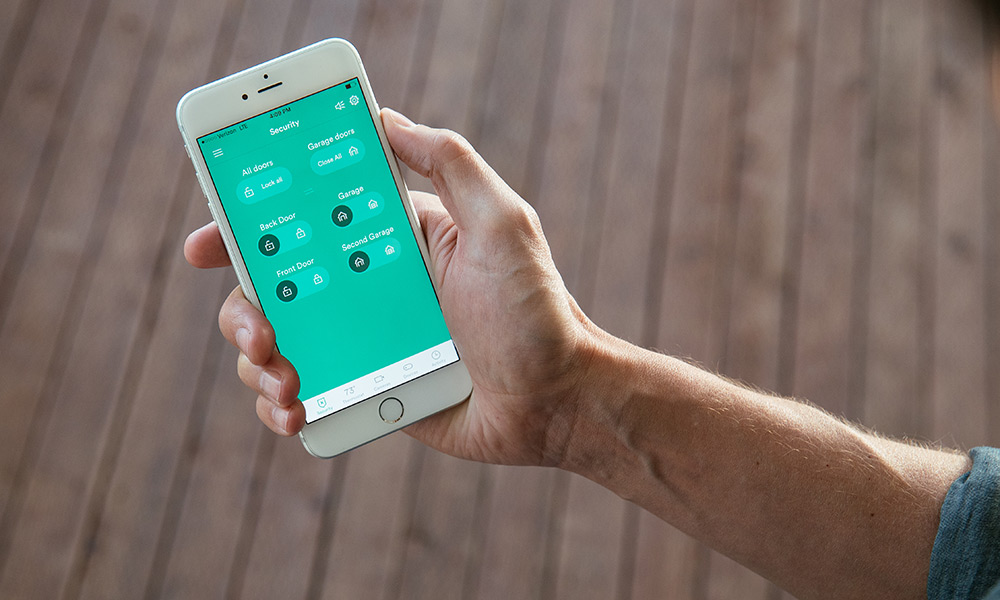 Set and monitor alarms
By using a home security tilt sensor, you can remotely monitor garages, hatches, roll-up doors, and virtually any other tilting surface in your home. When armed, the sensors measure whether an item is level or flat, and depending on the settings you can receive alerts based on your chosen criteria. When a monitored item changes position, the alarm triggers.
Like any smart home technology, you want to leverage a comprehensive ecosystem rather than simply focusing on small components of home automation.
For example, smart door locks enable you to remotely open the doors for your kids when they arrive home from school or provide guests with one-time codes so they can enter while you host a party. Doorbell cameras pair well with door tilt sensors, as well, because they allow homeowners to see who's at the door and communicate with the visitor, even if they're away from home.