Key takeaways
New Year's is the most popular holiday to rent a home, and hosted properties book up at least three months in advance.
Home rentals cost an average of 22% more during holidays.
70% of guests are more likely to rent a home that's decorated for the holidays, and 64% are willing to pay more for the extra holiday cheer.
Hosts pay an average of over $150 to repair damages after parties on their properties.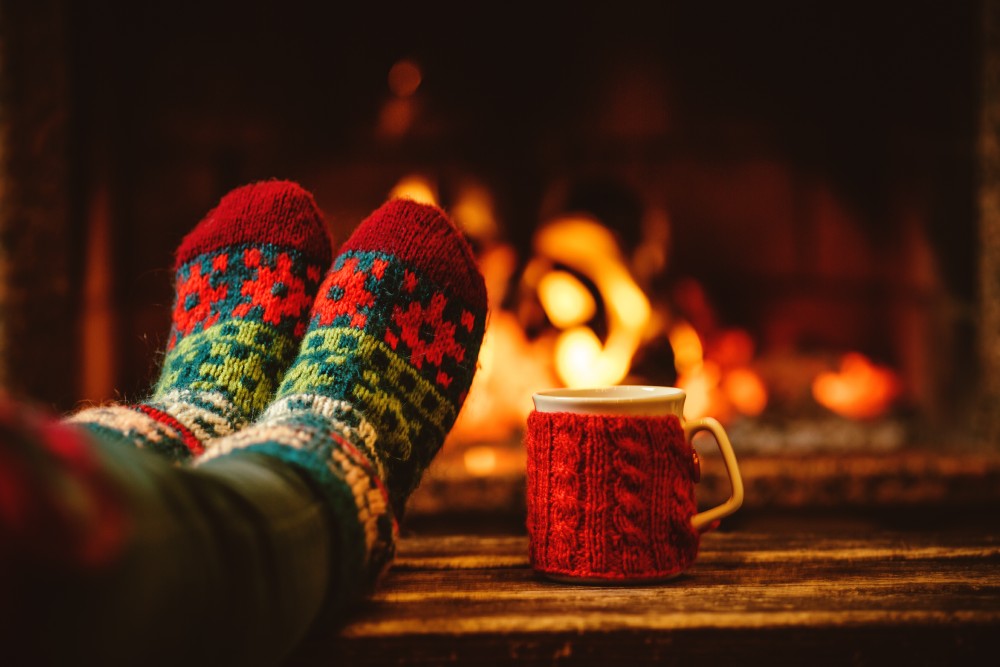 Offering holidays away from home
Have you ever thought about renting out your home for the holidays? Short-term renting can be a great way to earn extra income, especially during certain times of the year. However, there are definitely some downsides and things to watch out for as a host.
We spoke directly to landlords and guests to explore the nuances of the holiday rental experience. They shared their average costs and earnings, how they've handled holiday parties, and what damages a property owner can expect. Will the holiday spirit find a way to shine through even the most destructive tenants? Keep reading to find out.
The most wonderful time to get away
Our holiday rental analysis begins with a look into nightly prices and guest itineraries. Which holidays are the most popular for short-term renters, how much will they pay for the experience, and how quickly do holiday rentals book up?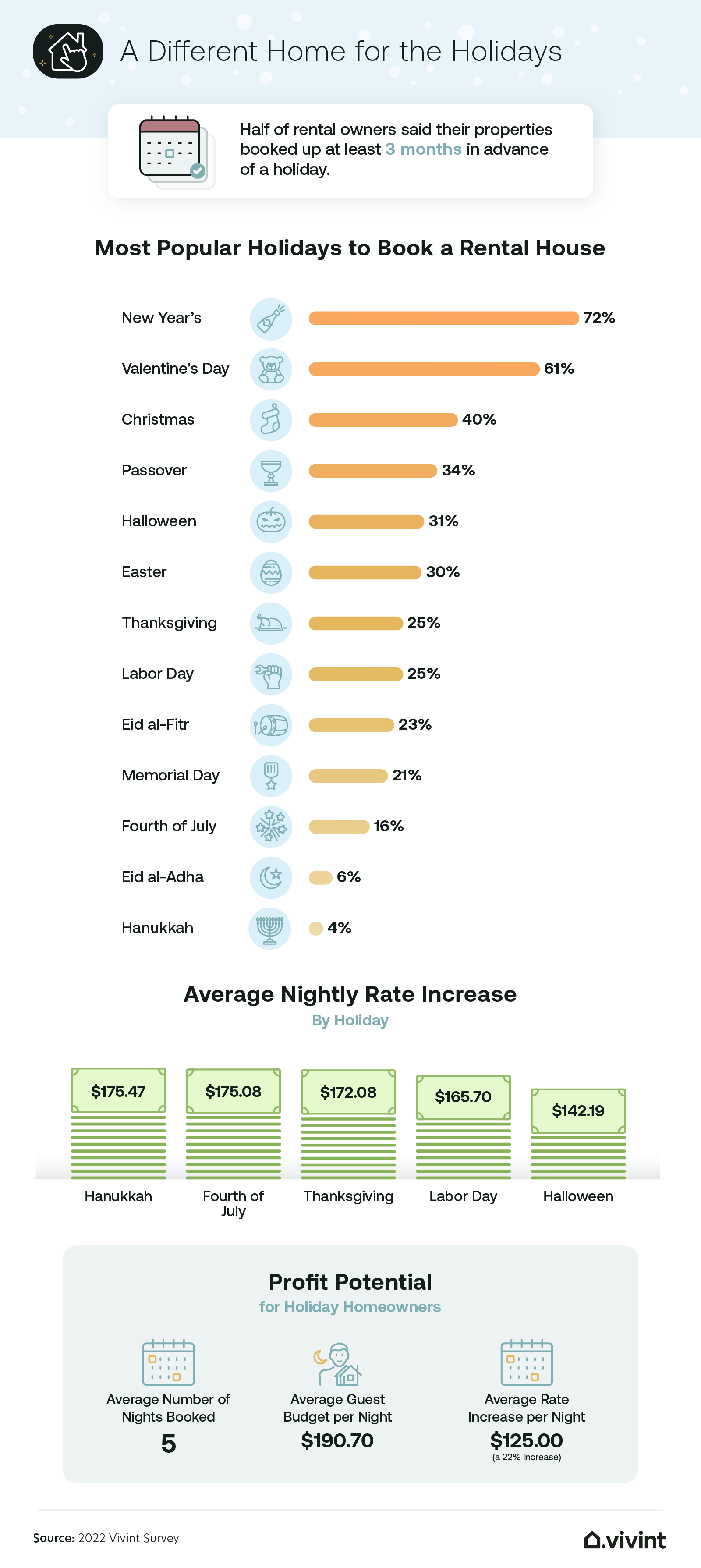 If you're planning on renting for the holidays but haven't already booked, it's high time you do. Half of the hosts we surveyed said their spaces booked up at least three months before the holiday season even started. Plus, the longer you wait, the higher your airfare might be.
On the other hand, if you're considering renting your own home but haven't already done so, you could be joining a renter's market where buyers have relatively few options. But don't wait too long since New Year's Eve is quickly approaching, and it's the most popular holiday for renting a home.
For guests, even the most deliberate timing and planning won't prevent you from paying additional costs. That's good news for hosts, though. On average, rental units have earned nightly rate increases of over $100 during holidays. Hanukkah dates increased rent the most, with hosts charging an additional $175.47 per night. Fourth of July stays saw nearly the same increase: an extra $175.08.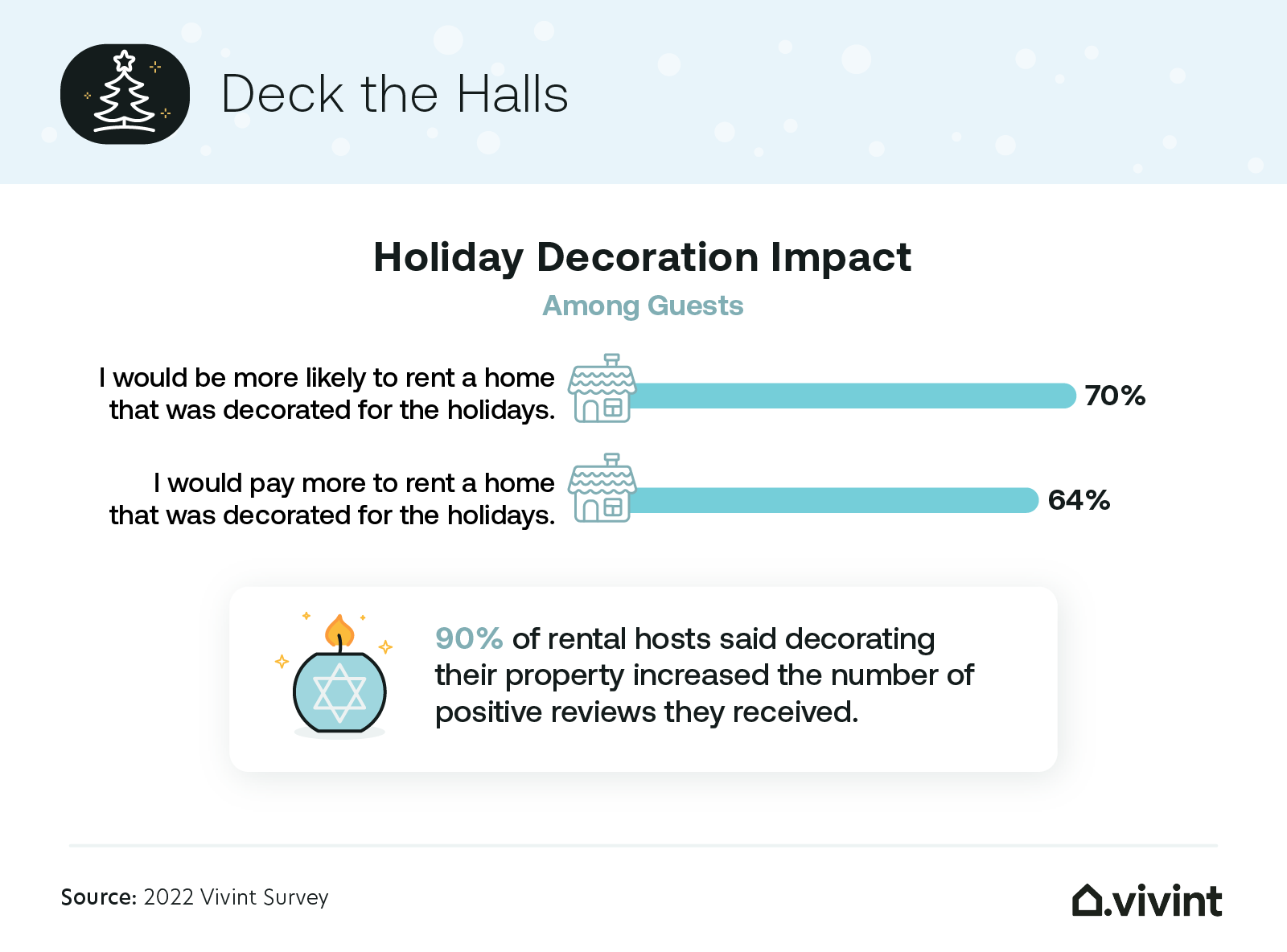 Rentals may benefit from home depersonalization. Vacationers aren't choosing your home in the hopes of being surrounded by your family photos, and removing personal items can also keep your most sentimental belongings safe. That said, the holiday renter also wants a space with some character. We found that decorating for the holidays had a noticeably positive impact on rentals: 64% of renters said they would pay more to stay in a festively decked-out space. In addition, 90% of rental hosts said that decorating their properties for the season increased the number of positive reviews they received from guests.
Finding a place to party
Hosting additional guests in a rental without permission is a bold move, but apparently it happens a lot. Next, we looked into how many renters have crossed this boundary, who would do it if they had the chance, and what times of the year these parties are most likely to happen.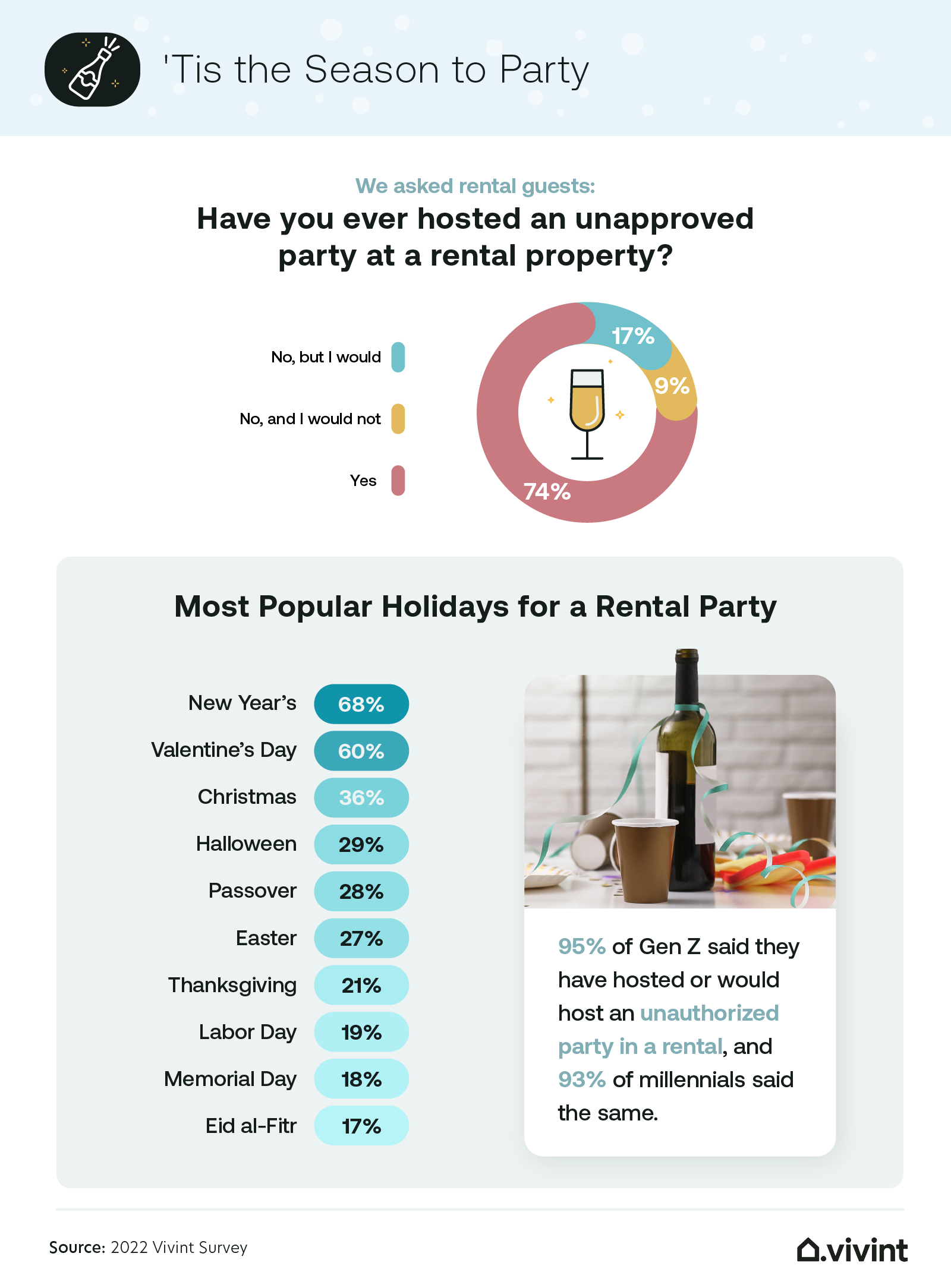 Nearly three-quarters of holiday renters said they'd already thrown a party without a host's permission, and 17% said they'd do it if given the chance. Only 9% of renters insisted that they would never throw a party against the property owner's wishes. In other words, landlords should expect parties to happen in their rentals during the holidays, regardless of their policies.
It might help to at least watch out for the younger guests. Nearly all Gen Z and millennial respondents said they already had hosted or would throw an unauthorized party in a rental unit. Their top holiday of choice? New Year's Eve. So, make sure you set firm boundaries during that time of year to prevent any illicit events—or at least provide some ground rules.
Keeping guests off the naughty list
With parties being so prevalent, we gave homeowners and landlords a chance to share their strategies for curbing them. They also shared some of the damages they've suffered due to renters crossing the line.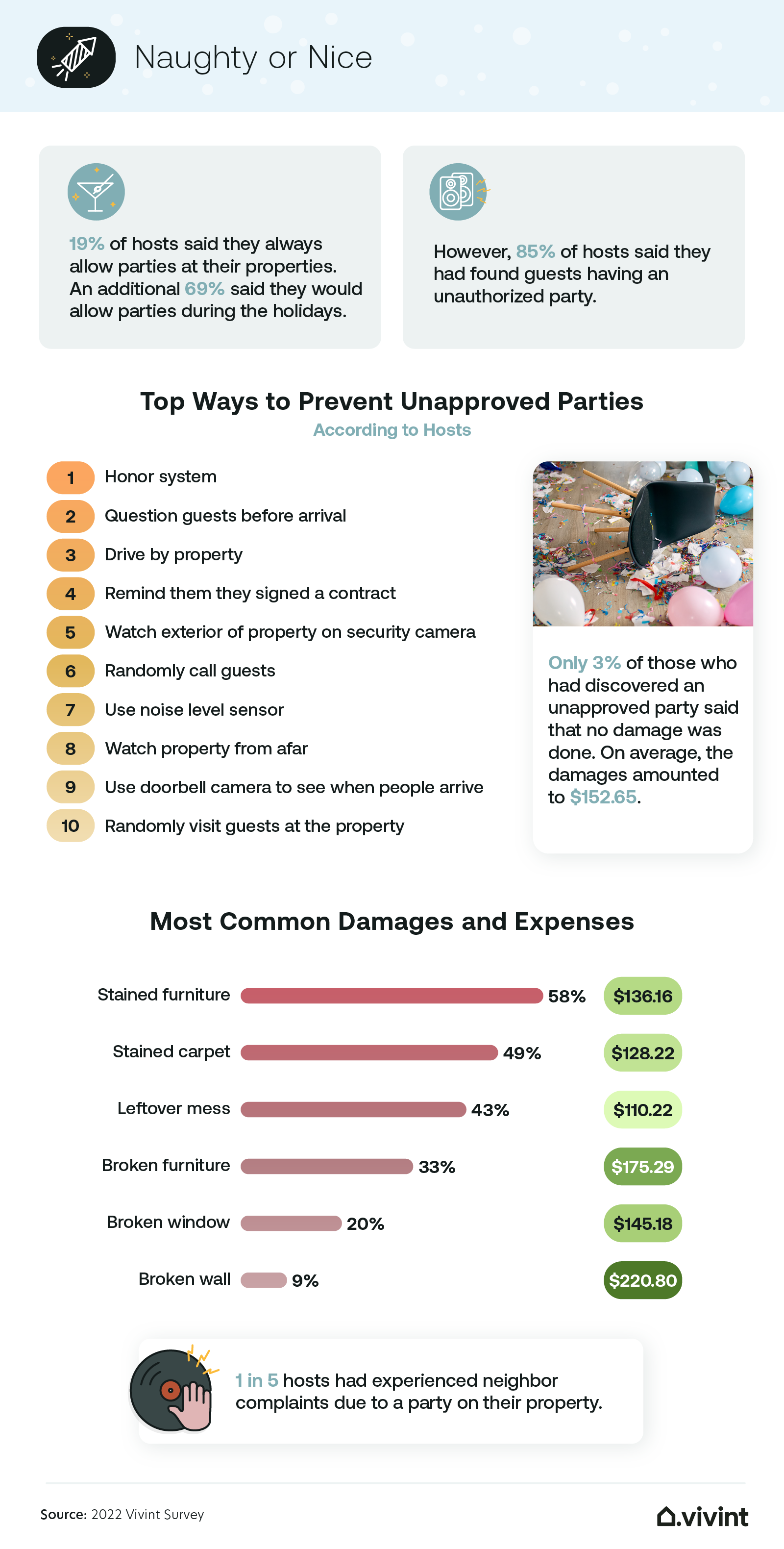 Most of the rental property owners we surveyed have not allowed parties; only 19% of them have. But considering that renters are going to party regardless, many homeowners have resorted to some clever tactics to prevent it or catch renters in the act. While most of them used the honor system, many reported watching the exterior of their home via security camera or using a doorbell camera to record visitors.
If watching guests seems like overkill, know that property damages resulting from unauthorized visitors averaged more than $100 for each rental period. Nearly 60% of hosts suffered furniture stains, 49% had their carpets stained, and almost 10% had to replace a broken wall. Parties have caused so much damage and headaches that Airbnb started banning parties as a company-wide policy.
Balancing parties and politeness
While holiday rentals are extremely popular, they're not without risk. Regardless of homeowners' policies and requests, most holiday renters admitted to throwing (or planning to throw) parties during a rental stay. Many hosts have reported property damage as a result, leading them to some intense tactics to prevent unauthorized parties in their homes. But don't let potential parties scare you out of renting altogether. Homeowners still have the potential to make great money while renters make cherished holiday memories in their living spaces. If you're worried about guests throwing parties in your rentals this holiday season, check out the security and peace of mind that Vivint can provide.