Key takeaways
People searched "true crime" 738,510 times since January 2022; Atlanta, Cleveland, and Minneapolis had the most searches per 100,000 residents.
"Inventing Anna" is the most searched for true crime content in the U.S. since January 2022 with over 13.3 million searches; Massachusetts, New York, and Connecticut searched for it the most per 100,000 residents.
True crime fans spend an average of 3.8 hours per week consuming true crime; Netflix was the most viewed platform for true crime content (62%).
Women are 2.5 times more likely than men to consume true crime content to prepare for unsafe situations.
Among fans who have been victims of a crime, 1 in 3 said consuming true crime helped them react better to the incident.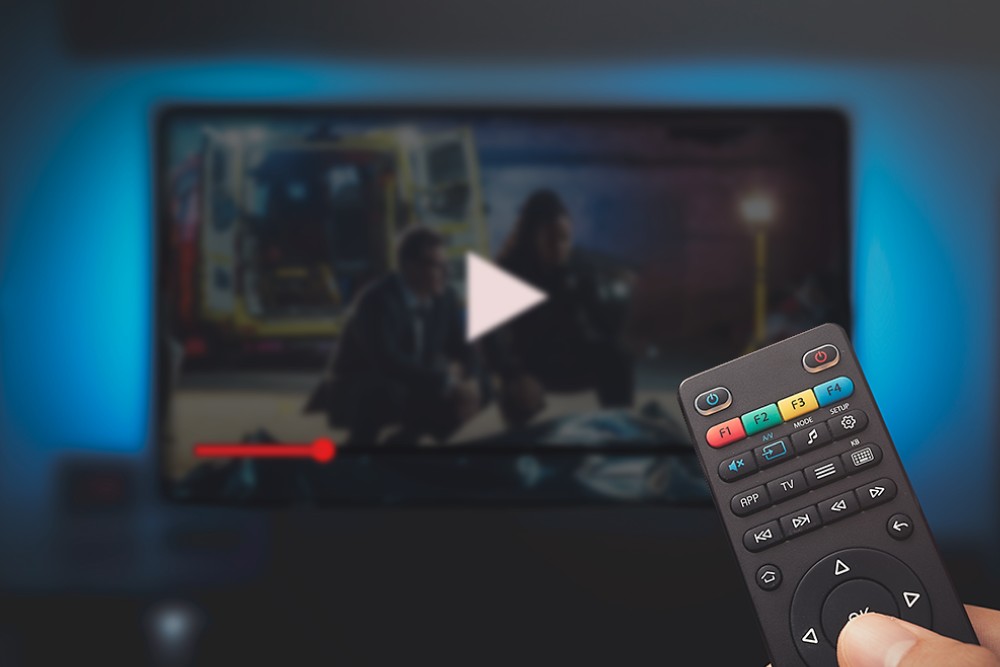 True crime and safety
True crime stories are soaring in popularity, with new podcasts and documentaries published almost daily. From first-hand victim accounts and conversations with murderers to movies and television adaptations of major criminal court cases, unspeakable acts of violence, fraud, and theft are laid bare in chilling detail. But, given its intensity and often violent content, how is the high consumption of true crime content affecting viewers?
To discover the answer, we surveyed 1,002 true crime fans, analyzed Google search trends, and explored data from the FBI's National Incident-Based Reporting System (NIBRS). In this guide, we'll uncover the motivation and consumption habits of true crime fans and explore the relationship between true crime entertainment and real-life criminal offenses in American communities.
Why true crime?
True crime is content produced about real crimes involving real people. Despite its graphic nature and mature content, true crime grasps the attention of people of all ages. Let's examine why people consume this content and how it affects them.

Almost every streaming service, on-demand provider, and social media platform carries true crime content. Fans were most likely to get their true crime content from Netflix (62%), followed by YouTube (42%) and Amazon Prime Video (36%). Overall, consumers enjoyed an average of 3.8 hours of true crime per week, but Gen Z tuned in 4.6 hours per week.
Fans most often tuned in out of curiosity (73%), but a few did so to prepare themselves for dangerous situations. Women were 2.5 times more likely than men to watch true crime to prepare for a criminal situation. And it seems to have paid off for some: 1 in 3 true crime fans who were victims of a crime claimed true crime content helped them better react to the incident. True crime consumption also led 63% of fans to prioritize their safety; 39% invested in home security, and 25% took self-defense classes.
Let's take a look at the content inspiring true fans to take such a proactive approach to safety.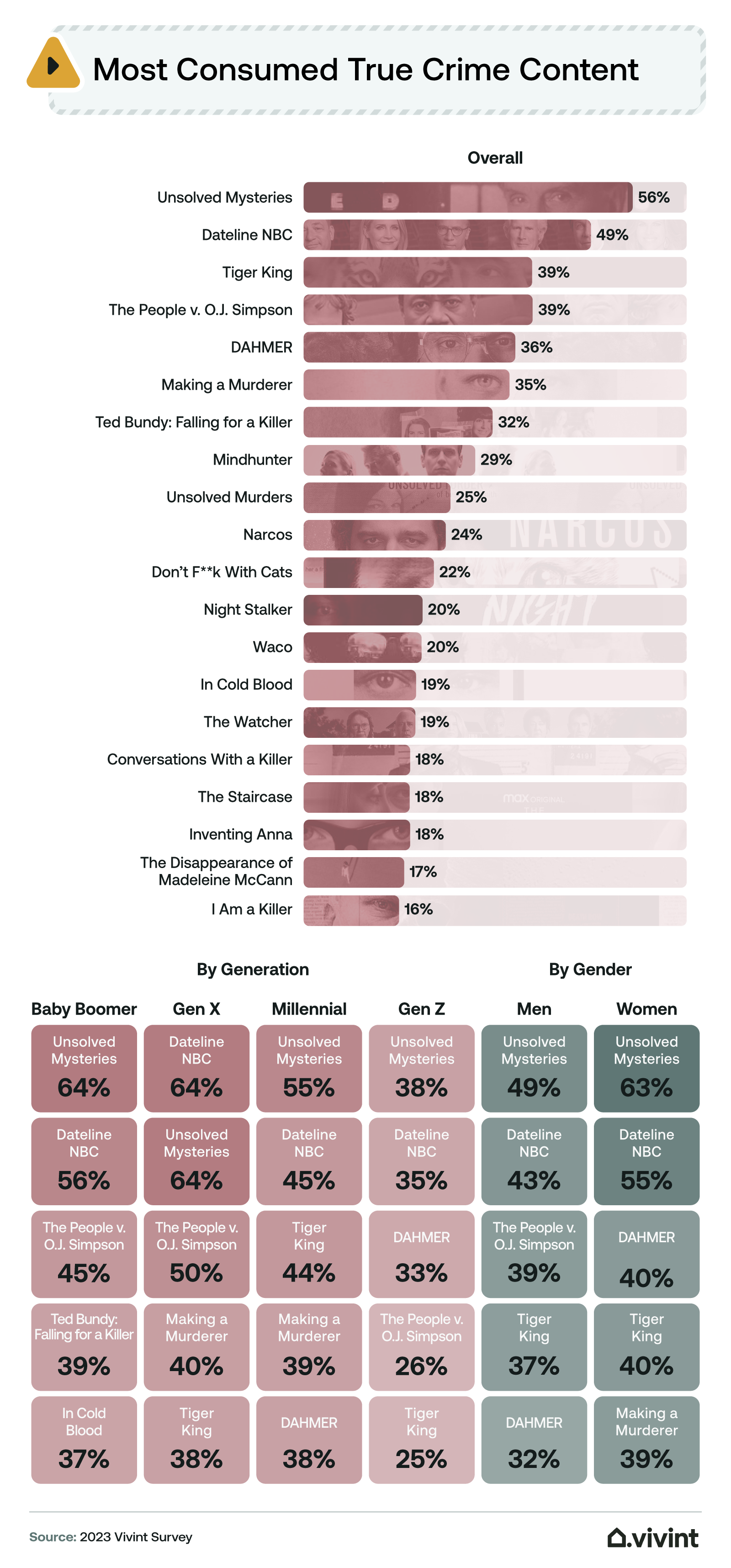 The top consumed true crime content among our respondents was "Unsolved Mysteries" (56%), one of the longest-running TV programs and the first to ask viewers to call in with tips to help solve real cases. "Dateline NBC" ranked second with 49%, and Netflix's "Tiger King" and FX's "The People v. O.J. Simpson" tied for third.
True crime and criminal offenses by area
There's a lot of true crime content and, unfortunately, a lot of real-life crime too. Which states and cities have the most true crime interest? Which has the most crime?

Overall, people searched "true crime" a total of 738,510 times since January 2022, with Rhode Island, Utah, and New York having searched the most. The cities that searched the most per 100,000 residents were Atlanta (1,015), Cleveland (838), and Minneapolis (835). But while these areas may have a greater interest in true crime, do they also have higher crime rates?
Despite having the most "true crime" searches per capita, Atlanta only had 7,971 total offenses per capita, No. 16 overall. With nearly double that, Cleveland had the most offenses with 14,032, followed by St. Louis at 13,063; those cities also came in second and fourth for search volume. And when analyzed in groups, the top 50% of cities searching "true crime" experienced 23% more crime per capita than the bottom 50%. While that's not enough data to support a direct correlation, it is interesting to note.
Most popular true crime
In their searches for true crime content, fans often look for particular stories. Let's look at the most popular true crime content and how popularity varies by state.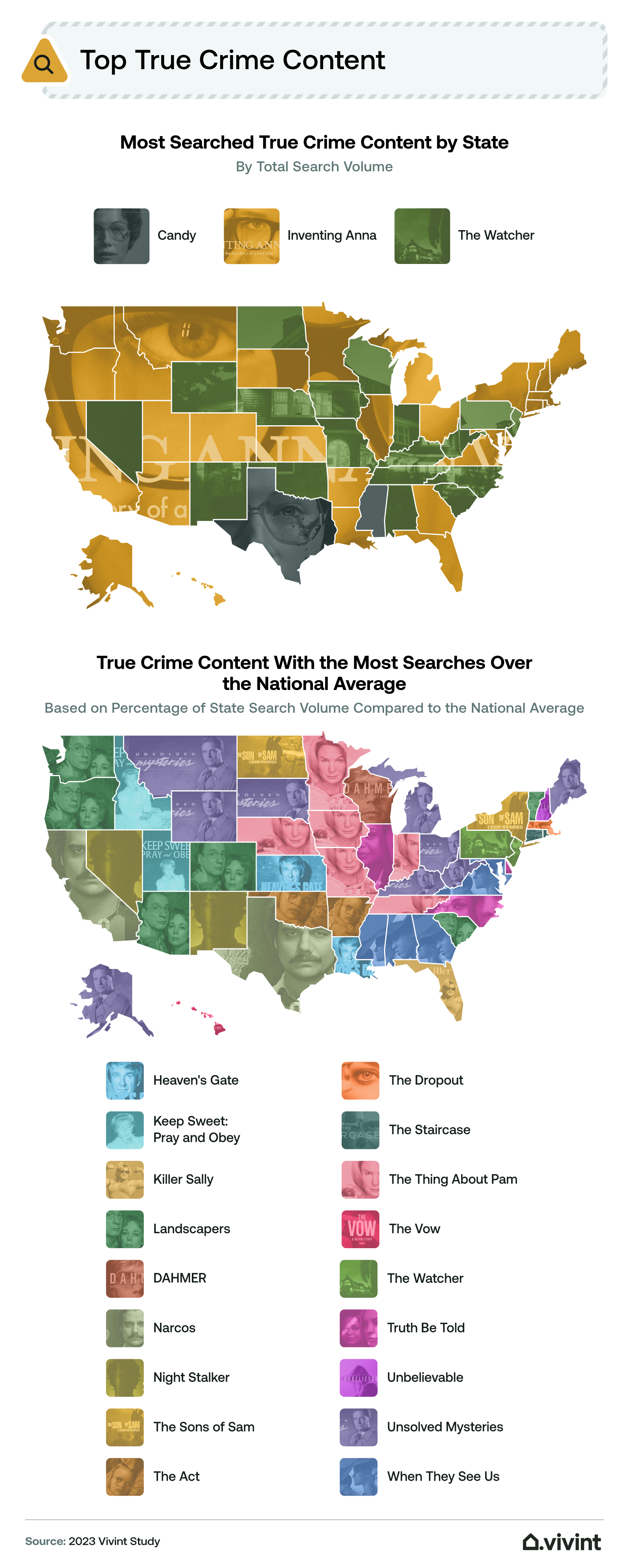 Since January 2022, the series "Inventing Anna" was the most searched for true crime content in the U.S., with over 13.3 million searches. Almost two-thirds of the country was busy searching for the series, and Massachusetts, New York, and Connecticut searched for it the most per capita. Meanwhile the other one-third of the country tracked down "The Watcher." Both series are Netflix originals, illustrating the streaming platform's popularity within the genre.
Looking closer at the search data, we found that each state had a significantly higher search volume for some content compared to national averages. Looking at the relationship between the states and these spikes in search volume shows that people are especially intrigued by true crime within their communities.
For example, "The Watcher" dramatizes the stalking of a couple in New Jersey, and search volume for the series was especially high among residents in New Jersey and neighboring Pennsylvania. Similarly, "DAHMER," about infamous serial killer Jeffrey Dahmer, was exceptionally popular in Wisconsin, where he was born and committed most of his crimes.
Knowledge is power
The true crime genre has captivated audiences for a long time. Despite its intensity and often violent content, fans are lured in by curiosity, mystery, and good storytelling. Communities see themselves reflected in the genre (for better or worse), and learning the details behind true crime events makes viewers feel more prepared for the worst. Whatever the motivation for consuming true crime content, the genre's very existence proves how vital it is to be alert, aware, and proactive about your safety and the safety of those you love.