For Americans, July 4th – or Independence Day – is an important day that marks the birth of our nation. It's a favorite holiday of many that has become synonymous with cookouts, fireworks, and summer fun.
Statistically, the 4th is also one of the most dangerous holidays, with more drowning, drunk driving, and firework and grill-related fires than any other month.
But the 4th of July doesn't have to be dangerous at all. With a little common sense, preparation, and some helpful information, you can keep your 4th of July holiday safe for everyone—starting with our top 25 tips for a safe 4th of July.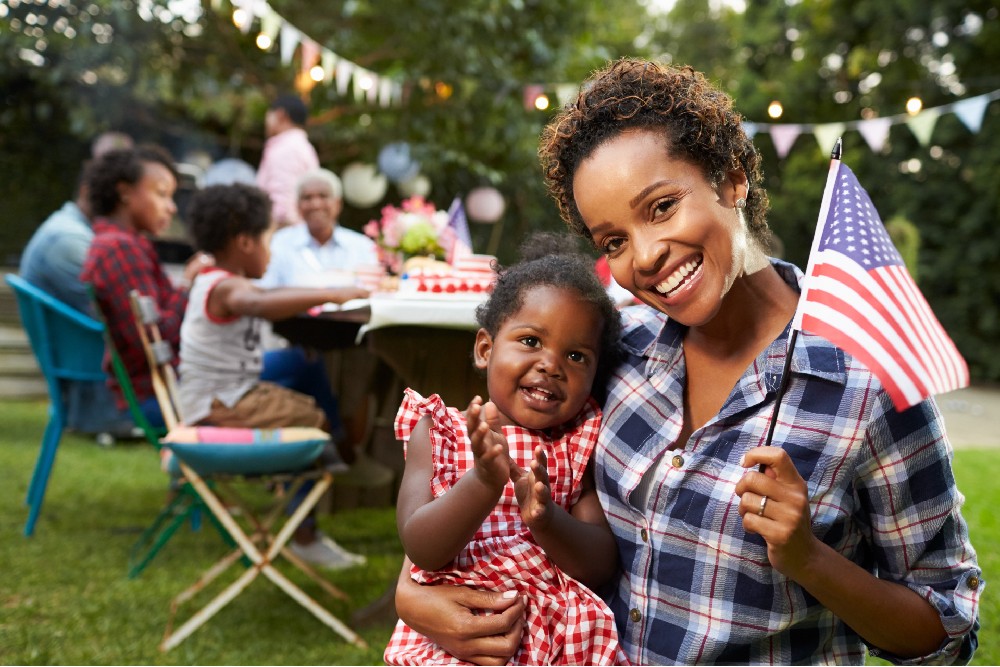 Fireworks safety
Fireworks and the 4th go hand-in-hand. But it's important to remember that these beautiful displays are in fact dangerous explosives. Each year, fireworks are responsible for over 10,000 injuries serious enough to warrant an emergency room visit. They also start over 19,000 fires each year.
Know your local fireworks laws. Each state has its own laws regarding the type of fireworks you can set, the dates and times they can be used, who can purchase them, and whether or not you need a permit. Some states don't allow consumers to use them at all, so make sure you know and follow local guidelines.
Never allow young children to handle fireworks. If using sparklers, supervise children closely and don't allow kids wear loose-fitting or baggy clothing to handle sparklers.
Never hold a lit firework in your hand, and never try and re-light a malfunctioning firework or "dud."
Keep spectators at least 35 feet from fountains and ground-based fireworks and 150 feet from aerial fireworks.
Don't allow anyone who has consumed alcohol to handle or light fireworks or are impaired in any way.

The safest way to enjoy fireworks is to leave them to the professionals. But if you're going to light a few of your own this year, follow these firework safety tips to keep your holiday weekend safe:

Make sure to pay attention to local firework laws.

 

Grilling safety

Is a July 4th party really complete without a BBQ? If you plan to grill, keep these BBQ safety tips in mind to help prevent both fires and food poisoning:

Have everyone bring their favorite foods for a complete BBQ.

 

Never leave a lit or hot grill unattended. (Tip: Assign a "grill master" to steer children and pets away from the hot grill or flames.)
Move your grill away from the house, structures, or overhangs to avoid heat damage or fire.
Always check your gas grill for hose leaks or breaks before grilling; gas grills are the cause behind 8900 house fires each year.
If you're using a charcoal grill, use only charcoal starter fluid designed for grills, and don't add starter fluid to an already-lit grill, even if the fire starts to go out.
Cook food completely, making sure to follow temperature guidelines to prevent food poisoning. At the same time, don't leave foods that require refrigeration—such as mayonnaise-based salads, eggs, seafood, and meat—at room temperature for more than two hours. Move it to the refrigerator or keep food prone to spoiling on ice.

Water safety

Heading to the lake or pool over the 4th? Make sure you practice these water safety tips. More people drown accidentally in the month of July than any other month, but the proper precautions can keep your weekend safer:

Plan ahead and make sure you have the necessary equipment for a day out on the boat.

 

Always supervise children around water, and make sure they are within arm's reach of an adult at all times. (Tip: Choose "designated adults" to keep an eye on kids. Often, accidents are the result of a parent or guardian assuming their children were being watched by someone else.)
Always wear life vests when boating and jet skiing, and ensure all life vests are properly fitted.
When swimming in the ocean or lakes, only swim in designated, lifeguarded areas.
Swim smart—remember that swimming in an ocean or lake is different than a pool. Always swim with a buddy and know your limitations and skill level.
If swimming at a beach, you'll notice different colored flags. These beach warning flags each have a meaning; make sure you know what each color means and plan accordingly.

Sun protection

If your 4th of July plans include spending time in the sun—whether it's at a parade, beach, or backyard barbecue—sun protection is a must. These tips will help you have fun in the sun (sans the sunburn).

Always protect your skin from the sun.

 

Remember that no tan is a healthy tan. Sun exposure can lead to burns, wrinkles, and even skin cancer. The damage is also cumulative, meaning it worsens the more it occurs, and it starts from the very first tan.
Choose the right sunscreens. Look for a broad spectrum sunscreen, which protects against both UVA and UVB rays. If you'll be outside for an extended period, the Skin Cancer Foundation recommends a sunscreen of at least 30 SPF.
Reapply sunscreen every 2 hours, or after swimming or participating in physical activity.
Sit in the shade where possible. An umbrella, tree, or pavilion can keep harmful UV rays away.
Make sure to stay hydrated by drinking plenty of water when in the sun or heat to replenish lost fluids and prevent heat stroke.

Home security

If you're traveling for the 4th, you're not alone. Because it falls on a day that both adults and kids have off from school and work, it's one of the busiest travel days and weekends of the year.

These tips will help keep your home safe and secure while you're away:

Double check to make sure all doors and windows are locked before you leave. For burglars, an unlocked door or window is one of the first places they check (and how 35 percent of burglars successfully enter a home.)
Don't let mail or packages accumulate on your porch or doorstep. This tips people off that no one's home. Ask the post office or a neighbor to hold them while you're away.
Keep a few lights on. Burglars tend to stay away if it looks like someone's home. Installing smart lighting is a good idea and allows you to automate or control your lights remotely.
Use security cameras. Home security cameras are more affordable than ever, and provide a clear picture of your property that you can access while you're away. They're also an effective deterrent to burglars or vandals.
Consider a security system. A smart home security system like Vivint means your home is safe and sound, day and night. With Vivint, have the peace of mind that your home is watched over 24/7 by professional monitoring. You can also check on your home no matter where you are via the Vivint app, whether you want to turn lights on and off, adjust your thermostat to save energy and money while you're away, or view your camera feeds.
With these 4th of July safety tips, you can make sure your 4th of July memories are fun for everyone.