Do you remember wrapping your hand around your first video camcorder? Or maybe you remember watching and re-watching low quality family videos of Christmas mornings and vacations, rewinding and fast-forwarding for what felt like hours.
The consumer camcorder was invented in 1983, less than 40 years ago.
Let's think about that for a moment. Isn't it amazing how far technology has come in such short time? And it continues to speed along, leaving behind a box of old VCR tapes filled with precious smiles and regrettable haircuts.
Video recording systems have come an awfully long way since then, particularly the outdoor camera.
Let's take a peek into the past to see how drastically outdoor camera systems have changed and how the modern day system can benefit you and your family.
The evolution of outdoor cameras and video surveillance

In the early 1900s (between the 20s and 30s) the earliest video camera was invented for entertainment production. A little over a decade later, Germany introduced the first video surveillance system dedicated to the observation of ballistic weaponry.
It wasn't long before the United States followed suit and closed circuit television (or CCTV) was used for a variety of observational and security purposes. With the invention of CCTV in 1942, individuals were able to monitor the video footage from a nearby screen. However, they hadn't figured out how to effectively record and store footage to view later, so human monitoring was still essential.
In the 1970s, the invention of the videocassette recorder (more commonly known as the VCR) took center stage. With a combination of CCTV and VCR technology, video footage could finally be effectively captured and stored for later observation.
The modern-day outdoor camera
The outdoor camera is far from what it used to be 50 years ago—or even 10 years ago. Nowadays, home surveillance systems provide homeowners with a convenient and powerful boost in security that can be utilized to serve a variety of different use cases.
Once the groundwork had been laid, the way camera systems operate continued to gradually evolve. Much like other pieces of high-demand tech, outdoor cameras continued to shrink in size and adapt to the wireless demands of the consumer. They acquired more features, gained better video quality, and became far more accessible and affordable than before.
As a result, video surveillance equipment started showing up in various facilities, such as parking garages, business centers, and shopping malls. More recently, they've made their way to suburban neighborhoods, providing homeowners with a 24/7 view of the exterior of their home and giving them peace of mind.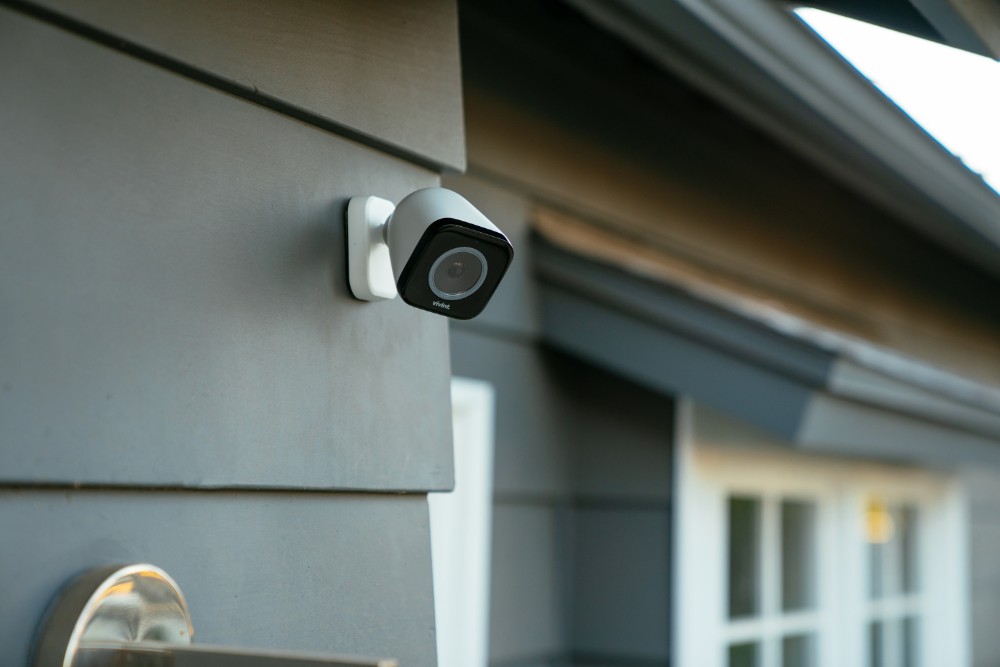 What can outdoor cameras do?
To show you just how much camera systems have advanced, here are some of the most impressive features of modern-day surveillance technology—all of which are included in the Vivint Outdoor Camera Pro, the smartest outdoor camera on the market.
High video quality
If you've ever seen video footage from a news clip from the 80s or 90s, you're familiar with their blurry, low-quality imagery. In these clips, as far as anyone could tell, the subject was a hooded blob without any distinguishable features.
Today, smart home security cameras offer a 4k sensor with high resolution and HD zoom. There are even tiny doorbell cameras that provide far better picture quality than security systems that were created less than a decade ago.
In addition to the high-resolution footage, modern outdoor cameras also have a wide-angle view so homeowners can monitor larger areas outside their home without any inhibiting blind spots.
This isn't to say one single camera can defend the entirety of your property, of course. Determining the right number of security cameras for your home depends on multiple different factors.
Night vision and motion detection
Another ground-breaking video surveillance feature is night vision—the importance of which can't be understated. In a recent report published by The Daily Progress, research reveals (not surprisingly) criminal activity is most prevalent after the sun goes down.
The findings suggest criminals are far more likely to strike after 6pm, peaking between the hours of 10 p.m. and 2 a.m. for different types of crimes. Of course, having an outdoor camera system can certainly prove useful during the day, but night vision is required for effective detection and prevention at night.
In addition to night vision, motion sensors increase the performance of the outdoor camera. The best outdoor smart home cameras come with smart motion detection—like Vivint's Smart Sentry—so as to successfully differentiate between a potential threat and a stray animal passing through.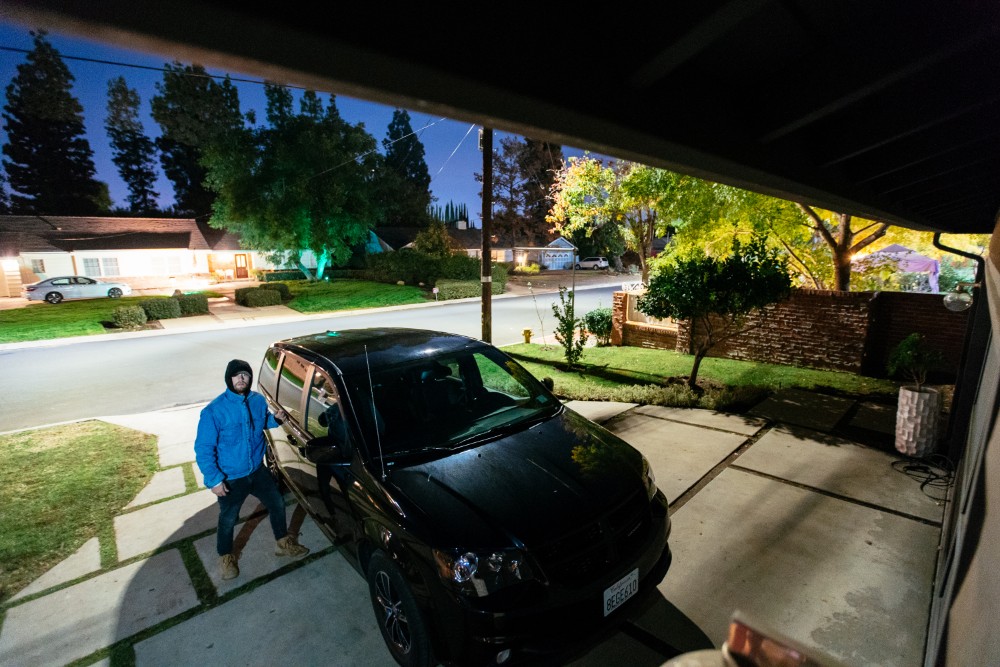 Smart home integration and hybrid installation
Smart security cameras are now designed to effortlessly integrate with your home's WiFi network and other smart home devices, which gives you more control over every aspect of your home's security.
With a combination of hardwired installation and WiFi connection, smart outdoor cameras are reliable and easy to use.
Back when CCTV was first introduced, constant human interaction and monitoring were required. Think back to Hollywood's depiction of the negligent security guard, dozing off in front of a small television screen mounted in the corner, providing easy building access to criminals.
Back then, video surveillance had to be monitored at all times and the cameras had to be swiveled to cover new areas. Even after digital recording was introduced, the projection of the footage was still limited to a nearby screen.
Smart WiFi cameras can be controlled and monitored from anywhere in the world, so long as you have a mobile device and access to the Internet. Whether you're stuck working late at the office or you're on vacation, you can check your outdoor camera video feed anytime, anywhere.
As far as installation is concerned, there's an ongoing debate between wired vs. wireless security cameras. Both offer a different advantage, which is why Vivint chooses to use a hybrid connection that encompasses the strengths of each.
Benefits of outdoor security cameras
Here are just a few benefits smart outdoor security cameras provide for your home and family:
Peace of mind no matter where you are.
A clear, wide-angle view of activity outside your home day or night.
Convenient access to live footage anytime, anywhere.
Easy access to recorded footage and playback clips.
Custom alerts to your mobile device, so you don't have to worry about what you might be missing.
Sounds pretty great, right? These benefits are all included in the Vivint Outdoor Camera Pro.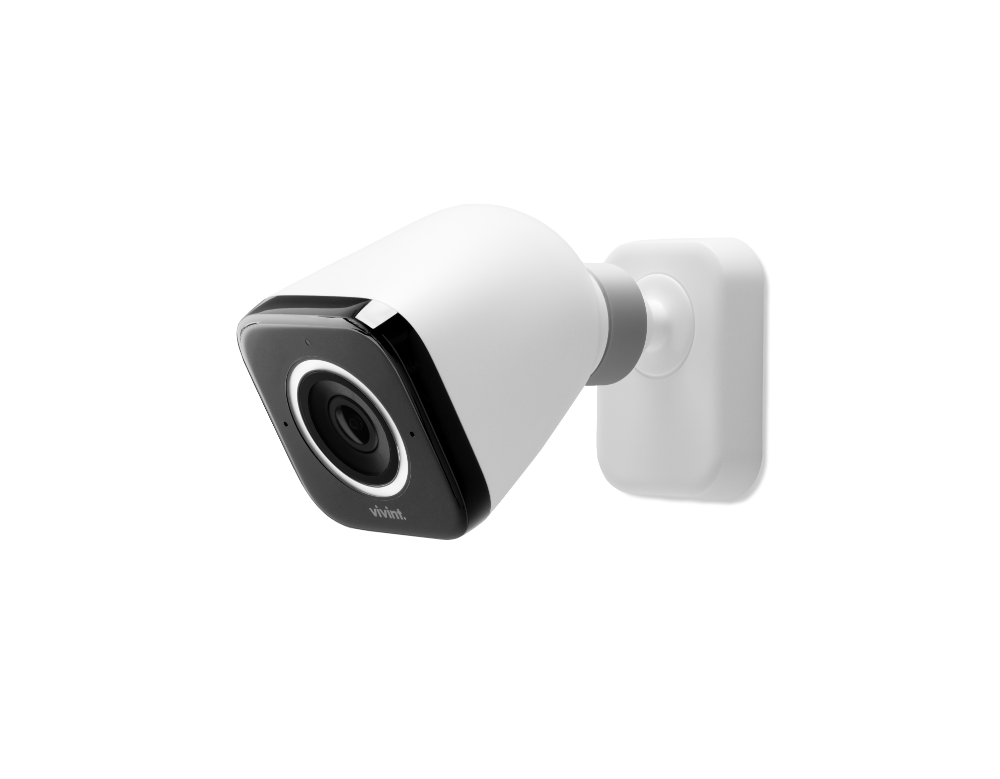 Give your home security a boost with Vivint
Vivint Smart Home systems are fully loaded with everything you need to improve your home's security and bring some much-needed peace of mind. Get a free quote on a video home security package today by calling 800.646.1469.