Key takeaways
1 in 10 rental hosts have hidden cameras or microphones in their rental that their guests are unaware of.
76% of guests said they would not stay in a vacation rental if they knew cameras were inside the home.
40% of hosts have had guests damage their rental, and 23% believe the damage was intentional.
Rental hosts say families make the best guests, and groups of young people make the worst guests.
1 in 3 rental hosts screens prospective renters by checking their social media profiles.
On average, hosts say guests who damaged their rental did $553 worth of damages.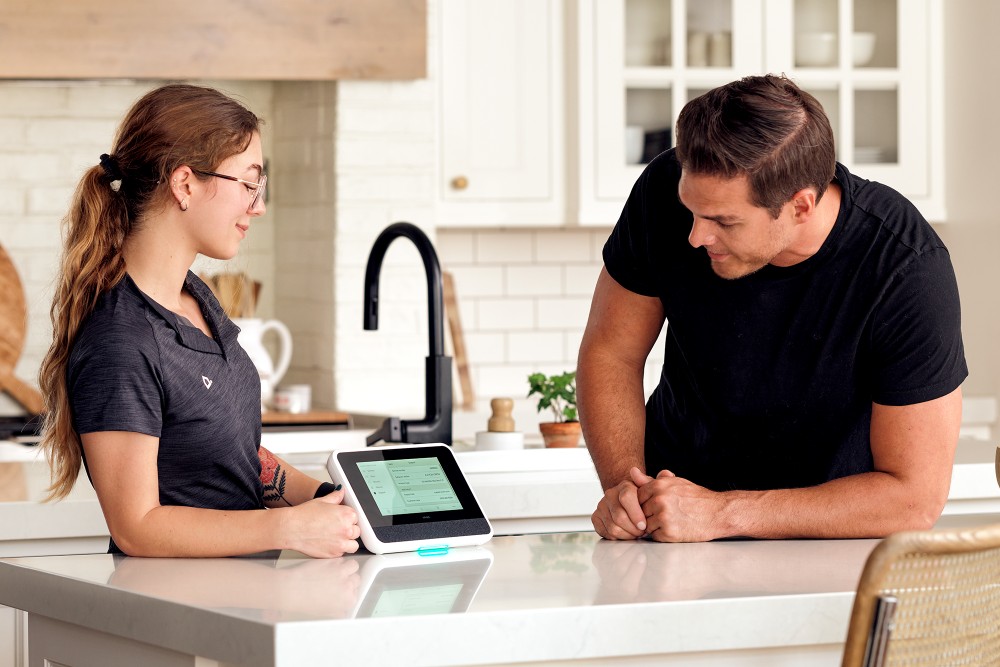 The cost of convenience
The rise of vacation home rentals provides more accommodation options for travelers and a bit of extra income for hosts. However, costs associated with property security have some rental hosts instituting new rules and procedures before, during, and after bookings.
To explore the security of rental homes, we surveyed 406 hosts and 602 guests. Let's take a closer look at vacation rental security and how these hospitable hosts protect their valuable property.
Safeguards against unruly guests
Vacation rental home hosts put a lot of money into safeguards to protect their properties. What kinds of safeguards do they commonly have in place, and what kinds of behaviors from rental guests pushed them to consider advanced security measures?

To safeguard vacation home rentals, 54% of hosts used alarm systems, making them the most commonly used security measure. Second to alarms, regular property inspections were reported by 46% of hosts, followed by smart locks and motion-activated lights, each selected by 44%. Of course, security doesn't come free, and hosts spent an average of $1,427 on security features for their vacation rental.
Another security measure used by hosts was security cameras. One-tenth of hosts have even used undisclosed hidden cameras or microphones in their properties, and 7% of those hosts had a security camera in at least one bedroom. Unfortunately, such measures are necessary for many hosts; disorderly guest behavior prompted 36% of hosts to implement safeguards on their properties. Over half of the hosts surveyed had rental homes vandalized by guests, 50% suffered property damage, and 47% were victims of theft.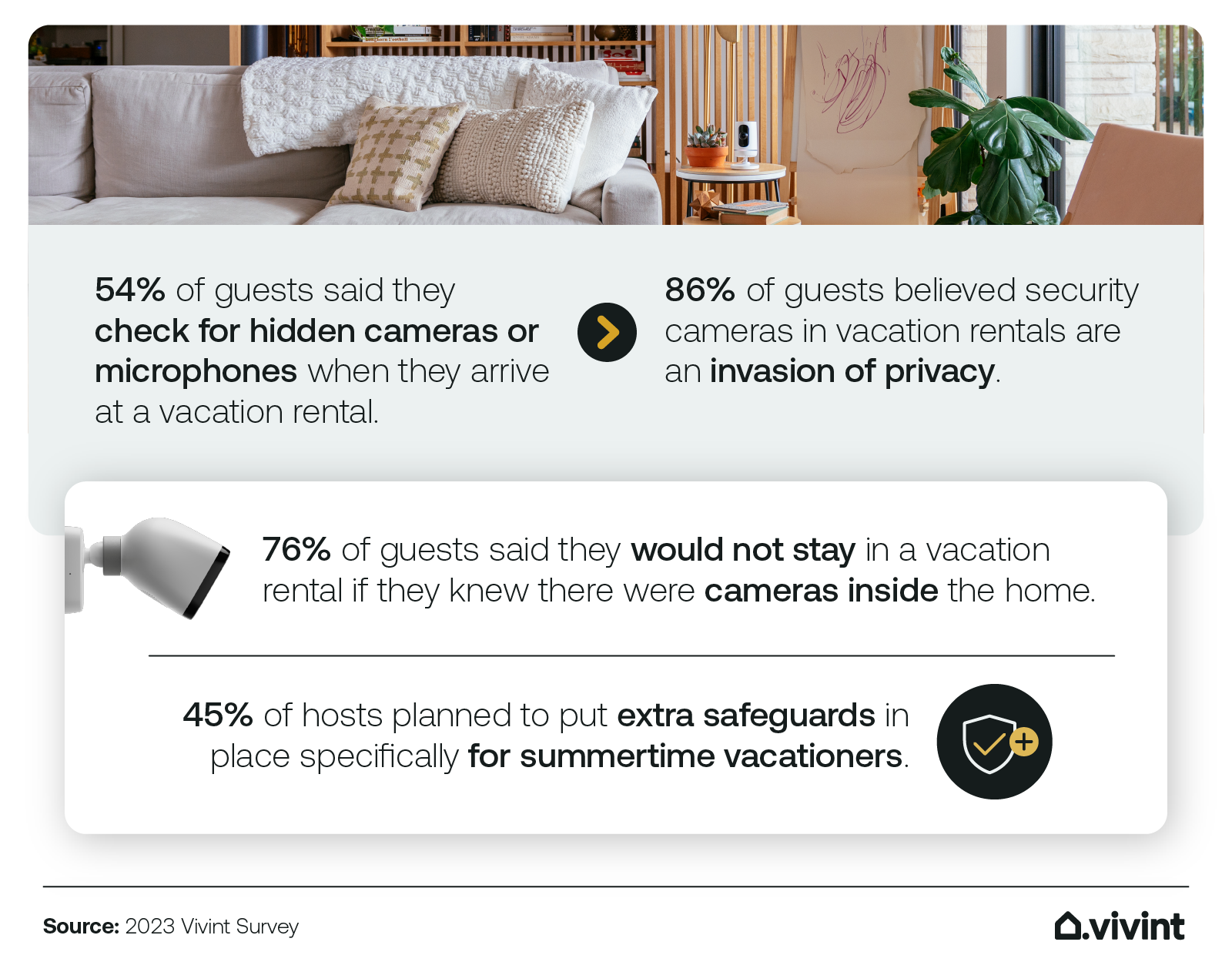 It's understandable that these renters don't want to be spied on; 86% of vacation home guests believed having security cameras in vacation rentals was an invasion of privacy, and 76% said they would not stay in a rental property if they knew cameras were inside the home. Nonetheless, 45% of hosts said they plan to put extra safeguards in place, citing concerns about further damage during the busy summer travel season.
Bad behaviors
When looking at vacation rentals online, hosts usually have a set of rules in their listings so potential guests understand expectations. But knowing the rules is different from following them. Which vacation home rental rules are most likely to be broken?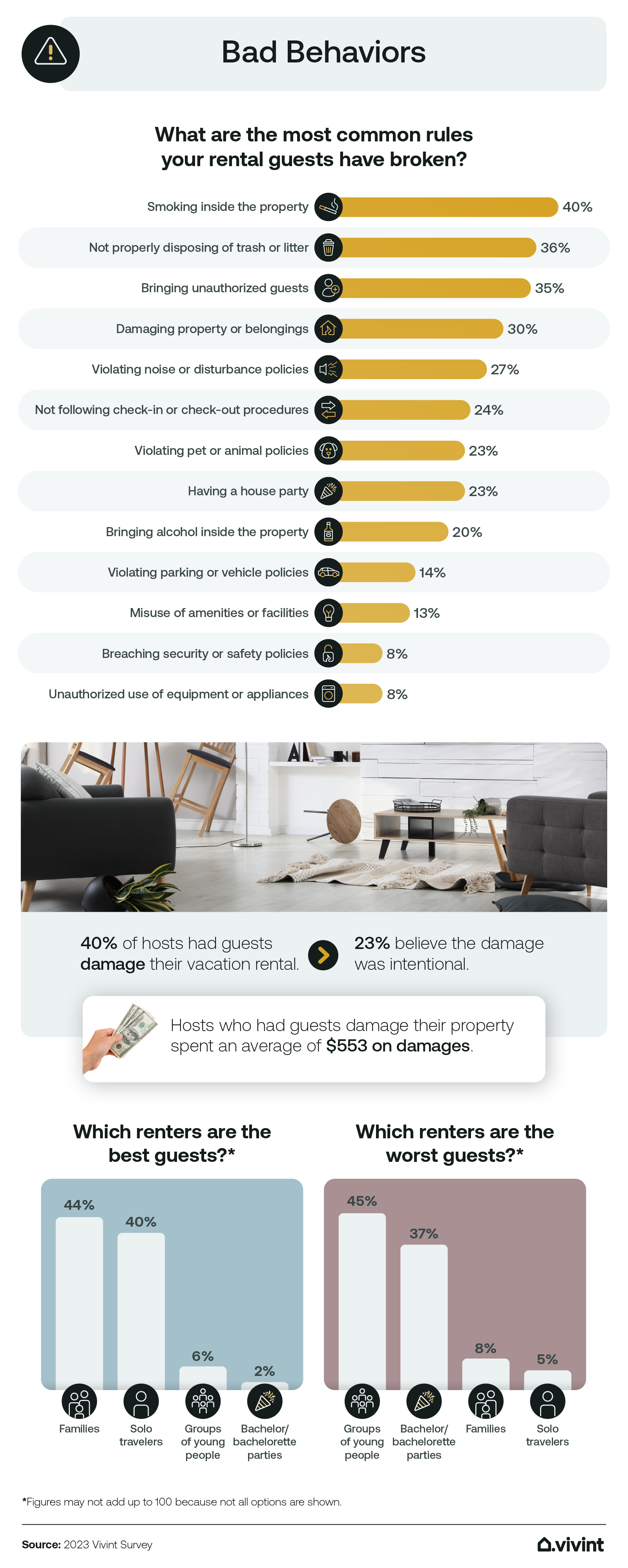 One of the most common rules among vacation rentals is no smoking inside the property, but 40% of hosts reported having guests light up indoors. Not properly disposing of trash or litter was the second-most reported broken rule at 36%, followed by bringing unauthorized guests into the home at 35%. Among rental guests who broke the rules, 9% brought alcohol inside the property when not allowed.
Sadly, 40% of hosts had guests damage their vacation rental property, and 23% believed the damage was intentional. Hosts who had guests damage their rental reported spending an average of $553 on damages. Could some guests be more likely than others to do this?
Possibly: Almost half of the hosts surveyed (44%) voted families as the best guests, followed closely by solo travelers at 40%. Conversely, 45% of hosts voted groups of young people the worst group to rent to, followed by bachelor and bachelorette parties (37%).
Ahead of the curve
To prepare for guests both good and bad, some hosts have policies in place to protect their vacation rentals, such as ways to screen guests before they book the property and fail-safes to ensure guests are following rules.

Most hosts (70%) screened their guests before allowing them to rent their homes. Screening procedures included requiring guest identification like a passport or driver's license (68%), verifying guests' phone numbers and email addresses (53%), and checking guest reviews and ratings from other hosts (49%). A third of rental hosts even screened prospective renters by checking their social media profiles. Such safeguards could help hosts catch the 1 in 10 guests who admitted to providing false or misleading information during the booking process.
In addition to screening guests, some hosts have fail-safes in place to ensure guests follow house rules. Regular property inspections (49%), security or damage deposits (43%), and clear and prominently displayed house rules (41%) are a few of the fail-safes hosts employ to further secure their property.
Popularity at a price
With vacation rentals becoming a more popular option, hosts of these properties have set procedures in place to protect their rental homes. Some of these rules may cause friction with guests, but guest behavior has been the cause of many security measures. Whichever side of the booking agreement you're on, it's important to remember that both the rental host and the rental guest are human beings and deserve to be treated with courtesy.