Key takeaways
Tulsa, OK, Milwaukee, WI, and Louisville, KY, are the cities with the most positive comments on Reddit about their home-sharing rentals.
Washington, D.C., Los Angeles, CA, and Bakersfield, CA, have the most secure short-term vacation rentals.
30% of home-sharing renters said security is a top factor when booking a rental.
On average, home-sharing renters would go over budget by 33% for a safer rental.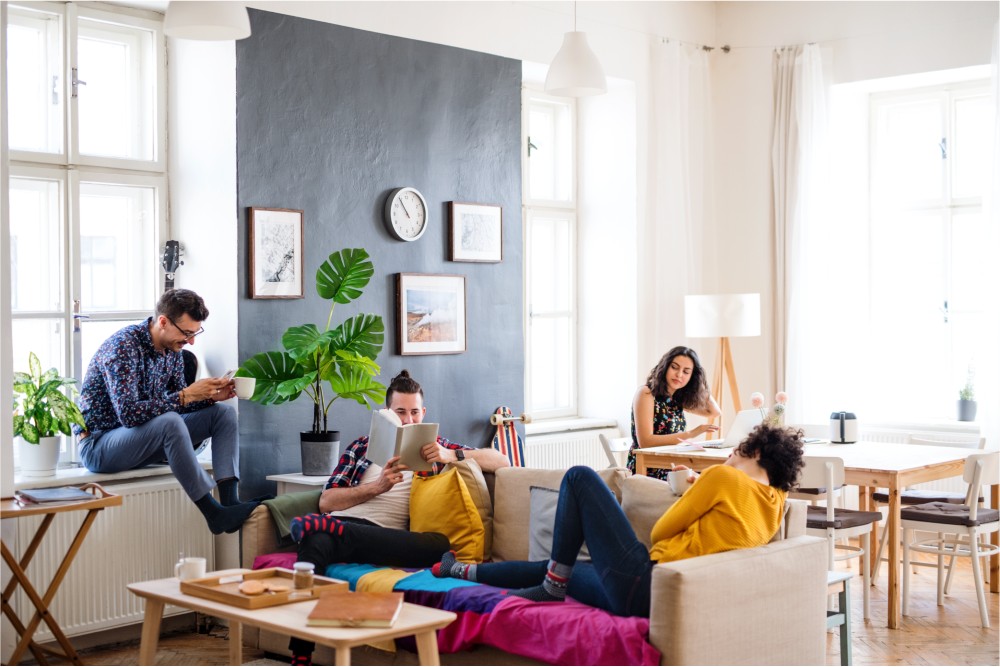 Safe travels
Summer is just around the corner, and with it comes the busiest vacation time of the year. From month-long tours to week-long vacations and weekend getaways, Americans will pack their bags and hit the road. As nice as it is to go somewhere new, travelers may have safety concerns when exploring new places, especially if their travel involves home sharing.
Home sharing refers to renting out all or part of a residential property to guests for a short-term stay. It has become increasingly popular over the past decade, offering travelers the opportunity to save money and enjoy unique accommodations while providing homeowners with extra income. But some travelers are wary of home sharing, concerned about the safety and security of staying in a stranger's home.
In this guide, we determine the safest U.S. cities for home-sharing vacations based on property data from the 50 largest cities and information gathered from Reddit. We'll also discuss perceptions of home sharing based on two surveys of home-sharing owners and renters.
Home-sharing friendly cities
One of the best ways to find excellent travel accommodations is to ask for recommendations from previous visitors. We scraped subreddits containing home-sharing terms and analyzed the sentiment of each post and comment to find which cities are the most friendly toward home sharing. Which cities did previous home-share guests find upvote worthy?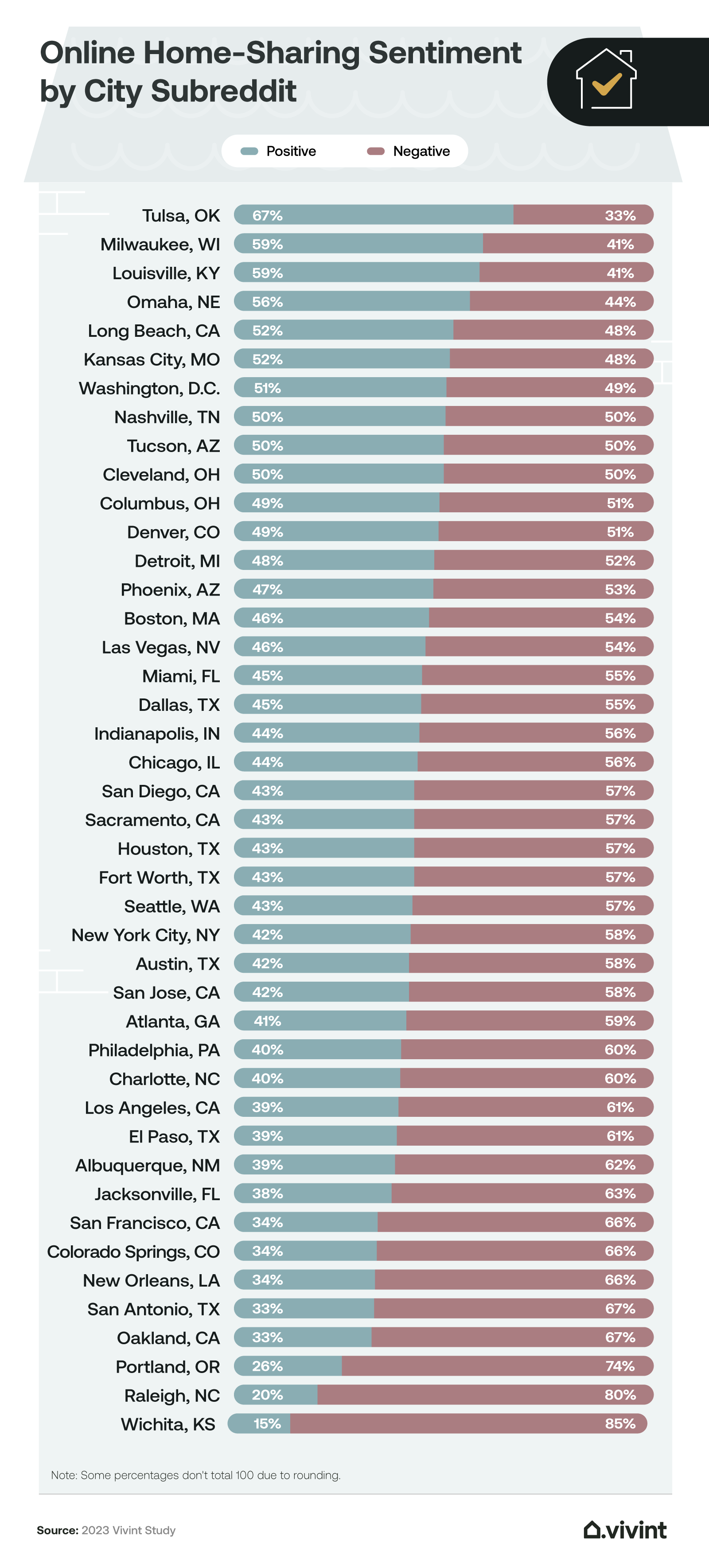 Home to fields of waving golden wheat, Tulsa, Oklahoma, had the most positive home-sharing sentiments on Reddit, with 67% positive comments. Home to first-class museums, a zoo, and the Center of the Universe, Tulsa welcomes travelers of all ages and has plenty of short-term vacation rental options.
Located on Lake Michigan in Wisconsin, Milwaukee was the second-most friendly home-sharing city on subreddits. Over half (59%) of all Milwaukee comments were positive, making it a great stop for home sharers who enjoy bikes, beer, and baseball.
Several cities received home-sharing accolades, and all of the top 10 boasted at least 50% positive comments. But for the cities at the bottom of the list, reviewers hardly had any positives to share:
Only 26% of home-sharing comments had anything good to say about their stays in Portland, Oregon.
Raleigh, North Carolina, received only 20% positive mentions.
Wichita, Kansas, bottomed out with only 15% positive comments.
If you plan on visiting any of these three locations, you may want to skip the home share and book a hotel instead.
Safest cities for home sharing
Previous guest experience is one way to gather information about home sharing, but these reviews don't always mention safety. We gathered listing data from a website that lists residences or rooms for short-term rentals to examine security in home sharing across the 50 largest U.S. cities. For each city, we collected data for 10 whole-home and 10 private room listings.
The most prevalent home security features in home-share listings were smoke alarms (98%) and carbon monoxide alarms (85%). Most states legally require residential dwellings to have working smoke alarms and carbon monoxide detectors, so their presence didn't increase the average cost of a nightly stay.
Security cameras, on the other hand, were far less common, with only 57% of homes and 55% of private rooms including them in listings. While security cameras can boost feelings of safety, guests may have to pay for the privilege: Security cameras increased the average cost of home-share rentals from $168 (the cost of a rental with merely a carbon monoxide alarm) to $187 per night. Cameras even out-valued private entrances by over $10 per night.

While having one security measure is better than none, multiple layers of security exponentially increase the safety of a home. We further analyzed a short-term rental site to rank cities by their percentage of listings with five or more security features. Tier 1 cities had the most of these listings (at least 70% of the total), while tier 4 cities had the least (40% or less).
Cities with the most secure home-sharing rentals were:
Washington, D.C.
Los Angeles, CA
Bakersfield, CA
Tucson, AZ
San Antonio, TX
Jacksonville, FL
Home-share safety perceptions
When booking a home-share rental, the perception of security can often overshadow the reality of security. How safe do guests feel in their temporary accommodations, and would they feel safer elsewhere?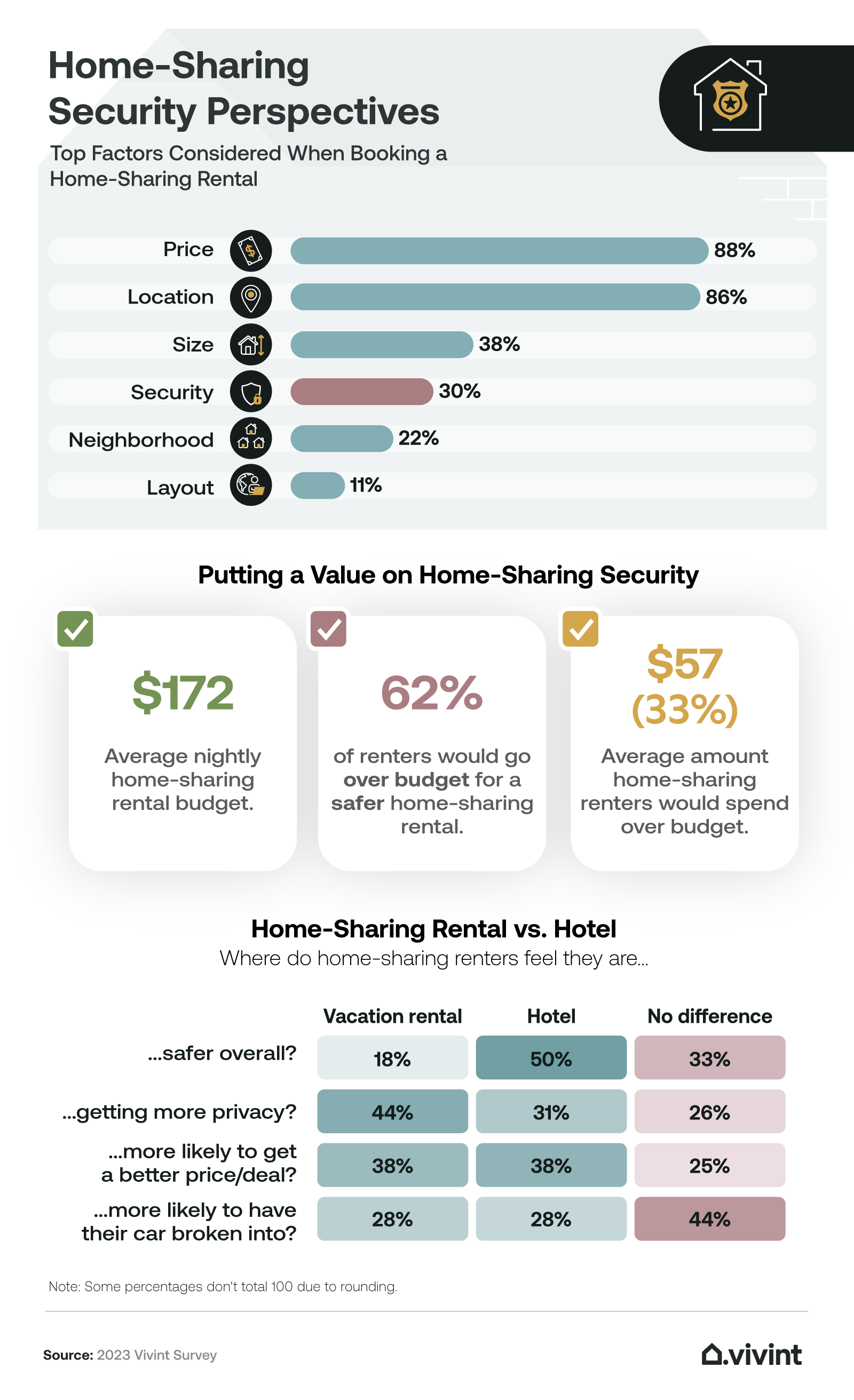 As important as safety is to people when in their own homes, only 30% of vacationers considered it a top factor when booking a home-share rental. Price (88%) and location (86%) were far more important to prospective guests, which is lucky for home-share owners, as only 18% of renters felt home-shares were safer than hotels. However, if home-share owners can market their rental as safer than most, 62% of renters would be willing to pay over budget for the added security.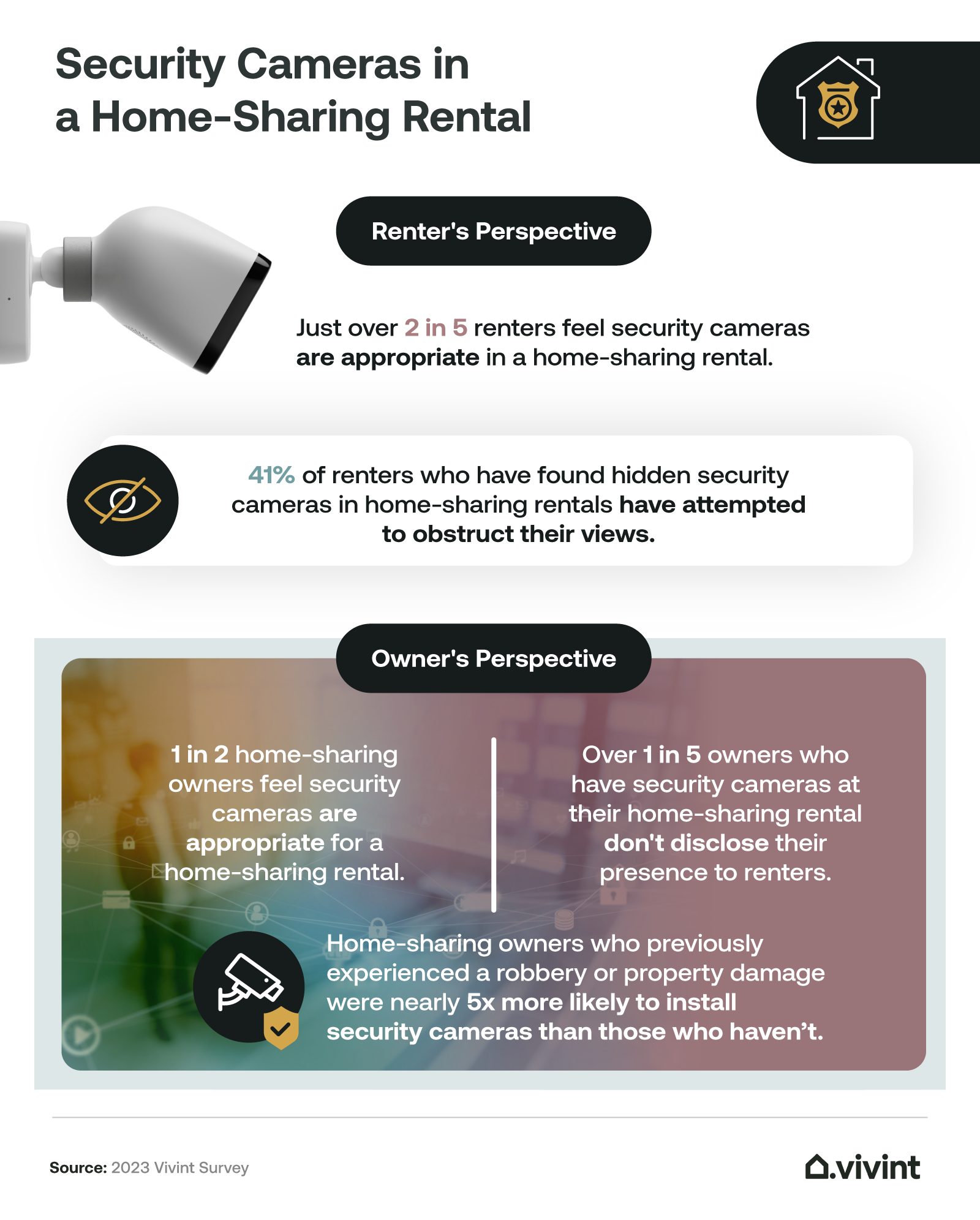 It makes sense that certain home-share owners would want to install security cameras: Those who have previously experienced property damage or robbery were five times more likely to have done so than those without that experience. But despite the added safety security cameras provide, over 40% of home-share renters admitted to obstructing the view of "hidden" security cameras. If that makes it seem like security cameras may not be the best option for a home-share property, private entrances, doorbell cameras, and monitored alarm systems can boost home-share owners' security rankings as well.
Home-share security and personal safety
More and more travelers are using home shares on vacation and taking advantage of unique locations, accommodations, and prices. However, safety is still a concern for many guests, even if it's not a top consideration when booking. Subreddits are full of home-share experiences across the country, both good and bad. While no home-share owner, hotel, or inn can guarantee guest safety, home-share owners can install layers of protection to boost their property's security — and nightly rates.
But safety isn't just the responsibility of landlords and hotel managers. Wherever vacationers choose to stay, they can boost their personal security by studying the destination ahead of time, leaving valuables at home, and staying alert and aware. With a bit of preparation and prudence, travelers can enjoy every moment of their well-deserved vacation safely.