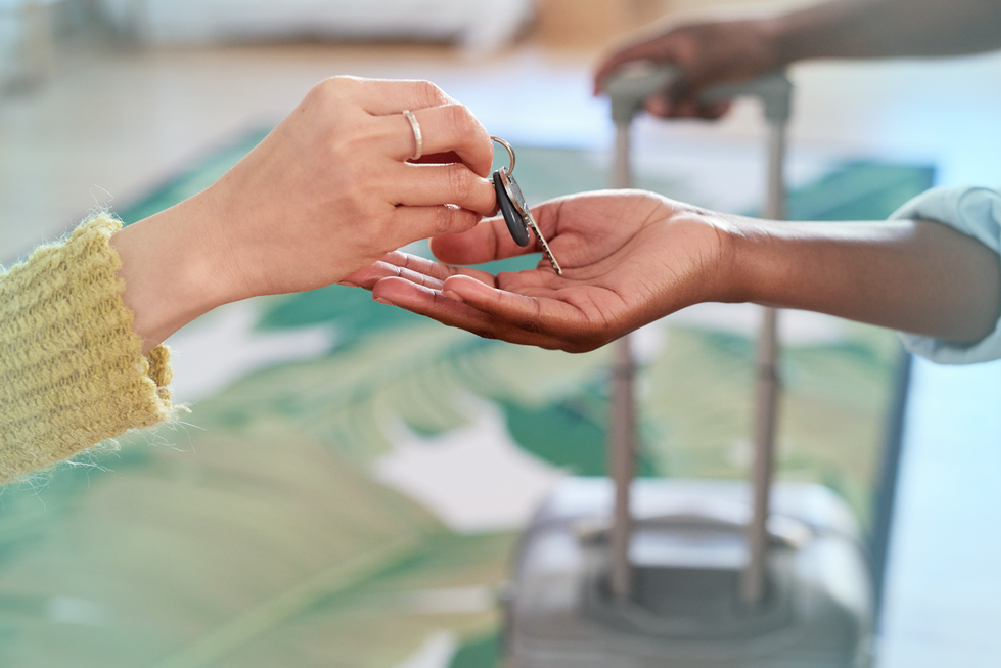 Gen Z guests cause the most headaches to vacation rental hosts
Key takeaways
Gen Zers and guests with children were the most likely to cause damage when staying at a vacation rental.
More than 1 in 4 guests had smuggled pets into no-pet rentals.
71% of vacation rentals had indoor cameras.
The host-guest dynamic: assessing mischief and misbehavior
If you've ever left home on a trip, excursion, or long-term work assignment, you've probably booked a vacation rental. When guests look for their ideal rental unit, they tend to take price, location, and aesthetic into account. When hosts hand the keys over to their renters, they just have to hope their guests will follow the rules. In a perfect world, when the keys are returned, the host will peer into a pristine unit with everything looking as it did before the guest arrived. Unfortunately, the world we live in is far from perfect.
To learn more about Americans' behavior when hosting and staying in vacation rental units, we interviewed 803 guests and 202 hosts to gather insights from both sides of the story. We'll learn about some of the rules that guests simply refuse to abide by and some strategies they've used to cover up any damage they caused. From the hosts' side, we'll get the inside scoop on how they try to enforce their rules effectively.
Read on to learn more about the vacation rental industry's sometimes turbulent host-guest relationship.
Turning a blind eye to the rules
They say rules are meant to be broken, but vacation rental hosts hope their guests don't take this saying too seriously. As visitors in someone else's space, it's their duty to respect the host's guidelines; however, clearly not everyone does.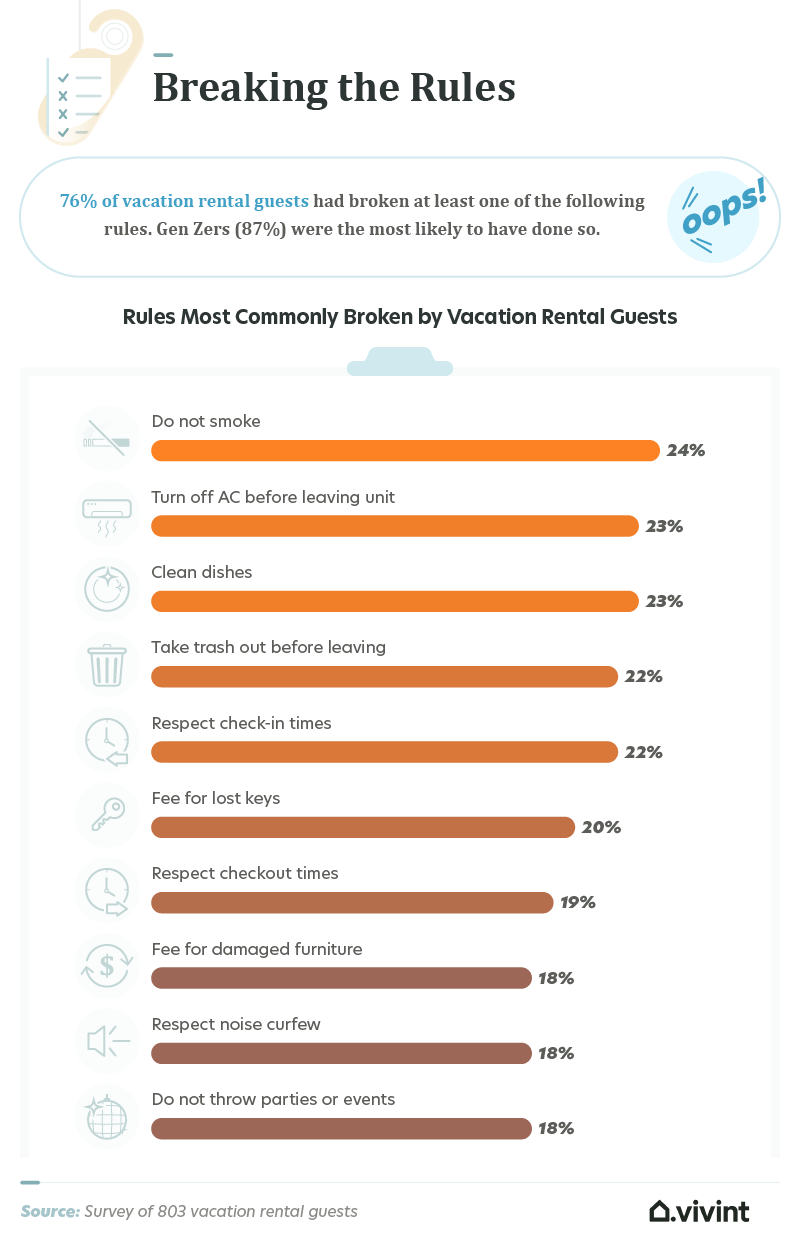 In fact, more than two-thirds of surveyed guests had broken at least one rule, with Gen Zers being the most likely culprits. "No smoking"—a regulation put in place by many property owners— was the most broken rule. No one wants their unit to smell of cigarettes, but nearly a quarter of guests simply didn't care.
Another commonly disregarded rule was turning off the air conditioning when leaving the unit. The cost of air conditioning depends on many variables, but it's a waste of money when left on with no one there to enjoy it.
Rounding out the top three most-ignored rules was cleaning the dishes. Chores may not be fun, but guests need to do their part to respect the space they rent as well as the people who will be cleaning up after them.
62% of hosts felt that people bringing their toddlers to a no-children rental unit was the most commonly broken rule. Many renters prefer to accommodate adults only. Seeing as vacation rental hosts can be liable for guest injuries, hosting a toddler somewhere that isn't baby-proofed is an unnecessary risk to take. Their second least-acknowledged rule was dish cleaning, and the third was taking out the trash before leaving. To make sure that guests are well-versed in the unit's rules, 75% of hosts included specific guidelines in the pre-booking phase.
The price of getting caught
Play stupid games, win stupid prizes. For those who have caused property damage during their vacation rental stays, how much have they had to shell out? We filtered responses by generation and damage type.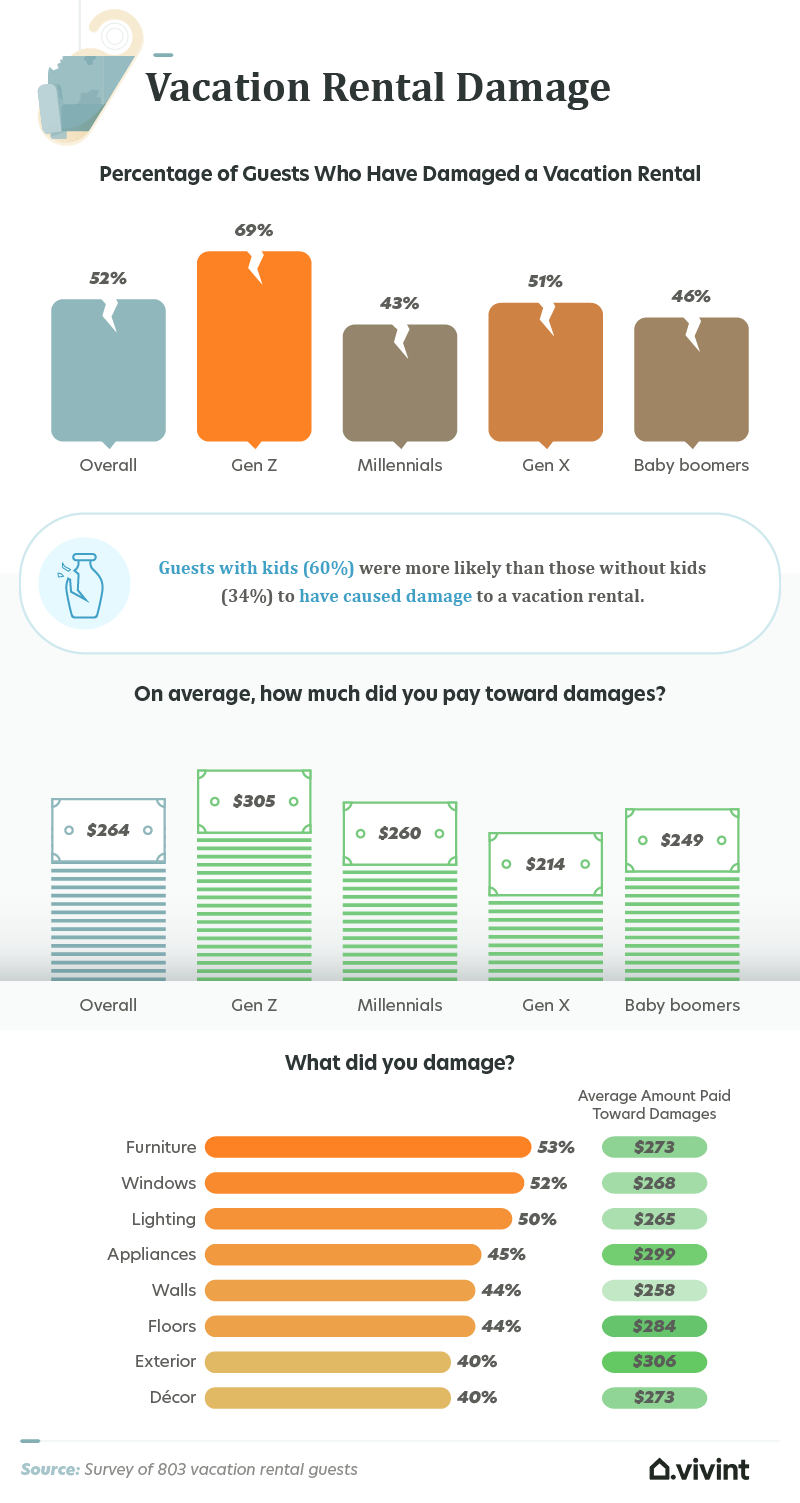 Overall, just over half of our surveyed guests said they'd damaged vacation rental property at one point or another. Millennials were the least likely to cause headaches, whereas Gen Zers were the worst offenders. Members of Gen Z were born between 1997 and 2012, making them anywhere from 10 to 25 years old in 2022. Being young sometimes also means being careless, so it's no surprise that they caused the most property damage as opposed to the older, more mature generations. Perhaps their carelessness stemmed from the fact that they are unlikely to own their own property yet, and may therefore have less respect for what it takes to keep a home in one piece.
That being said, guests with kids were almost twice as likely to cause property damage as those with no children. Two key pieces of information can be extrapolated here: first, rental hosts who don't want children staying in their units clearly have a fair argument as to why. Second, Gen Zers may cause the most damage, but we can assume they are also the least likely to have children. Clearly, there's no way to get around the reality that things are going to break.
Still, Gen Zers did at least pay for the damage they had caused at an average of $305 per bill. The average cost guests paid for damages was $264, with Gen Xers paying the least at an average of $214. Furniture, windows, and lighting were the most common items to take a hit, but they were on the cheaper end to fix. The three most expensive repairs were floors, appliances, and unit exteriors with average bills of $284, $299, and $306, respectively.
Sweeping it under the rug (literally)
Just because people break rules doesn't mean they always get caught. Sometimes, guests do their best to cover up whatever mishap or damage they've caused. Let's explore their strategies.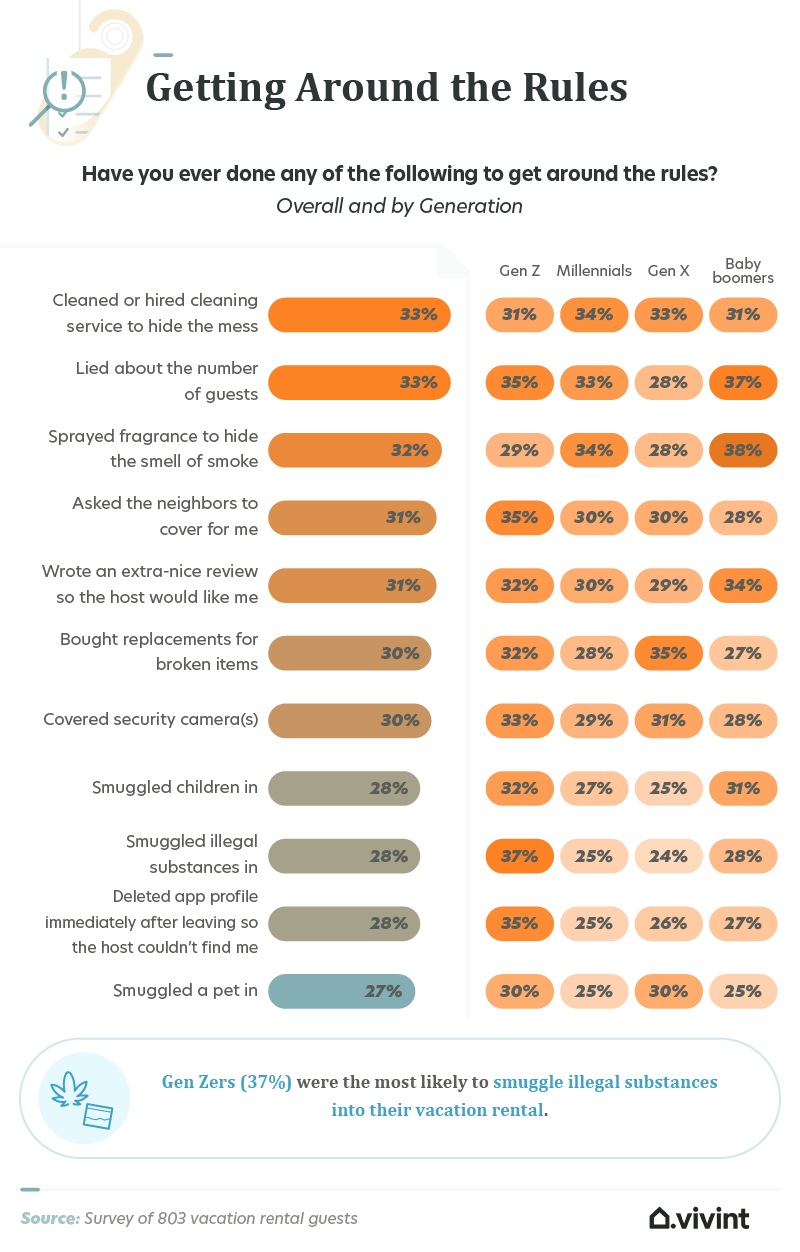 A third of respondents lied about the number of people in their party, while 32% sprayed fragrance around the unit to hide the smell of smoke. Baby boomers were the most likely to try to mask the stubborn stench of their cigarettes. Also, over 30% of our surveyees had asked neighbors to cover for them or had written an extra special review for their host in an attempt to curry favor. Being nice is great, but a kind note probably doesn't make up for breaking the rules.
Generationally, we know which cover-up baby boomers were most likely to try, but what about other age groups? Gen Xers took the most responsible approach—they were most likely to replace whatever items they had damaged during their stay. Meanwhile, millennials were the first to clean up or hire someone to hide a mess, while Gen Zers were the most likely to sneak illegal substances into their rental unit. A recent study by the National Institute of Drug Abuse (NIDA) found that during the pandemic, college students in the United States drank less but used weed and hallucinogens more often. Perhaps this explains our younger respondents' apparent unwillingness to leave illegal substances at home.
Putting their foot down
It may be difficult to prevent guests from damaging rental units, but hosts aren't helpless when it comes to protecting their property.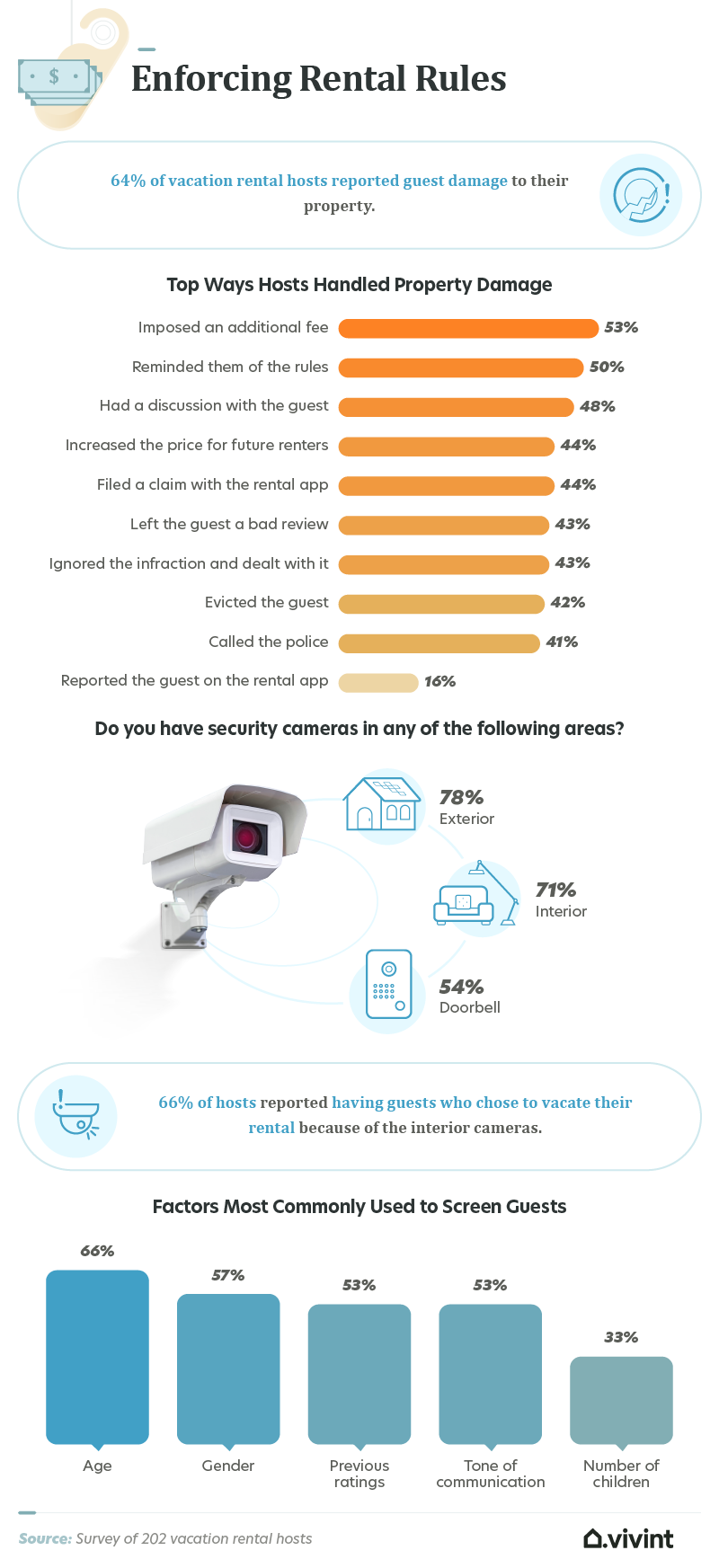 Seeing as 64% of hosts reported guest damage to their vacation rental, ways to seriously dissuade people from wreaking havoc are clearly needed. The most common initiative was to impose an additional fee on guests who caused damage. Meanwhile, half of our surveyed hosts chose to remind the guests of their rules and 48% had a stern discussion with them. Conversations are constructive, but they don't cover the cost of the damage. For this reason, some hosts opted to increase their prices for future renters, likely putting the extra income toward repairs.
Another popular option was to file a claim directly in the rental app. In Airbnb's case, the company may pay the host for replacements or repairs if the responsible guest does not, as outlined in their Host Damage Protection Terms.
While camera systems are a great way to dissuade guests from violating rules or to catch them in the act of breaking them, hosts also tended to screen guests before accepting their reservation. Most often, hosts based their decision on the age of their prospective guests—as we know, young children are sometimes prohibited from staying in certain units. Over half of hosts also considered gender when vetting guests, as well as their previous ratings.
Lastly, in this post-pandemic world, 44% of hosts reported not allowing unvaccinated guests to stay at their vacation rental. That choice might be tied to personal values or health concerns, or perhaps it has to do with saving money, considering the cost of last-minute cancellations (more likely if guests are unvaccinated) and the cost of having the unit professionally cleaned and sanitized in the case of COVID-19 infection.
Rule circumvention: a family affair
We've learned about different ways people break vacation rental rules, but now let's specifically focus on how families disrespect their host's guidelines. Just because a couple has children doesn't necessarily make them responsible adults.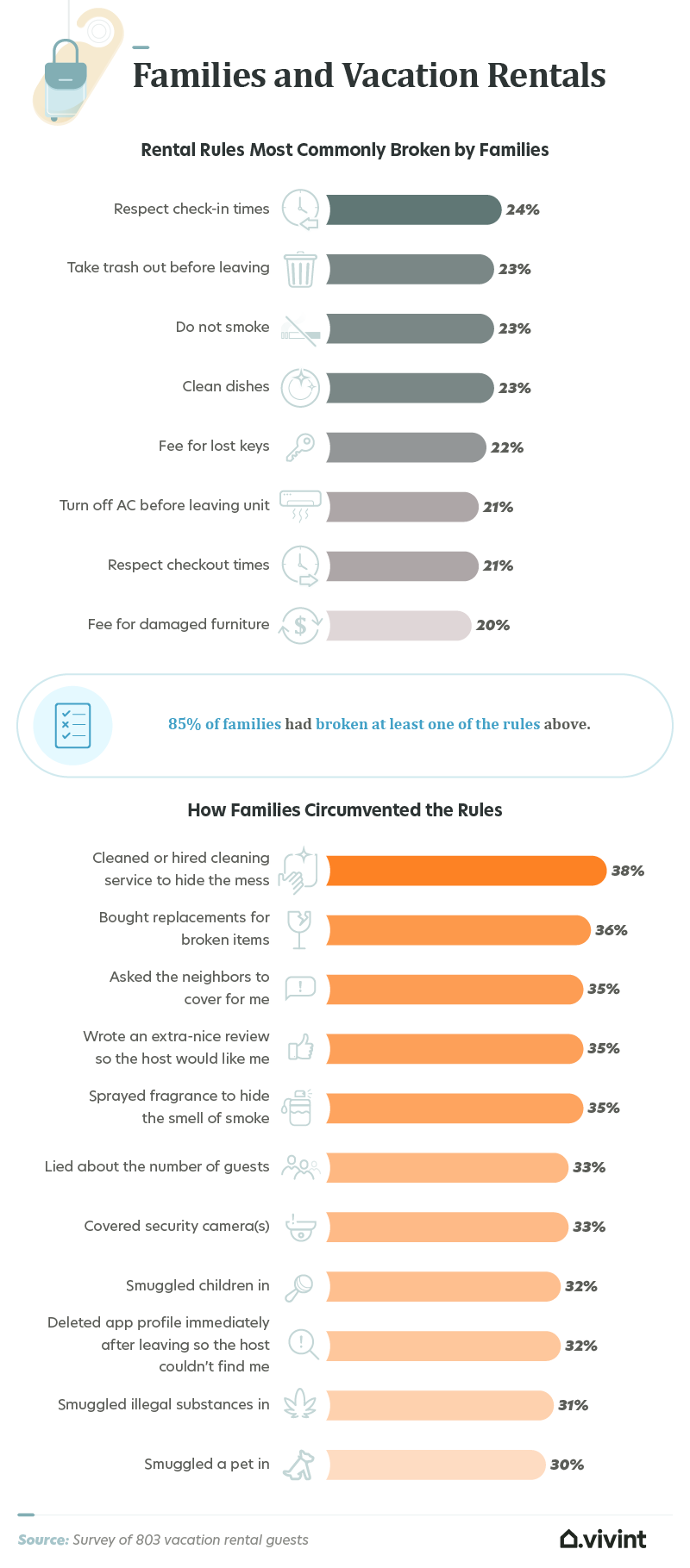 The rule most often flouted by nearly one-quarter of families was the defined check-in time for their unit. Hosts set strict check-in times so they can properly prepare the unit before the next guest's arrival. Disrespecting that time can understandably be frustrating for the unit owner or caretaker. Families also had trouble following hygiene-related rules, namely taking out the trash, cleaning dishes, and not smoking. 85 percent of families admitted to breaking at least one of the rules listed above.
As with the rest of our survey takers, some families tried to fix damage they caused during their stay. Hiring a cleaning service or doing their best to clean the mess themselves was once again the most popular initiative; the second was to simply replace whatever had been broken. Over one-third of the guests also strategized by asking neighbors to cover for them, writing a sugar-coated review, or using fragrances to mask the smell of cigarette smoke. Singles, couples, or families—everyone has similar tricks up their sleeve for patching up damage caused during their stay.
An ever-present threat . . . unless?
Hosts may not like it, but they need to understand that guests may disrespect their rules or damage their property. Throughout our findings, a common theme was that guests tended to avoid hygiene-related responsibilities: namely not smoking, cleaning their dishes, or taking out the trash. While avoiding the end-of-stay cleanup might not technically cause property damage, smoking, for example, might. To dissuade guests from breaking their rules, hosts tended to impose additional fees, have stern conversations with disrespectful guests, and increase prices for future renters. Some also performed pre-booking due diligence to filter out worrisome potential customers.
Clearly, guests continue to roll the dice, trying their best to cover up their wrongdoings so they can get off scot-free. But what if there was a way to prove, with 100% certainty, that guests were being careless with their rented property or disregarding their rules? Installing cameras not only deters guests with bad intentions, but also provides proof if they do something they shouldn't. Hosts may breathe easier knowing this, and Vivint can help provide that much-needed peace of mind. They offer custom-built smart security systems that make home rentals a whole lot easier to manage. Head to their website now to give rental units or private homes the protection they deserve.