Whether it's time to spring forward or fall back, daylight saving time is a hot-button issue these days. Though it has been practiced in the U.S. since 1918, it has become the subject of some intense debate in the internet age. The first week of the time change messes with our circadian rhythms (aka our internal clocks) and sleep schedules, making for some cranky kids and adults.
March 12th is the current official start of daylight saving time when millions of Americans will turn their clocks forward one hour. This time change begs the question: Does one less hour of darkness have an impact on crime? To find out, we collected information from the FBI Crime Data Explorer and compared crime rates during and after daylight saving time. We also compiled other research and included some home safety tips so you can better enjoy that extra hour of daylight.
Key Takeaways
Although crime incidents rise after daylight saving time ends each year, the percentage increase has been declining since 2019.
Robberies increased by 81% after daylight saving time ended in 2021, while burglaries and break-ins increased by 16%.
Households without home security systems are nearly 3x more likely than secured households to be burglarized.
Does crime increase after daylight saving time ends?
Proponents of daylight saving time argue that it's actually a great thing. It makes the day an hour longer, giving people more time to be active, soak up the sun, and improve their mental health. There are also some tricks to help the body adjust more easily. But what does the data say about DST and its impact on crime?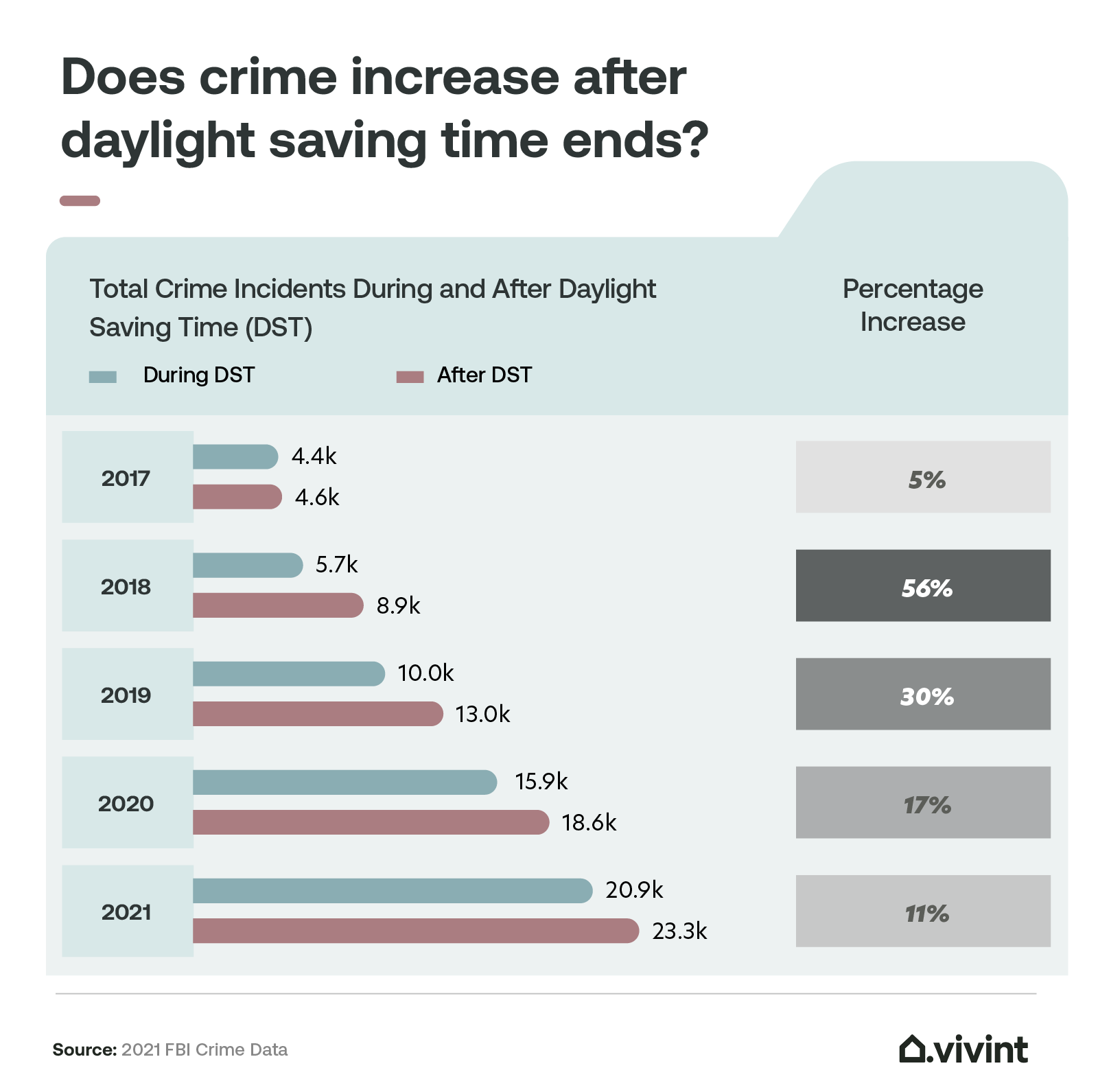 A 2015 research paper from the Brookings Institute found that there was a 7% decrease in crime during daylight saving time, and studies have also shown that crime rates are as much as 30% lower during daylight hours. Our data analysis confirmed that there's definitely a difference when the country deviates from standard time, with more crimes happening after DST ends.
In 2017, there was a 5% increase in total crime incidents during and after DST and a far more noticeable difference in 2018 (56%). The percentage increase has been declining since then, but unfortunately, the number of total crime incidents has increased, both during DST and not.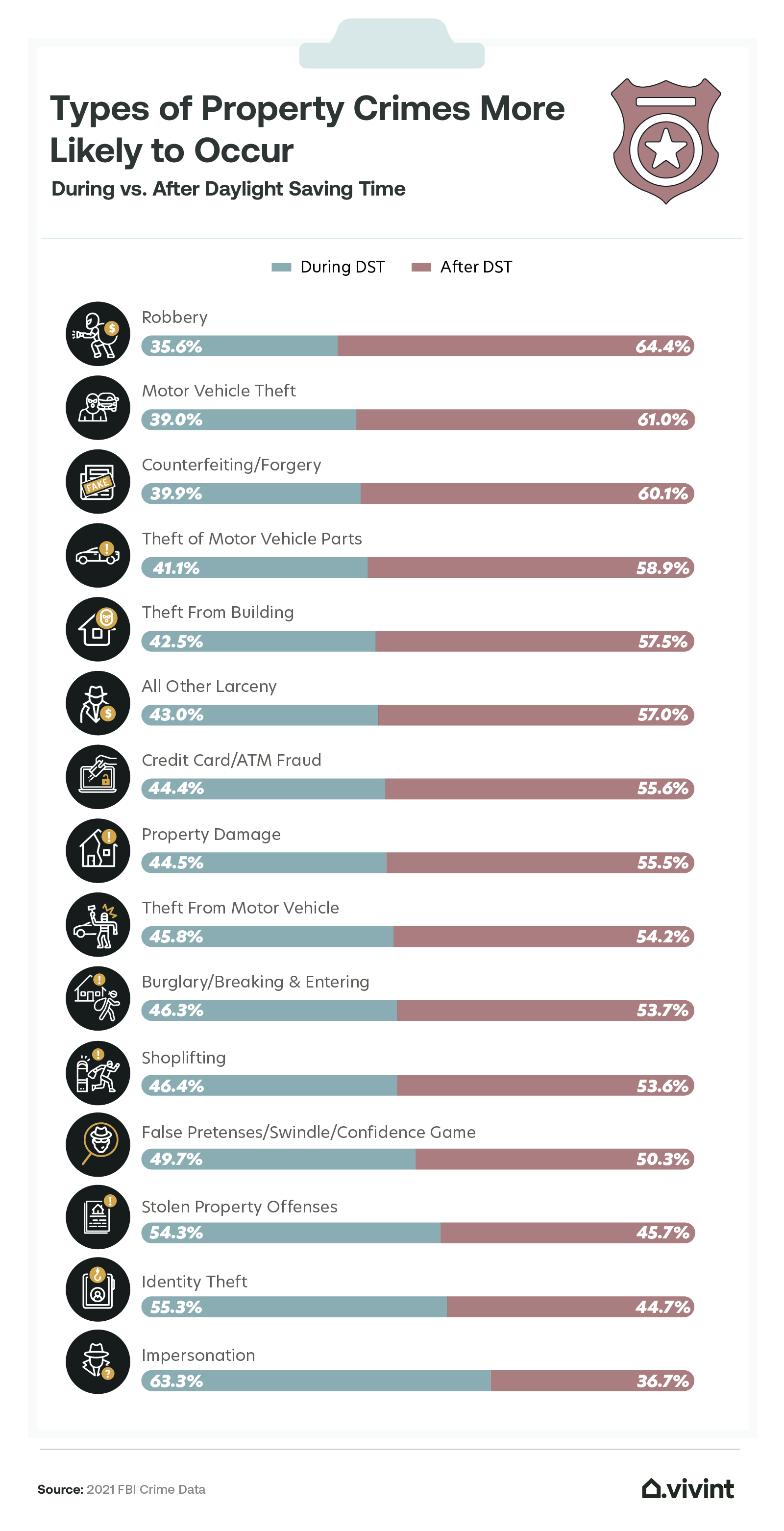 After reviewing all crime incidents, we narrowed our scope to property crimes. Robberies saw the biggest percentage difference, with 35.6% happening during daylight saving time and 64.4% after it was no longer in effect. It makes sense that robberies would increase after DST when there are more hours of darkness. These findings emphasize just how important it is to protect yourself and your home from robberies and burglaries.
Security system use in America
Home safety is critically important for many reasons, but preventing intruders tops the list. After over 600,000 burglaries occurred in the U.S. in 2021, are more Americans protecting their homes from these uninvited guests?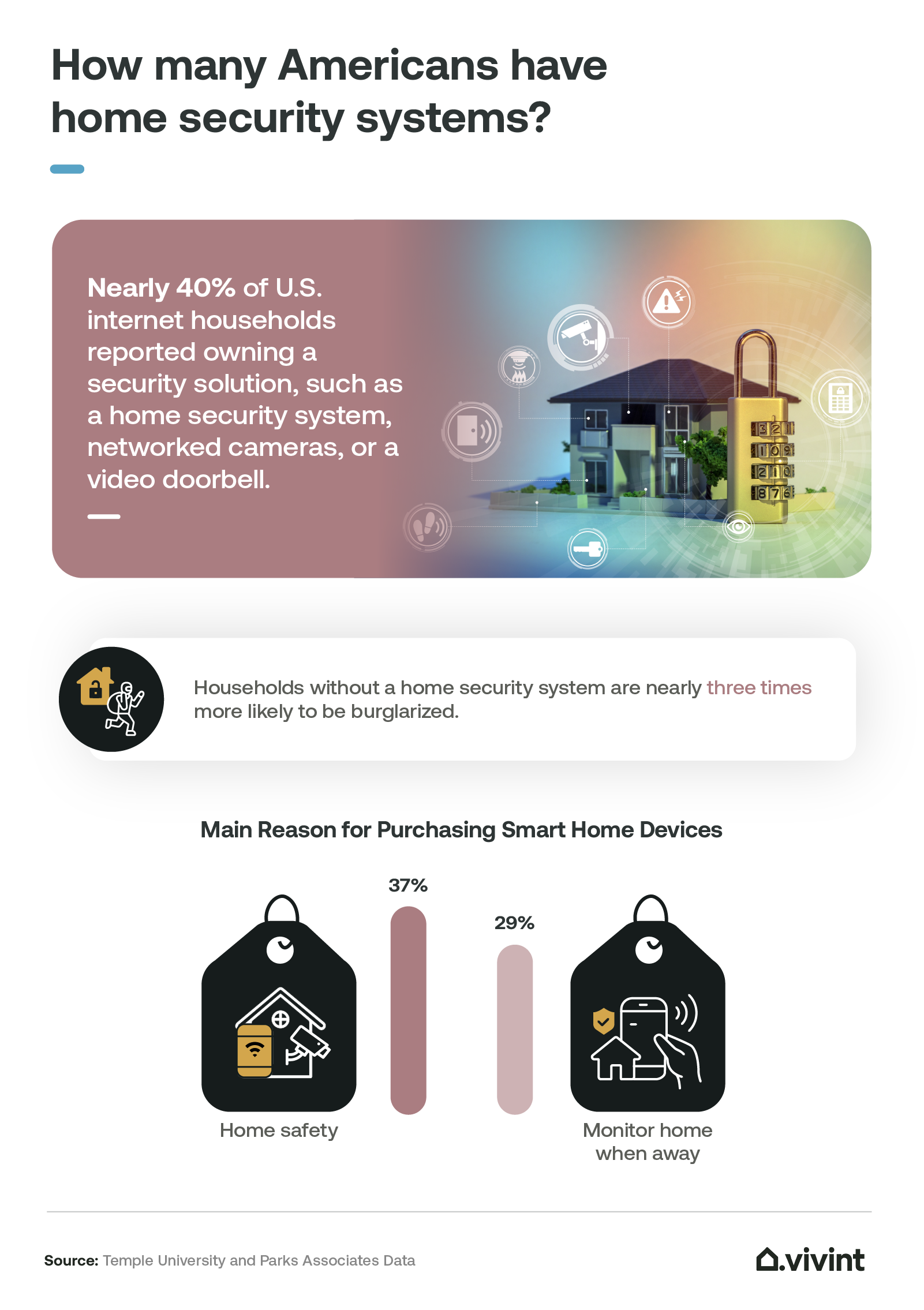 Nearly 40% of U.S. internet households reported using some home security tool, such as a home security system, networked camera, or video doorbell. Among those who purchased a security system for their home, 37% said that their main motivation was to keep their home safe, while 29% said it was to monitor their home while they were away. Regardless of the reason, the data shows the safety risks of not having a security system in place.
9 ways to protect your home during darker hours
Given that crime seems to increase after daylight saving time ends, prioritizing home safety is especially crucial in the coming months. Here are some safety tips to help ensure that your home is protected during the darker months.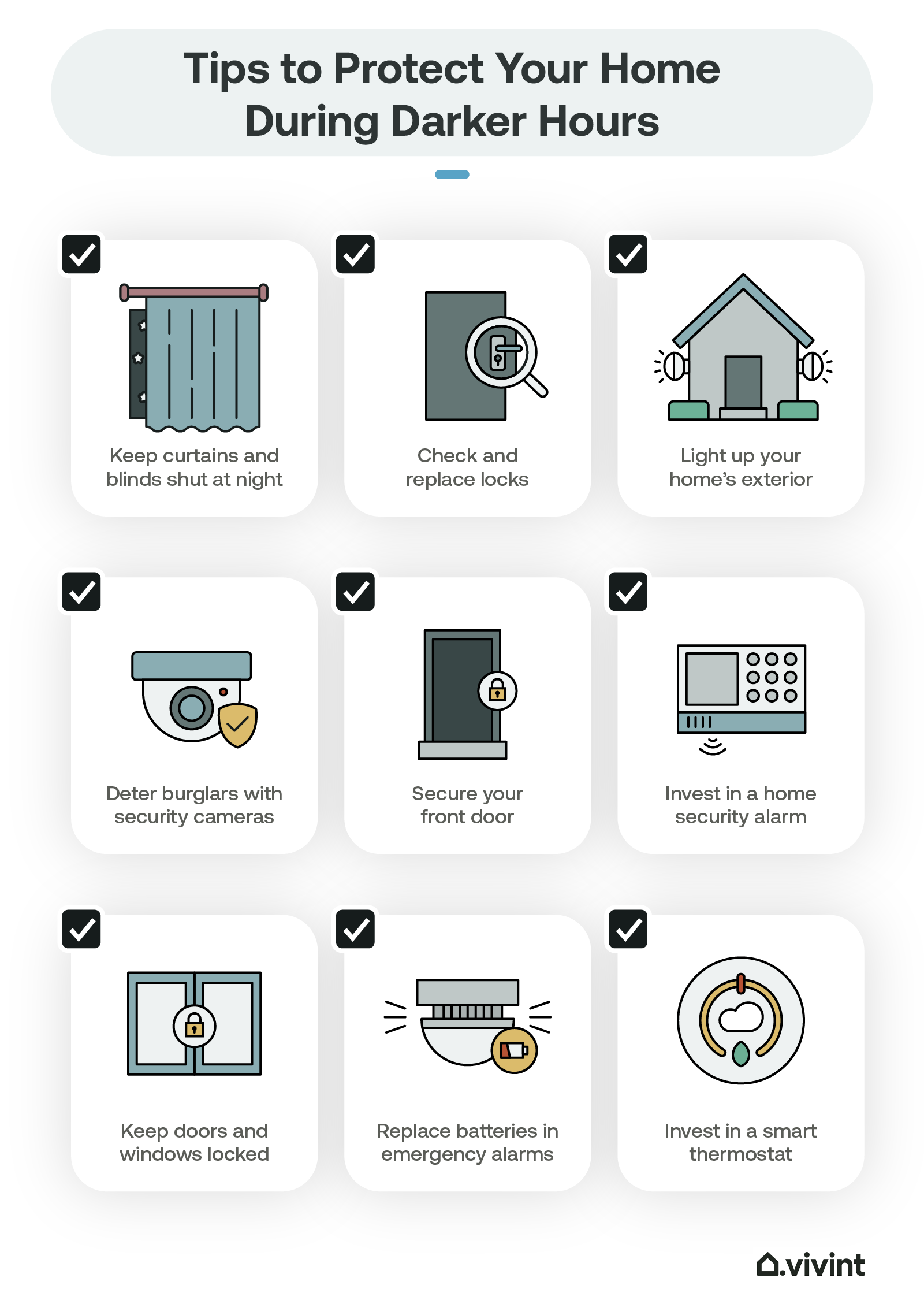 Keep curtains and blinds shut at night
One of the simplest but most important things you can do to stay safe during nighttime hours is to keep your curtains and blinds closed. The last thing you want is to make the inside of your home visible to passersby, potentially making you more vulnerable to burglary. And once the cold weather rolls in, keeping your windows covered can also protect you from chilly drafts — bonus!
Check and replace locks
Another thing you can do to improve your home safety is to check and replace your home's locks. Checking them regularly ensures that they're working properly and lets you know if they need replacing or repairs. If you have a traditional locking system on your doors, it might be time to consider smart locks: keyless systems that use unique access codes to secure your home.
Light up your home's exterior
Keeping your outside lights on through the night is a great way to deter burglars from approaching. You may want to consider upgrading and replacing your existing lights with smart lights, which can be programmed to turn on at a certain time. This investment can also eliminate the daily routine of turning outside lights on and off. Motion sensor lights are another great option, as they illuminate in response to movement in the area.
Deter burglars with security cameras
Security cameras are also a wise investment if you want to practice proper home safety during daylight saving time and after. As the nights get longer, a camera with night vision can add an extra layer of security. Many models also offer the convenience of system management via cell phone.
Secure your front door
Similarly, doorbell cameras go a long way in preventing crime, as they enable homeowners to see and communicate with people at their front door without having to open it. They can also record porch lurkers and package thieves and let them know they're on camera.
Invest in a home security alarm
Alarm systems are also an important part of home security. Imagine having the peace of mind of knowing that if someone was attempting to break into your home at night while you were asleep, you would be alerted to it and be able to respond to the situation quickly and effectively. This kind of safety and security is invaluable.
Keep doors and windows locked
This might seem obvious, but keeping your doors and windows locked is incredibly important. Even if you feel that you live in a relatively safe neighborhood, you should always lock windows and doors to ensure that you're not at increased risk for break-ins. Sometimes it can be easy to forget to lock up, so consider a smart-home system that can automatically lock windows and doors for you.
Replace batteries in emergency alarms
Another thing you should always do for optimal home safety is regularly replace the batteries in your smoke alarms and other alarms throughout the house. Carbon monoxide detectors and smoke detectors should always be working properly so they can alert you in the event of a fire or other emergency.
Invest in a smart thermostat
Smart thermostats are another great investment for keeping your home safe. These not only optimize your home's temperature but can also auto-adjust during colder months. Smart thermostats can even work with your smart detectors in the event of a fire, shutting down your home's HVAC system to keep the fire contained. These devices can also be controlled via cell phone from anywhere that has cell service.
Final thoughts on home safety during darker hours
Home safety requires year-round vigilance, whether it's DST or not. Investing in smart security technology can go a long way in making sure that your home is as safe as possible during every time of year, regardless of if there's been a time change. Vivint is the name you can trust to provide you with the best smart tech and home security devices to protect you, your family, and your belongings.