Some surprises (like finding that long-lost item when you least expect it) can make your day. Others (like a telemarketer during dinner) aren't quite as welcome. In fact, one survey found that 76% of people don't answer their phones if they don't recognize the number.
With that in mind, it's no surprise that one of the most popular smart home devices is the doorbell camera. A smart doorbell camera acts like caller ID for your front door, letting you see who's there before you even open the door.
But the benefits of a Vivint Doorbell Camera go way beyond the basics—especially when they're part of an entire smart home system.
Take a closer look at the Vivint Doorbell Camera and see what sets it apart.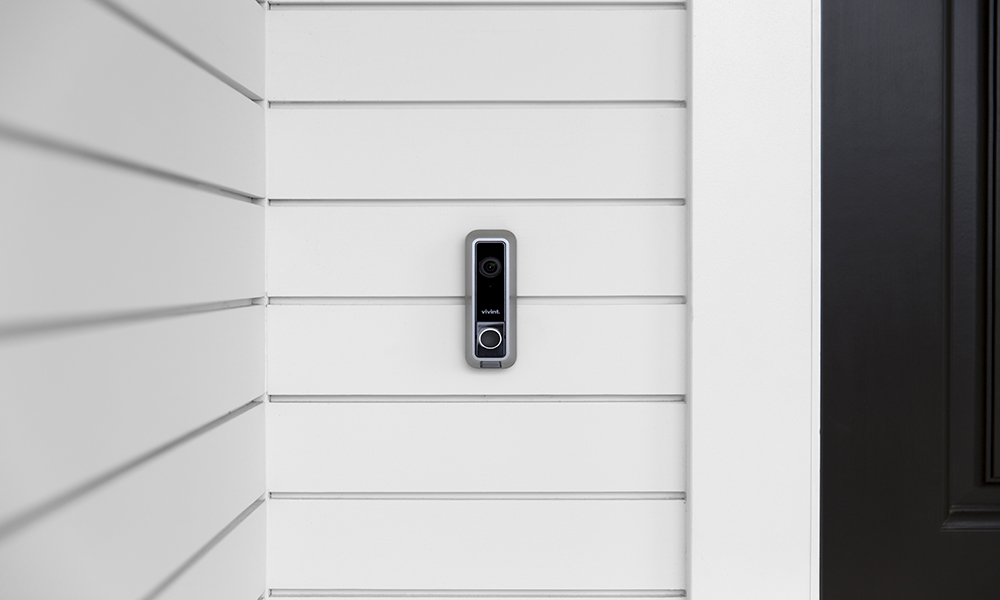 Doorbell camera 101
So how does a video doorbell camera work? And what else can it do?
There are many doorbell cameras on the market, with differing features and quality. At its most basic level, though, a wireless doorbell camera is a small device that attaches to your front door. It looks, sounds, and acts like a regular doorbell, but it also detects movement and uses a built-in video camera to record activity when someone (or something) comes to your door.
For a more in-depth look at how doorbell cameras look, you can check out our detailed post here.
The best wireless doorbell camera
The Vivint Doorbell Camera has powerful features that keep you connected to your home and aware of what's happening wherever you are, making it the best on the market.
Take a look at some of the benefits.
View live footage wherever you are
Live video lets you see what's happening at your doorstep any time of the day, no matter where you are. Simply log into your Vivint Smart Home app to access your camera feed.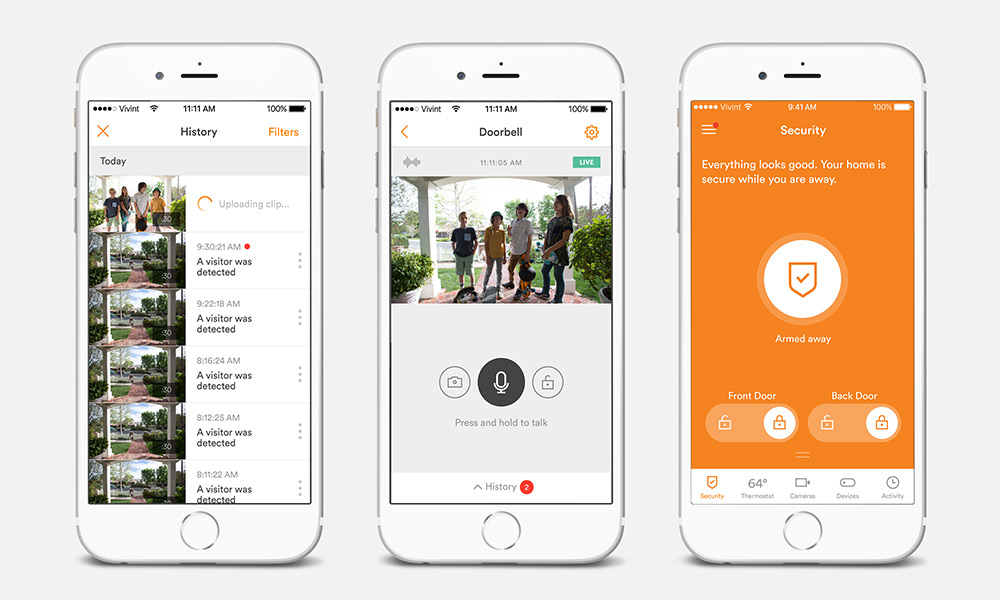 Talk to your visitors from anywhere
The Vivint Doorbell Camera is also equipped with two-way talk, so you can see and speak with whoever is at your door, either through your smartphone or via the Vivint Smart Hub. This comes in handy when you want to tell a delivery person where to leave a package or ask an unknown visitor what they need.
See your entire your doorstep
A doorbell camera won't be useful if the camera doesn't capture a large enough area. The Vivint Doorbell Camera features a 180° wide-angle lens, allowing you to see your entire doorstep.
Receive notifications when you get a visitor
You can also set up your smartphone to receive notifications when you get a visitor. So if you're busy in the yard and unable to hear the doorbell or you're away when expecting a delivery, you'll know exactly when someone arrives at your doorstep.
For Vincent L. of Tallahassee, Florida, this feature helped keep his pet safe. "One night, one of our pets ran away before bed. We searched our neighborhood for over an hour and had no luck finding her. At 2 am our doorbell alerted us to our pet on the front porch," he recalled. "Had it not been for our Vivint Doorbell Camera, we would no have known she had returned. It would have been several more hours before we were awake and able to resume the search. By then, she could have wandered farther away, or even into a nearby roadway. Thank you Vivint!"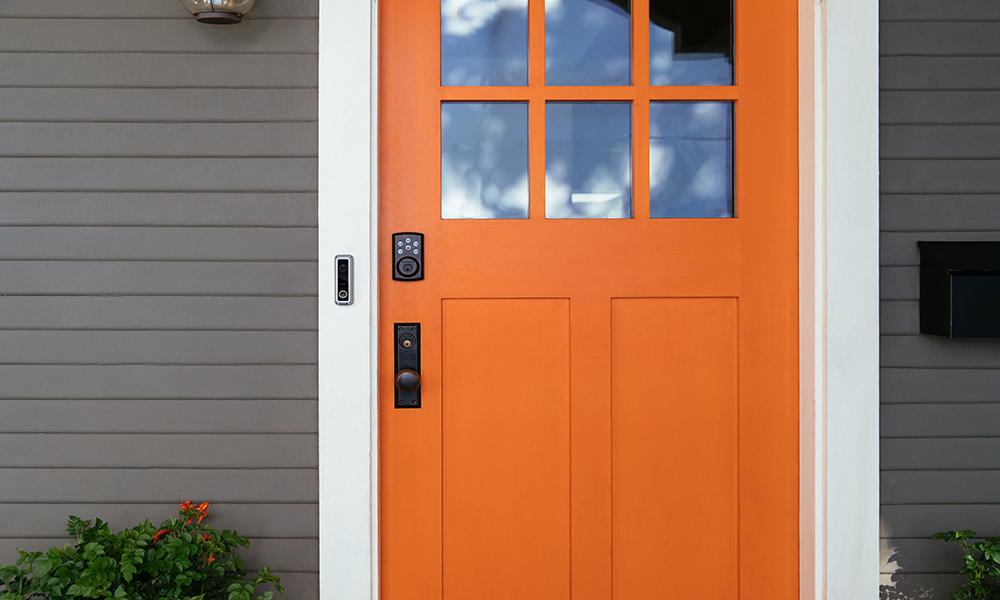 View movement even when it's dark
The camera features night vision, so you can get a clear view of movement on your front porch even when it's dark out or the porch lights are off.
See when someone approaches the door
Not all visitors to your home will ring the doorbell. Smart motion detection starts recording unexpected visitors and notifies you when someone approaches, so you can see them right from your phone before they even ring the bell.
Know immediately when packages arrive
More than 31% of all Americans have had a package stolen after it has been delivered. If you've ever fallen victim to porch pirates, you know how frustrating this can be.
But with the Vivint Doorbell Camera, you'll know immediately when packages arrive, even if you're not home. You can then use the two-way talk feature to ask the delivery person to leave your package inside your house or ask your kids to bring it inside.
Keep a video record of doorstep activity
Since you can't always view live footage, the Vivint Doorbell Camera records 30-second clips you can review at your convenience. Vivint Playback also records activity on your doorstep 24/7 and stores it for 30 days, so you can go back and review footage whenever it's convenient.
Control your doors while talking with visitors on your doorstep
When included as part of a Vivint Smart Home system, the doorbell camera integrates with other smart home features.
With smart locks, you can control your doors while talking to your visitors through the doorbell camera, or you tell a petsitter your smart lock code so they can let themselves in.
You can also open your garage door from your Vivint Smart Home app so your delivery driver can leave your package inside.
Help discourage theft
The Vivint Doorbell Camera has a sleek design that fits into your home's decor, but it's still obvious it's a camera—and that's a good thing.
Vivint customer Erdoo T., from Killeen, Texas, reviewed footage of his doorbell camera only to find it had helped thwart a possible burglary. "Because of my doorbell camera, a possible break in was stopped," he stated. "They said (as heard on the camera), 'they have a doorbell camera,' and turned and walked away. It was worth the investment."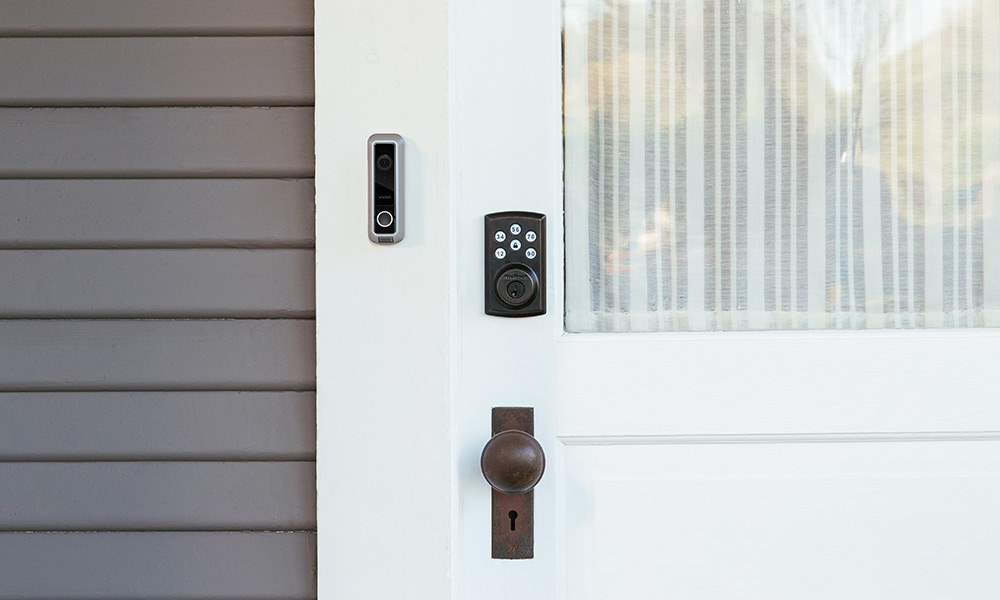 Part of a complete smart home system
There's no question the Vivint Doorbell Camera is a fantastic addition to any home. But you get the most out of your Vivint Doorbell Camera when it's part of a complete smart home system.
With a Vivint Smart Home security system, all your devices work together seamlessly, so you can:
Unlock your doors to let visitors into your home if you're unable to come to the door
View your camera feed or recorded clips from your smartphone, tablet, or Smart Hub
Use your smart speaker to lock your doors with your voice before you go to bed
If you're not home to greet your visitors when they arrive, you can turn your lights on from your app when they come inside
When you purchase a Vivint smart doorbell, you also have the benefit of professional installation and support.
With professional installation, you can sit back and let Vivint's Smart Home Pros do the work. They'll show you how to use your new doorbell camera, so you'll know exactly how to take advantage of all its features.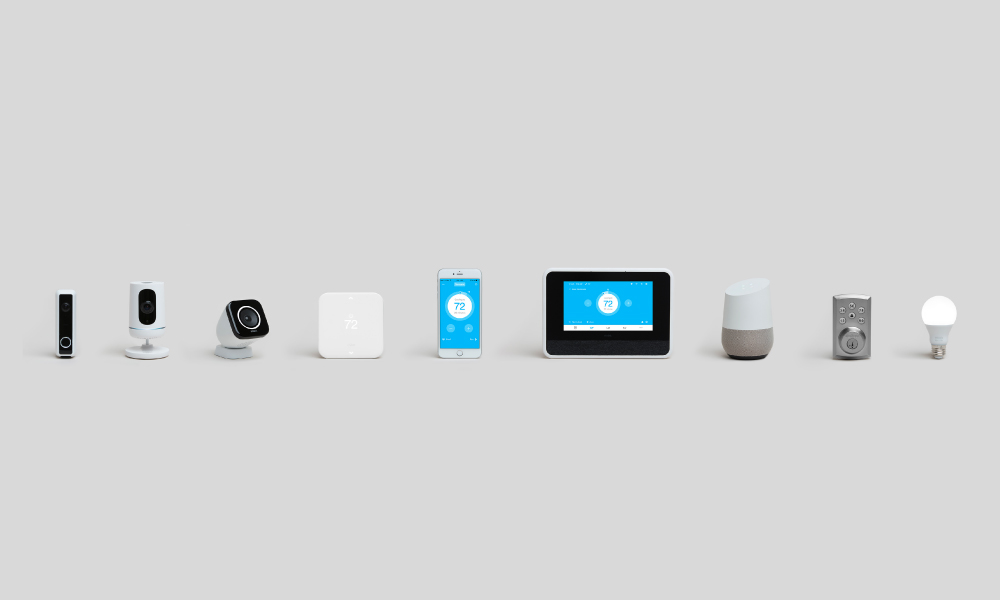 Never miss a moment at your front door
The Vivint Doorbell Camera means you always know what's going on outside your front door, day or night, whether you're home or away.
To experience the peace of mind that comes with always staying connected to your home, contact one of our Smart Home Pros at 800.646.1469 for a free quote today.