Key Takeaways
Homeowners with a home security system are over 125% more likely than those without one to recover stolen goods.
Android users are less likely than Apple users to have a home security system.
Both Android and Apple users have lost an average of $250 in value to porch pirates.
94% of Apple users and 88% of Android users will only consider buying homes with security systems in 2023.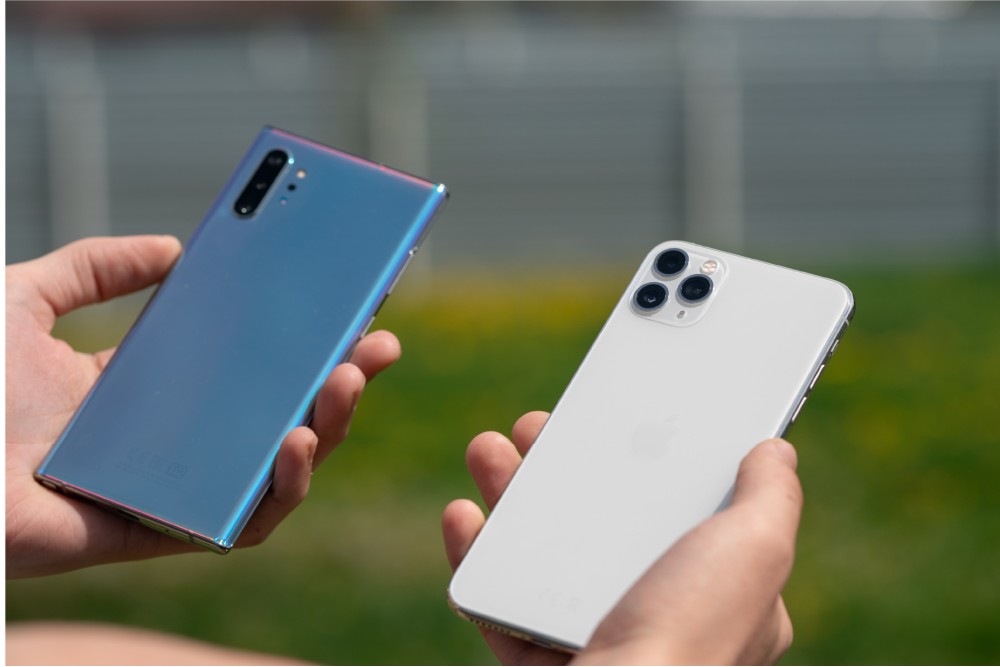 Security habits
You've seen the debate in memes, social media, and advertisements: which is better, Apple or Android? Apple's operating system, iOS, has come out on top in terms of security features. But could this device choice tie into your home security habits as well? To find out, we surveyed users from both sides about their home security systems and motivations and tallied up their experiences with theft.
Reasons for home protection
A home security system is a great way to keep criminals away, check on your neighborhood, and protect your family. So, which brand's users are more likely to fortify themselves with home security systems?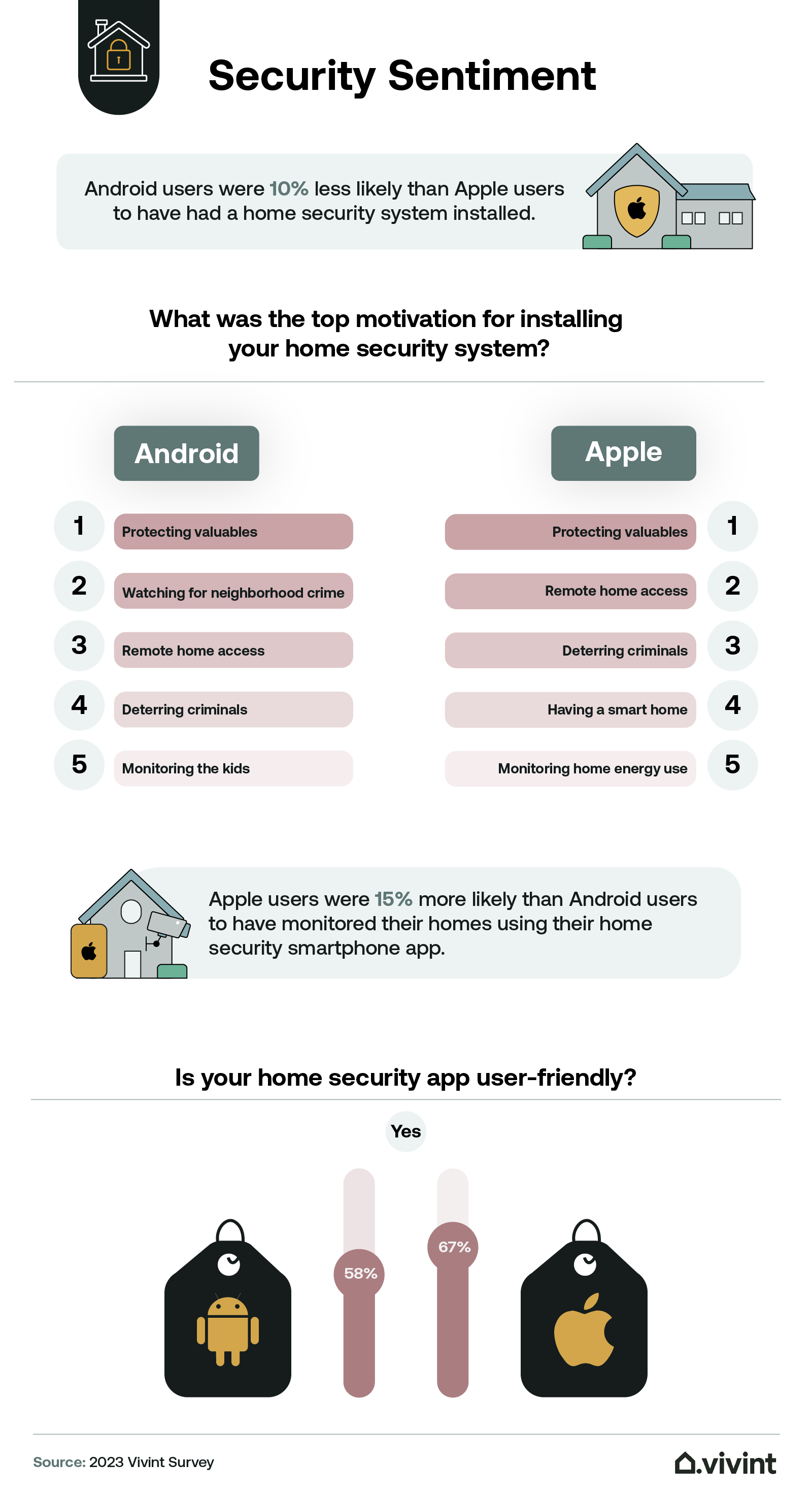 Android users were 10% less likely than Apple users to have a home security system. Though, they shared the same top motivation for installing it: Of those with a home security system, both parties were most interested in using it to protect their valuables.
Apple users seemed to lean into the full tech experience because they were more likely than Android users to install a home security system in order to create a smart home. One benefit of a smart home security system is having remote access to your home, which was Apple users' second most common motivation for installing one. They were also 15% more likely than Android users to use a security smartphone app.
Meanwhile, Android users were more likely to have installed their home security system to monitor crime in their neighborhood. And while they, too, said they did it to enjoy remote home access, they also reported using it to keep an eye on their kids. That's something Apple users seemed less interested in since that motivation didn't make their top five.
Protection and recovery
Lax home security habits might make you more prone to porch piracy. So, who's fallen victim to more porch pirates: Apple or Android users? Let's see if the nasty trend of stolen packages differs by device preference.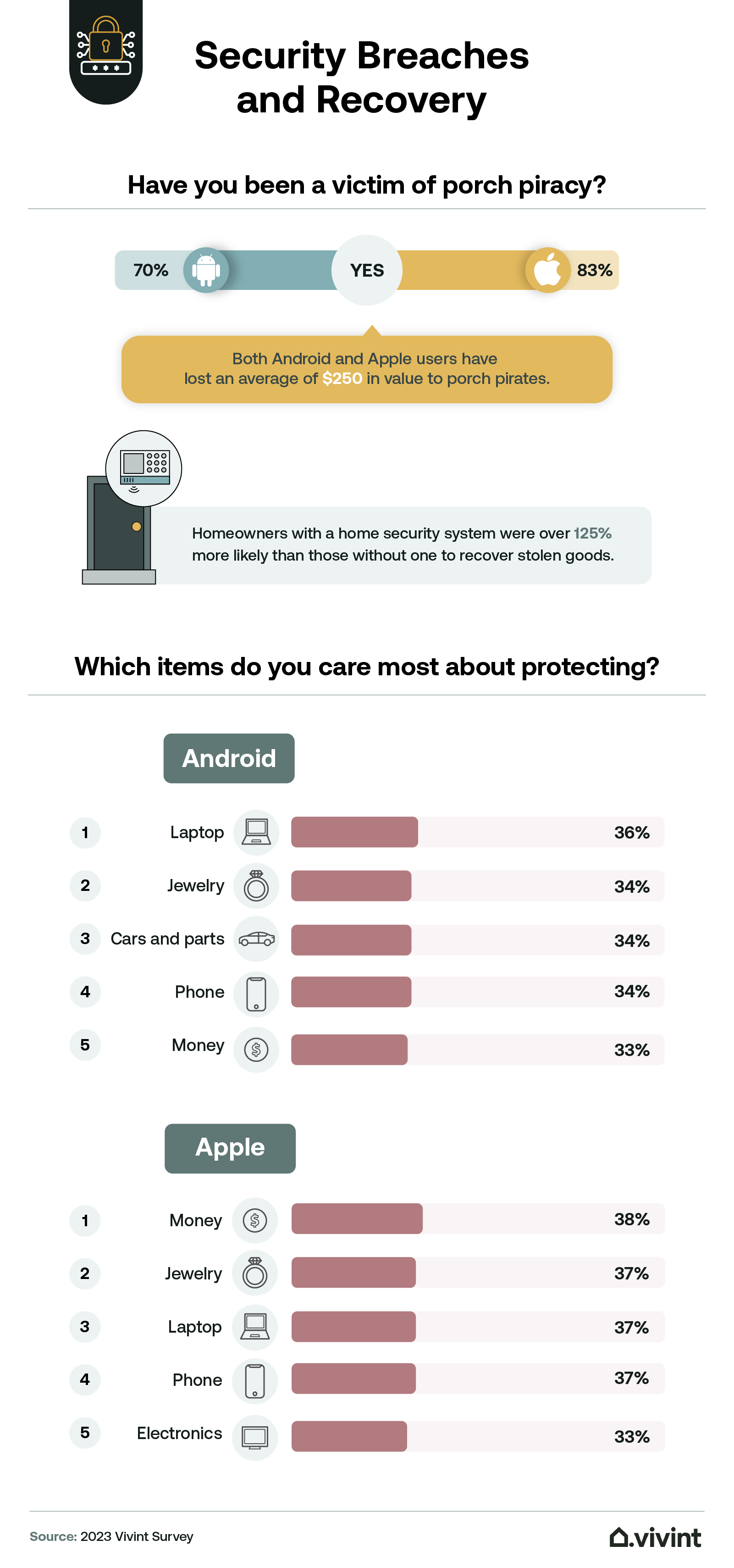 It's estimated that 260 million packages were stolen from porches in 2022. Of those who participated in our survey, 83% of Apple users have had this experience, compared to 70% of Android users. And while both sets of users lost an average of $250 in goods to porch piracy, those with a home security system were 125% more likely than those without one to retrieve what was stolen.
Not all thieves stop at the porch. Of the personal belongings Apple users wanted to protect, 38% were most worried about their money. This was of a lesser concern for Android users, landing last among their top five. They were more concerned about their laptops (36%).
The cost of deterring criminals
We've seen which possessions Apple and Android users most (and least) want to protect. But what do their security habits look like, and do they differ? Next, we'll analyze the physical and financial costs of security.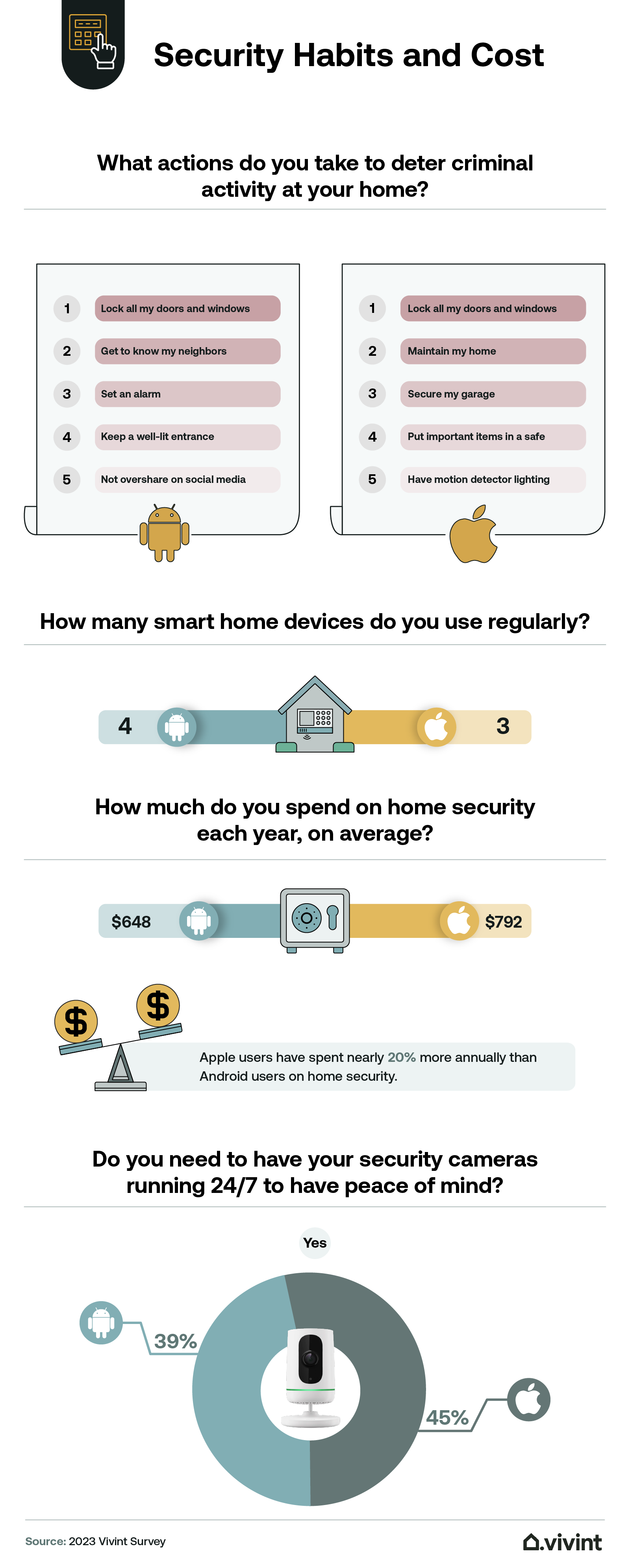 Much like their motivations for installing security systems, security practices differed between users of each device brand. Although both groups' No. 1 habit for deterring burglars was locking their doors and windows, Android users prioritized getting to know their neighbors. They also favored setting their security alarm, keeping their home entrances well-lit, and avoiding oversharing on social media.
Apple users were more likely to protect themselves by maintaining their homes and property, securing the garage, storing valuables in a safe, and using motion detector lighting. This method of lighting your entrances might be more costly than remembering to flip a switch a couple of times each day, but it can save you the trouble of forgetting and suffering the consequences.
Apple users also paid more overall for home security than Android users: an average of $792 per year compared to the $648 spent by Android users (a 20% difference). One reason for this could be that slightly more Apple users said they feel the need to have their security cameras running 24/7 to feel secure (45% vs. 39% of Android users).
Not only can a home security system give you peace of mind, it might also boost the value of your home. It may be especially attractive to Apple users looking to buy: 94% said they would only consider a home with a security system in 2023. While most Android buyers shared this sentiment, they were slightly less likely (88%). So, if you're looking to sell a home this year, adding a few security features might be a good idea.
Home protection for everyone
The results are in, and it seems both Apple and Android users have their strengths and weaknesses when it comes to home security. Even though Apple users were more likely to run their security cameras 24/7, Android users were less likely to have fallen victim to porch pirates. Still, both sets of users have lost roughly the same value in goods to porch theft.
Fortunately for users of either brand, homeowners with a security system were more than twice as likely to retrieve their lost goods. So, regardless of your smartphone security preferences, this battle of the brands tells us one thing: The more invested you are in your home security, the safer you, your family, and your possessions are.
The Vivint Smart Home app allows Apple and Android users alike to control and monitor their home security system and smart home devices remotely from their smartphone or tablet. Its user-friendly, intuitive interface and range of features make it a must-have for anyone who wants to manage their home's security and energy usage from anywhere.
To learn more about the Vivint app, call us at 855.822.1220 for a free consultation today.