Wireless vs. wired security camera
Wireless vs. wired security is an important consideration to make when selecting a security system or alarm system.
Some argue wired security offers better reliability since hard wires mean connection is almost never lost, while others say the benefits of wireless security far outweigh those of wired security.
With the advancements in technology, today's wireless security systems are extremely reliable — arguably just as, if not more, reliable than wired security systems. Wireless security systems are also more practical as they allow for easier installation and simpler smart home integration. Wireless security systems are now becoming even more common than wired security systems.
What they have in common
It's easy to find wired and wireless devices that are similarly appointed. Before you consider either, review the ways a surveillance system can protect your home, and make a wish list of your preferred features.
The top cameras on the market have tons of cutting-edge capabilities such as high definition resolution, customizable notifications, cloud storage and real-time remote control, just to name a few. Other necessary considerations are weather resistance, performance in low light, the camera's overall appearance and the system's connectivity to emergency services.
It's important to determine where the camera will be mounted, if you need more than one and how to view and review the live footage when necessary. Also, figure out where the data is recorded and how much is stored. You should also make a call whether the camera will run all the time or only occasionally.
When wireless is best
A wireless security camera system has a few distinct advantages over its wired counterparts. For one, they're remarkably easy to install. They're battery operated, so there are no unsightly cords to hide, and you won't need an electrician to help with the setup. They can be placed anywhere — even places that don't have an electrical supply — as long as they're within range of the main unit.
They're also simple to uninstall, so you can rearrange them if your security needs change, and take them with you when you move. These are great for retrofitting older homes or any other time when opening the walls isn't an option.
Additionally, wireless cameras are good for those of us with a general preference for smart appliances. They're more likely to be able to integrate with larger home automation systems — such as Vivint — than their hardwired counterparts, which are musts for many connected homes today.
Wireless technology is making corded gear a thing of the past, and for good reason. Going wireless means full mobility, and having your data and apps accessible from anywhere makes life easier and more streamlined.
But, are there any downsides to the trend? Should you be concerned about relying on wireless security systems? When you're considering security for your home, choosing wireless versus wired depends on your priorities and your comfort with each type of tech.
For flexibility, wireless wins
Wireless systems are far easier to install than traditional hardwired systems. You simply mount and position each component — no need to open walls and seal them up again. Because of this, you can easily move, reconfigure or expand a wireless setup.
If you relocate, you can take your wireless system with you and set it up in your new home. If you remodel or discover a shortcoming in your current configuration, you can move sensors, detectors, and cameras accordingly. Adding components to a pre-existing system is easy. With a hardwired system, a technician or contractor must complete these tasks.
Wireless: the techie's choice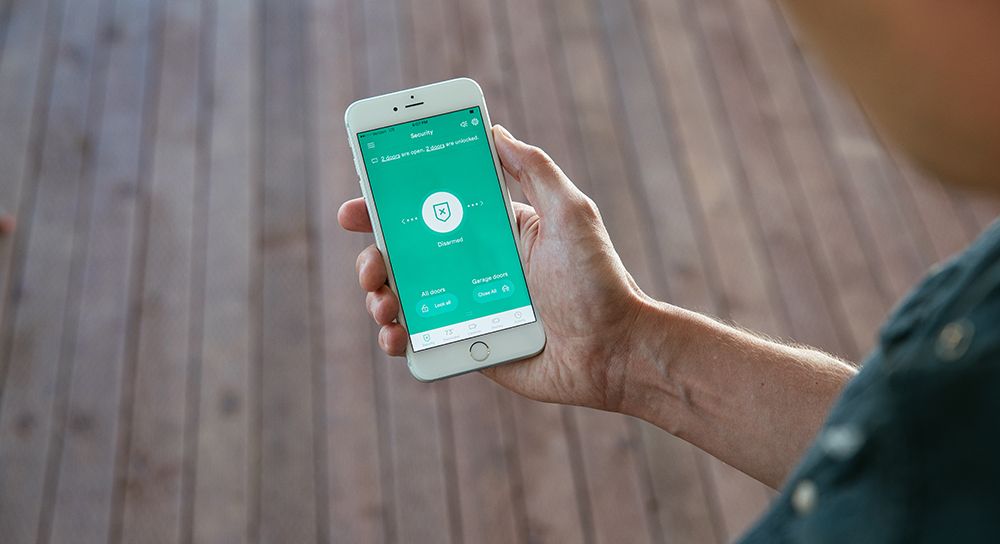 Those who favor high-tech living and aren't intimidated by smart appliances will favor wireless systems. If you have a strong home wireless network, are fluent in smartphone apps and find the idea of home automation thrilling, you have a lot to gain from a wireless system.
Wireless setups let you integrate many smart home gadgets from leading manufacturers. You can have your keyless door lock (smart lock), surveillance cameras and smart thermostat operate on one system.
Meanwhile, the less technologically inclined might prefer traditional installations. These are typically connected to telephone landlines and are more hands-off; you don't have to (and won't be able to) manipulate the system without a professional's help.
Reliability: a toss-up?
Critics point out wireless security systems can be hacked. Since data transfers through an external network, tech-savvy criminals can intercept transmissions and compromise your security. However, quality home security systems fully encrypt all data, so even if unauthorized entities do access information, they almost certainly can't decode it.
Perhaps even more important is the wireless network itself. Wi-Fi networks are subject to interference from cell phones, bad weather, and weak signals. If you have an unreliable Wi-Fi connection, stick to hardwired options, which don't rely on internet access.