It's often said Christmas is the most wonderful time of the year — and that holds true for criminals, too. The holidays are often filled with presents, cash, and decorations that present opportunities for the Scrooges of the world to take advantage of.
Luckily, there are plenty of things you can do to make sure crime doesn't ruin your holiday celebrations.
Check out these seven ways you can prevent holiday crimes.
1. Don't be an easy target
Robbers are on the lookout for easy targets — homes that appear empty, easy to break into, or likely to have big-ticket items they can steal or sell later. They want to get in and out without being caught.
A few simple thing you can do to help ensure you're not unintentionally attracting would-be criminals include:
Break down boxes or take them to the recycling center. Don't advertise that there is a new Xbox or 60-inch TV inside by leaving the boxes in plain view by your curb for trash pickup.
Leave lights on around the house, even if you're not home. A dark house is often an empty house, so leave a light or two on when you're not home. Smart lighting can help with this by creating automated lighting schedules. You can also manually turn lights on and off at any time via the Vivint Smart Home app.
Don't leave your gifts visible. If your Christmas tree is by a window, make sure your piles of presents aren't visible from the outside.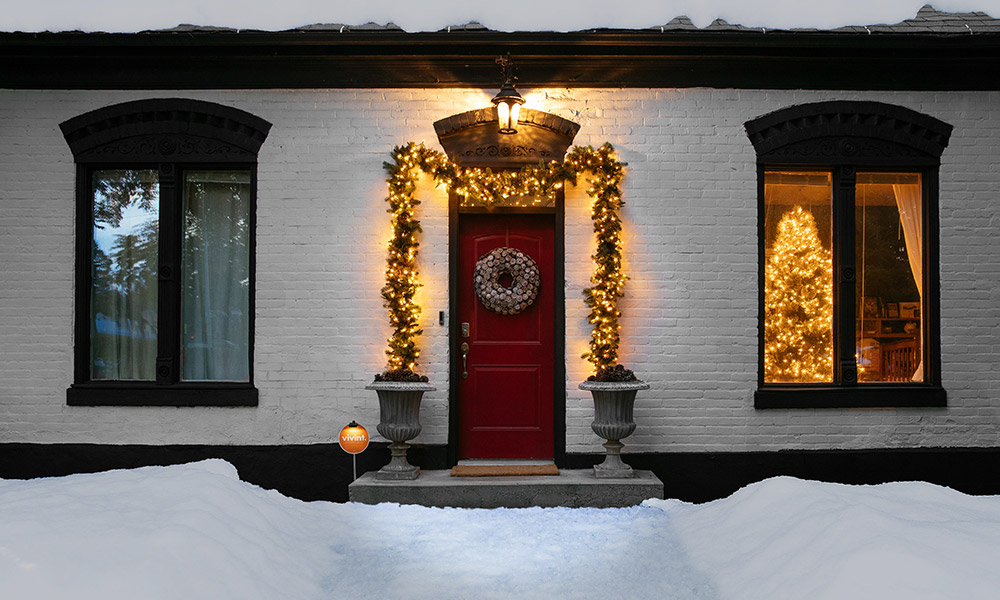 2. Get a house-sitter if you're going out of town
It can be pretty obvious to outsiders when no one is home, especially if mail and packages pile up and snow remains untouched and free of footprints. If you're going out of town for the holidays, enlist the help of a neighbor or friend to housesit or stop by your house once a day while you're gone to pick up mail, shovel snow, or keep an eye on things.
For round-the-clock monitoring of your home, consider a security system that provides 24x7 home security monitoring and support. They will even contact authorities if an alarm is tripped or something is amiss, so you can rest easy while you travel.
3. Keep your porch and front door secure
Porch pirates — those brazen criminals who snatch packages right off of doorsteps — come out in full force during the holidays. Keep them at bay by installing a doorbell camera.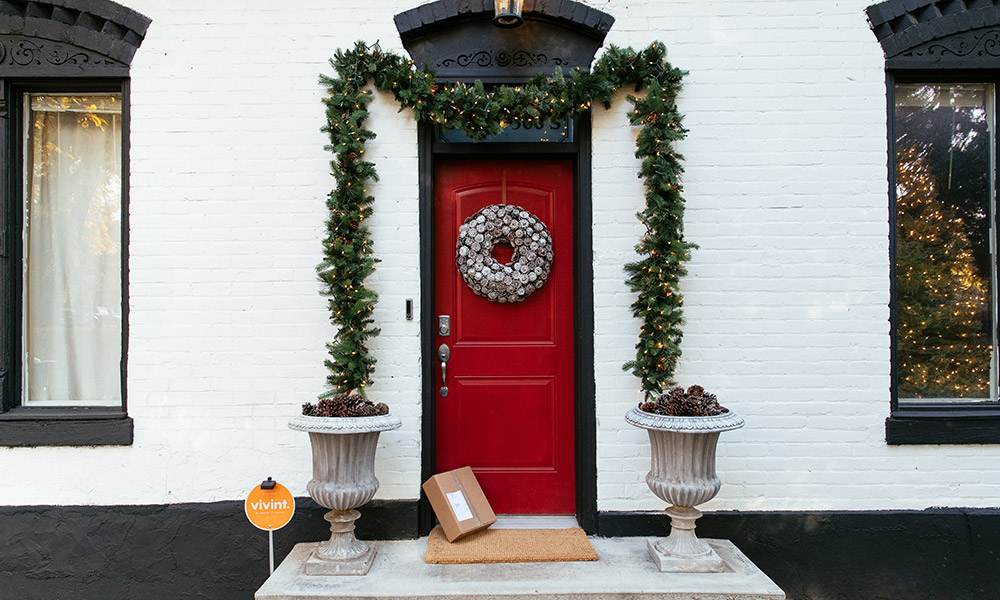 Not only will the doorbell camera start recording when it detects motion on the porch, but it will also alert you when someone is at the door. You can even speak to people on your porch with two-way voice. With two-way talk functionality, you can speak to the person on your porch. A would-be thief is more likely to be deterred when they know you can see them, are recording what's happening, and are talking to them.
4. Don't forget to lock up
One of the most effective ways to prevent holiday crimes is also the easiest: lock your doors. In 40 percent of home invasions1, the burglar entered the house through an unlocked door.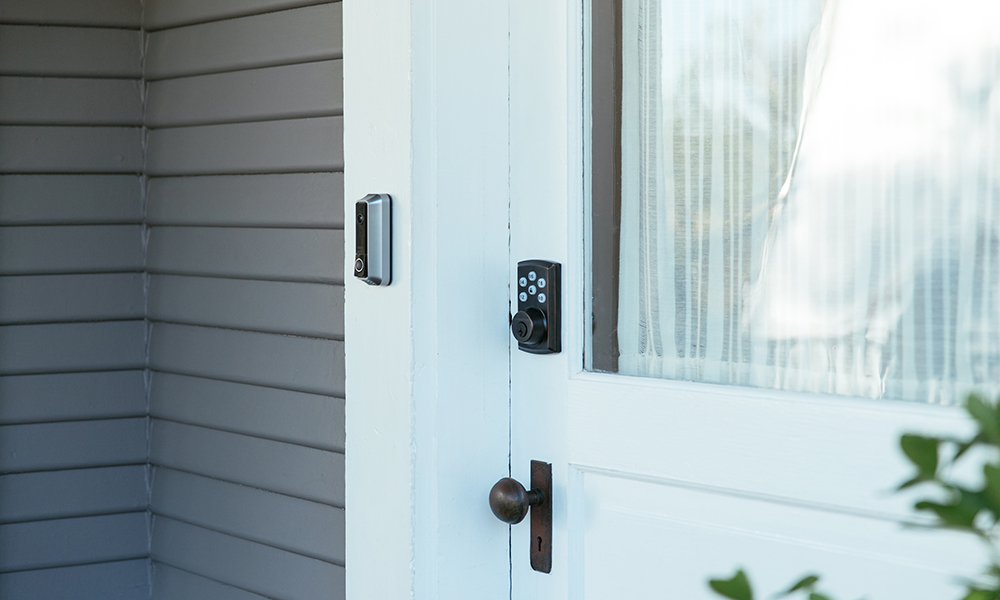 Smart locks make locking your doors simple. You can check to make sure your doors are locked or lock your doors wherever you are via the smartphone app, touch-screen panel, or even voice control. With just a push of a button on your smart lock, you can lock up, turn off all the lights, arm your security system, and change the temperature at the same time.
5. Keep an eye on your property with outdoor cameras
It's not just the inside of your home that's susceptible to holiday crime. Vandalism, theft of holiday decorations, and theft from vehicles also increase during the holiday season.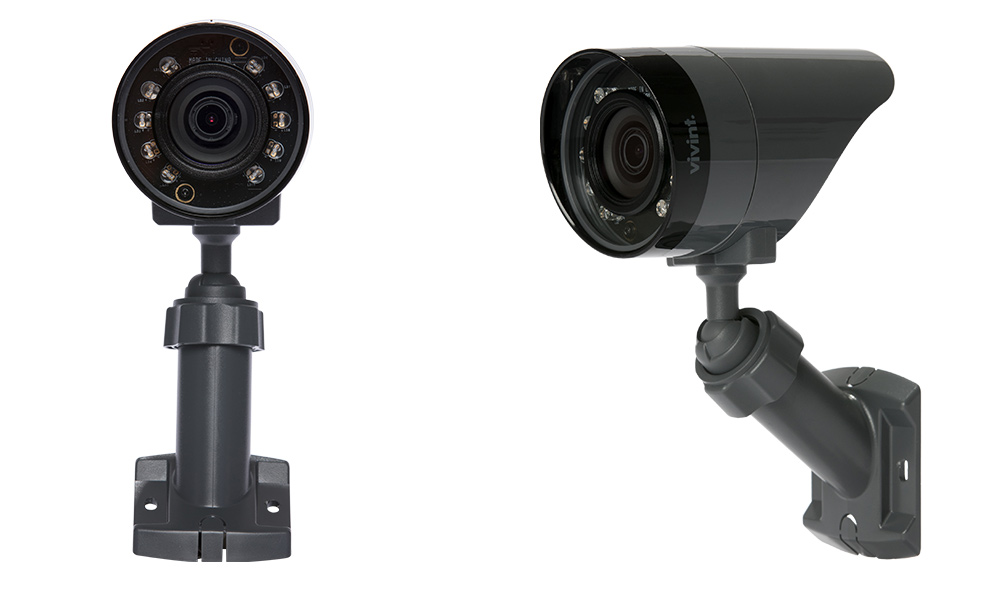 One way you can keep the grinches of the world from stealing your Christmas is by installing outdoor cameras. Not only do they act as a visual deterrent, but they can also provide law enforcement with the information they need to catch the thieves. Make sure you look for a camera with features like night vision and HD resolution, like the Vivint Outdoor Camera.
6. Install burglary detection devices
One of the best deterrents for holiday crime is a home security system. One study of convicted burglars found 83 percent specifically checked to make sure there wasn't a security system when targeting homes to rob2.
Burglary detection features like glass break sensors and motion detectors not only set off a jarring alarm that can scare a burglar away, but the professional monitoring team watching your home notifies you on your phone and alerts the authorities when an unlawful entry is detected.
7. Check up on your home wherever you go
You don't have to spend the holidays worried about the safety of your home or family. With the Vivint Smart Home app, you can check video feeds in and around your home, arm or disarm your security system, and set custom notifications so you always know what's happening at home.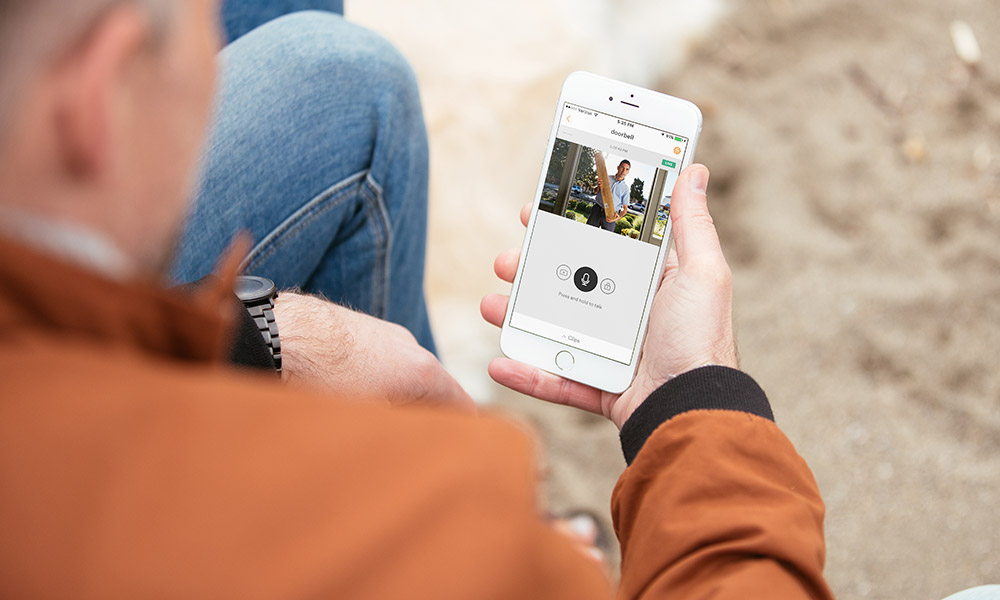 Following these tips will help ensure you and your family have a safe and happy holiday season.
Ready to secure your home for the holidays?
Contact Us
---
Sources
2017. Bjs.Gov. Accessed December 13 2017. https://www.bjs.gov/content/pub/pdf/vdhb.pdf.
"Burglary Statistics: The Hard Numbers | National Council For Home Safety And Security". 2017. Alarms.Org. Accessed December 13 2017. https://www.alarms.org/burglary-statistics/.