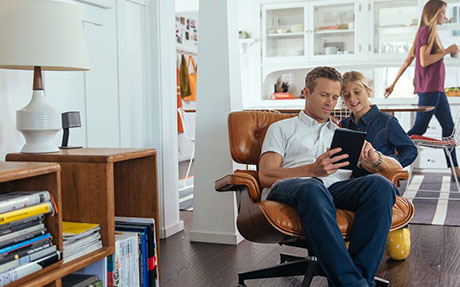 One hundred years ago, people were celebrating transcontinental telephone calls, silent movies, and the Victrola—the latter now deemed extinct in modern culture—in much the same way we gaze in awe at smart home systems, cars, and apparel.
If, indeed, history repeats itself, what we consider the most innovative smart home system today may be forgotten during the next century. Take a journey into your imagination and ponder how current home automation systems will surpass our best technology.
Automatic Sync with Smart Vehicles
Though it is unlikely to take a full century, developing smart home systems that communicate seamlessly with smart cars is definitely on the horizon. Apple, known for reinventing technology to suit modern demands, was rumored to attempt this feat with the connected car, though concrete plans for development have not been released. It's safe to bet this integration will be introduced well before the next century draws to a close.
Integrated Communication and Productivity Tools
Unlike in the early 20th century, making phone calls today is seen as a chore. If you're not anxiously awaiting a call, you're glancing at the phone to receive a text or email. How we communicate with each other on both personal and professional levels has completely changed in the last two decades. As workers increasingly adopt technology and the remote workforce expands, smart home systems will include both communication and productivity tools. Between meetings, reminders, and message review, smart home systems of the future may make cell phones pointless.
Device-less Operation
Wearable devices are growing in popularity, particularly among tech-savvy, active individuals. While watches, glasses, and bracelets have all been adapted to serve a digital function, like messages or Internet searches, the technology that makes devices altogether unnecessary has not yet been created. For now, operating advanced controls, responding to messages, reviewing updates, and monitoring your home will occur through a tablet or phone. But fast forward 100 years, and you may accomplish the same tasks with subtle eye movements or hologram manipulation.
Holographic On-Site Support
Michael Jackson, Elvis, and Tupac Shakur have all held concerts via hologram technology—many years after their deaths. What if the same technology was improved to provide in real time a hologram of a real person capable of being at your home instantly to offer assistance? How would life be different if a 3D hologram of a security guard was included in your residential monitoring package? In 100 years, smart home systems will overcome the challenges of scheduling conflicts and variable service expenses. Instead, technical support, customer service, and sales personnel will be available instantly.
A Century of Innovation
The next 100 years promise excitement in the home automation industry, particularly where technology is concerned. Already adapting to meet the needs of consumers, smart home systems are simply getting smarter as time goes by.
What do you think home automation will be like by 2115?