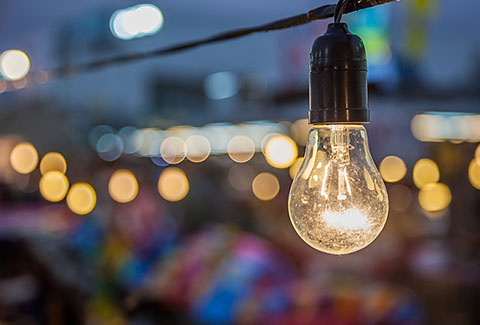 Why is smart home technology a major trend? Simply put, incorporating home automation into your house can improve your lifestyle in a variety of ways. For instance, automation saves time, makes everyday routines easier and introduces convenience into the lives of many.
Have you noticed the neighbors updating their homes with smart tech? If so, you may wonder what you're missing out on. Check out the latest and greatest smart home trends to understand the hype around the technology and find out if it's right for you and your family.
Eyes on everything
By installing security cameras inside and outside your home, you can see who visits your property and what they're doing. With the appropriate app, you can even watch a live video feed in real time or view previously captured footage from your mobile device.
Video cameras enhance home security and safety, but they also introduce convenience in unexpected ways. For example, a doorbell camera allows you to see who's ringing your doorbell without answering the door, and you can communicate with them without walking across the house, as well. You don't even need to be home to see who it is, so you can direct delivery people where to leave packages or tell visitors when to return.
Automated lights and smart appliances
How can home automation cut down on electric bills and save you money? Firstly, you can program lights to turn on and off based on a schedule for safety. You can also remotely turn them off if you rush out of the house and forget to do so, reducing your electric bills without requiring you to trek back home and turn off switches manually.
With a smart home, you can ensure the garage door is closed late at night when you're already tucked into bed, or schedule the thermostat for optimal temperatures when the family's home and lower it to save money when the family's away.
Smart appliances can make sure your coffee's ready when you wake up and your air is purified consistently, because it's all connected and controlled by you, whether it's manually or on a schedule. You'll have total control of your home, more time to yourself and more money in your pocket.
Amazon Echo
If you own an Amazon Echo, you can give verbal commands and the Echo will coordinate with your Vivint control system to obey your orders. The Echo can connect with your thermostat and smart kitchen gadgets, basically transforming you into a futuristic commander of a technologically advanced castle. You speak, and it's done!
Keyless entry door locks
With keyless door locks, no one will worry about losing their key again. No more keys hidden under potted plants, and no more concerns about giving a copy to the dog walker or housekeeper. You can create a code to enter your home and assign a separate code to different people, so you know who enters the house and when.
You can also set the key code to only work at specific times, so the dog walker won't drop by for a surprise visit at midnight. As an extra security measure, you can change the codes whenever you see fit, saving money spent on locksmiths and copies of keys. If you're hesitant about smart home technology, installing a code entry lock is a good place to start updating your home to test the waters.
Smart home technology can make you safer, save you both time and money and increase the value of the home. Instead of enviously peering over at a neighbor's smart home, introduce a few simple updates and step into an improved lifestyle.
Want to learn more about home automation and smart home technologies? Check out Vivint home automation options.