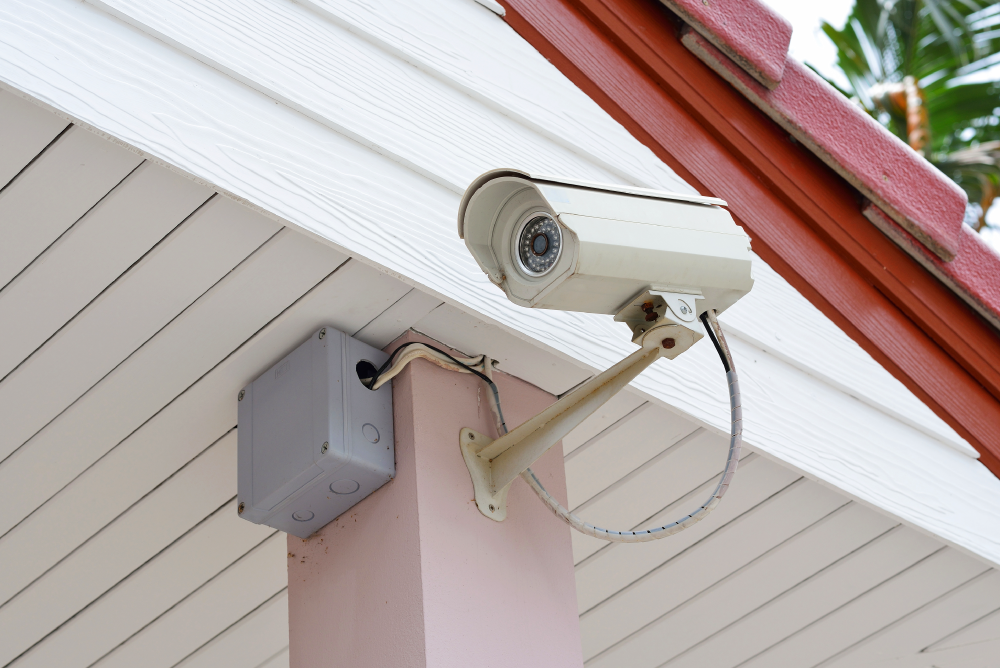 Porch pirates, pets, and supernatural occurrences—security cameras capture it all
Key takeaways:
Almost 1 in 10 Americans reported checking their home security cameras five or more times per day.
Over 14% of Americans had witnessed porch pirates—someone stealing a package off their property—on their home security footage.
More than 1 in 5 Americans posted their home security footage on social media.
Safety with the touch of a button
Americans are captured on security cameras an estimated 70 times per day. With the video doorbell industry expected to grow by over four billion dollars in the next six years, we'll probably be on camera even more in the near future. And of course, these video doorbells and monitors are catching some funny things, some strange occurrences, and even some truly shocking moments.
So, what exactly are they seeing? More than 1,000 home security camera owners recently gave the team at Vivint some answers. Respondents shared the most shocking things they've witnessed, how these visuals affected them, and how they reacted. Keep scrolling to find out more about the unexpected things witnessed on home security cameras.
Trust, but verify
Vivint first took a pulse check on where and how security cameras are set up within the average American home. Respondents shared the locations of their camera(s), how often they check them, and their top motivations for keeping visual tabs on things.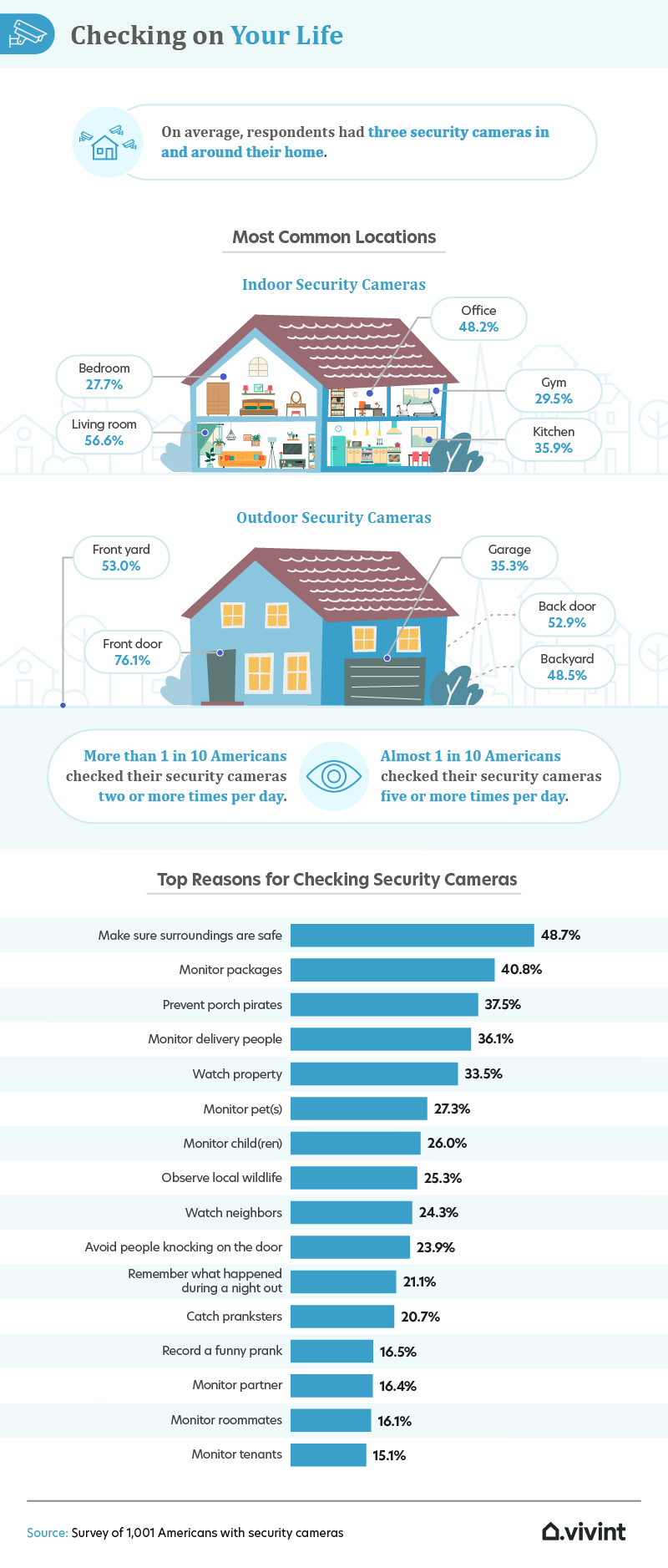 People who purchased security cameras typically wanted more than one per property, ending up with three on average. The most popular focal points were the front door and the living room. If you choose to follow this example, be sure to note the key differences between installing outdoor and indoor cameras. While outdoor cameras are helpful for monitoring who exits and enters the premises, valuable assets are most likely to be found inside the home, hence the heavy monitoring of living rooms (TVs) and offices (computers).
Nearly a quarter of Americans admitted to using cameras to spy on their neighbors, with Gen Xers having a particular affinity for doing so. Younger participants often wanted to do the complete opposite, with 30% of Gen Zers admitting to using their security cameras to avoid people who were knocking on the door. And while the main motivation for investing in home security cameras was to make sure surroundings were safe (48.7%), 23.9% used them to avoid unwanted visitors knocking at their doors. Evidently, there are plenty of uses for these cameras beyond their marketed safety appeal.
Odd occurrences across the country
So, what have people actually witnessed? Among thousands of viewers with millions of hours of footage, everything from the adorable to the funny and the scary has been caught on camera.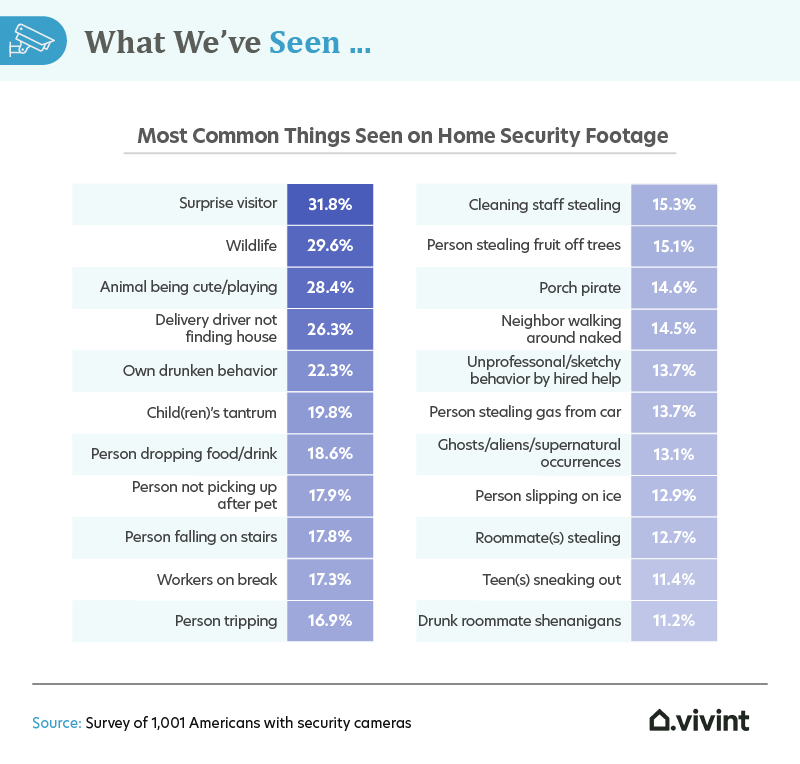 Surprising someone is not the easy feat it used to be. In fact, surprises were the most common thing people caught on their security cameras. If you're planning a surprise party or visit, you may want to consider where the cameras are located first. There were a fair amount of surprise visits from other worlds, too: more than 1 in 10 said they had witnessed ghosts, aliens, or supernatural occurrences on their security footage.

While very few respondents had witnessed a serious crime, many had caught their neighbors or even residents of their own home doing something wrong. Almost 18% saw passersby not picking up after their pets, while 12.7% caught their roommates stealing. This was nearly as common as porch pirates (14.6%)—at last, an explanation for all those missing packages. Some parents had even caught their teens sneaking out (11.4%). One 58-year-old respondent explained that he and his wife caught their son having people over without their permission, although he "found it funny when we confronted him about it."

Enough is enough
While a lot of security camera footage showed cute wildlife or funny roommate shenanigans, there were certainly some upsetting instances for our respondents. The last piece of research asked respondents about what they did after witnessing something upsetting on their security camera footage.
It turns out the majority of security camera owners do not sit on bad news, with 54% taking action after witnessing upsetting footage. Most often, they chose to keep an even closer watch on their home through more frequent camera monitoring (51.7%). Other actions included increasing the amount of time the camera was turned on (43.3%) and investing more in home security in general (42.2%).

Roughly 45% of respondents reported calling the police. While this was likely a wise choice, it's important to note that even catching a culprit on camera is often not enough for a conviction. Any distortions in the video can lead to the case being thrown out, which supports the need for quality security cameras. It's encouraging to see neighborhoods taking safety into their own hands and it having an impact. It's also important to remember that having home security makes crime less likely in the first place.
Making the world a safer place
Americans who use security cameras certainly have a leg up in protecting their home compared to the rest of the population. Visible security features act as a deterrent to criminals, but in the event owners do see something upsetting, they tend to take swift action by involving the police or putting additional security measures in place.
Since its founding, Vivint has been wholeheartedly dedicated to helping make lives easier by making homes smarter and ensuring home security is effective and simple to use. From publishing research (like this study) to sending professionals to install the latest home security technology to providing 24/7 award-winning monitoring services, Vivint is the country's go-to resource for neighborhood and home safety. To see how you can make your home a truly safe space, head to Vivint.com or call Vivint at 855.822.1220 for a free consultation today.