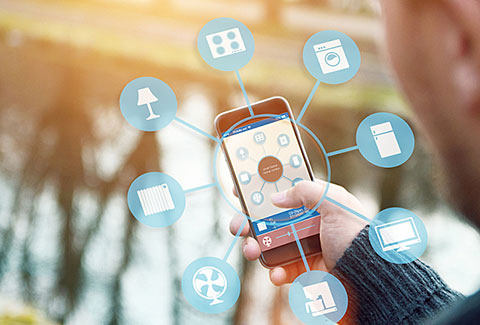 Home automation is a wonderful way to save time, and for those of us who are chronically busy, efficiency is a huge draw. But, can energy management through home automation also save you money on electricity costs? It certainly can for many people, provided it's used correctly. Technology is great, but smart technology is better because it saves time and money. Smart technology offers the same benefit, but with a bonus, as it can learn and make adjustments based on our behaviors.
Smart home thermostat
A smart home thermostat can be programmed to turn down your furnace or air conditioner at night before you go to bed, and when you leave for work in the morning. If you're like me and often forget to do this, it eliminates worry and saves money on your heating and cooling bill. A smart home thermostat can also notify you of any temperature changes and gives you real-time monitoring that allows you to monitor your energy usage remotely.
Smart lights
How many times have you forgotten to turn off the light when you were done and found it on later on with no one in the room? Upgrading your home lights to smart lights will eliminate the problem of excess power consumption that's increasing your electric costs. Smart lighting can be set with motion detectors to turn on when someone enters the room and turn off when they leave. They can also be placed on timers or dimmers and controlled through an app on your smartphone giving you real-time control of your smart lighting. For example, they can be programmed to turn off at the time you leave for work each day. Or, you can program one to turn on right before you arrive home. Smart lights are a quick and efficient solution to reduce energy consumption and increase energy savings.
Security sensors
Security sensors monitor and control a variety of things in your home and you can operate them remotely. They can turn off the coffee pot if you forget or switch off small appliances that use phantom energy even when they're not on. Security sensors can notify you if a window or door are open when your heating or cooling system is on. You can also control small appliances and devices, computers, lights and heating or cooling systems remotely from your smartphone.
One of the most beneficial aspects of an automated energy management system through smart home automation is the ability to monitor the results of our behaviors. When you first add home automation, take a look at your baseline energy usage. Then make adjustments slowly to each area of your energy usage and monitor the impact those changes have on your energy costs. You'll see which areas of your home are using the most energy so then you can make adjustments to reduce energy consumption and lower your energy bills.
Interested in improving your home with an automated energy management system to reduce costs and save energy? Contact Vivint today.