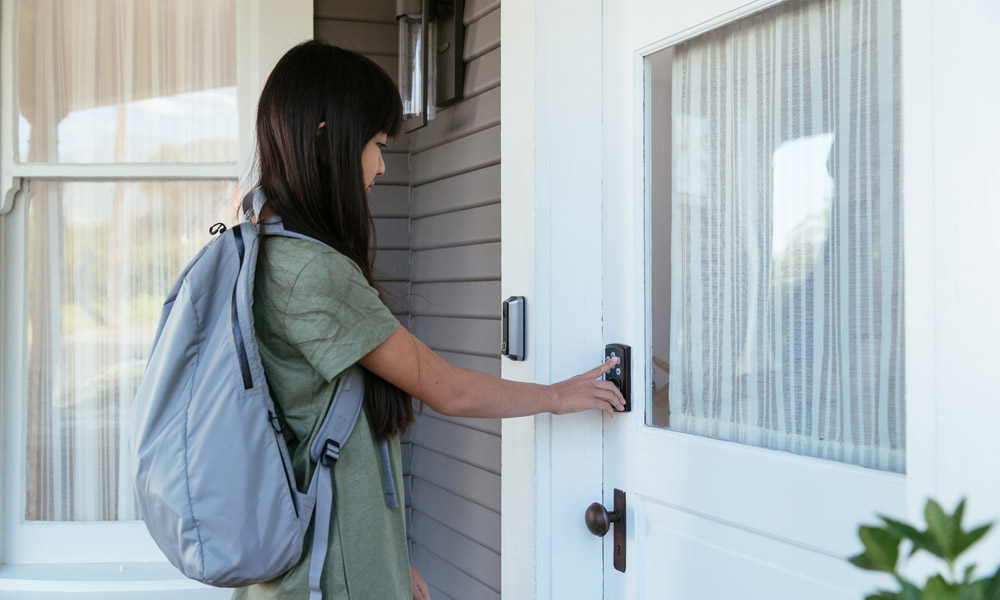 When you installed your door locks, did you install the door and then never think about it again? Just like a password is the online security barrier that keeps your identity safe, a code for your front door is the security that helps keep your home and family safe. You should treat the safety of your door lock code the same way you'd treat the password that protects your online banking or investment account by knowing how often to change it.
Factory default code
Your door lock will probably come with a factory default code when you receive it. Once it's installed, you should immediately change the code to something that's personalized for you and your family. Leaving your door lock code as the factory default code is similar to leaving your password as "password" when you create an email account.
Use multiple codes
As tempting as it is to choose one code for the entire family, you should assign each person a unique code. If everyone has their own code, you'll know with a simple glance who is coming and going, and when. Does it show your kids came home from school at 4:30 p.m. when they were expected at 3:30 p.m.? Was your husband's code used a moment ago when you know he's on a business trip in another state? A unique code will alert you to possible problems. You can even choose a temporary code to assign to a babysitter or pet sitter when you need one.
Don't be obvious
Remembering passwords and door lock codes can be a challenge, but it's important to resist the urge to choose something obvious. Numbers to avoid are things like your street number, P.O. Box number, birthday and the date of your anniversary. Don't choose numbers that are in a consecutive order, even if they're reversed. Those will be the first types of codes a potential intruder will try to enter in.
Change your code
You should change your door lock code at least once every six months. When you do change your code, don't repeat previous codes or alter only one number. Choose an entirely different sequence that isn't at all similar to ones you've used in the past. If you notice any failed entry attempts or any entries that don't make sense, you should change your lock code more frequently. If you aren't the only person accessing that door with a lock code, tell everyone to change their codes when you do.
To help yourself remember when to change your code, make a note in your planner or set up an alert on your smartphone. Once you've established a regular pattern for changing your code, you'll be better prepared to prevent home invasions.
Contact Vivint to learn more about how to properly secure your home.