When it comes to water damage, it doesn't take much to cause major—and expensive—consequences. In fact, just an inch of water can cost more than $7800 to repair.
One of the best ways to mitigate flood risk is to install water sensors in your home.
The Vivint Water Sensor is an essential part of a smart home system that can detect moisture levels and temperature and alert you to the presence of water or freezing temperatures, helping you keep damage at bay.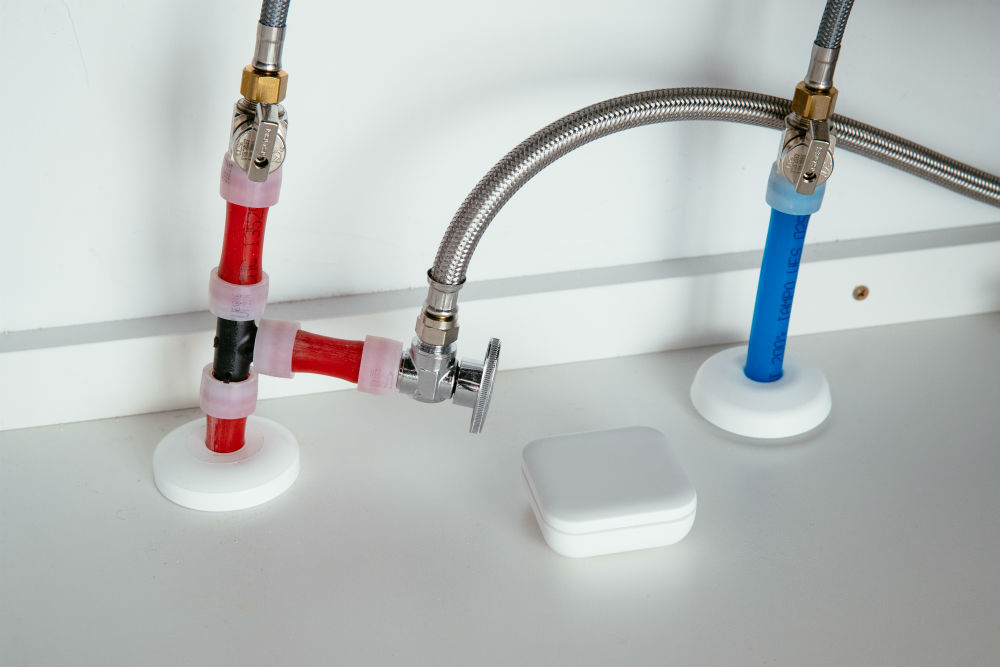 What is a water sensor and why do you need one?
Flood or water sensors are small devices that are placed near areas in your home that are prone to flooding or leaks. If water is detected, it will sound an alarm so you can act quickly, before the problem gets out of hand. (Keep in mind that water sensors won't alert you to a flash flood—the National Weather Service will do that for you).
Water sensors can help save against costly water repairs that are caused by leaks or burst pipes.
Think about the number of appliances and tasks in your home that rely on the use of water every day. From washing clothes and dishes to showering and even brushing your teeth—the amount of water flowing through your pipes each day can be up to 100 gallons per person, per day.
With statistics like that, it's no surprise water damage is not uncommon. Thirty-seven percent of homeowners in the U.S. have experienced losses as a result of water damage, with the average claim just under $7,000.
If you have a basement, a water sensor is even more critical—approximately 98% of basements in the U.S. will experience water damage at some point.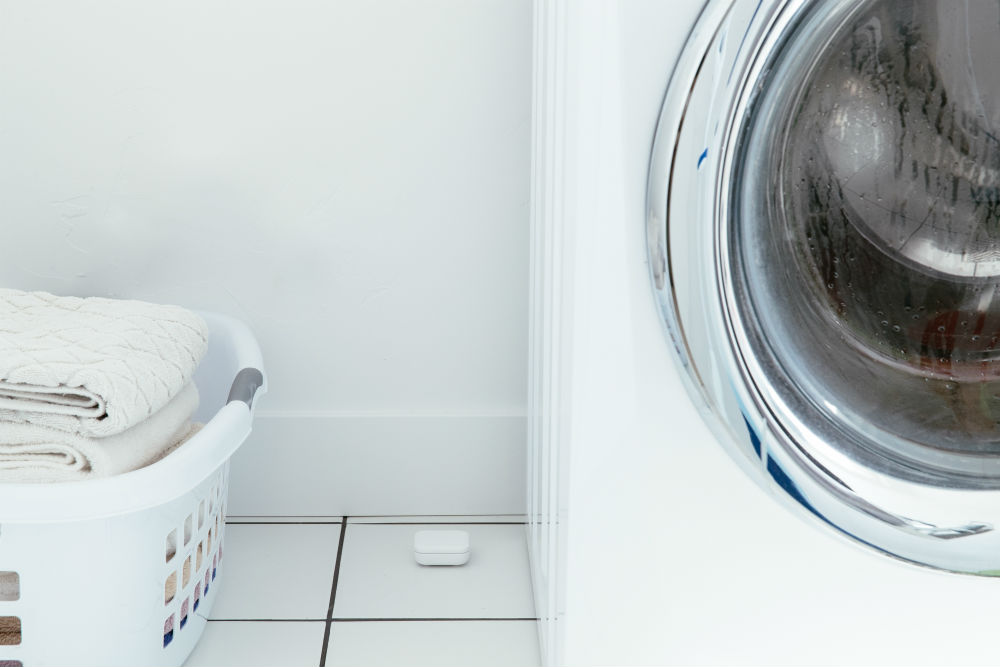 Causes of water damage
The most common sources of water damage in the home include:
Air conditioner. When air conditioners run, they collect moisture from the air, which can turn into leaks if faulty or not properly maintained. Depending on where your AC is located, this can damage ceilings, carpets, and drywall.
Water heater. Faulty drains or outlets can also cause leaks from your water heater. If your water heater is located in a basement or utility closet you don't often go into, leaks can go undetected until significant damage has already occurred.
Burst pipes. When water freezes in pipes, it expands and can rupture your pipes in a matter of hours. This is a common cause of flooding during winter months.
Sump pumps. Sump pumps are used in basements to collect groundwater before it can enter your basement, but these can stop working. When they do, the resulting damage can be extensive.
Leaky pipes. Leaking pipes from toilets, tubs and showers, garbage disposals, or any other pipe in the home can cause damage if left unchecked.
Kitchen appliances. Dishwashers, garbage disposals, refrigerators, and freezers are all prone to leaks that can damage flooring, cabinets, and appliances in your kitchen.
Washing machines. The average washing machine uses 16 gallons per load. If a pipe becomes loose or damaged, this water can end up all over your laundry room floor.
While these are some of the most common sources, they're not an exhaustive list. Water damage can occur all throughout your home from many different sources.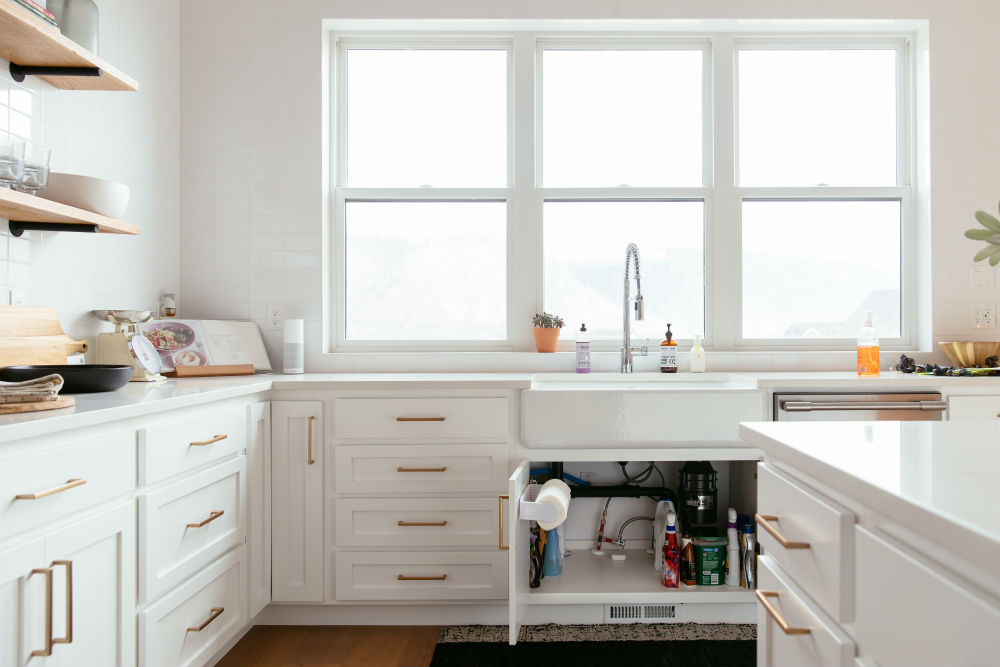 Vivint Water Sensors to the rescue
Vivint Water Sensors have leak detection features that will detect moisture to alert you to problems before they cause significant damage.
Moisture monitoring
When a leak occurs, it's crucial you take action quickly to mitigate damages. Vivint Water Sensors immediately detect water where it doesn't belong (like on the floor or inside a cabinet) and will alert you immediately on your Vivint Smart Hub and Vivint Smart Home app. This means you can take action before a leak becomes a major hassle.
Temperature monitoring
Freezing pipes can quickly lead to burst pipes and ensuing damage. Oftentimes, this occurs during cold spells or when people are out of town and turn their heater down to save on heating costs. Vivint Water Sensors also sense drops in temperature, notifying you before costly damage occurs.
Alerts and notifications
An alarm doesn't help when you're not around to hear it. If a Vivint Water Sensor goes off, you'll immediately be alerted on your Vivint Smart Home app. From there, you can call a friend or neighbor to turn off water or check the heat in your home, so you don't come home to a flooded mess.
Compact design
Vivint Water Sensors feature a small, compact design that can be placed discreetly in the areas where it's needed the most—behind toilets, in cabinets under sinks, in the basement, by the dishwasher, or anywhere else prone to water leaks.
Smart Home integration
Like all Vivint Smart Home devices, Vivint Water Sensors round out a complete smart home.
For example, let's say you're out of town and you get an alert that your bathroom's water sensor has detected moisture. You quickly call your neighbor and ask them to go to your home and turn off the water supply. You unlock the smart lock on your front door, turn on the entry and hallway lights, and then immediately lock up when they leave—all from your Vivint Smart Home app.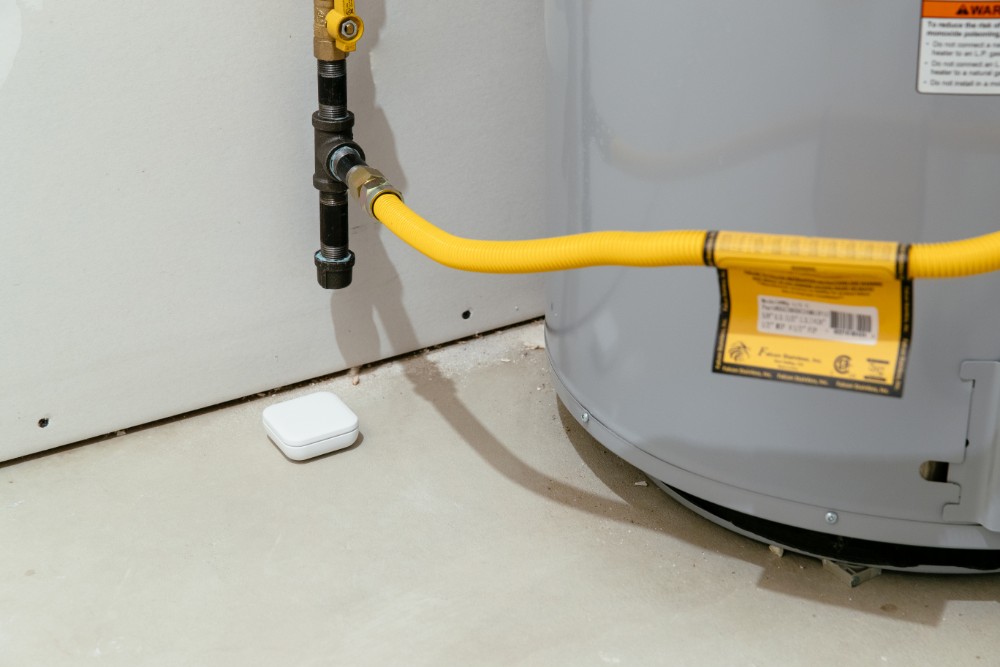 Stay safe, connected, and dry with a Vivint Smart Home
The potential for an unnoticed leak to cause serious damage in your home can happen quickly—unless you have Vivint Water Sensors to keep you in the know.
Let our Smart Home Pros help you customize a smart home system that helps keep you safe, connected, and dry. Contact us at 800.646.1469 for a free quote today.