Key Takeaways
Looking for a ghostly roommate? Online searches for "real haunted house for sale" are up 700%.
Stowe, Vermont; Eureka Springs, Arkansas; and Austin, Texas, are the spookiest cities in America.
The five cities with the most ghost sightings are Austin and Houston, Texas; Gettysburg, Pennsylvania; Roanoke, Virginia; and Oklahoma City, Oklahoma.
With Halloween just around the corner, thrill seekers and horror fans across the country are searching for scary experiences to make the holiday unforgettable. That's why we scraped Yelp to find the most haunted states and cities in the United States. From keeping your home safe amidst the scares and pranks of the season to finding the most ghostly places, read on to find out how to have the creepiest Spooktober yet.
Spooky searches
As Halloween fast approaches, thrill-seeking searches have spiked. From creepy houses for sale to local haunts open to visitors, here's what has people's blood running cold this year.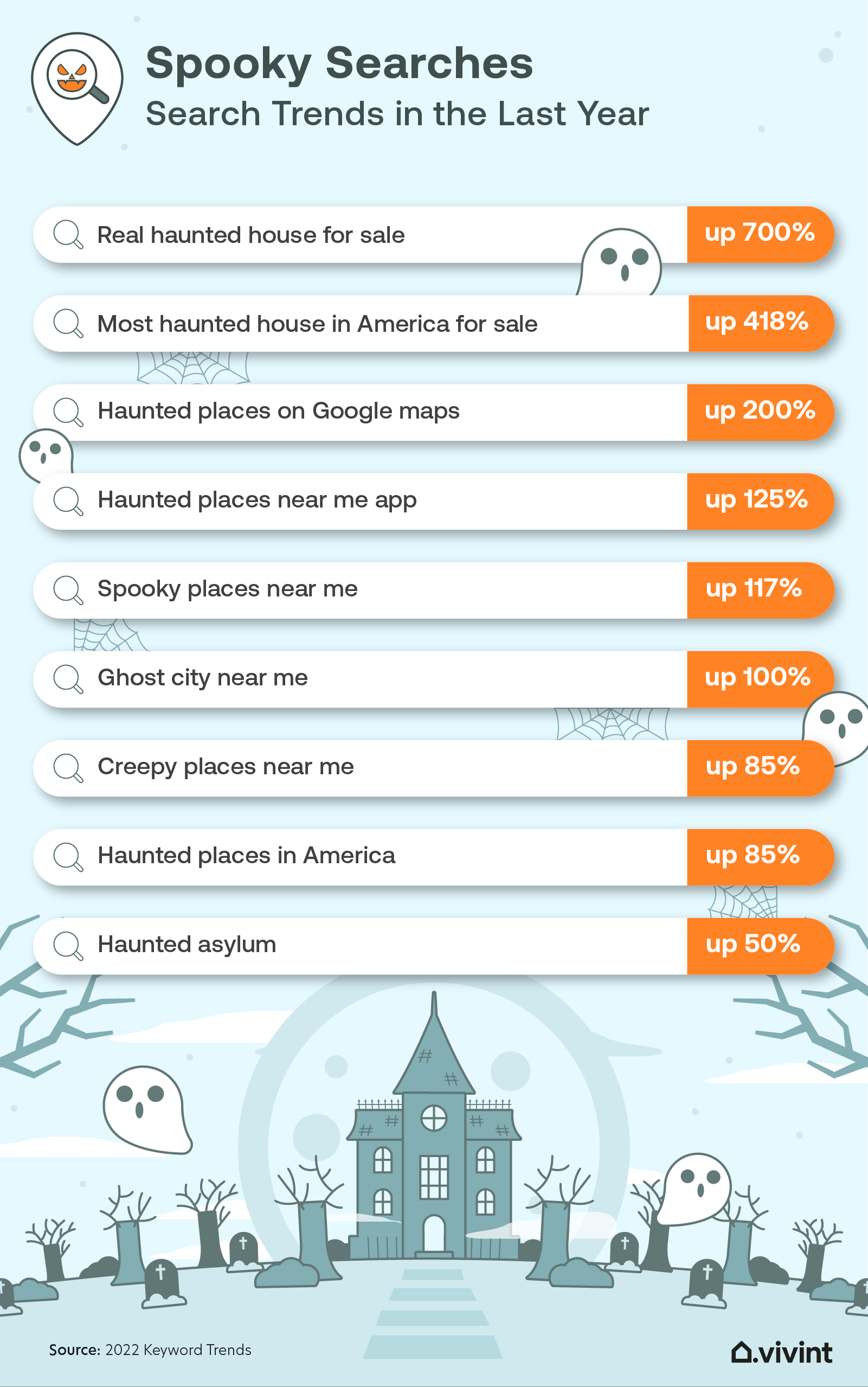 Buying a haunted house was on the minds of many scare seekers this past year. The top two trending terms were "real haunted house for sale" and "most haunted house in America for sale" — up 700% and 418%, respectively. But if you're in the market for a ghostly home, be prepared to pay the price. Sometimes, otherworldly visitors can drive up the price. The other most common search terms focused on scary places around the country. Searches for "haunted places on Google Maps" and "ghost city near me" were up 200% and 100%, respectively, indicating that many are on the hunt for haunted experiences this year.
Paranormal places
If you're looking to get scared, you barely have to leave the safety of home to scratch that spooky season itch with some nearby natural attractions. But if you travel to some of the following cities, you could be in for an even more frightful time.