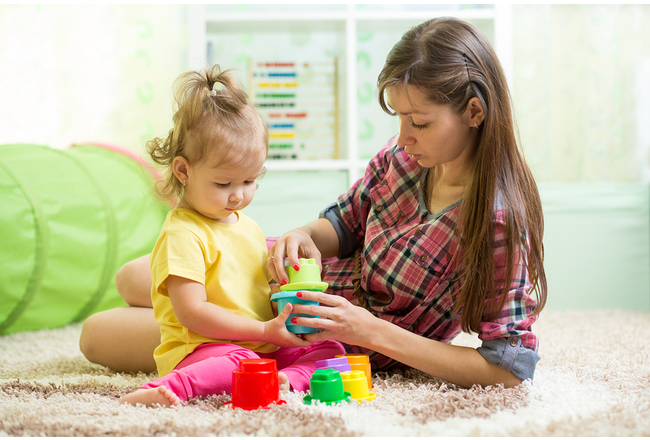 Before my hubby and I started leaving our little ones home alone on date night, we struggled to find the perfect babysitter. We wanted someone who was kind, loving, responsible, affordable, and above all someone our kids loved to play with.
When it's time for you and your lover to have a night sans kiddos, here's how to find the perfect babysitter.
Talk to your girlfriends
No one knows babysitters better than a fellow momma.
My children's first and favorite babysitter actually came as a suggestion from one of my girlfriends. She was the daughter of my best friend's neighbor. I would have never thought of asking her to watch my kids, but she turned out to be a huge blessing.
If you need to find a new sitter, the best place to start is with your friends. They may already have the perfect babysitter for their kiddies. Piggybacking off your girlfriend's contacts never hurt anyone.
Better yet, they might offer up their own home for your little ones during your hard-earned date night.
Ask about your friend's teens
Speaking of going to your friends first, friends with teen aged kids are a great place to find a sitter.
I have a great friend who has lived across the street from my husband and me for a long time. I watched her daughter grow up and even babysat her a few times over the years. She was more than happy to return the favor once my kids were old enough to be left with a babysitter.
Having a personal relationship with the sitter before we even hired her reduced my anxiety and let me actually enjoy my night out. Even better, my kids had already met her so it was an easy transition for them.
Make a list of what makes your perfect babysitter
If you don't have the option to hire someone you know, the next best thing is one who meets all your dream requirements.
Sit down and write a list of the important qualities your child's sitter should have. Should they know child CPR? Do they know how to cook? This is also a great time to think of concerns like whether your sitter smokes or if your child has any pet allergies. Maybe you only consider candidates who have their own transportation…
Whatever you decide is important make sure you put it on the list. When you start trying to find the perfect babysitter, use your list as a guide.
Check online to find the perfect babysitter
Put that new list of priorities to good use.
Personally, I prefer to hire sitters I know, but there are lots of sites that vet and certify all their candidates. These verified childcare professionals add a lot of value to your home and can make your child's experience with babysitters great.
Most sitters from these sites also have important certifications like child CPR and first aid. These professional skills let you know your child is in capable hands while you're out with your hubby.
Keep in mind those additional skills do come at a cost. The national average for babysitters is $10/hour for high schoolers, $12/hour for older sitters. If your budget only lets you pay $8 an hour, you may be better off skipping the online search.
Interview your potential sitters
Babysitting is a job and a tough one at that. Every mommy knows that caring for kids is difficult, so make sure you interview your next sitter.
Discover some smart ways parents can reduce their stress at home.
Some people look great on paper, but once they actually show up at your door you find they just don't jive with your little guys. Invite you candidates over for a quick chat before hiring them. Ask them about themselves, about their childcare experience, and what they like about babysitting.
Talking with your potential sitters not only lets you see how they act, it also lets you start to build a personal relationship and rapport to help give you peace of mind while you're out on the town.
Bring your kiddo into the interview
Speaking of building rapport, make sure your little tyke gets to meet the new sitter before you hire.
Seeing potential sitters interact with your child will give you a strong sense of whether or not each one a good fit for your family. If your kids are anything like mine, they'll let you know after the interview if they like the babysitter or not.
Trust your instincts
This is the most important part of finding a babysitter. Never forget that you know what is best for you children.
Sure, your new candidate might check off every box on your list of priorities, but if they don't feel right, you'll never be able to relax while you're away. Make sure your gut approves of your next sitter as well as your mind, and you can rest assured you've found the perfect sitter to let you reclaim your date night.
Make sure your new babysitter is taking care of your kids, talk to a Smart Home Pro today.