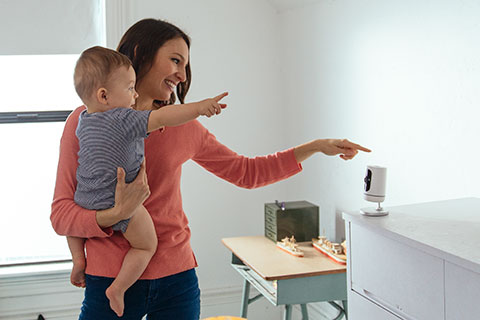 The term home automation can be daunting. It sounds like a pretty complicated process that's expensive to purchase and confusing to set up. But it doesn't have to be! In fact, you've probably already automated your home in some way, even if you're not aware of it. If you've ever used an analog timer to flip on a lamp while you're away or to shut off a sprinkler in the yard, you've dabbled in automation.
Even though the technology has changed, that's ultimately what home automation is still about - making things easier. Here's a look at a few ways you can get started on the path to a truly "smart" home.
Light the way
Simply controlling your lights is a great way to start. You can turn on, turn off, dim, or set a schedule for your lights all from a mobile app. Some bulbs even have the capability to give off different colors of light. You will need special light bulbs to do this, and a hub if you want your lights to "talk" to other appliances.
Keep cool
Install a thermostat you can control with your phone. These thermostats often pay for themselves many times over with the savings on your energy bill. They are similar to traditional programmable ones, but you can make changes when you're not even there. You can turn your system off when you're out, turn it back on just before you arrive home, or make changes while you're laying in bed.
Try out "If this, then that" recipes
Home automation "if then, then that" recipes are simply programmable codes. You can set a certain action to happen (for example, your light switches on) when another action happens (you pull into the driveway). There are thousands of potential recipes, ranging from your lights to your thermostat to your coffee maker and more.
Know you're secure
Home automation isn't just about convenience. It can also be about security. There are several smart locks available that let you open or close your deadbolt from a mobile device. No longer do you have to worry when you lay down for the night or when you're 10 miles down the road if you forgot to lock the door. You can unlock your door to let a family member in, and make sure it's secure when they leave.
Stay safe
Also on the security and safety front, another great addition is a "smart" smoke detector. These devices can connect to your home and automatically turn on lights if smoke is detected, unlock the doors to make it easier to exit, as well as send an alert to your home if you're not there.
Home automation doesn't have to be difficult. The image of dozens of electronic screens littering your home isn't what this is about at all. In fact, most home automation is very user friendly and easy to learn. Try out these simple tips to take your home to the next level.