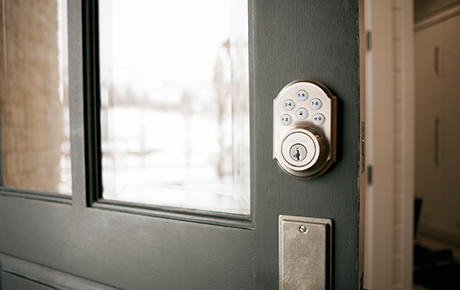 The lock and key have long protected many doors, but the technology used to keep doors locked is quickly changing. In recent years, electronic locks have begun to replace traditional locks. As more and more homeowners opt for electronic door locks, it will become increasingly important to understand the differences between them. The following is a guide to the three main types of electronic door locks on the market today: keypad locks, key fob locks, and remote access locks.
Keypad Locks
While technically qualifying as electronic door locks, keypad locks are little different from traditional locks. They have a keypad above the door knob or handle, which typically is numbered zero to nine. When the proper code is entered into the keypad, the door unlocks.
In certain situations, not needing a physical key is convenient. For instance, with these locks you don't need to dig through your purse for a key. Also, when a guest is visiting, they can be given an individual code that is temporarily programmed into the lock.
These locks still require physically touching the lock, however. Therefore, the convenience they afford is minimal.
Key Fob Locks
Key fob locks are similar to remote car locks. Instead of manually entering a code, as you do with a keypad lock, key fob locks are activated via a fob. You can lock or unlock the door by simply pressing a button.
Key fob locks are much more convenient than keypad locks because you can unlock the door when you get home or lock it as you leave. You still have to be within several feet of the door, though, to use them. They don't work over the Internet, like remote access locks do.
Remote Access Locks
Remote access locks are not only the most convenient of the three types of electronic door locks, but they are also the only kind that actually improves your home's security. Locking and unlocking them when you're leaving and coming home is similar to key fob locks; they're among the easiest to use. They can also be used when you aren't home, though.
Remote access locks can be managed from anywhere you have an Internet connection. The lock integrates with your home security system, so you can check it, lock it, and unlock it through your online account. You can:
check the lock after your children leave the house
lock the door if you forgot to do so before leaving
unlock the door for a service person, such as a plumber or HVAC technician
If you'd like, a smart remote access lock will send you an update whenever your door is:
Choose Convenience and Security
Keypad, key fob, and remote access locks all use electronics to keep your home's doors secure, and, therefore, they all technically qualify as electronic locks. Only remote access locks, however, offer the most convenience and improve security. The next time you need a new lock, talk to us at Vivint about how a remote access lock differs from other locks on the market. We hope you choose a remote access lock, but most of all, we want to make sure homeowners understand the new types of electronic door locks being used to secure homes. We'd be happy to go over them with you, no matter what you end up choosing.