A Complete Guide to Smoke Detectors, CO Detectors, Motion Detectors, and Other Security Sensors
Protecting your safety and the safety of your family is likely one of your biggest priorities. That's why you want to make sure you have all the tools necessary to react to unforeseen circumstances like fires, gas leaks, and intruders.
This guide teaches you all about smoke detectors, carbon monoxide detectors, and security sensors and shows you how to use them to upgrade your home security game.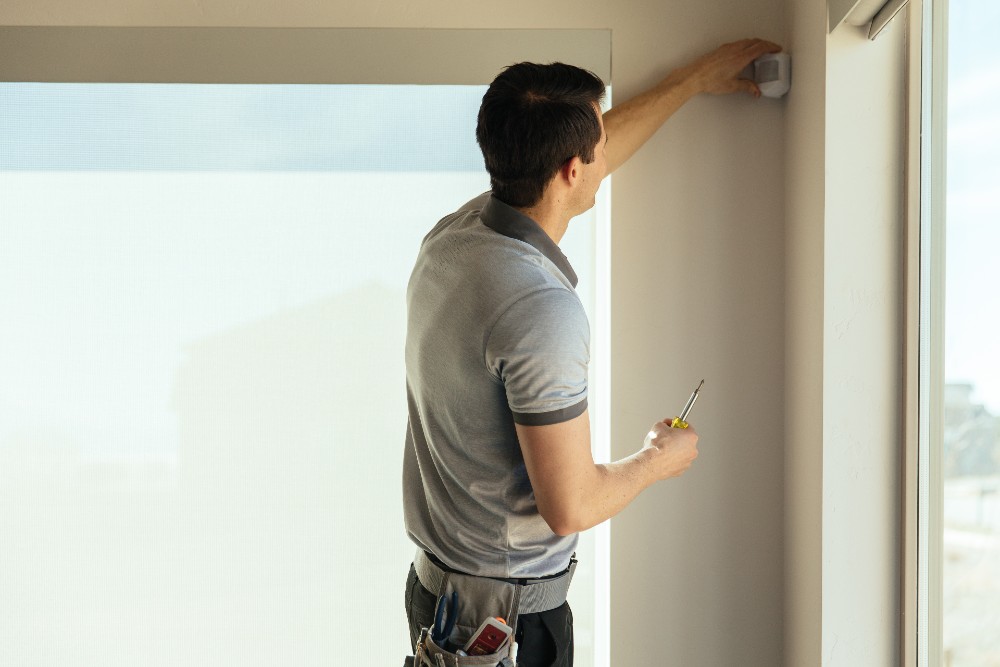 How to choose a smoke detector
When choosing a smoke detector for your home, there are quite a few things you should keep in mind. Here are some of the top factors that can help you decide which smoke detector will best fit your needs.
Confirm local regulations. Different states and cities have their own requirements for smoke detectors. They may require you to use a certain type of detector or place your smoke detectors in certain parts of your home.
Choose your power source. Some smoke detectors are hardwired into your home's electrical system. These types of detectors need to be installed by a professional. However, most smoke detectors are battery-powered. Installing them is as easy as placing them on a wall or ceiling. A battery-powered detector might have batteries that you can replace, or it might have lithium batteries that are designed to last as long as the smoke detector. Though there are plug-in smoke detectors, outlets are often located near the bottom of a wall, which isn't a great place to put a smoke detector.
If you have a smart home or other smart appliances, consider getting a smart smoke detector. A smart smoke detector will connect with the other smart devices in your home. You'll also be able to communicate with and control it while you're on the go using a mobile app. Be aware that smart smoke detectors tend to be more expensive than traditional ones.
Consider getting a smoke detector that meets Underwriter's Laboratories (UL) safety standards. Take a look at the date of manufacture on the back of your smoke detector. Detectors can become less effective over time. Smoke detectors in your home need to be replaced every 10 years.
Think about getting smoke detectors that are interconnected. This means that if something sets off the alarm for one of your smoke detectors, the rest of the smoke detectors in your home will also set off their alarms. Check if your house already has its own connectors before investing in interconnected smoke detectors. Some newer homes have wiring that automatically interconnects smoke alarms.
If you or a family member is a deep sleeper, you might want to get a smoke detector with voice alerts. Some people find that a voice alert can wake them up much faster than a standard alarm.
If you have a home security system, consider getting a detector that integrates with it. This will allow your security system to do things like contact emergency services if your smoke detector senses a fire in your home.
The Vivint Smoke and Carbon Monoxide detector combines the benefits of a smart appliance, the peace of mind of a monitored system, and the convenience of smoke and carbon monoxide detection, all in one device.
How many smoke detectors do I need?
The number of smoke detectors you need will depend on the size and layout of your home. The National Fire Protection Agency (NFLPA) has a list of recommendations for how many smoke detectors your home should have, where they should go, and how they should be placed.
There should be at least one smoke detector for every floor of your home. If your home has a basement, there should also be a smoke alarm there.
There should be a smoke alarm in every bedroom of your home, as well as one outside every sleeping area.
Ideally, your smoke detectors should be interconnected.
Because smoke rises, smoke alarms should be placed on ceilings or high up on walls. If your detectors are mounted on the wall, they shouldn't be more than 12 inches below the ceiling. If you have pitched ceilings, the detector needs to be less than 3 feet from the peak, but not in the apex (slope) of the ceiling.
Basement alarms should always be mounted on the ceiling.
If a floor has no bedrooms, place an alarm near the stairway to an upper level or in the central room.
Keep fire alarms 10 feet or more away from kitchens to avoid false alarms from cooking.
Don't install alarms near windows, ducts, or anywhere drafts can confuse their sensors.
If you have hearing issues, consider using alarms with strobe lights or that can shake your bed to wake you.
If your alarm has non-rechargeable batteries, change them at least once every year. Use the batteries recommended by the alarm manufacturer, as other batteries might not work well with your model.
Smoke alarms will typically emit a chirping sound when their batteries are nearing the end of their life span. Whenever you hear your alarm chirp, replace the batteries in the smoke detector immediately.
What are the 3 types of smoke detectors?
Some fires flare up quickly, while others smolder and create large clouds of smoke. Different types of smoke detectors are better able to detect different types of fires.
There are three smoke detectors from which to choose.
Ionization smoke detectors can sense small burning particles. This makes them extremely effective at detecting fires that flare up quickly. They're not great for detecting smoldering (smoky) fires. They're also prone to false alarms from steam or cooking smoke.
Photoelectric smoke detectors can sense the big particles characteristic of smoldering fires. They're less apt at sensing fires that flare up quickly. Photoelectric models are less likely to get false alarms than ionization ones.
Dual-sensor smoke detectors are a combination of both ionization and photoelectric alarms. They can quickly sense flaming fires and smoky fires.
Keep in mind that the majority of fatalities in home fires are the result of smoke inhalation rather than the fire itself. That means that it's generally more important for your smoke detector to quickly recognize smoky fires than flaming ones.
How to maintain a smoke detector
Around 40% of home fire fatalities occur in households with no working smoke detectors. Maintaining your smoke alarms so they work properly greatly increases your chances of survival in a home fire.
Here are some things you can do to take care of your smoke alarms so they work properly in an emergency.
Test your alarms at least once every month using the test button on the alarm.
Replace the batteries in your units as soon as they get low. Most smoke alarms will chirp when the battery gets low. Even if you don't hear a chirp, you should replace batteries at least once a year.
If your detector doesn't have replaceable batteries, you'll need to replace the whole unit. These types of detectors will typically last around 10 years.
You should use a vacuum with a brush attachment to clear your smoke detectors monthly.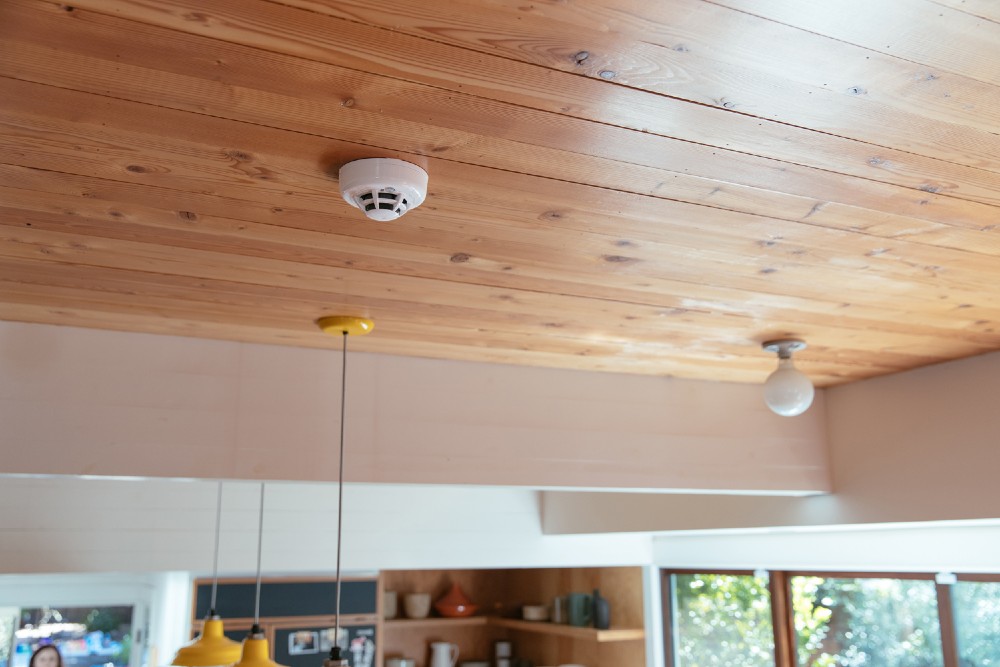 Do I need a carbon monoxide (CO) detector?
If your home has an attached garage, a fireplace, or any devices that burn fuel, you need carbon monoxide detectors. Appliances that might burn fuel include things like your stovetop and water heater.
Just like smoke detectors, CO detectors need to be maintained. Things like excess dust can confuse or damage their sensors. Clean each CO alarm in your home monthly by unplugging it and wiping it down with a dry cloth or going over it with a soft brush.
Where should I install CO detectors?
Where you place your CO detectors matters. Here are a few guidelines for where yours should be. If you have a large home, you may need to get more CO detectors to get optimal CO gas detection.
If you have a small home or an apartment with only one CO alarm, it needs to be in or nearby the master bedroom.
Homes with multiple floors should have a CO detector on each level and in each bedroom.
There should be an alarm located no more than 15 feet away from every fuel-burning appliance.
Remove any obstructions or coverings around your CO detector that could affect its ability to work efficiently.
Don't mount CO alarms in dead air space in your home. Dead air space consists of areas in your home where air doesn't circulate well, like corners.
Place your CO alarms far from windows and doors. Breezes can confuse CO detectors and cause false alarms.
The benefits of motion detectors
A motion detector is a type of proximity sensor (sensors that work without contact). Motion detectors can be a valuable part of a home security system.
When your sensors detect an intruder or a lurker in or near your home, they notify the rest of your security system to take action. There are several things your security system might do when it senses motion.
The sensor might activate a floodlight to ward off potential thieves. It might send a message to your charged coupled-device (CCD) camera or analog camera to start recording an area. Or it might notify you that someone is by your home through a mobile app. If you have professional monitoring, your system can contact emergency services automatically when it detects an intrusion.
Where is the best place to put a motion detector?
You can place motion sensors either outside or inside your home. It's best to place your sensors in spots where they can provide the best protection.
For example, you might place a motion image sensor in one of the corners of your living room facing your front door. Video doorbells also have motion sensors that pay attention to the area outside your front door.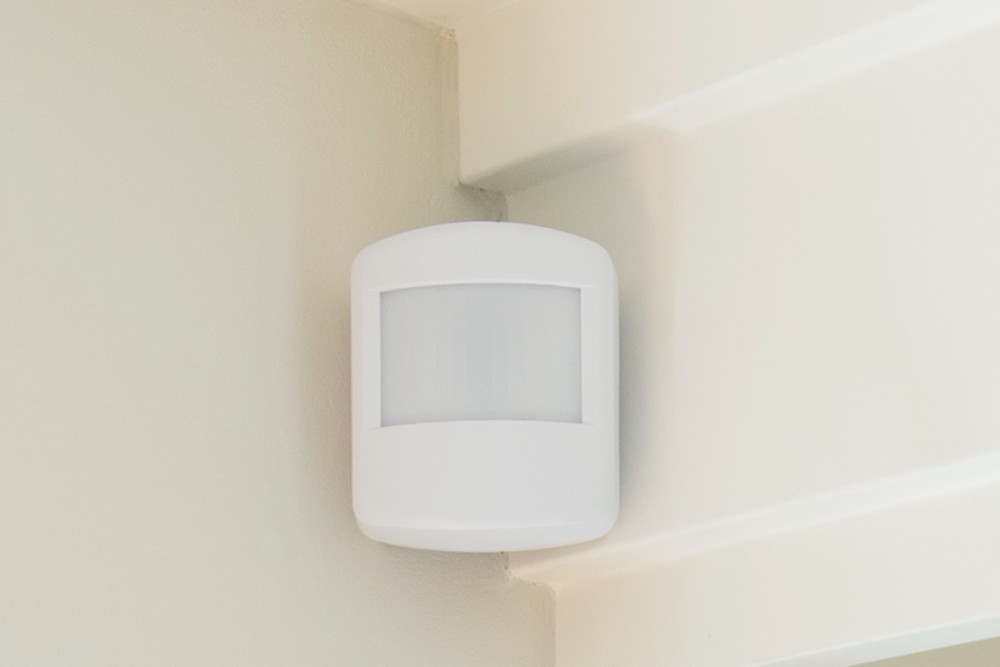 Other security sensors to consider
In addition to motion detectors, there are a variety of other sensors that can help improve the security of your home. Now, we'll touch on some different types of sensors that can help identify threats to your household.
Door and window sensors
Sensors on doors and windows send electrical signals to the rest of your security system whenever someone tries to get into your home. Vivint has sensors that can be mounted on the surfaces of your doors and windows, as well as sensors that can be hidden inside your door.
With both, you'll get accurate door and window alarms and be instantly alerted thanks to your Vivint Smart Hub. The sensors also come with a five-year battery life for dependable detection.
Glass break sensors
Whenever someone breaks a window to get into your home, glass break sensors detect the shattered glass and activate a loud alarm. Glass break sensors are a great tool that can deter potential criminals from going further into your home.
Vivint offers a Glass Break Sensor that comes with three sensitivity levels and dual-shatter recognition so it won't mistake an accident for an intruder. It'll also send notifications through the Smart Hub and Vivint app as soon as something happens.
Passive infrared sensors
Passive infrared (PIR) light sensors detect motion by sensing the amount of infrared light or heat that objects give off. By measuring heat emitters, these optical sensors can help your security system tell the difference between humans and random inanimate objects moving near your home.
LiDAR sensors
Photoelectric sensors with light detection and ranging (LiDAR) use pyroelectric technology (laser pulses) to produce 3D representations of moving objects near your home. This type of sensor technology can produce extremely accurate images even at night or during severe weather.
Pressure sensors
A pressure sensor pad can detect when someone sets foot inside your home. When an intruder steps on a pressure sensor, the sensor can activate an alarm. To prevent false alarms, pressure sensors usually won't detect weight under a certain threshold.
Get the ultimate in-home security with Vivint
Setting up a quality security system for your home is important. But there are so many choices to make, like what type of smoke detectors to use, how many sensors you need, and what types of security equipment are essential for your home.
When you contact Vivint, one of our knowledgeable professionals will walk you through the process of designing security solutions that meet all of your needs. They'll also help you choose new products and security devices that will integrate with all of your home's existing automation tools and internet of things (IoT) products.
Call us at 855.822.1220 to request a free quote and start planning for your ideal security system or smart home.
A Vivint Smart Home Pro will contact you within 24 hours. Or skip the form and call now: 844.481.8630.
Everything works together
Combine products
for a safer home