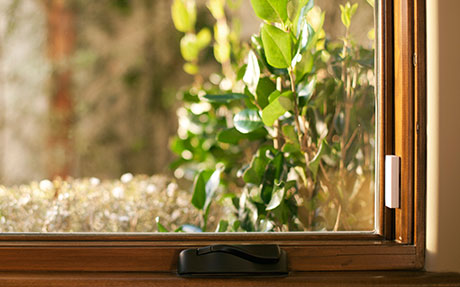 The good news is that it is becoming cheaper and simpler every day to have a home security system. These systems are getting easier to install and program, and with all the new wireless technology available, installation requires much less electrical and carpentry skills than it used to.
As the market stands today, any homeowner with even a modicum of maintenance skills can purchase and install a very nice security system at a reasonable price. However, if you decide to install a DIY home security system, you may run into some pitfalls. The truth of the matter is that homeowners are not security experts. In the interest of helping you avoid the most common mistakes people make when installing DIY home security systems, we offer this short primer on what not to do.
Don't Place Control Panels Next to Entrances
This is the number one error that homeowners make when installing home alarm systems. The majority of security systems have a delay between when you enter the home and when the alarm is triggered. The purpose of this delay is to give you time to move away from the entryway.
When you place your control panel close to the door, you just make it easier for an intruder to find and disable the system or to watch you from outside and steal your security code.
Don't Settle for Bells and Whistles
Many homeowners opt to install a classic alarm system with an audible alarm but not to use the auto message system that most alarms have as a feature today. This is a major mistake.
While a bell may be enough to scare off the neighborhood kids and cats, it will not deter a determined thief. They will either cut the power to the buzzer or simply ignore it, knowing that the majority of people today hear so many alarms they no longer react to them. Even a silent alarm that automatically notifies authorities provides you with a better chance of preserving your property and getting the bad guys off the street.
Don't Ignore Less Obvious Entry Points
Everyone places sensors on their front doors, garage doors, and other obvious entry points. Therefore, professional thieves avoid these areas. They will not hesitate to take advantage of second-story or cellar windows, though. They know that these points are much less likely to have sensors and are more likely to be left unsecured. Remember to secure every entry point.
Don't Ignore Instructions
This one is becoming more common all the time. Today's DIY home security systems appear to be so simple that people fail to follow the directions during setup. Instead, they follow their own lead. This is another grave error.
It's true that today's security systems are more intuitive to program, but if you miss one step or enter the wrong setting one time, you could leave yourself vulnerable. Slow down. Take your time. Read and follow the instructions step by step.
Unless you have the proper background, DIY will never be the same as hiring a professional. It doesn't matter whether it's alarm systems or accounting. There is a reason that professionals are called professionals.
However, DIY home security systems are a viable home security solution for those on a budget. Just think before you choose your options, and pay attention to all the little details.
Let the experts help you find the perfect security system for your home, visit Vivint.com today.