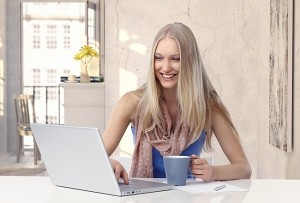 With the rise of Airbnb and other home sharing websites, you may choose to rent out an extra room or let guests into your home while you're away. However, security concerns often stop homeowners from moving ahead with renting plans. After all, how do you know your belongings are safe in the hands of a stranger? What if you want to keep certain parts of your home away from renters? Is there a way to make sure they're following the rules?
There's a simple solution to all these problems: a home security system. From security cameras to electronic door locks, a variety of affordable smart home technologies are available to make your home safer for both you and your renters.
Accessing the front door
One of the main issues with home sharing, especially when you're not home to greet guests and newcomers, is front door access. Making new keys is impractical for room rentals, and always meeting renters at a certain time is tedious.
If you update your front door lock with a keypad lock, you can provide guests with a temporary personal code to access your home. Once the guest leaves, you simply remove the code and create a new one. You won't have to give away a key or permanent entry code to a stranger, removing the risk of a renter copying your key and accessing your home down the line.
A remote access lock is even better than a keypad lock. If you're nearby, a key fob unlocks the door, but if you're away from home, you can unlock the door using a computer, phone or tablet. With this method, you can remotely invite guests into your home and leave a key fob inside for them to use during their stay.
Keeping your own space safe
If you rent a room while your family still lives in the house, you might wonder how to keep guests away from your bedroom, the children's rooms and any other private areas. Keypad locks on sensitive rooms in the house will provide invaluable peace of mind and ensure no one can access these rooms without approval.
Remote access locks also prove practical, because you can lock or unlock any door from anywhere, making it easy to keep doors unlocked when the children are home and locked when they're gone.
This begs the question: How do you know who's home?
Checking in on your guests
For the best home sharing security system, security cameras are essential. Cameras allow you to check on your guests and family members. Install cameras in common public areas of your house to ensure guests follow your renting rules. You can also check on the state of your home during extended stays, even if no one is renting.
Coupled with motion sensors, security cameras can help you keep an eye on the movements in your home.
Safety for all
A safe home is a happy home. By adding locks, security cameras and motion sensors, you can ensure your belongings, family members and renters are safe. Home sharing is easier when you enjoy the peace of mind provided by strong security.
Interested in learning more about smart home features? Check out Vivint to discover the best ways to keep your family safe and secure.