Parenting brings out a lot of different emotions, but regardless of parenting style, there's one that all parents can relate to—worry.
No matter how old your kids are, worrying about their health and safety is just part of the parenting territory. But that doesn't mean you can't alleviate it, especially at home.
With the technology in a Vivint Smart Home system, parents can get some much-needed peace of mind.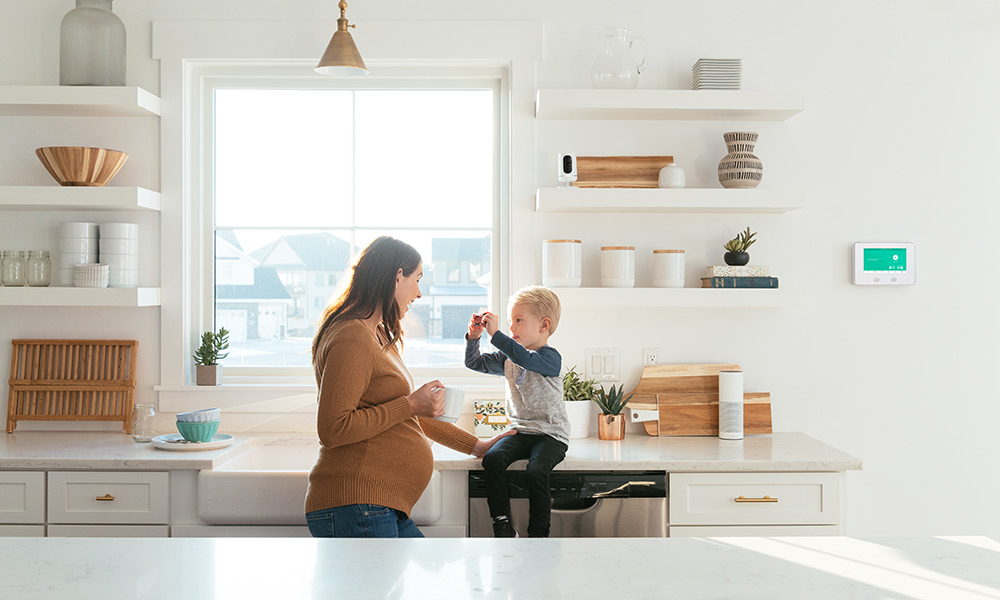 Home safety concerns for parents
Your home should be a safe haven for everyone in your family. But even the most mundane household items can be a safety hazard for kids.
With more than 9 million kids under age 18 headed to the emergency room each year for accidental injuries, it's wise to take steps to minimize risk of injuries around the house.
Since the majority of accidents around the house are preventable, these child safety tips for the most common childhood accidents can help make your home safer for your kids:
Falls
What's the number one cause of nonfatal injuries in kids? Falls.
While it's hard to keep toddlers learning to walk or physically active kids who are always on the go from taking the occasional tumble, most falls can be prevented with a few simple modifications:
Install safety gates at the top and bottom of stairs.
Use window stops that prevent windows from opening more than 3-4 inches (kids can fall through a window open just 6 inches). Also, never rely on a screen to keep kids from falling.
Never leave babies and small children unattended on beds, changing tables, or other furniture.
Put safety rails on toddler beds and reserve bunk beds for kids older than 6.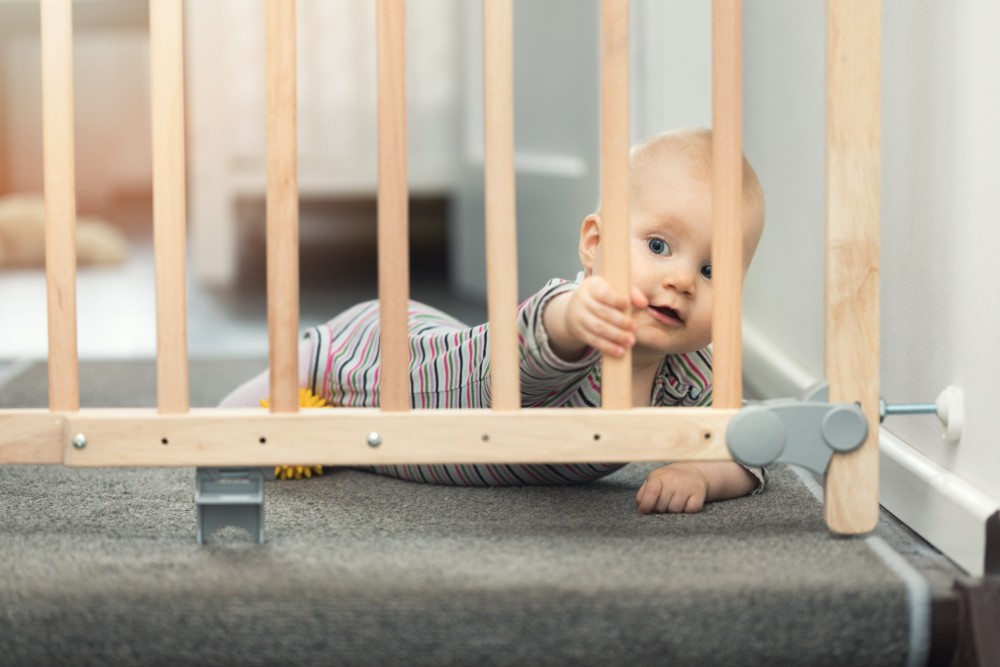 Drowning
As the leading cause of death for children under 4, drowning is a serious threat. Kids can drown in just a few inches of water, so take these steps to keep kids safe:
Never leave babies and toddlers alone in the tub, even for a second.
Keep toilet lids closed and place child safety locks on them.
Take extra precautions if you have a swimming pool. Install a fence around the pool, and consider pool alarms that alert you if the surface is disturbed.
Install outdoor cameras in your pool area. The Vivint Outdoor Camera will also send you a notification if motion is detected, which can help prevent potential tragedies.
Poisoning
Poisoning is another common and entirely preventable risk, especially for younger children. A few simple steps can help keep your kids safe:
Always leave medications, including over the counter drugs and vitamins, out of reach and sight from kids. If you keep prescriptions or meds in your purse, keep your purse away from children as well.
Install childproof locks for cabinets that contain cleaning supplies and other toxic materials.
Keep laundry detergent, especially detergent pods, away from children.
It's unrealistic to spend every second of the day watching your children, but a few preventative measures like these can greatly reduce the risk of accidents around the house.
How parents can use smart technology to keep their kids safe at home
It's not just physical threats like falls or drowning that can put your kids in danger. Technology can also be a threat, particularly when it comes to online activity.
How do you keep your kids safe online?
Online safety is one thing parents are smart to be concerned about. One survey found 47% of kids and teens reported they had been victims of cyberbullying, which happens when people are ridiculed or intimidated online. Cyberbullying is just as damaging as bullying in person and can lead to depression, anxiety, and poor school performance.
Online predators can also be a threat. In fact, 1 in 5 teenagers reported that they have received a sexual solicitation online. Girls between the ages of 12-15 are particularly susceptible to this.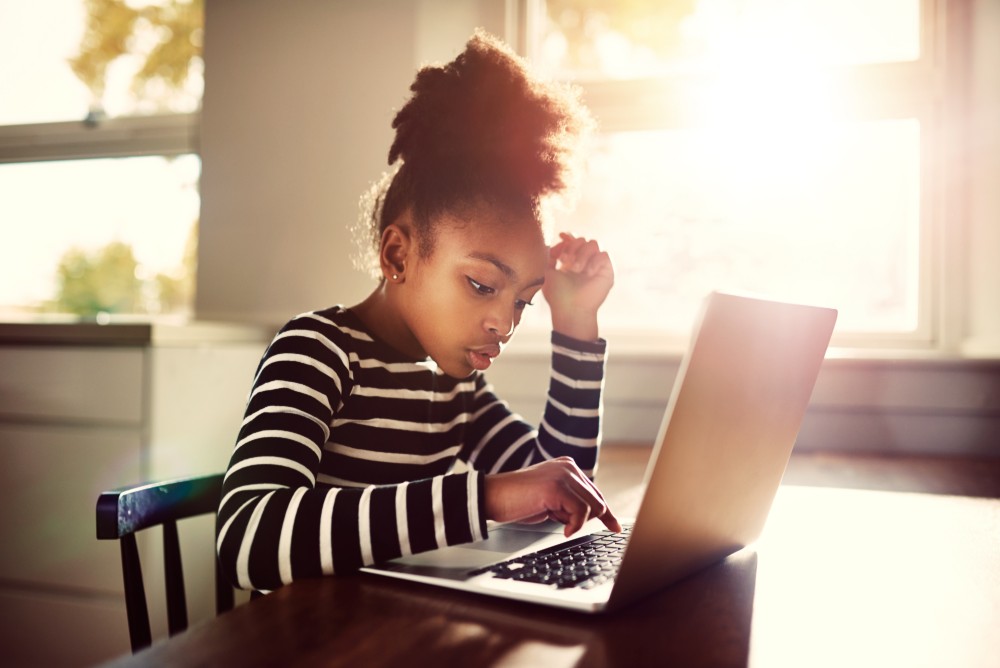 Staying safe with smart technology
That doesn't mean you need to confiscate your kids' smartphones or keep them offline altogether. When it comes to safety, there are plenty of tools at a parent's disposal to help keep their kids safe at home.
A few of the things you can do to keep your kids safe online include:
Communicate. Open, honest communication with your kids is a must in order to keep your child safe. In addition to making sure they know not to give out information like their name, address, or school, you should also let your kids know they can and should come to you if they have been threatened or solicited online.
Use a VPN. A VPN (virtual private network) is a type of internet connection that provides better security by encrypting your IP address, so hackers can't see your address. It also provides a more secure connection for your smart devices.
Monitor social media usage. If your kids have a social media account (and about half of the kids in the United States do by the time they're 12), make sure they have private accounts. This means that only people they know and accept can see the content they post.
If you have a smart home, you can also tap into smart home technology to help keep your kids safe at home.
For example, you can set parental controls on your smart speakers so kids can only access them during certain hours, when you're home to monitor them.
Best smart home products for worried parents
If you worry about your kids while they're at home or online, you're not alone. Luckily there are many smart devices that can lend a hand in helping you keep your kids safe.
Take a look at some of the best.
Indoor and outdoor cameras
Want to keep an eye on your kids while they're at home? Indoor cameras to the rescue. You can easily place these cameras throughout your home and view video footage via an app on your smartphone.
The best places for indoor cameras are those that your children frequent. You can use them as a nanny cam by placing them in common areas or your child's bedroom. They can also double as a baby monitor for your nursery, so you can check on your little one throughout the night without creeping down the hall and peeking in.
Outdoor cameras can also help you lessen the worry about your kids while they're at home. You can check on your kids while they're playing outside or keep an extra set of eyes on potentially dangerous areas like pools. They also serve as an effective deterrent to burglars.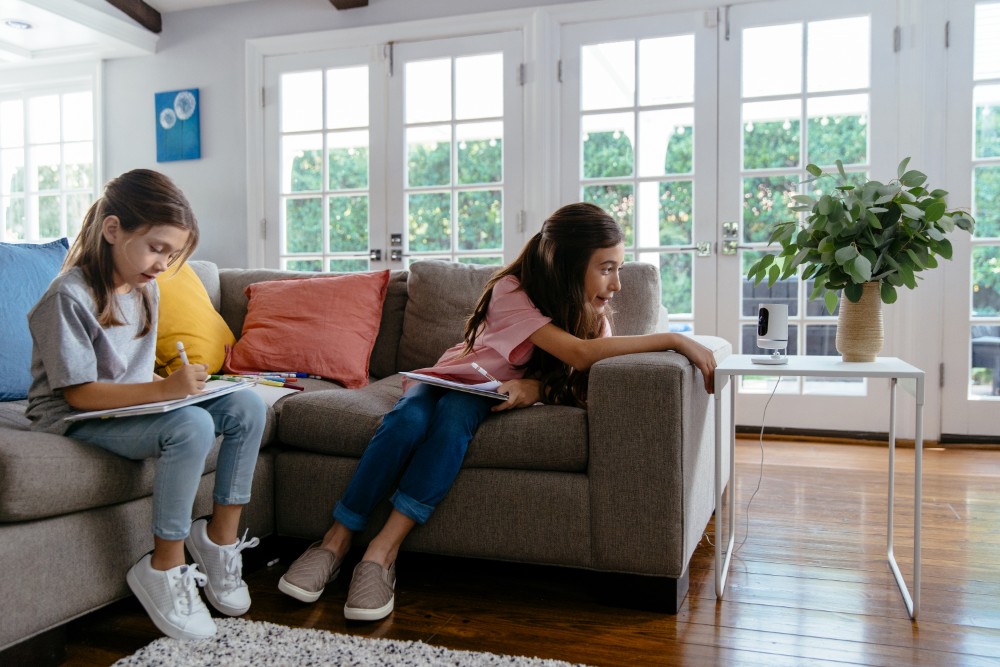 Smart locks
A must for any home, smart locks increase security and eliminate the need for carrying around keys that can be lost or fall into the wrong hands.
Smart locks allow you to open your door via a code on a keypad instead of a physical key. Many also allow you to lock and unlock your door remotely via an app. This is particularly helpful for parents who want to ensure their kids are never locked out of the house.
Security system
A smart security system provides additional peace of mind for parents. At minimum, most security systems will sound an alarm when a door or window is opened after the system is armed. Indoor motion sensors will also alert you to movement in the home.
More advanced security systems—like Vivint Smart Home—include professional monitoring services which contact authorities for you if an alarm is tripped, and may have additional features like smoke and carbon monoxide detectors or a central smart hub that allows you to call for police or an ambulance with one touch.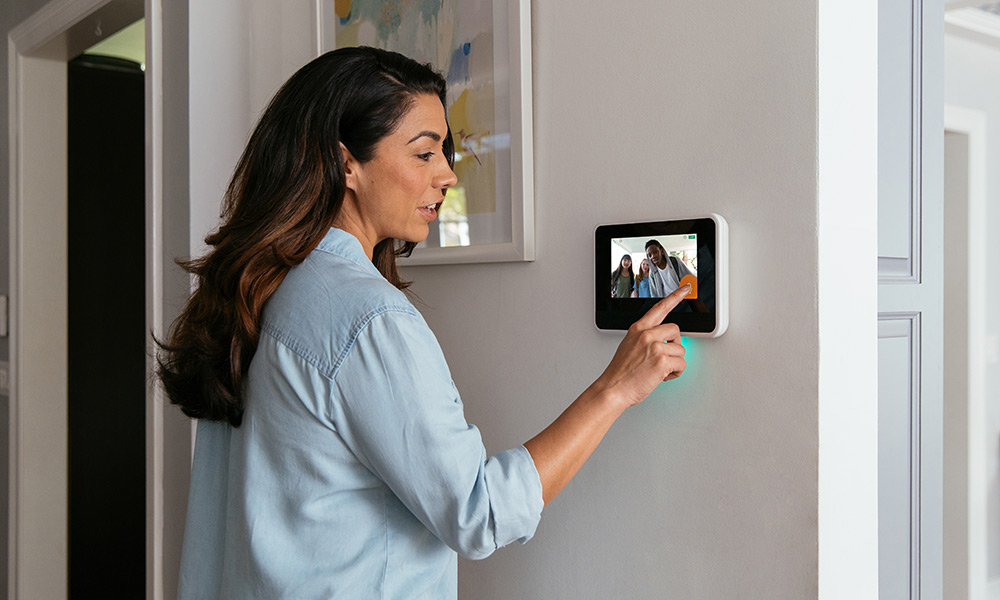 How Vivint Smart Home systems help keep children safe
The best technology to keep your kids safe is a comprehensive smart home from Vivint. Not only do they provide smart devices with features designed to keep your home safe and secure, they provide a way for you to always stay connected to your kids, no matter where you are.
Take a look at a few of the ways a Vivint system can help keep your children safe (and help parents worry a little less):
Know who's coming and going with a doorbell camera
You've probably taught your kids never to answer the door to a stranger. With a Vivint Doorbell Camera, you'll always know who's at the door before you even open it. A wide-angle lens lets you see your entire front porch, so you can see who's coming and going.
Two-way talk and a crystal-clear video feed also allows you to talk to your guest. You'll also get notified on your smartphone whenever anyone comes to the door.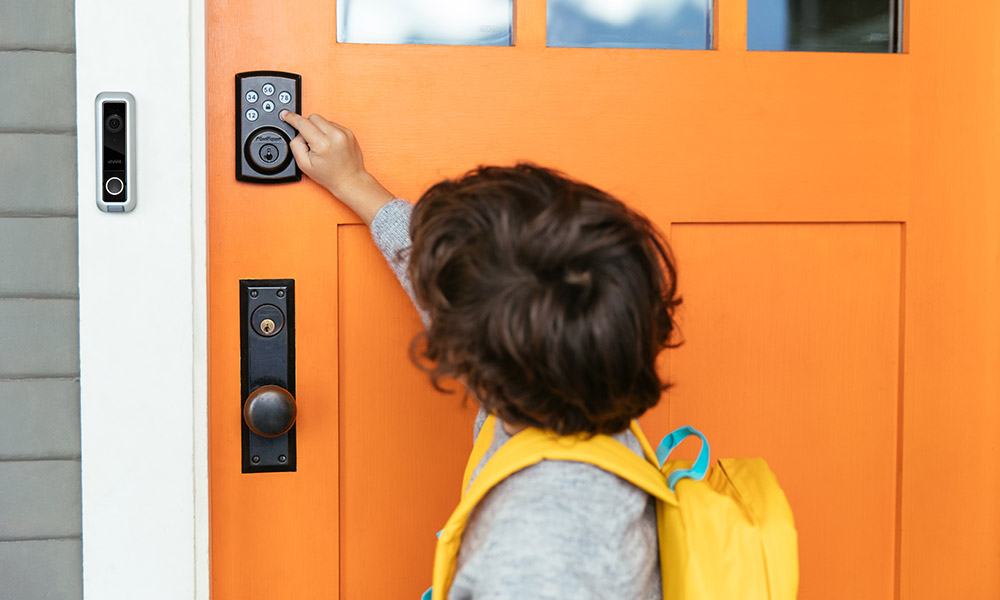 Give your kids more ways to contact you in an emergency
Kids should always have a way to contact their parents in an emergency. Even if your kids don't have a cell phone yet, Vivint Smart Home devices give kids multiple options to stay in touch with their parents. For example, they can call out via a smart speaker simply by saying, "Hey Google, call Mom." Or, they can reach you directly with the touch of a button thanks to the Vivint Ping Camera's one-touch call feature.
What if there's a fire or other emergency and your kids are home alone? Kids can easily call for help with a single touch via the panic button on
Know your home is watched over 24/7
With Vivint's 24/7 professional monitoring, you have the peace of mind that comes from knowing your entire home is protected day and night. So if a burglar tries to break in or a fire alarm goes off, they'll contact the proper authorities or emergency personnel.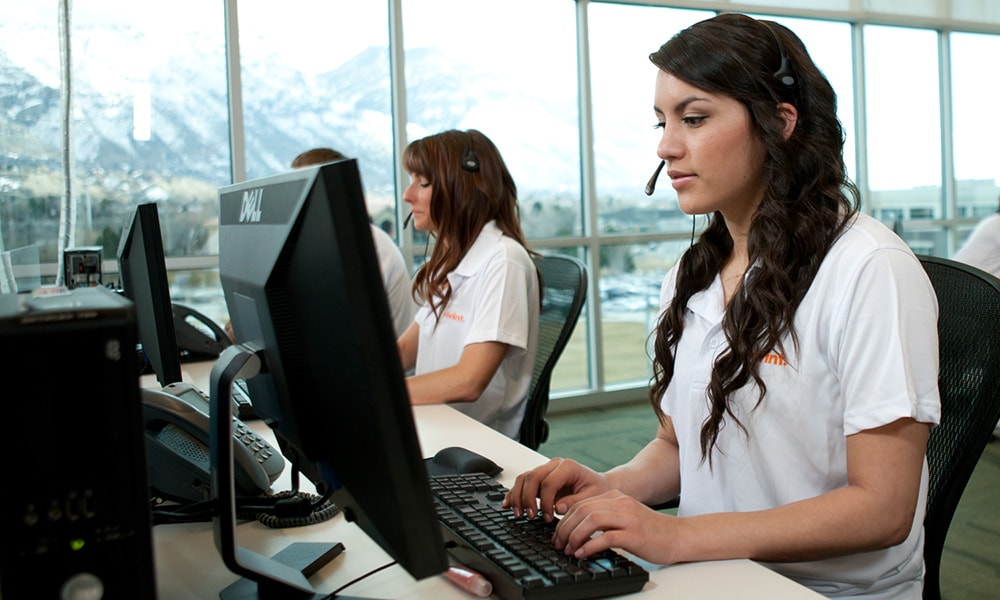 Worry less with a Vivint Smart Home
As a parent, you're going to worry about your kids. That's a given. But with a Vivint Smart Home system that can help keep your kids safe whether you're home or not, you can worry less.
Contact our Smart Home Pros today at 800.646.1469 for a free quote on a personalized system for your family.