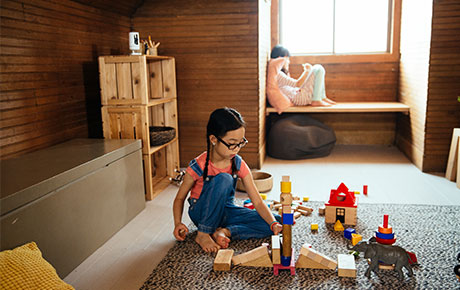 At the pace the world is moving, 24 hours a day just doesn't seem like enough time to get everything done. Managing a busy family can increase that feeling tenfold. There's hockey practice and play recitals to attend, and that memo you had to submit to your boss's desk, well, yesterday.
Between all the back and forth it can be hard to check in on the kids as much as you'd like. Vivint's line of indoor cameras and remote applications can help you take a breath and stay in touch with what matters most.
A Second Set of Eyes
As the to-do list each morning seems to grow with the length of your commute, it can be easy to forget to check if the sliding door got locked, or if someone closed the kitchen window.
Vivint's indoor wireless camera lets you manually rotate the camera and save preset angles to ensure you are always getting the best view of the action.
Wonder how the kids behave around the babysitter? Will they invite any unexpected guests? Simply pull out your phone. Accessing Vivint's real-time camera feeds on your smartphone is as easy as checking your email. Vivint's camera systems are the eyes at the back of your head, helping you search your kitchen table, living room, or hallway to find that misplaced hockey bag or lost homework assignment.
The Solution is Always at Your Fingertips
Did your daughter remember to unplug her curling iron? Did your son lose his key? These situations always seem to happen when you are not at home to help. Now you can check in with Vivint's mobile app where you can turn on lights, turn off the curling iron, and let your son in.
There are doorbell cameras that enable you to see, hear, and even unlock the front door without actually being there! The remote access system gives you the flexibility to assign individual access codes with specific rules for each child. They can turn off the bedroom light at school, but they won't be able to see what you're making for dinner. Once logged in, one swipe can turn off all the lights, start recording video, and lock the doors.
Know They Are Safe At All Times
"Honey, it's too quiet in the house, where are the kids?" is a question every parent has asked. The Vivint app works with an array of detectors, including wireless door and window sensors. Small yet effective, these unobtrusive sensors can send messages to your smartphone if a door is opened, be it the pantry, your medicine cabinet, or the power tool shed.
There's no need for a baby monitor when Vivint's fixed video camera (HD, no less) can sync to your mobile device. Anxious late-night circuits from your bedroom to the nursery are now a thing of the past. Vivint's camera and remote access systems are built to serve today's families
Our integrated approach will give you the peace of mind that comes with knowing what is happening in and around your home.