Anyone who's ever experienced a home break-in knows the feeling of losing your sense of safety and privacy.
According to the Federal Bureau of Investigation's (FBI) Crime Data Explorer, there were more than 3.4 million property crime incidents in 2020.
The good news is that you can help protect yourself and your family by taking a few simple steps to enhance your home security, such as securing your front door with a surveillance system.
Keep reading to learn how front door cameras can help keep your property safe and how to choose the right one for your needs.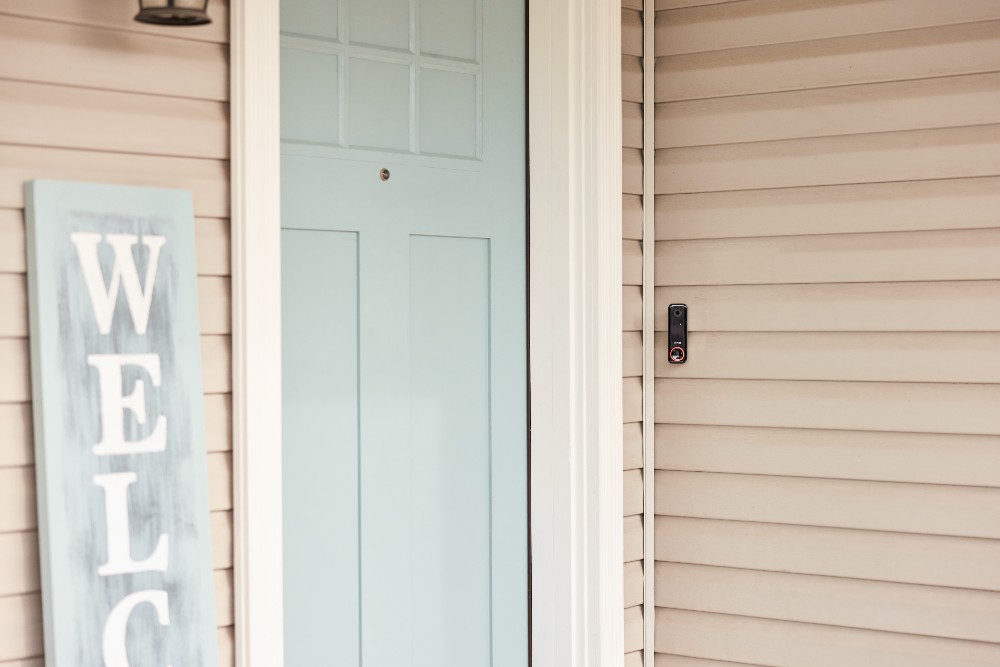 How can front door cameras help keep you safe?
Having a second pair of eyes looking at your home 24/7 can give you valuable peace of mind whether you're at home, out of town, or at work.
Here are some ways a front door camera can help keep your home safe.
Discourage criminal activity
No big surprise here: Criminals don't want to be spotted or recorded, which means they're likely to discontinue their attempt if they spot a present surveillance system in the area.
Thanks to technology, many modern outdoor cameras are equipped with motion sensors that can detect lurkers and scare them off if they linger for too long.
For example, the Vivint Outdoor Camera Pro has a Smart Deter feature that plays a loud sound and flashes an LED ring to let the lurker know they've been seen.
This way, you can rest assured knowing your home is protected around the clock, wherever you are.
Check before letting people in
From package deliveries to unexpected guests and house staff, your doorbell is likely to ring quite a few times in a given day.
Thanks to front door cameras, you can see who's there from your mobile device or touch-screen base station like the Vivint Smart Hub. If you have a Vivint security camera, you can also use the two-way talk feature to ask the reason for the visit before opening the door.
See the porch when you aren't home
Monitoring what's happening near your home can ensure your property and family are safe when you're not around.
Intruders may linger outside your home before entering. With a Vivint camera system in place, you'll be able to see them when they arrive and even send a warning through the Smart Deter or two-way talk feature.
And in the unfortunate case of theft or burglary, you can help law enforcement trace the criminal by showing camera records — meaning a higher chance of getting your valuables back.
Watch over those at home
Your outdoor security camera system can alert you the moment someone arrives at your door, which can put an end to worrying about your kids coming home after school or other activities.
Moreover, you can use your home security system to check that the babysitter arrived on time, confirm your guests left safely, or see why your dog is barking.