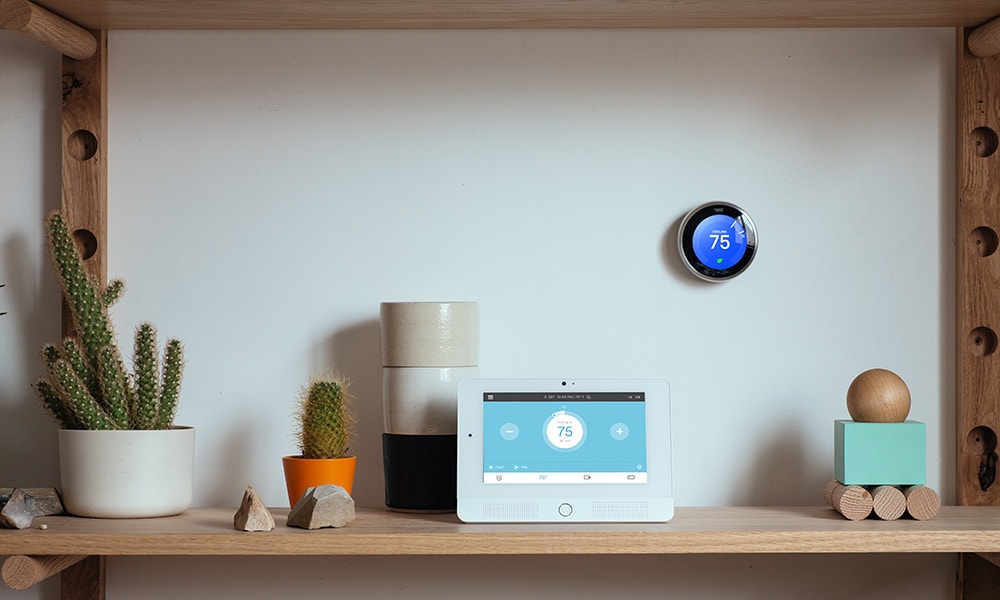 If you're in the market for a smart thermostat, take a look at the Nest Learning Thermostat and consider your search complete. It has everything you never knew you wanted in a thermostat.
A closer look at Nest
Nest Thermostat—the first thermostat to receive ENERGY STAR certification—has been around since 2011 and since then has learned a few things about comfort, good looks, and efficiency.
It just keeps getting better. The design has grown more slim and sleek over the years with a crisp, bright easy-to-read display.
And it's more intuitive than ever with the ability to create an environment where comfortable temperature settings and energy efficiency coexist. In fact, since its introduction, this innovative thermostat has saved billions of kWh of energy in residences throughout the world.
Let Nest work for you
It can do the same for you and much more. Integrated with a Vivint system, Nest Thermostat gives you greater control over the temperature settings in your home, while increasing comfort ease, and safety. How?
The Nest Thermostat works with security sensors throughout your home to change the temperature based on your location. If the Nest Thermostat senses no one is home, it sets itself to an efficient temperature to save energy and money. Integrating Nest Thermostat with your Vivint system can save you 10% to 12% on your monthly utility spend—padding your wallet while keeping you comfortable.
You can adjust temperature settings manually from your smart home control panel, using the Vivint app on your mobile device, or go the old school route and simply adjust the thermostat itself.
With Google Assistant, you can control the Nest Thermostat with simple voice commands:

"Hey Google, set the temperature to 72 degrees."
"Hey Google, turn (up or down) the (thermostat name)."
"Hey Google, what's the thermostat set to?"

As part of a Vivint system, the Nest Thermostat also provides a safety component: It shuts off the flow of air in your home's HVAC system in the event of fire to inhibit the spread of flames.
The Nest Thermostat sends notifications to the Vivint app on your mobile device so you know when the temperature automatically adjusts.